The Top 10 Reasons to Move to Washington DC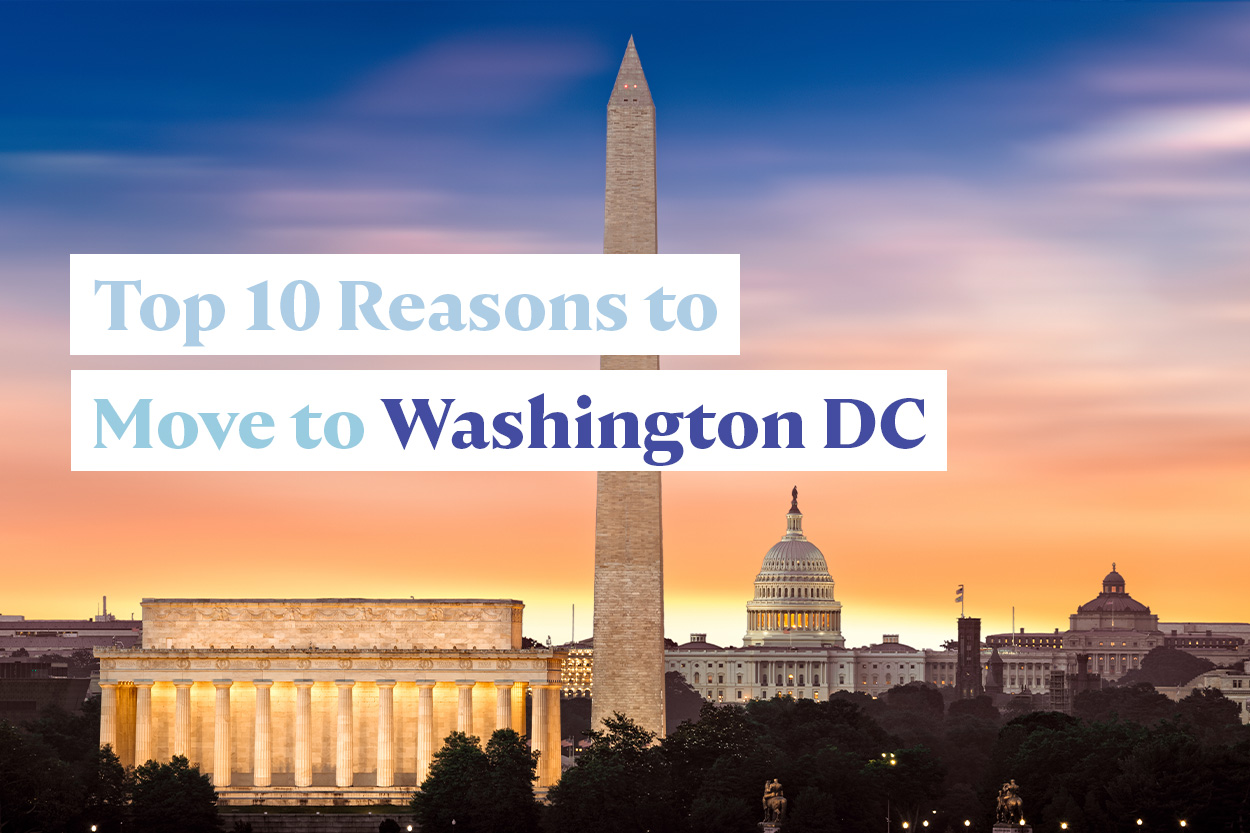 ---
I've got eyes on the target, over.
Well hello there. I definitely wasn't spying on you just now.
But if you've found yourself on this article it only means one thing–you're thinking about moving to Washington DC.
You're a person of good taste because DC is a wonderful place to live.
And if you want to know why moving here is such a good decision, stick around while I cover the top 10 reasons why you should move to this area.
But first, I need you to empty your pockets and put all belongings on this tray–we take security seriously here in the capital. 
Reason number 10, Plenty of parks
If you're the type who loves a good picnic and fresh air, then you'll love this aspect of DC.
Because this city has a ton of parks.
In fact, 98% of residents live within a 10-minute walk to one.
And I'm not talking small parks either. Washington DC is home to the amazingly large Rock Creek park–which is twice the size of central park.
But don't tell New Yorkers that. They have petty fragile egos.
Reason number 9, Walkability
I know I just mentioned that the parks in DC are within walking distance.
But really, just about everything can be visited on foot.
That's because DC is one of those cities that is designed for residents to easily get whatever they need by lacing up their shoes and going on a brisk walk.
And if biking is more your speed, you'll be happy to know that DC has over 60 miles of bicycle and pedestrian tracks.
Just make sure to have some comfortable shoes handy. My toes never recovered from walking around the city in dress shoes.
Reason number 8, Universities
For the more erudite viewers, DC is home to many renowned colleges.
The most notable are Georgetown, Howard, and George Washington University.
One thing to note about DC, in general, is that there are a lot of transplanted residents here. People truly come from all over.
And the colleges are no different. These universities are known to serve both domestic and international students.
If you happen to run into any students in the area, be generous and give them a few dollars–seriously student loans are no joke.
Reason number 7, Places of worship
People of all faith will take a liking to DC once they discover how welcoming the city is.
The city has plenty of churches, synagogues, temples, mosques, or whatever accommodations you need to practice your spiritual beliefs.
So if you're looking to find god, living in a place like DC could improve your odds.
And do let me know if you find him. I'd like to question his decision to make me shorter than 6 feet.
Reason number 6, Sports
Sports fans will also find themselves at home in DC.
The city has plenty of professional sports teams such as the Washington Wizards, Washington Nationals, and the Washington Capitals.
But if you like sports teams that actually win games, it might be best to skip out on the Washington Wizards tickets.
Reason number 5, Green gardens
A little-known fact about DC is that it's much greener than you might expect.
And yes, 4/20 green is also included.
But other than that, another thing that people love about this city are it's gorgeous cherry blossoms.
These things begin to decorate the city at the beginning of April and are a must-see.
But that's just the beginning.
DC also has a number of green gardens that you can visit whenever you need an extra dose of nature.
A few that you should definitely visit include Hillwood Gardens, Franciscan Monastery Gardens, and Kenilworth Aquatic Gardens.
And don't ask for marijuana when you visit–they somehow view that as disrespectful.
Reason number 4, Live music
For any music lovers out there, DC is the perfect place to make your ears happy.
The city has plenty of venues where you can hear all types of artists express themselves.
Some favorites include Black Cat and The 930 club.
DC also holds an annual Jazz Festival that brings many visitors to the area and it's an event you won't want to miss.
But I will definitely miss it because I don't like Jazz.
Reason number 3, Food
You didn't think I would forget about food, did you?
You must be new here.
Because it's a cardinal sin for me to do a video like this and not talk about cuisine.
And when it comes to cuisine, DC is definitely the place to be.
You'll be able to take a trip around the world with your stomach with all the different types of food in DC.
And if you like a more upscale experience, there are plenty of celebrity chefs in the area that can give your palate what it craves.
Just make sure to get a couple of pairs of stretch pants if you decide to make the move. Trust me on this.
Reason number 2, Diversity
The reason why you can get any type of food you can imagine in DC is because of the diversity of people.
There are a ton of transplanted residents here.
And when you bring people together from many different backgrounds, you create a space that offers many new experiences.
So if you're a fan of meeting new and interesting people, you should definitely make the move. 

I'm about to share with you the number 1 reason why people move to Washington DC.
But first, I have some important news to share.
Here at Home and Money, we make the whole process of getting a home easier (even if you're a first-time home buyer).
We have a whole team that will connect you to the perfect agent so you can finally get that dream home. Plus, we'll equip you with your very own personal concierge if you're a first time home buyer–Which, if you've ever purchased a home, you know is a HUGE help considering how complicated the process can be
Best of all, this service is absolutely free!
Just check out the link in the description for more details.
Ok, now where were we.
Reason number 1, Rich history
There's no way I can do a top 10 video on DC without speaking about its rich history.
This place is literally made for history buffs.
From the jaw-dropping monuments to a large number of free museums, DC will be sure to remind Americans of their roots.
If you want to see something that'll really take your breath away, make sure to visit the Lincoln and Dr. Martin Luther King memorials.
It'll be an experience you'll never forget. 
And that my friends is the top 10 reasons why you should move to Washington DC.
Until next time!