Indiana First-Time Homebuyer Programs & Grants (easily apply)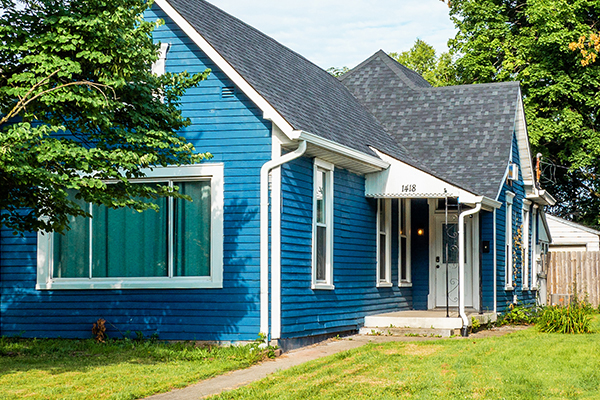 ---
If you want to get your hands on "free" money that can help you purchase your first home, then listen up. Because I'm about to share with you the exact easy-to-apply programs that will do just that.
And when you consider that homeownership in Indiana is still relatively affordable, with a median home price of $155,640, you'll be positioned to save a lot of money if you qualify.
But enough building up hype. Let's get into the programs.
Get a Gold-medal Home with the First Place Program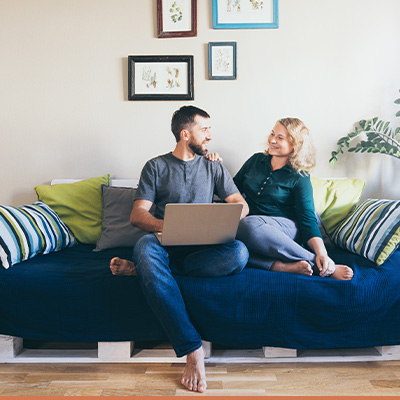 The Indiana Housing and Community Development Authority offers the First Place program to help you offset the cost of getting into a new home. Many homebuyers mistakenly believe that you need a 20% down payment to buy a home, but that is no longer true. The average down payment is only 5.3% of the purchase price.
The First Place program gives you access to down payment assistance for up to 6% of the home's purchase price. The loan term is 30 years, and you need a 640 or higher credit score to qualify. Additionally, your debt-to-income (DTI) ratio must not exceed 45%.
The DTI ratio is calculated by dividing your monthly debt payments by your gross monthly income. This ratio helps the lender determine if you can afford the mortgage and helps to mitigate the lender's risk for financial loss. Figuring out your DTI is simple. It is calculated using your gross income (the amount you earn before taxes) and total debt payments, including credit card debt, student loan payments, car payments, and any other debt, along with the prospective mortgage amount. Let's look at an example.
Let's say that you're a first-time home buyer in Indianapolis and you and your spouse each earn $2,800 in gross monthly income for a combined total of $5,600. Your total debt is $2,500 per month (including your prospective mortgage amount). Divide $2,500 by $5,600 to get a DTI ratio of 44%.
Qualifying for the First Place program is possible with a DTI higher than 44%; however, your credit score will need to be at least 680 and the DTI ratio may not exceed 50%.
If you aren't a first-time homebuyer, you may still qualify for this loan if the property is located in a qualified census tract or at least one of the borrowers is a veteran.
MAF Widget
Become a Homeowner with Helping to Own Down Payment Assistance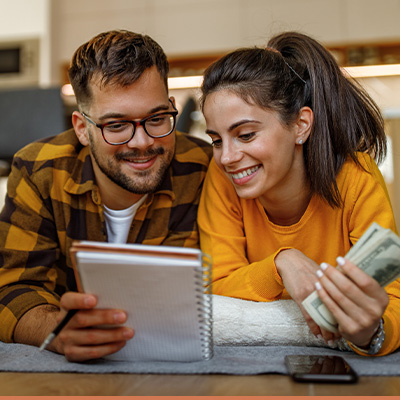 The Helping to Own Down Payment Assistance program provides a grant of up to 3.5% of the home price. The grant money does not need to be paid back, and you can use it toward the down payment and closing costs.
Closing costs are the fees associated with your mortgage and add up to around 2% to 5% of the mortgage amount. For example, if you finance $250,000, you can expect to pay up to $12,500 in closing costs. A realtor can help you negotiate a deal whereby the seller pays the closing costs. But if you must pay a portion of this fee, the Helping to Own program can help you pick up part of that bill. A few highlights of the deal include:
The grant provides up to 3.5% of the purchase price.
No repayment is required.
Eligibility requires at least a 660 credit score.
Income limits may apply depending on the home location and household size.
You must pay a reservation fee of $100.
Down payment assistance can help you mitigate the out-of-pocket expenses associated with buying a home, but there are other opportunities that allow you to continue saving on an ongoing basis, including the Mortgage Credit Certificate program (MCC) program.
Mortgage Credit Certificate program
The Mortgage Credit Certificate program is available through the Indiana Housing and Community Development Authority and provides a tax credit. As a first-time homebuyer, you can receive a federal tax credit of up to 35% of your mortgage interest (up to $2,000 annually).
You can claim the credit every year as long as the residence is owner-occupied. For example, if you decided to rent the property in the future, you would no longer qualify for the program. Other details include:
The MCC lasts for the life of the loan, unless you refinance or sell the property, or it's no longer your primary residence.
Income and purchase property limits may apply and vary based on home location and household size.
There is a one-time $500 fee required to set up the tax credit.
Talk with your lender to determine whether this tax credit is right for you. If your income falls within the qualifying limits, your lender can help you apply for the program through the IRS. The certificate is typically sent during January of the following year.
First-time home buying programs and private mortgage insurance
Many first-time homebuyers are surprised to discover private mortgage insurance (PMI). If you make less than a 20% down payment, a lender will likely require this insurance. PMI helps protect the lender against financial loss if you stop making payments.
The cost of PMI is up to 1% of the loan amount on an annual basis. Financing $200,000 on your home purchase may result in a monthly PMI payment of around $166. This may increase your DTI ratio slightly, and if you're on the edge of a lender's DTI ratio cutoff, this may push you over. For example, without PMI, you might be at a DTI ratio of 45%, but adding an extra $166 may push you past this threshold.
You can request that PMI be removed from your loan once you have at least 20% equity in the home. This will help lower your monthly mortgage payment.
Federal programs for first-time homebuyers
Whether you're looking for a first-time home buyer loan in Indiana or another state, there are federal programs that provide low down payments and flexible lending criteria. Consider the following programs when you're searching for the right mortgage program.
FHA loans. The FHA loan is a good fit for first-time homebuyers who need to make a small down payment or have low credit scores. The program allows you to put as little as 3% down with a credit score of at least 580. If you have a credit score of 500 to 579, you may still qualify for the loan with a higher down payment. PMI is required with FHA loans, and you'll pay an upfront premium and annual premium.
USDA loans. The USDA loan is designed for borrowers with low to moderate-income who are purchasing in USDA-eligible areas. There is no down payment requirement for this program, which means that you could potentially finance 100% of the loan amount. A credit score of 640 or higher is required, and USDA loans do not have PMI. Instead, these loans require two different forms of mortgage insurance, including an upfront guarantee fee and an annual fee.
VA loans. If you're an existing military member, veteran or qualifying spouse, a VA loan is an affordable option. This loan offers 100% financing and flexible credit score requirements. Additionally, the interest rates are typically lower for VA loans compared with conventional programs. PMI isn't required, but there is a funding fee that can be rolled into your loan costs.
Fannie Mae's HomePath Ready Buyer Program. This program is available to first-time homebuyers who need help with closing costs and are willing to purchase a home that went into foreclosure. The program is focused on first-time buyers interested in foreclosed homes owned by Fannie May. You must take an online homebuying educator course, and can receive up to 3% closing cost assistance toward the purchase of a HomePath property.
Moving forward with greater success
Purchasing a first home is a large decision, one that will last a long time. Fortunately, there are programs designed to help you bypass many of the obstacles to homeownership, including the down payment. Down payment grants, low down payments, and other special perks get you access to your new home faster, and with fewer upfront costs. The key is understanding what programs are available to you as a first-time homebuyer to move forward in the right direction.