Virginia First-Time Home Buyer Programs and grants of 2022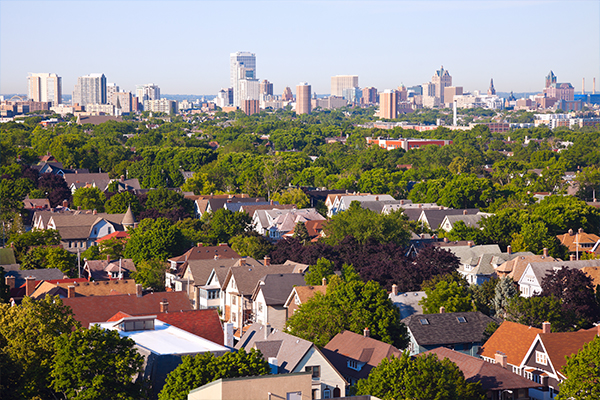 ---
Key takeaways:
Virginia first-time home buyers may be eligible for home loans with low 0-3% down payments
The commonwealth also offers grants that can help cover your down payment or your closing costs
First time home buyers can use up to 10% of their mortgage interest as a tax credit
From the DC suburbs to Southside Virginia, just about every corner of the commonwealth has seen a recent spike in home sales. Statewide, the median home price increased by 10.6%, bumping it up to $330,000. In a booming market, there's ample incentive for homeowners to put their homes up for sale. And with record low-interest rates, there's plenty of motivation for Virginia first-time home buyers, too!
However, a busy marketplace is competitive. As a first-time home buyer in Virginia, you may be unsure of how to make an appealing offer and secure your dream home.
Happily, Old Dominion offers plenty of programs that can help first-time buyers succeed. In this short guide, we'll go over the best first-time home buyer resources Virginia has to offer.
5 First-Time Home Buyer Programs in Virginia
Buying a home can take you on a winding path that is difficult to navigate. As you begin your real estate search, you may be unsure about what homes you can afford or how to make an offer once you've found the perfect one.
Virginia's educational and financial resources can serve as your compass as you navigate your first home purchase.
#1 Free Homebuyer Classes
The first step on your journey is to get your bearings. Buying a home involves the following steps:
Setting a budget based on a monthly payment you can afford.
Understanding home buying costs, such as property taxes, down payments, and Private Mortgage Insurance (PMI).
Getting approved for a loan to cover your purchase. (No one expects you to have $300,000 in cash on hand!)
Working with an inspector and appraiser to make sure your home is worth the investment after you have an accepted offer.
Preparing for closing costs (i.e. inspector and appraiser fees, legal fees, administrative fees).
Many of the steps and terms above may be unfamiliar if you're a VA first-time home buyer. That's why Virginia Housing hosts free classes for home buyers. You can also talk to an individual counselor to discuss your specific financial situation.
MAF Widget
#2 Virginia Housing Mortgages
As a Virginia resident, you may be eligible for federally-sponsored 0%-down programs for veterans and for people buying homes in designated rural areas. However, if you don't meet those criteria, Virginia has you covered with other low down payment options—such as a Virginia Housing loan.
To qualify, your household income will need to be below your county's threshold:
A Fairfax County first time home buyer making less than $138,200 could qualify for one of these loans.
To qualify in King George county, the same individual would need to make less than $92,600.
If you are eligible for this program based on your residence, you can choose from the following kinds of loans:
Conventional – These 30-year mortgage loans are available to first-time home buyers with credit scores over 640. They require a 3% down payment. You will also have to pay for Private Mortgage Insurance (PMI) to protect the lender in case you default on the loan.
No Mortgage Insurance – If you have a slightly higher credit score of 660, you can take out a 30-year loan with a 3% down payment—and you won't have to pay for PMI.
Combo – You may qualify to combine your Virgina Housing loan with the Down Payment Assistance that can lower your down payment to 1% (see below for more details).
#3 Down Payment Assistance (DPA) Grant
First-time home buyers may be eligible for an outright grant to help cover their down payments.
This program is available to individuals taking out FHA loans, Virginia Conventional loans, and Virginia No Mortgage Insurance loans. County income limits and credit scores for the respective programs apply.
The maximum grant is 2-2.5% of the down payment.
Repayment of the grant is not required.
#4 Closing Cost Assistance (CCA) Grant
Beyond your down payment, your closing costs can also be pricey—sometimes totaling as much as 5% of your home's purchase price. Virginia's CCA grant can help you cover these expenses.
The same income limits apply as the grants for the DPA.
This grant can cover up to 2% of your home's total purchase price
It cannot be used alongside the DPA grant
#5 PA Mortgage Credit Certificate
One of the best parts of home ownership is the tax benefits. These apply to Virginia homeowners as well. You can deduct your mortgage interest from your taxable income. So, if you usually pay taxes on $60,000 of income, but paid $5,000 in mortgage interest in 2020, your taxable income can be reduced to $55,000.
In Virginia, you can also use up to 10% of your mortgage interest as a tax credit.
What's the difference?
If you paid $5,000 in mortgage interest, you could deduct 90% from your income, thus paying taxes on $55,500. Then, you could use that extra 10% ($500) as a tax credit. If you previously owed $500 in taxes on your income, you would now owe zero thanks to your tax credit.
Resources for First-Time Home Buyers in Virginia
Full of both natural beauty and bustling cities, Virginia is a great place to call home. Whether you're a Loudoun County first-time home buyer or you're purchasing a home in Erie, the great resources from Virginia Housing make it possible to get the financing you need.
Take advantage of Virginia Housing's educational resources to get a better grasp on the buying process and your unique financial situation. Then, check to see if you're eligible for state or federal programs that can guarantee a low down payment. Don't forget Virginia's generous grants to help cover your expenses!
It can take time to find the right home and get your bid accepted. All you need is patience, know-how, and a little help from the Mother of States to get you started!