Vermont First-Time Home Buyer Programs and Grants of 2022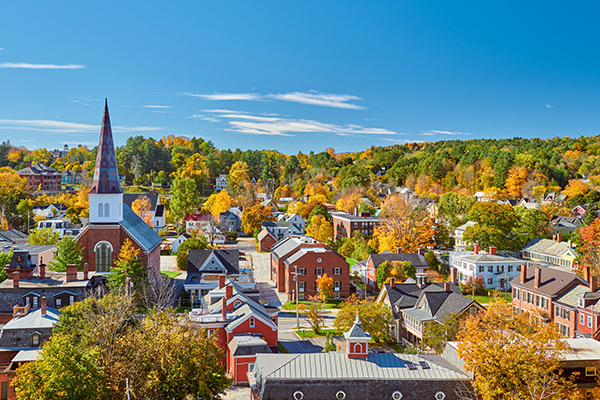 ---
Key takeaways:
Vermont Housing Finance Agency (VHFA) offers reasonable down payments and competitive interest rates as low as 2.5% on FHA, VA, and USDA government loans.
Receive up to $5,000 in down payment assistance as a 0% interest second mortgage with no monthly payments required.
With VHFA's Mortgage Credit Certificate, you may be eligible for up to $2,000 as a federal tax credit each year you continue to pay interest on your loan.
First Time Homeownership in Vermont
There are a lot of factors to consider when it comes to buying your own home. Do you have the financial means? Is it a smart long-term investment? And is now even a good time to buy?
When it comes to the current housing market in Vermont, you're in luck. The housing market has remained surprisingly stable. Sales prices have increased steadily since 2014 and continue to follow this same trajectory. Despite the uncertainty of 2020, Vermont's real estate industry has mostly kept pace with previous years. Not to mention the state is experiencing some of its lowest mortgage rates.
As for the question of financial means, Vermont has beneficial resources available for first-time home buyers to make the process simpler and more accessible.
MAF Widget
4 First-Time Home Buyer Programs and Grants of 2020
As a first-time home buyer—or at any stage along your homeownership journey—it's okay to have questions. In fact, it's expected. That's why the Vermont Housing Finance Agency (VHFA) is such a great resource, whether you need a mortgage loan, down payment assistance, or just a friendly professional to go to for advice.
Vermont Housing Finance Agency Mortgage Loans
The VHFA offers three unique loan programs:
The terms, qualifications, and exact rates differ slightly between all three, but each one includes a few of the same benefits:
Up to $825 discount on Vermont Property Transfer Tax
Low down payment options
Low monthly mortgage insurance—lower for conventional loans than government
The primary differences are the interest rate and the income and purchase price limits. Let's dive into each one to find out if it's right for you.
#1 MOVE Loan
This first time home buyer Vermont program boasts the lowest interest rates—2.5% for government loans, such as FHA, VA, and USDA, and the slightly higher rate of 2.75% for conventional loans. These include Freddie Mac (Federal Home Loan Mortgage Corporation) and Fannie Mae (Federal National Mortgage Association) loans.
Freddie Mac and Fannie Mae might sound like the adorable elderly couple that lives at the end of the block, but they're actually two government-sponsored mortgage loan providers. These conventional loans are best for borrowers in a slightly better financial position at the start of their mortgage. If you have a good credit score and sufficient assets, a conventional loan offers greater flexibility, a larger maximum loan, and the potential for long-term savings.
The MOVE loan is a great option—with either a government or conventional loan—as long as you meet the income and property purchase limits and will be using this new property as your primary residence.
#2 MOVE MCC Loan
The MOVE MCC loan has all of the same features as the MOVE loan—including a low down payment, low mortgage insurance premiums, and property tax savings—plus one added bonus. These loans come with up to $2,000 in federal tax credits for every year you continue to pay interest on your mortgage.
In exchange for this tax credit, your interest rate with a MOVE MCC loan will be slightly higher than with the standard MOVE option:
2.75% instead of 2.5% for applicable government loans
3.125% instead of 2.75% for conventional loans
This program essentially combines two different VHFA options: the MOVE loan and the Mortgage Credit Certificate (hence the "MCC" tacked on to the name). The Mortgage Credit Certificate is also available as a standalone option.
Mortgage Credit Certificate (MCC)
MCC is available with various mortgage types and lenders, not just in conjunction with VHFA's loan programs. You'll be eligible for the same $2,000 tax credit with each passing year of paying interest, as long as you meet the other requirements:
At least three years since homeownership if applying to purchase in certain counties
Must be moving into this new home as your primary residence
Within maximum income and purchase price limits—these vary between county, loan type, and household occupancy
#3 VHFA's Advantage Loan
VHFA's Advantage loan is quite similar to MOVE. However, these borrowers are usually moving into more expensive neighborhoods, or their annual income exceeds the allowable limits to qualify for a MOVE loan.
VHFA has waived the first-time home buyer requirement, but most of the other eligibility standards still apply. Borrowers receive the same great interest rate as MOVE MCC—again, 2.75% for government and 3.125% for conventional—which is only slightly higher than the standard MOVE loan. If your household's income disqualifies you from a MOVE loan, VHFA's Advantage is still a suitable alternative.
#4 ASSIST Down Payment & Closing Cost Assistance
You can combine any of the above three mortgages—Advantage, MOVE, and MOVE MCC—with VHFA's ASSIST loan. ASSIST includes $5,000 as a financial benefit, intended for your down payment or closing costs.
ASSIST, while technically a second mortgage, is a zero-interest loan with no mandatory monthly payments. You won't have to pay off your ASSIST loan until you sell, refinance, or pay your entire first mortgage. Feel free to pay it back on your terms, throughout your homeownership.
It's important to note that this upfront assistance does come at a small cost. Adding this loan option onto another VHFA loan will raise your interest rates for the most part:
With MOVE – Same interest rates
With MOVE MCC – 0.5% higher with government loan, 0.25% higher with conventional Freddie Mac or Fannie Mae loans
With Advantage – 0.25% higher with either government or conventional loans
If you need a little extra help getting the necessary funds together, down payment assistance can make a monumental difference. Be sure to complete your Homebuyer Education course within 18 months before closing on your home and confirm that you meet the additional eligibility requirements.
Resources For First-Time Home Buyers
VHFA can help you with more than just financial logistics. Here are a few other resources that may come in handy as you navigate this tricky home buying period:
Find a lender – Whether or not you've decided on a loan program, VHFA has a list of qualified participating lenders that can walk you through each option and help you determine the best course of action. You can also search by county to find a friendly financial face right in your neighborhood.
Market analysis – VHFA's affiliate website HousingData.org provides valuable housing market data and analysis, plus tons of useful tools to prepare you for homeownership.
Homebuyer Education – Educating yourself as a first-time home buyer can set you up for success. You'll be able to complete your education course online through eHome America or in-person at a NeighborWorks HomeOwnership Center, and then you'll receive housing counseling from a qualified professional.
During the unprecedented times we're in, it's important to work with qualified experts. Vermont may be experiencing low mortgage rates, but that also means there's some competition between buyers. Preparedness goes a long way when it comes to grabbing your perfect home.
Settling Down in the Green Mountain State
Living amid Vermont's lush greenery and idyllic landscapes may feel like a dream, but homeownership doesn't have to. You can turn Vermont's beautiful valleys and namesake Green Mountains into your personal backyard, as long as you rely on the plentiful resources designed for first time home buyers like yourself.
Sources:
Vermont Housing Finance Agency. VHFA News: Vermont housing market remains steady during pandemic. https://www.vhfa.org/news/blog/vermont-housing-market-remains-steady-during-pandemic
Coldwell Banker Hickok & Boardman. Northwest Vermont Market Report: Q3 Market Report. https://www.hickokandboardman.com/vermont-market-report/
Vermont Housing Finance Agency. Mortgage program options. https://www.vhfa.org/homebuyers/loanprograms
Vermont Housing Finance Agency. Homebuyer education. https://www.vhfa.org/homebuyers/education
Vermont Housing Finance Agency. Income and purchase price limits. https://www.vhfa.org/homebuyers/limits#qt-limits_page-ui-tabs1