Arizona First-Time Home Buyer Programs and Grants of 2022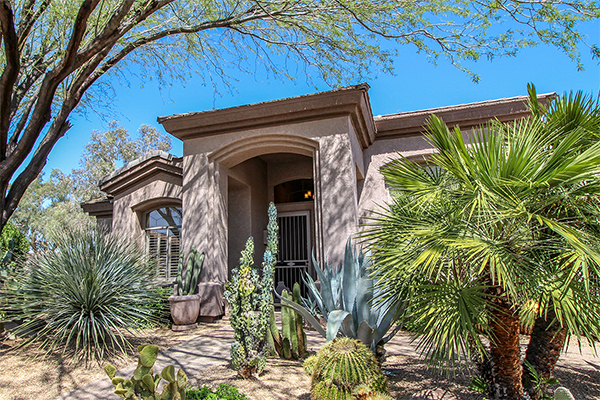 ---
Mild winters, beautiful scenery, and a reasonable cost of living are just a few reasons many people call Arizona home. The number of homes purchased in the state has steadily risen, and the area has become one of the fastest-growing states in the country. But if you're a first-time home buyer in Arizona, you might be wondering about available programs and whether they can help you offset the cost of getting into a new home.
As a first-time home buyer, you can access options that aren't available in other parts of the country. These programs offer reasonable interest rates, down payment assistance, and low private mortgage insurance. Understanding more about the available home buying resources will help get you into your new home faster and with fewer expenses.
MAF Widget
AZ first-time home buyer: What is the Home Plus program?
One of the most significant hurdles when it comes to purchasing a home is the down payment. Many first-time home buyers think that you must put 20% down on your home. Fortunately, this isn't always true, and down payment requirements are as low as 3%.
Additionally, first-time home buyers in Arizona have access to programs that offset the cost associated with purchasing a new home. The state offers the Home Plus program, a down payment assistance option that helps eliminate a significant hurdle for first-time home buyers. This payment assistance program is available to those purchasing their first home and those who have difficulty coming up with the upfront funds to move forward.
The housing loan program is administered by the Arizona Industrial Development Authority, also known as Arizona IDA, which is a nonprofit subdivision of the state of Arizona. The program offers a 30-year fixed-rate mortgage combined with down payment assistance, reaching up to 5% of the purchase price. DPA can be used toward the down payment and/or closing costs.
Qualifying for the Home Plus Program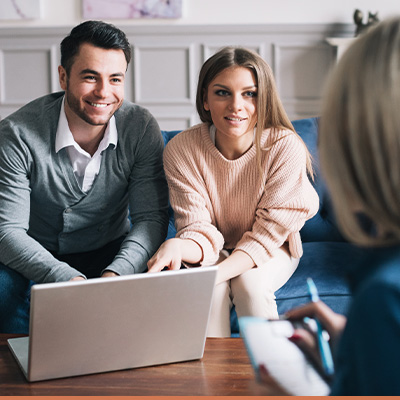 If you're interested in the Home Plus program or information about it, the first step is to find a participating lender. The lender will work with you to qualify for the program and ensure that you meet the required eligibility criteria. The DPA maintains a database of participating lenders. Consider a few program highlights and qualifying criteria before contacting the lender.
Program availability. The Home Plus Program is available in all counties and cities within the state of Arizona.
Income caps. Borrower(s) income must not exceed $109,965 annually.
Home buyer education is required. At least one of the borrowers must complete a home buyer education course before closing the home loan.
Minimum credit score requirements. Borrowers on the mortgage must have a credit score of at least 640.
The program also has a maximum debt-to-income ratio ranging from 45% to 50%, depending on the loan's specific details. The DTI ratio is your total debt divided by the total household income. For example, let's say that you and your co-borrower each earn $2,500 per month, for a combined gross income of $5,000. The total debt, including your car payment, credit card payments, student loan payments, and the new mortgage amount, is $2,500. If you divide $2,500 by $5,000, your DTI ratio is 50%.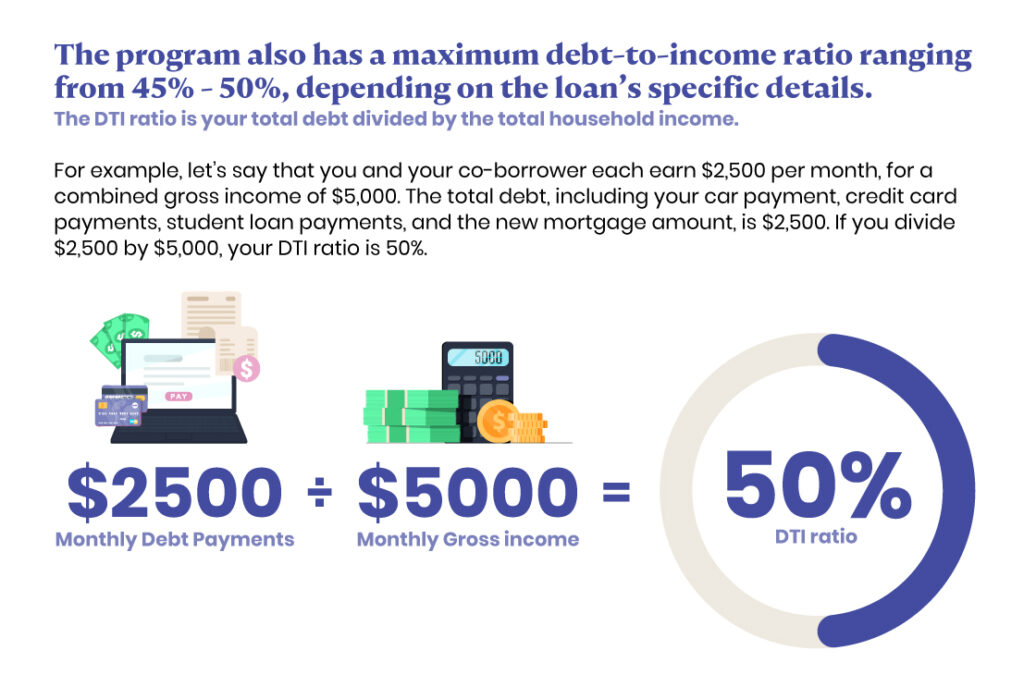 The program also has a maximum loan-to-value amount, which varies from 96.50% to 97%. The LTV is the difference between your new home's purchase price and the LTV required for the down payment. This figure does not include mortgage costs. For example, let's say that the maximum LTV is 97%. This means that you need to put down at least a 3% down payment on your home purchase.
Understanding down payment assistance terms
One of the most significant benefits of the Home Plus program is its down payment assistance. Down payment assistance allows you to make a down payment with little to no out-of-pocket expenses. This program is offered in two different formats.
Second mortgage with no interest, no payments and loan forgiveness. This mortgage is set up as a second mortgage, but you don't need to make payments on the loan. The amount is fully forgiven after the 36th month of homeownership. However, if you decide to sell or refinance the mortgage before the 36th month, you will need to pay that second mortgage in full.
Second mortgage with no interest and payments, but no forgiveness. This option does not require interest or payments. However, it must be paid in full upon refinancing or selling your home and is not forgivable.
Additionally, there are reduced mortgage insurance premiums on the loan program. But what is PMI? Let's take a look.
Understanding the cost of PMI on your first home in Arizona
If you put less than 20% down on your home purchase, you will need to pay mortgage insurance. Mortgage insurance lowers the risk to the lender of borrower default. If you stop making payments, the lender is covered. PMI rates vary based on the mortgage type of the specific risk criteria of the borrower.
PMI typically costs between .5% to 1% of the loan amount annually. This breaks down to around $83 a month for every $100,000 of the loan. For example, let's say that you finance $300,000. Mortgage insurance may be up to $249 a month.
The Arizona IDA may provide a lower PMI cost. According to the Arizona IDA website, "On the Fannie and Freddie products, the charter minimum mortgage insurance coverage is much lower than mortgage insurance coverage outside of the Home Plus program."
The good news is that once you have at least 20% equity in the home, you may ask the lender to cancel the PMI. For example, let's say that you purchase your home for $150,000 and now it's worth $300,000. You have $150,000 in equity, which is far greater than the $30,000 (or 20%) amount of the loan amount. Asking to drop the PMI can save you a sizable amount of money each month and help lower the monthly payment.
MAF Widget
Understanding federal loan options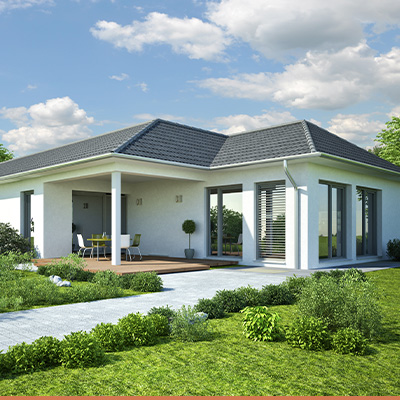 In addition to considering special first-time home buyers options in the state of Arizona, you may want to consider federal mortgage options. There are some cases, such as when you have a lower credit score or when you're a member of the military, where it makes sense to look at additional options.

For example, if you have a credit score of 580, you may have difficulty qualifying for the Arizona IDA program. But you could potentially qualify for an FHA mortgage loan. If you're a retired military vet, you may qualify for a VA loan with no down payment requirement and lenient qualifying criteria. Let's take a look at some of the potential options.
FHA programs. Borrowers using this program can make a down payment as low as 3.5% on the home. Additionally, credit scores as low as 580 are considered for FHA mortgage loans. The type of loan also allows for "down payment gifts," which means that someone can "gift" you the entire down payment amount.
FHA loans don't have traditional mortgage insurance but do require an upfront fee of 1.75% of the mortgage amount, which can be rolled into your loan amount. A monthly premium of .45%-1.05% is also required.
VA loans. If you are an active member of the military or retired military or qualifying spouse, you may qualify for a VA loan. There is no down payment requirement, and the qualifying criteria are lenient. Additionally, unlike other programs, VA loans do not require PMI. This may save you hundreds of dollars each month.
USDA loans. USDA loans are available to borrowers who purchase in qualifying rural areas. The benefit of this program is there is no down payment requirement, and the qualification standards are lenient. Instead of traditional PMI, USDA loans require an upfront guarantee fee, which can be rolled into the home loan. This upfront fee is 1% of the purchase price. There is also an annual guarantee fee of .35%. You can find out what the USDA considers a rural area here. Property types range from small towns to large subs or metropolitan areas.
Moving into the future
Making the decision to purchase your first home can feel overwhelming. You must consider what you need to provide to qualify, specific loan criteria, and what resources are available to you as a first-time home buyer. The Arizona first-time home buyer program makes the process easier with down payment assistance and flexible mortgage programs.
Additionally, borrowers have access to the popular options for first-time home buyers offered federally. The key is to take inventory of the resources you have available for your first home purchase and look at each program to determine whether it fits your financial goals. Doing this will put you on the path to homeownership faster.