The top 10 Reasons to Move to Portland, OR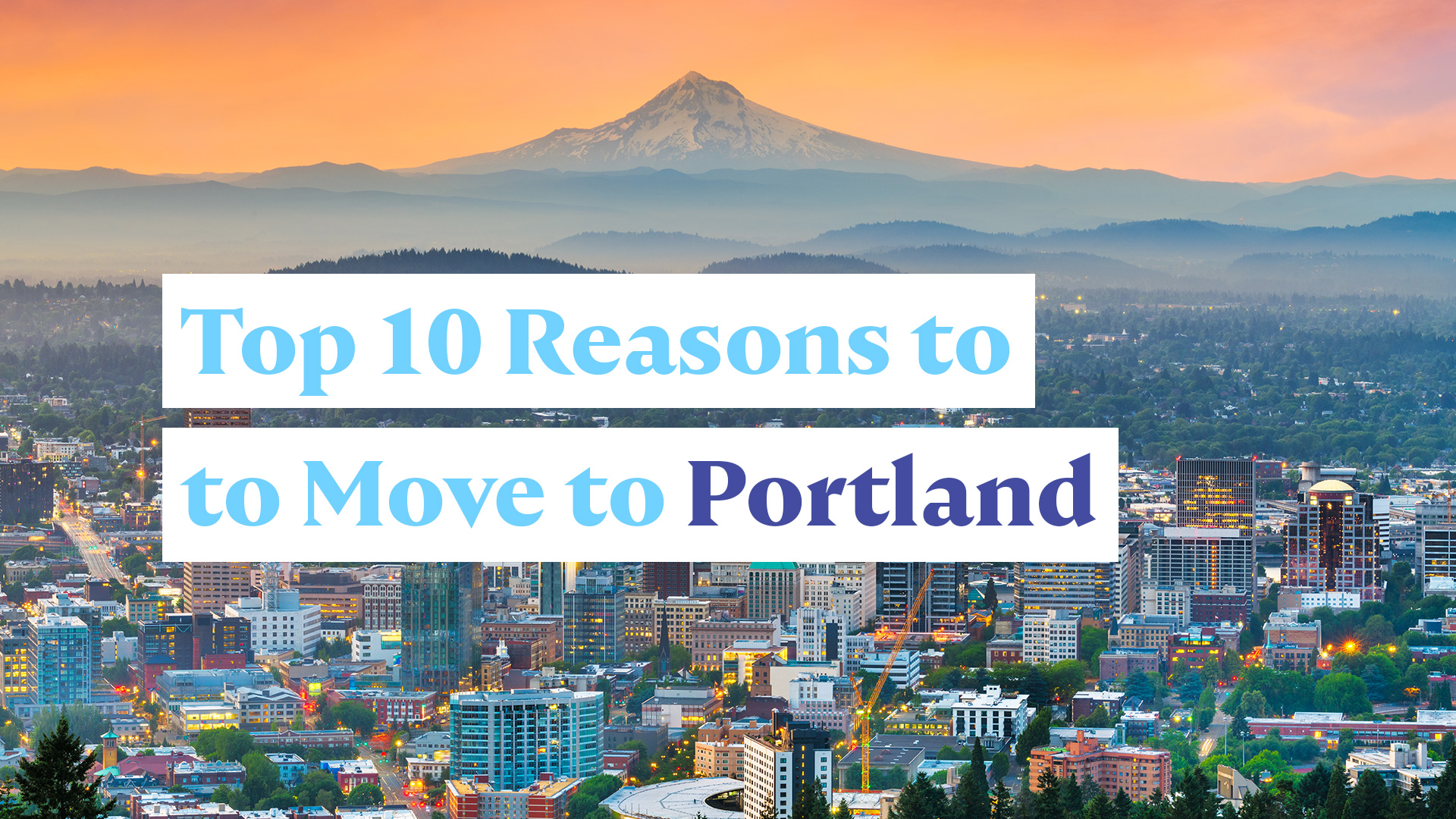 ---
Well hello, there sunshine.
Seems to me you're a tad bit curious about Portland Oregon.
You've probably heard about how this city is prone to rain and want to know if it'll rain on your parade if you move there.
Short answer–yes. Yes it will
However, I would argue that some parades are more fun with a little rain.
Which is why you definitely should stick aroundfor my top 10 reasons why you should move to Portland Oregon.
#10 Job Opportunities
While Portland isn't topping any lists of places with the most job opportunities, they certainly aren't void of opportunities.
There's a number of big companies in fields like Tech, Health, and sports that definitely have roles that need to be filled.
And sure, you might have to commute to work in a sailboat, but you should have no problem finding a job.
Fair warning, there will be a lot of jokes about rain in this video.
#9 No Sales Tax
Not only will you be gainfully employed in Portland, but you'll also get to hang on to more of your money.
That's because Oregon is one of the 5 states in America with no sales tax.
This alone should be a good enough reason to move to the city.
Because with all this extra money in your pocket, like Portland, you'll be able to make it rain.
See, told ya.
#8 Walkability
One thing that makes Portland distinctly different from many other cities is its walkability.
You see, Portland isn't one of those huge cities like New York or Chicago. But rather, it has a very manageable size. And this size affords locals the ability to easily access parts of the city via alternative means of transportation.
For example, biking is a very popular way to navigate the city.
In fact, around 7% of locals commute this way, which is much higher than the national average.
This surprised me when I read it because I definitely thought canoes were the preferred way to get from point a to point b.
Oh well.
#7 Restaurants
If you're a foodie, you'll absolutely love Portland.
Portland is one of those places where visiting a chain restaurant is a cardinal sin. There are just so many locally-owned restaurants to choose from that you couldn't possibly visit them all.
Plus, the residents of Portland take supporting local businesses very seriously, so I would approach eating at places like KFC with extreme caution.
You wouldn't want to get waterboarded…ok, that's the last rain joke I promise.
#6 Beer Scene
This may come as a surprise but Portland is also known for its amazing beer scene.
This city has 58 breweries and is often rated the best beer city in America.
If you decide to visit, make sure to hit up 10 barrel and Schilling and make sure to tell 'em I sent ya…although, I'm sure they have no idea who I am…I just always wanted to say that.
#5 Coffee Scene
If you're looking for a beverage with a darker hue, then you'll be happy to know that coffee is also something Portland is known for.
It's been rated one of the top 3 cities for coffee and you'll quickly find that the baristas love to talk about it.
So feel free to pour up a cup while it pours down outside.
I think I have a problem.
#4 It's Very Green
No, I'm not talking about 4/20 festivities, I mean the other green that means sustainability.
Portland is one of the most forward-thinking cities in America and is the perfect home for people who care about the earth–which hopefully includes all of us.
Living in Portland is like having a guest role in the series Captain Planet because literally everyone here is on the same page…and that page just so happens to be recycled.
If you don't believe me, consider this:
In Portland, grocery stores literally are unable to offer plastic bags. Oregon was the first state to introduce bottle deposits, and Portland was the first city to implement a green tax.
So if you consider yourself green, make the move to Portland so you can see how the big boys get down.
#3 Summer Weather
Let's put a pause on the rain quips and get serious about the weather.
One of the best reasons to move to Portland according to the locals is the summer months.
Instead of reaching temperatures of 100+ degrees, Portland's summers rarely exceed 90 degrees Fahrenheit.
This means the summers in Portland aren't unbearable like they are in other parts of the country.
Speaking for myself, I hate being hot. So this point alone is enough to make me consider the move.
#4 Outdoor Activities
There are a ton of outdoor activities you can do in Portland.
When living in Portland you can have a great time going windsurfing, enjoy peaceful lakes, and even chase waterfalls like TLC.
You'll even be close to the desert. Which makes for the perfect getaway if you ever get tired of the persistent precipitation.
It's safe to say that Portland is an outdoor lover's paradise. 
Alright, it won't be long now.

I'm about to share with you the number 1 reason why people move to Portland Oregon.
But first, I have some important news to share.
Here at Home and Money, we make the whole process of getting a home easier (even if you're a first-time home buyer).
We have a whole team that will connect you to the perfect agent so you can finally get that dream home. Plus, we'll equip you with your very own personal concierge if you're a first time home buyer–Which, if you've ever purchased a home, you know is a HUGE help considering how complicated the process can be
Best of all, this service is absolutely free!
Ok, now where were we.
#1 Millennial Living
I don't know if you've picked up on this, but everything listed above about Portland makes it the perfect city for millennials.
Think about it.
The attention to the environment. The endless coffee shops. The unceasing rain makes the perfect excuse to be anti-social.
There truly is no better place for millennials in America.
And it's likely why so many are coming to this city in droves.
And make sure to bring a nice assortment of raincoats to Portland. You'll need them.
Until next time!