Pros and Cons of Living in Omaha, NE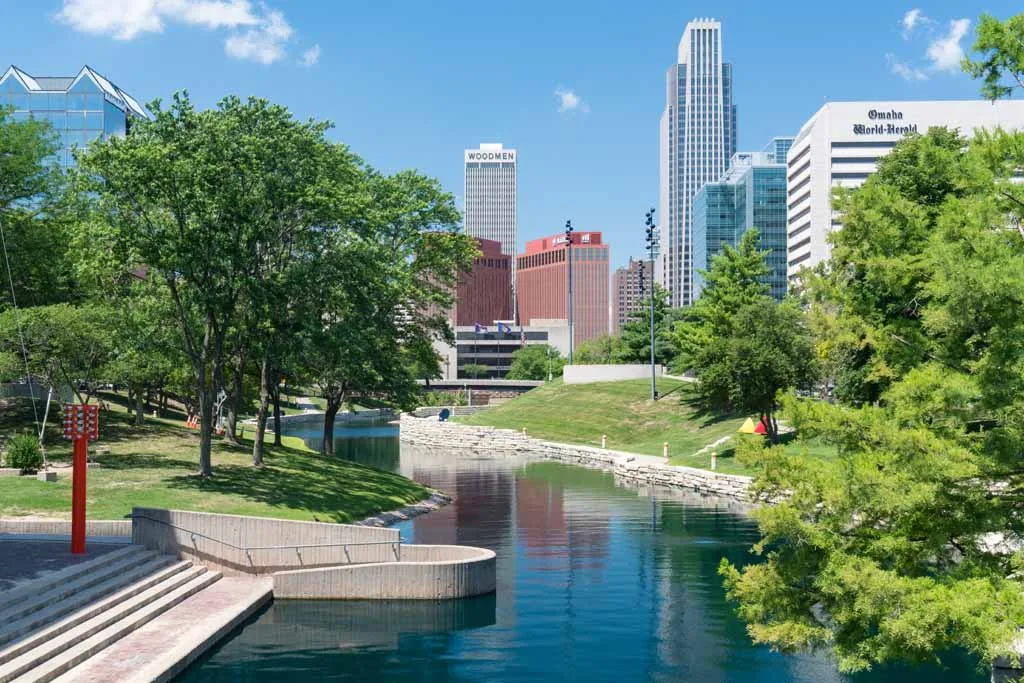 ---
Omaha, Nebraska, is a bustling metropolis popular for its diverse cuisine, welcoming residents, and prosperous economy. The city is on the edge of becoming a major metropolis, with a population of about half a million people, but somehow it has managed to retain its small-town feel.
Just like with any other city, living in Omaha however has both its advantages and drawbacks. It's important to know what to expect when you move to a new city, so hang around, because we'll be talking about 12 pros and cons of living in Omaha, NE!
Pros
1. A low cost of living
If you're hoping to live in a city where your dollar goes a lot further, then Omaha might just be the place for you. With an index of 89.8, Omaha's cost of living is 4% lower than the national average. The average rent is $805, and the median home price is $270450, although the housing market is getting quite competitive. Point is, you get to save costs in this city.
MAF Widget
2. The perfect place to start a flourishing career
Omaha has one of the lowest unemployment rates in the United States, at 2.1%. That's probably because big businesses are drawn to Omaha since it's a city with room to grow and expand. It's a great place to start a business, and you can easily get a job at one of the city's many well-established corporations.
The city is quickly becoming a major center for new businesses in the tech sector. Retail Trade, Manufacturing, Construction and Development, Military & Defense, and Agriculture are some of the top industries in Omaha.
3. An amazing food scene
Omaha's culinary scene is an absolute delight. There's cuisine from all over the world in this city. Omaha is well-known for its beef, and even if you're not from the area, you've undoubtedly heard of their steaks or burgers.
In addition, New York City chefs, Chicago chefs, and Los Angeles chefs are all opening restaurants in Omaha because of the city's promising restaurant industry. Some popular restaurants include The Hoppy Taco, Hook & Lime Tacos, Society 1854, Virtuoso Pizzeria, Yoshitomo Sushi, and Bruno's Pasta Company.
4. You're sure to find something to do
There are many things you can do alone or with your family in Omaha, and you're sure to have a fun time while at it.
Take the kids to visit Omaha's Henry Doorly Zoo. See artworks from all over the world at Joslyn Art Museum. View local art pieces at Cali Commons or Hot Shops Art Center. Enjoy the Omaha Fashion Week in February. Check out Heartland of America Park.
Go to Fort Atkinson, a U.S military base. See beautiful flowers at Lauritzen Gardens. Visit the Durham Museum. Other fun places to visit include Joslyn Castle, Omaha Children's Museum, Zorinsky Lake Park, El Museo Latino, Pioneer Courage Park, and many others.
5. There's barely any traffic in Omaha
Omaha is not as congested as some other major cities, so residents spend less time stuck in traffic and more time enjoying life. There is rarely any congestion, and you can frequently drive across the city in less than 20 minutes.
6. The people are friendly and accommodating
Moving to Omaha also has the added benefit of introducing you to a diverse and welcoming community, because the city is home to friendly, tolerant, and accepting people. So it's really not a big deal if you're not from around there.
If you're the social type who knows how to approach strangers while still being polite and outgoing, you can quickly expand your circle of friends.
The residents of Omaha are generally warm and welcoming, making it easy to strike up conversations with strangers. This means that newcomers do not have to worry about feeling lonely or isolated and can instead look forward to making lots of amazing new friends.
Cons
1. The crime rate is a concern
A major drawback of Omaha is the city's crime rate. The violent crime rate per 1000 residents is 6.24, while the property crime rate is a little on the high side, at 31.37.
Omaha recorded 3,032 violent crimes and 15,247 property crimes in 2021. Crime is higher in Omaha than in any other city in Nebraska, and the crime rate is much higher than the national average. So if you're planning to live in Omaha, you've gotta be security conscious and pay close attention to your surroundings.
2. The air quality in the city is poor
Omaha's air quality isn't all that fantastic, and for people with health issues (particularly lung-related ones), it could end up affecting more than just their health; it could also reduce their whole quality of life. 
MAF Widget
As a result of the large amounts of pollution produced by combustion sites (such as vehicle engines, industrial facilities, and power plant boilers) and particulate matter sources (such as sandstorms, construction areas, or poorly maintained roads), the air is contaminated with various chemically related compounds.
3. The weather could get extreme
It is important to know that winters in Omaha can get quite cold. The temperature drops to as low as 18°F during winters, so if you don't enjoy overly chilly weather, you would be happier in New Orleans or somewhere else warmer.
4. Public transportation is poor
Omaha's public transportation isn't as good as that in other major cities, and depending on the bus system could leave you frustrated. You would need to depend on your car if you want to get around conveniently.
5. The city isn't quite scenic
Omaha's shortage of national parks and other natural attractions is a major drawback for anyone thinking about relocating there.
As a result, you might not enjoy the outdoors as much as others who live in more scenic areas.
6. If you love big city life, Omaha's not for you
Omaha lacks the glitz and glamor of a city like Los Angeles, and if you crave non-stop excitement, you're better off relocating to a larger metro area.
For instance, If you love to shop a lot, Omaha is probably not the best city for you to live in, because there are fewer high-end shopping options there than in other major cities.
Final Thoughts
There are many benefits that come with living in Omaha NE, but there are some major drawbacks too. The low cost of living, the abundance of job opportunities, and the exciting culinary scene are some major benefits. The high crime rates, on the other hand, and the extreme weather are disadvantages. If you choose to move to Omaha, you should be prepared to cope with the drawbacks that come with living in the city.