Top 10 Reasons to Move to Las Vegas, NV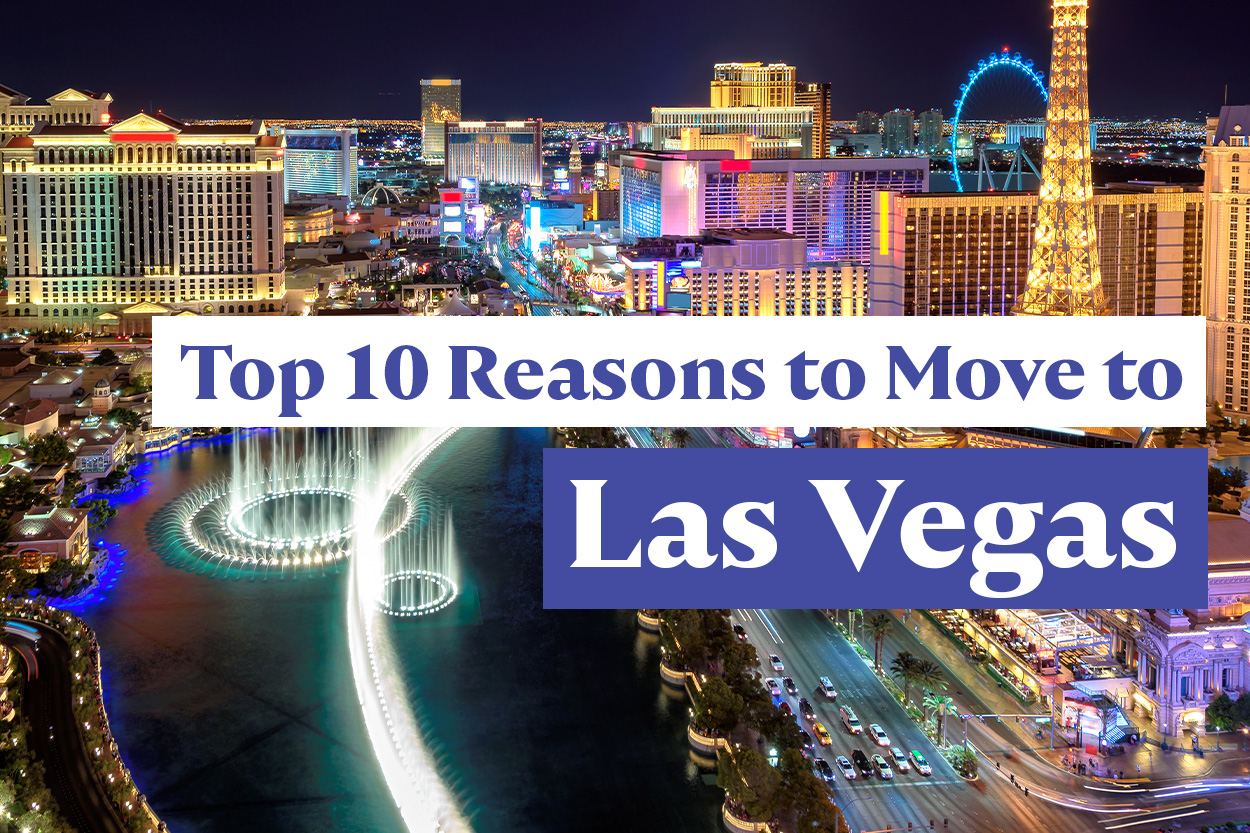 ---
Woooh who's ready to party?
Because if you clicked on this article about Las Vegas, I know for certain you're looking for a good time.
But honestly, Vegas isn't just a place where you can have your very own Hangover experience. It's also a pretty cool place to live.
And if you don't believe me on that, I want you to know two things.
Number 1, that hurts my feelings–honestly, I thought you knew me better by now.
Number 2, just keep reading this article. Because in it, I'll cover everything you need to know about Las Vegas.
Let's get started.
MAF Widget
Reason 10, No income tax
Raise your hand if you like money.
Now obviously, I can't see you, but I imagine your hand is held high.
Contrary to popular belief, Las Vegas is the perfect place to put more money in your pocket.
Because the state of Nevada is one of the few places in the US that doesn't have a state income tax.
So as long as you put that money in your savings, and not into gambling, you should be a happy camper.
Reason 9, Affordability
Oh, you thought I was done talking about money?
Well, prepare yourself because I still have more to say on the subject.
Here in Las Vegas, most of the money is made from tourists who come from all over the US to pour funds into the local economy.
And what these suckers…I mean patrons…lose, the residents of Las Vegas gain. Because this surplus of money flowing into the system is what affords Vegas to have a low cost of living.
So if you're looking for a place where your money can stretch, look no further.
Reason 8, Good weather
Let me guess, you probably think Vegas has unbearable heat, right?
Wrong. Well, sort of.
Because while temperatures here can be as high as 120 degrees, it doesn't quite feel like it. That's because Las Vegas has a desert climate–meaning there's little to no humidity.
So even though this city gets around 310 days of sunshine per year, the heat won't have you sweating through your shirt.
And for those of you who aren't keen on snow, in Vegas, the stuff pretty much doesn't exist. And that goes double for rain.
So you can expect clear blue skies from here on out.
Reason 7, Restaurants
Like any other big city in the US, Vegas has a pretty impressive food scene.
You'll find tons of celebrity chefs here. Along with popular and exclusive chains that are hard to find anywhere else.
Plus, when you move to Vegas, you'll be able to try food from all over the nation in one swoop.
Just make sure to take it easy. An uncomfortably full belly does not mix well with the heat.
Reason 6, Outdoor activities
Outdoor enthusiasts will absolutely love Las Vegas.
And that's not because Vegas itself has a ton of outdoor activities. But rather, you'll be just a short drive away from these places.
You'll be able to catch incredible views, go hiking, and even enjoy water sports at Lake Mead.
Or maybe you want to add some cold activities to your day? Just take a 30 minute trip to Mt. Charleston ski resort and hit the slopes.
You're guaranteed to find an outdoor activity you'll enjoy if you make the move.
Reason 5, Sports
Whether you want to actively engage or be a spectator, Las Vegas is perfect for sports lovers.
For instance, did you know that Vegas has over 70 golf courses?
Or consider the fact that Vegas has the Vegas Golden Knights pro hockey team and Las Vegas Aces WNBA team.
No matter what sport you're into, you'll be able to get your feel in Vegas.
And if you want to know why they have so many golf courses, I think this next point should shed some light.
Reason 4, Retirement
Speaking of golf, I bet you wouldn't associate a place like Vegas with retirement.
Well, you probably should. Because when you combine the low cost of living with the perfect weather, it'll make all the grandpas and grandmas out there very happy campers.
Here's a pro tip. If you ever lose track of your grandpa in Vegas, just check the slot machines.
…that's what they call strip clubs in Vegas.
Reason 3, Comedy scene
Now here's a personal favorite.
Las Vegas is one of the BEST places to experience live comedy.
The best comedians from all over the country come to Vegas to give performances somewhat regularly. So no matter what time of year it is, you're almost guaranteed to see a recognizable name.
Best of all, if you're someone looking to break into the comedy profession, then Vegas also affords many opportunities to up-and-coming comedians.
But if a career in comedy isn't your cup of tea, no worries. Because Las Vegas has plenty of jobs to go around.
Speaking of which…
Reason 2, Job opportunities
Like all well-populated cities, Las Vegas has an increasing amount of job opportunities.
Specifically for those working in the hospitality industry.
This is due to the abundance of hotels, casinos, bars, restaurants, etc. But if you're looking for work in a different industry, don't let that deter you.
Industries such as technology, healthcare, global trade, and financial services are also growing in the area.
And with that said, we're about to reveal the number 1 reason why people are moving to Las Vegas.
But before we get to that, there's something you should know.
Here at Home and Money, we make the whole process of getting a home easier (even if you're a first-time home buyer).
We have a whole team that will connect you to the perfect agent so you can finally get that dream home. Plus, we'll equip you with your very own personal concierge if you're a first time home buyer–Which, if you've ever purchased a home, you know is a HUGE help considering how complicated the process can be
Best of all, this service is absolutely free!
MAF Widget
Ok, now where were we.
Reason 1, Endless entertainment
C'mon. Are you really surprised?
You absolutely can't talk about Las Vegas without talking about the overstimulating amount of entertainment that can be experienced there.
Even if you're not located on the strip, you'll still find plenty of things to get into.
For example, did you know that many tourist spots have deals for locals? This means that you'll be able to score tickets to just about any show you want.
But not just shows. You'll have access to plenty of museums, art districts, pro sports, musical festivals and the list just goes on and on.
So if you're the easily bored type, there is no better place to live than Las Vegas, Nevada
And that's a wrap!
Hopefully you've enjoyed learning about Las Vegas Nevada as much as I enjoyed talking about it.
Until next time!