Top 10 Reasons to Move to Baltimore, MD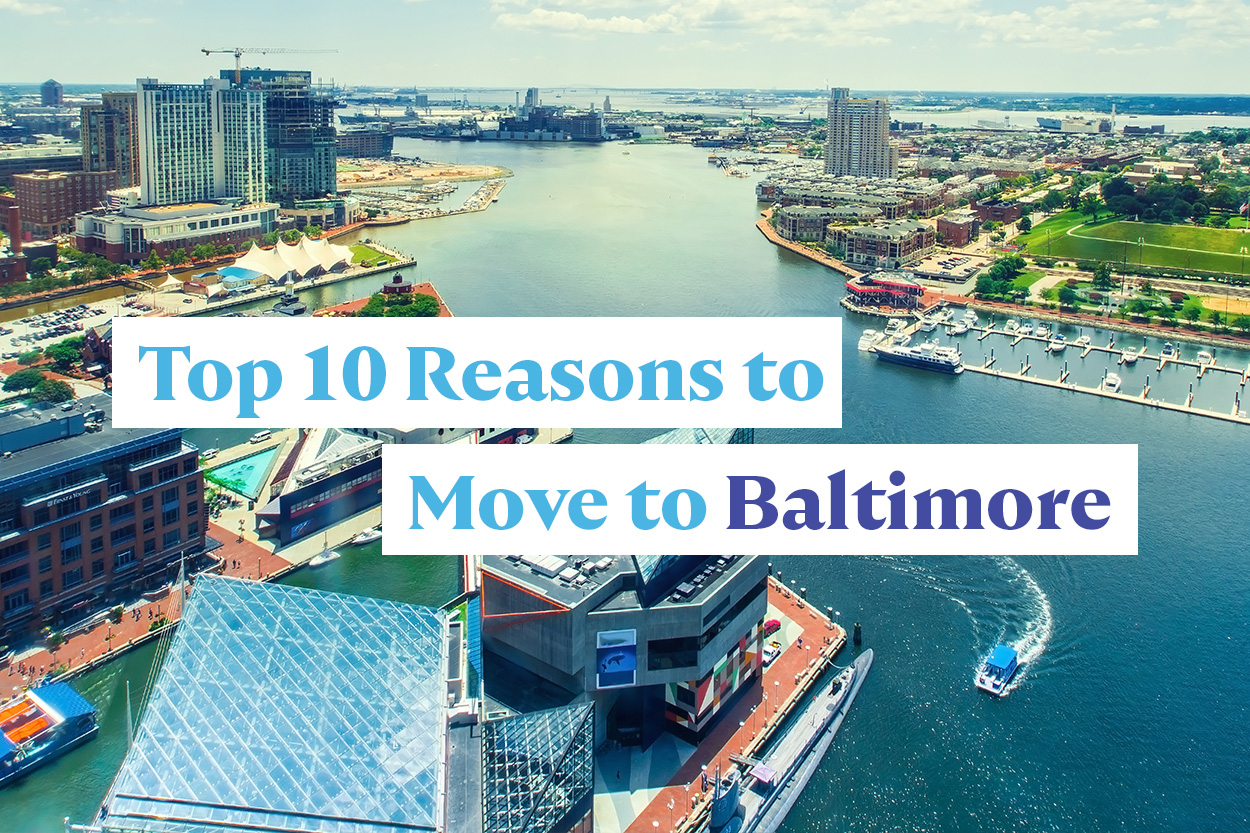 ---
Well hello, there boys and girls.
Today I want to talk about a little misunderstood city by the name of Baltimore Maryland.
And before you take off running and cowering in fear, I'd like to make the case that this city is a really cool place to live.
So just sit back, relax, and make sure your bulletproof vest is secure while I cover the top 10 reasons why you should move to Baltimore Maryland.
MAF Widget
Reason 10, Cost of living
Here's a fun fact about Maryland–the cost of living here is lower than anywhere else in the state.
It's even lower than the national average. Meaning Baltimore is one of the few metropolitan areas that you can live in cheaply.
However, when it comes to the cost of living you always need to factor in how much money you'll be making.
But considering just how popular remote work is becoming, you might be able to enjoy the best of both worlds.
And the added benefit being it's hard to rob someone's home if they never leave.
Moving on.
Reason 9, Community
Locals of Baltimore have a tendency to call the city Smalltimore.
And for a very good reason.
While Baltimore is on the larger side it also has that small-town feel of a much smaller city.
Residents have been known to form very close relationships with other people in their community.
So newcomers shouldn't be surprised to have strangers embrace them with the warmth of a southern city.
Just make sure you check for your wallet after the embrace…we'll get to the crime rate in a bit I promise.
Reason 8, Things to do
Baltimore is definitely one of those cities where it's easy to stay active.
That's because you'll find an endless amount of activities to enjoy.
You'll be able to check out live music, professional sports, themed bar crawls, and tons of events once you move to this city.
And did I mention food?
Baltimore has an almost unlimited number of restaurants. And the city is known for one dish in particular, but you have to stick around to find out what that is.
I'm sorry but we have bills to pay.
Reason 7, Job market
Baltimore is currently a city on the rise–even if shows on HBO say otherwise.
And this is shown clearly but the unemployment rate. Over the last few years, their unemployment rate has gone down from 11.7% to 4.7%.
The main contributor is Baltimore's pivot from focusing on canning, shipping, and auto transportation to medicine, research, and tourism.
And while many residents actually work in the city, a fair amount chooses to work in Washington DC and live in Baltimore due to the cost of living situation.
Reason 6, Top-rated schools
It's easy to get a great education in Baltimore.
There are 13 private and public colleges here, with some ranking in the top 200 in the nation.
Included in that list are Johns Hopkins University and the University of Maryland Baltimore.
So if you have kids wanting to go to these universities, why not make the move so you can be closer?
I mean, they probably won't like that. But who cares what they think, you're the parent.
Reason 5, History
For all my big history fans out there, Baltimore is the perfect place for your obsession.
Did you know that the Star-Spangled Banner was written here?
Not only that, but the city is also home to historical figures such as Babe Ruth, John Waters, and Thurgood Marshall.
And who knows, maybe some of that greatness will rub off on you if you make the move.
Reason 4, Public transportation
Let's face it.
Sometimes you don't want to have to NEED a car to get around. You'd prefer that to be someone else's problem.
And for the people who share that mentality, Baltimore could be the perfect fit. Because it's very possible to live car-free here.
Residents have access to the Metro-Subway, local buses, Light Rail, MARC train, or BWI Airport Shuttle.
And if you're feeling fancy, just call an Uber or Lift to take you to experience some of the culture in Baltimore.
Which brings me to my next point…
Reason 3, Arts and culture
Most probably wouldn't associate Baltimore with art and culture, but that couldn't be further from the truth.
Because this city has plenty of museums, theaters, and galleries to choose from.
For example, the Baltimore Museum of Art has over 90,000 works of Native American, contemporary, and African works.
Continuing with that theme, Baltimore Clayworks has an impressive amount of pottery, sculptures, and ceramic exhibits.
And did I mention the Baltimore Symphony Orchestra? Because hearing them perform is something you definitely won't forget.
Reason 2, Crime rate
Ok, now let's address the elephant in the room.
We all know that Baltimore has a certain reputation for its crime.
Show's like "The Wire" doesn't help this a bit. In fact, Hollywood has made this city seem to be much more dangerous than it really is.
Because here's the thing. In just about every major metropolitan area there exist neighborhoods that you probably wouldn't want to visit.
I mean you can get robbed in neighborhoods in New York, Chicago, Boston, you name it.
I've been robbed in all of the above. It's really not so bad if you don't have any money.
Additionally, there are neighborhoods that don't see that much action. And if you decide to move to Baltimore, obviously you'd want to live in the latter.
I promise, as long as you do your research and pick one of the better areas to stay in, you'll be just fine.
And in the off chance, I'm wrong?…RIP.
But before we get to that, there's something I must share with you.
Here at Home and Money, we make the whole process of getting a home easier (even if you're a first-time home buyer).
We have a whole team that will connect you to the perfect agent so you can finally get that dream home. Plus, we'll equip you with your very own personal concierge if you're a first time home buyer–Which, if you've ever purchased a home, you know is a HUGE help considering how complicated the process can be
Best of all, this service is absolutely free!
MAF Widget
Ok, now where were we.
Reason 1, Crabs
I was waiting to get to this.
Because while Baltimore has a ton of cuisine to enjoy, there's nothing quite like their crab.
One experience you must have here is dining on their delicious blue crab, which is caught in the Chesapeake Bay.
And you need to have this experience specifically during crab season.
This occurs between the middle of April until November. And believe me, it draws a crowd.
Thousands of people come from all over the area to get their hands on these succulent crabs. So if you want to experience your very own crabby patty, go ahead and pack those bags.
Outro
That's it. We're done.
Hopefully, this article has helped change your mind on Baltimore Maryland.
Until next time!