10 Things to Know Before Moving to Aberdeen, WA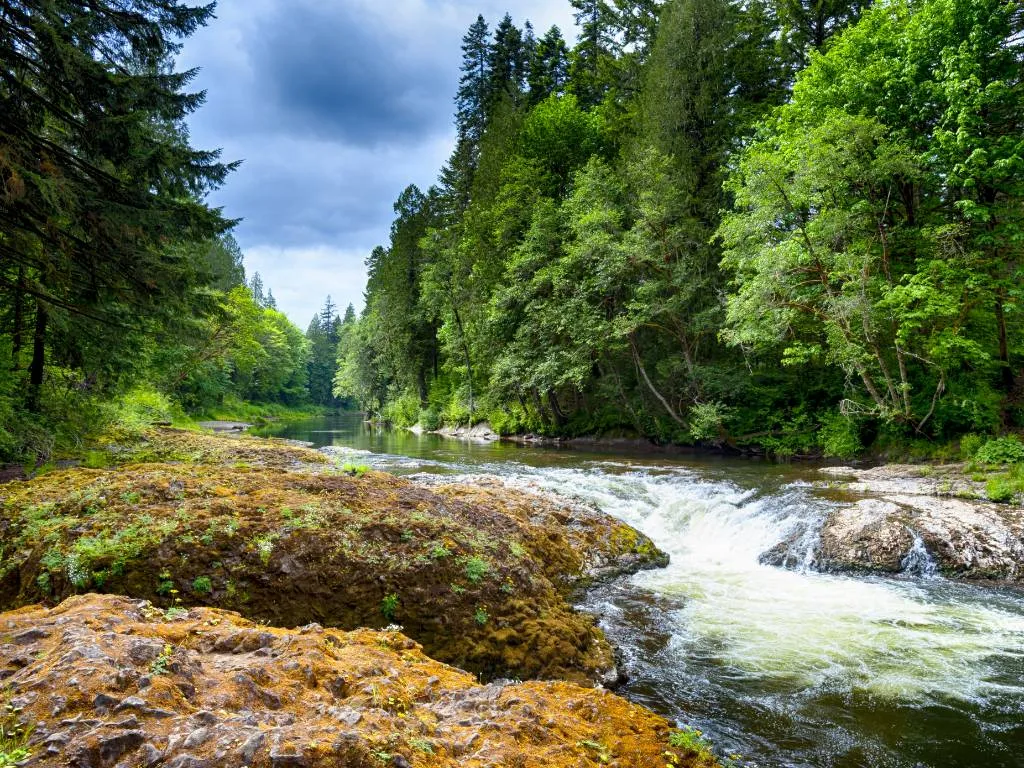 ---
Aberdeen, Washington, is a small city in Gray Harbor County, southwest of the Olympic Mountains. It is located next to Hoquiam and Cosmopolis and has a rich history that predates even the state of Washington. Aberdeen was named after the Scottish port of the same name, which was formed in 1884 as a salmon fishing port.
Aberdeen's beginnings as a colony were hardly smooth sailing. Aberdeen earned the nickname "the hellhole of the Pacific" in the year 1900 due to its high crime rate and extreme poverty. However, the city grew and became a more secure location to live as the timber business expanded in the region.
Let's talk about ten things to know before moving to Aberdeen, WA.
MAF Widget
1. A lower-than-average cost of living
The cost of living in Aberdeen is 19.3 percent lower than the national average, making it a highly affordable city. At $264,410, the median home price is lower than the national average. The cost of consumables is 3% lower, the cost of transportation is 19.9% lower, and the cost of utilities is 34.8% lower than the national average. The average monthly rent for apartments of all sizes is only $800, making renting here a very affordable option.
Anyone considering a move to Aberdeen will be glad to learn that nearly all living expenses are lower than the national average. Aberdeen is one of the best cities in the world in terms of cost of living.
2. The city is served by two school districts
Aberdeen is home to the Aberdeen School District as well as the Wishkah Valley School District's only school. Your child will receive a quality education from either district, and their education will be enriched by extracurricular activities like camps. You can send your kids to great schools like Central Park Elementary School and Wishkah Valley Elementary and High School if you move to Aberdeen.
Likewise, Grays Harbor School, a community institution located just 2 miles outside Aberdeen, is a great option for those who want to save money while earning an associate degree. In addition, Evergreen State College, a four-year institution with a stellar reputation, is located just forty miles from Aberdeen. The variety of educational opportunities accessible in Aberdeen will come as a welcome surprise.
3. It hardly snows here
Aberdeen, like the rest of coastal Washington, has plenty of rain and clouds but almost no snow, only getting 1 inch per year. The average annual temperature ranges from a low of 37.6°F in the winter to a high of 67 °F in the summer.
Aberdeen receives an average of 76 inches of rain each year, which is about double the national average of 38 inches.
4. Crime rates are still high
Unfortunately, Aberdeen hasn't beaten the crime allegations. In fact, the crime rate is still something to worry about. Both violent and property crimes are substantially more common in Aberdeen than in the rest of the country. The violent-crime rate is 33.7, which is significantly higher than the national average of 22.7. Aberdeen's property crime rate of 71.9 is also significantly higher than the national average of 35.4%
That's a lot more crime compared to other American cities, so it looks like Aberdeen has a problem. Although it is always wise to take measures to ensure your personal safety and that of your belongings, inhabitants of this city need to be especially vigilant about these issues, given the city's high crime rates.
5. Work in the healthcare or logging sector
Compared to the national average of 30.54%, Aberdeen's predicted job growth of 7.78% is significantly lower. Aberdeen also has a higher-than-normal unemployment rate (4.8%) compared to the rest of the country. Despite this, there are a number of local businesses that are willing to pay above-average earnings and provide generous benefits packages to qualified applicants. The city's proximity to Seattle means that residents who want to expand their job searches can easily do so.
Popular local employers in town are Grays Harbor Community Hospital, Avalon, and Five Star. Aberdeen has a median annual salary of $58,000, with an average hourly wage of $17.79.
Those with experience in the logging sector or a background in healthcare will do well in Aberdeen.
6. Live on Sixth Street or in the Downtown Area
Aberdeen is a rather sparse suburban town that spans roughly 13 miles in size. There aren't a ton of neighborhoods to choose from, and most of them are on the western side of the city due to the low population density there.
There may not be many choices, but that does not mean there are none. Three of Aberdeen's smaller communities are clustered together in the western port section of the city. Sixth Street, the downtown area, and Sumner Avenue make up these three communities. Meanwhile, Central Park is the largest suburbia-based community.
7. Get around using Grays Harbor Transit
Aberdeen is served by Grays Harbor Transit buses that travel to and from nearby cities such as Hoquiam, Ocean Shores, Quinault (with stops at Forks and Port Angeles), Olympia, Tacoma, and Seattle.
About 80 miles away is Seattle-Tacoma International Airport, the closest major airport for commercial flights. That is not bad for the transcontinental and international flight access that it provides.
MAF Widget
8. Eat at Billy's Bar and Grille or Gabelli's Parma
No matter what your taste buds like, you'll find something that suits your needs in Aberdeen.
Gabelli's Parma is a fine dining establishment serving authentic Northern Italian cuisine from a menu designed by the restaurant's owner, Chef Gabelli. Gabelli's serves up seafood and steaks in addition to its unique pastas.
Locals know all about Breakwater Seafoods and Chowder House, and they go there for the excellent clam chowder and other seafood dishes. Grays Harbor is home to a cozy little family-friendly eatery.
William F. "Billy" Gohl, an infamous figure in Aberdeen, is said to have worked as a bartender by day and a strongman for the Sailor's Union of the Pacific at night in the same building that now houses Billy's Bar and Grill. According to urban legend, Billy was responsible for the mysterious disappearance of sailors who disobeyed union rules. Enjoy a refreshing beverage at the bar while you try to spot the ghosts that haunt the place. 
9. Learn about the city's past at Aberdeen's Historical Museum or Grays Harbor Historical Seaport
At Grays Harbor Historical Seaport, you can take a trip back in time aboard a replica tall ship like the Lady Washington or the Hawaiian Chieftain, or just take in the sights of this harbor that was once home to a bustling fishing village. Aberdeen's and Grays Harbor's maritime history is something this seaport hopes to protect.
Visit Aberdeen's Historical Museum museum in the Aberdeen Armory Building to learn more about the city's past. Local maritime and logging history are highlighted, and Native American artifacts are also on display.
10. Explore the natural environment at Bottle Beach State Park or Morrison Riverfront Park
Wildlife, including insects and birds, thrive in Bottle Beach State Park, which spans 75 acres and 6,000 feet of mud flats. The park is a central resting area for migrating birds and a popular destination for birdwatchers.
At Morrison Riverfront Park, you have access to a 1.5-mile trail that runs alongside the Chehalis River, perfect for some outdoor exercise. You can have a picnic or go fishing or just watch the sunset at this beachfront park.
Grays Harbor National Wildlife Refuge serves as a resting place for migratory shorebirds on their way from Argentina to the Arctic Circle, making it a prime location for birdwatchers. Numerous mudflats and coastal species call the refuge their home as well.
Enjoy Grays Harbor's rich fishing history with a charter fishing or boating excursion. Several charter boat services depart from nearby Westport, providing access to the Pacific coast and harbor fishing.
In Conclusion
Aberdeen offers an affordable cost of living, high-quality schools, a rich history, and a lovely natural environment.
On the other hand, the crime rates are high, job opportunities are inadequate, and it rains a lot, which could be a pro or a con.