Is Tucson AZ a Good Place to Live? (biggest pros and cons)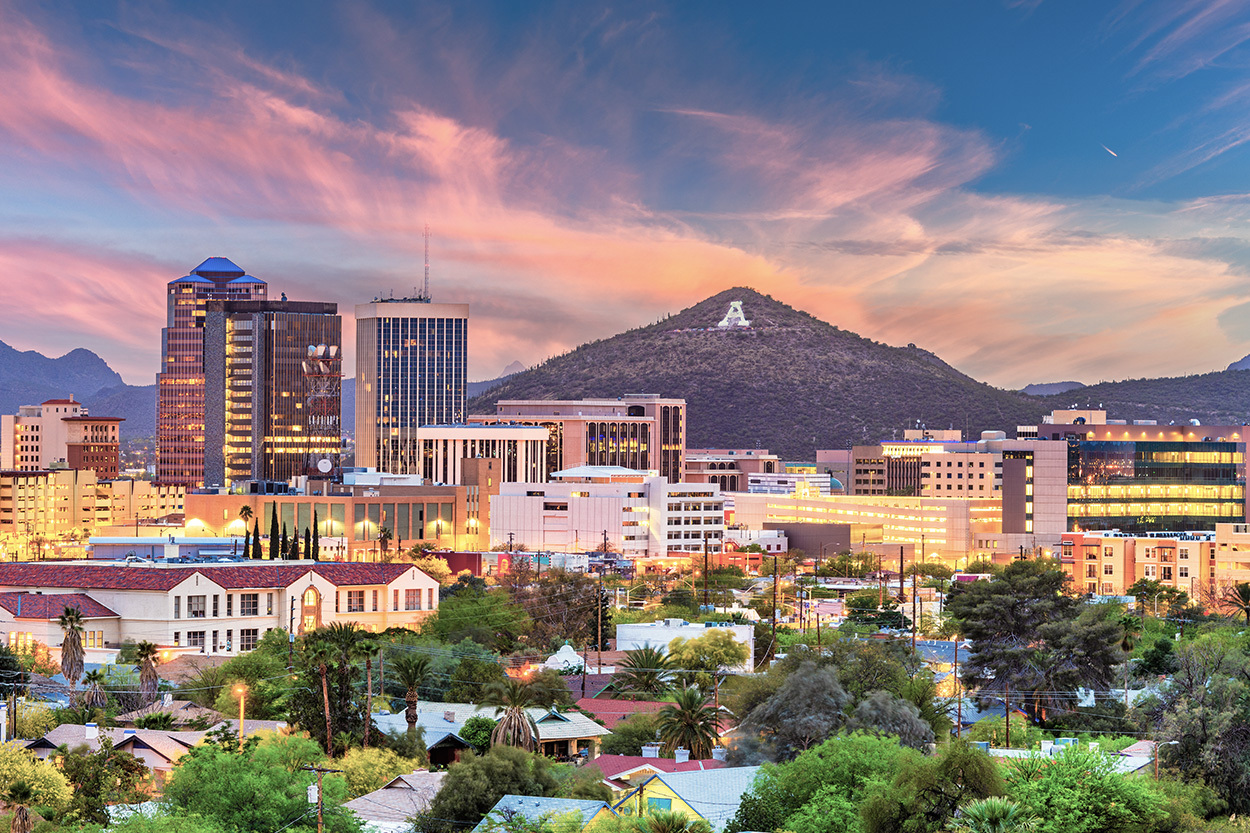 ---
If you don't know much about Tucson AZ, you're in the right place.
In just a few minutes, you'll know for certain whether or not Tucson is right for you–or if you should run in the opposite direction.
So if you want to know once and for all if Tucson is a good place to live, keep reading.
(and if you want to skip ahead, just click one of the links below).
Surprising pros and cons of living in Tucson AZ
Sometimes you just don't have the time to read a lengthy article (it's ok, my feelings aren't hurt…much)
So if you just want a quick birds-eye view of what it's like to live in Tucson, I've included a quick list of pros and cons below.
(and if you want to watch the humorous video version of this list, I've included it as well).
Let's start with the cons:
Commuting is horrible in Tucson (unless you live downtown).
There aren't a lot of jobs (especially if you don't work in healthcare or aerospace industries).
It can get really hot.
Ok, now let's hear some pros:
Tucson is more affordable than other cities in Arizona.
286 days of sunshine per year.
Tons of parks and recreational centers.
(if you want to take a deeper look at the state of Arizona, you can check that out here)
Now, for those of you who have a bit of patience, this next section is probably the most alarming part about living in Tucson…
Crime rate in Tucson AZ (hint: it's not safe)
The crime rate in Tucson is high enough to make even the least risk-averse person raise an eyebrow.
More specifically, the type of crime Tucson AZ is known for is…
Violent crime.
In 2020, the violent crime rate here was 1.8x higher than the national average. In other words, moving to this city without having the means to protect yourself might be unwise.
And if you're more of a numbers person, take a look at the below graph to see just how big of an impact violent crime has in the city.
| | | | |
| --- | --- | --- | --- |
| 2019 | 2020 | Percent Change | |
| Homicide | 40 | 61 | 53% |
| Rape | 527 | 463 | -12% |
| Robbery | 1,105 | 978 | -11% |
| Aggravated Assault | 2,103 | 2,341 | 11% |
| Burglary | 2,497 | 2,097 | -16% |
| Larceny/Theft | 13,196 | 15,956 | 21% |
| Motor Vehicle Theft | 2,250 | 1,878 | -17% |
| Arson | 142 | 246 | 73% |
| TOTALS | 21,860 | 24,020 | 10% |
(data sourced from FBI UCR)
Try not to concern yourself about crime too much. Any city of notable size is gonna have a higher than normal crime rate (apparently criminals LOVE bigger cities).
If you want to guarantee your safety (see: can afford to pay a premium for safety), the next section will reveal the best neighborhoods to move to in Tucson for a higher quality of life.
Best neighborhoods in Tucson AZ (where you can avoid crime)
You can avoid a lot of Tucson's crime rate issues by choosing one of its most in-demand neighborhoods (some are even safer than Sesame Street).
Below, you'll find the top 5 neighborhoods in the city along with some quick facts that'll help you make a decision.
#1. El Presido
One of the oldest neighborhoods in Tucson.
Contains many sizable historic houses (that may or not be haunted).
Huge culture hub (museums, art galleries, etc).
Great for families
#2. Civano
Located on the eastside of Tucson.
Extremely walkable.
Great sense of community.
Easy place to relax or enjoy an active lifestyle.
#3. Oro Valley
Located in the northern portion of Tucson.
Close to the gorgeous Catalina State park.
Is a great place for those who love country clubs/golf.
Plenty of activities for families
#4. Keeling
In proximity to downtown Tucson.
Great place for families (or anyone who likes it quiet).
An elementary school is embedded in the community.
Residents have an uncontainable holiday spirit.
#5. Sam Hughes
Close to Tucson's University
Plenty of students and professors live here.
Walkable and safe.
Variety of price points for houses.
Knowing about the best neighborhoods is great and all. But that begs the question…
Can you even afford to live in Tucson? Worry not, because I cover that in the section below.
The cost of living in Tucson is a bit high
Tucson isn't as expensive as cities like New York and LA, but it's certainly not the cheapest.
In fact, the city's cost of living is around 4% higher than the national average. Which doesn't make it impossible to afford, but you'd likely need to lock down a good-paying job before moving.
Housing expenses are 6% higher than the national average and utility costs also follow that trend.
To get a quick overview of how much money you'll need on average to live in Tucson, check out the handy infographic below:
​​
Tucson looking out of your price range? No worries, you just need a good-paying job to make up the difference.
Speaking of which…
The job market in Tucson is good (but the pay isn't)
To answer that question, let's start by taking a look at unemployment rates.
As of March 2022, the unemployment rate in Tucson was around 3.1%. Given that this is on par with the national average, you shouldn't have much of a problem finding a job here.
But there is a bit of bad news…
The average salary in Tucson is $44,560/yr. And when you consider that the cost of living in the city is higher than the national average, it might not be the best financial decision.
However, if you still think moving to Tucson is worth it, there are 3 major employers in the area that you have a good chance of getting an offer from.
They include:
The University of Arizona.
Raytheon
Davis-Monthan Air Force Base.
Of course, after you get employed, get paid, and pay bills, you'll want to have a way to have a bit of fun.
So let's see how Tucson fairs in that department. 
Things to do in Tucson
There's a lot more to do in Tucson than just being hot (it's located in a desert, after all).
And many transplant residents are surprised by just how many activities you can use to keep themselves busy.
The most popular thing to do in Tucson is to explore all the natural beauty. And most of those outdoor adventures take place in the Sonora Desert.
But seeing mirages while fantasizing about water isn't the only thing you can have fun with. Because Tucson also gives you the ability to enjoy:
Various museums (for adults and children).
Catalina State Park.
Performing arts at The Gaslight Theater.
Flandrau Science Center & Planetarium.
Downtown District.
And much more!
Of course, it's one thing to read an article about Tucson. But it's another thing to hear from actual residents.
That's why I've included some reviews of Tucson residents so you can see what they have to say.
What real residents are saying about living in Tucson
Online forms can be a pretty weird place. But sometimes you can find some really helpful information.
Below you'll find a few screenshots of reviews left by actual Tucson residents (just make sure to take them with a grain of salt).
Let's take a look at what this resident has to say about critters and crime:
This next resident had a thing or two to say about crime as well. So, this seems to be a common theme that residents complain about. But this person also has an interesting take on the weather:
Last but not least, this next resident gives their review on, well, pretty much everything:
Listening to local residents is a great way to get an unbiased view of the city. But if you want to get the most accurate understanding possible, it's best to talk to a real estate agent.
They'll be able to answer all of the important questions (including the ones you didn't even think to ask).
So if you want to be connected with top Tucson agents (for free), just fill out one of the quick forms that are embedded in this article.