15 Pros and Cons of Living in Vero Beach, FL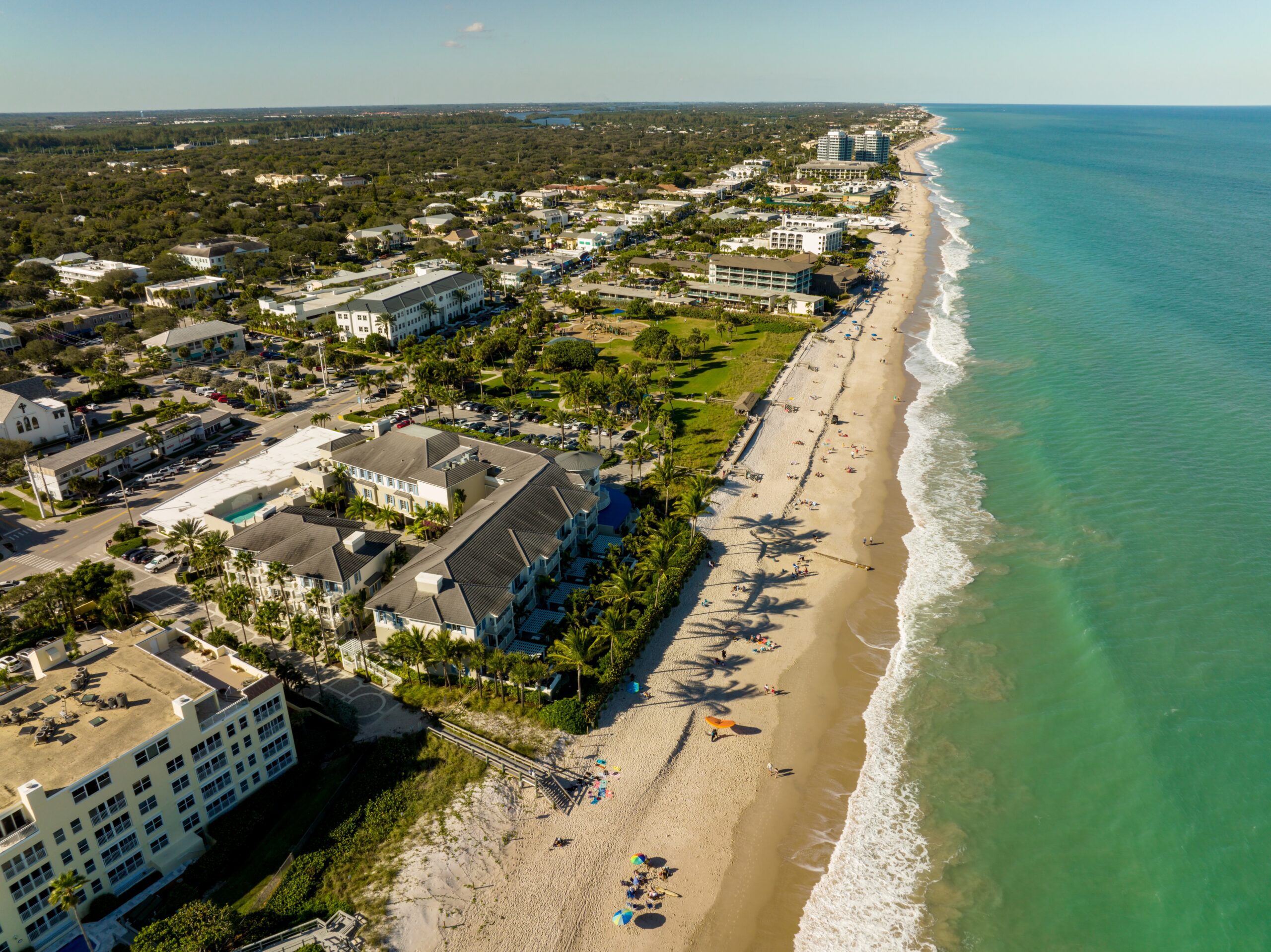 ---
Vero Beach is located on a little barrier island in the middle of the ocean, sandwiched between the Atlantic and the Indian River.
You might be thinking about relocating here because of the area's posh beaches and other amenities. There are many enticing aspects to this gorgeous region, but there are also some drawbacks.
Tag along as we explore 15 pros and cons of living in Vero Beach, FL!
Pros
1. There are lots of world-renowned beaches
There are about 26 miles of public beaches in Vero Beach. These beaches are world-renowned, with some of them having the best surfing and manatee viewing spots in all of Florida and the United States. 
MAF Widget
Round Island Park, for instance, is a public beach that happens to be adjacent to the top-rated manatee-viewing location in all of Indian River County. If you want to get some sun and see some sea animals, this is the place to go. There are plenty of parking spots, covered pavilions, a playground, and close bathrooms at this beach.
Ambersand Beach is a good option if you're searching for a more peaceful setting to recharge your batteries. This secluded stretch of beachfront is situated adjacent to the Archie Carr National Wildlife Refuge, home to 248 acres of sea turtle protected areas.
Tracking Station Beaches, Jaycee Beach, and Wabasso Beach are just a few of the other numerous beaches in the city. When you want to escape the daily city hustle, you can relax, go for picnics, kayak, or surf at any of these stunning beaches.
2. There are excellent golf courses in the city
Do you consider early morning golf a welcome way to start the day? Or would you rather watch the sun go down over some well-kept green spaces?
In any case, Vero Beach is where you want to be. The city is home to 23 golf courses, so you and your pals can get swinging after work.
You can c hoose from various public, municipal, and private options among these 23 courses. Some of the top local clubs and courses include the Sandridge Golf Club, BigShots Golf, Vista Plantation Golf Club, John's Island Club, Vero Beach Country Club, and lots more.
3. Shoppers would enjoy living here
There are tons of malls in the city, so if you love to shop, you'll enjoy living in Vero Beach.
Indian River Mall is a big mall that hosts over 70 different stores with designer brands, trending clothes, shoes, hair accessories, and groceries. Famous brands like Dillard and Macy's have stores in this mall.
There are also local markets where you can shop for fresh foods. Some of them are Farmers' Market Oceanside and B&A Flea Market.
4. A great food scene
Vero Beach has a great food scene, with something for everyone. Present in this city are notable restaurants in the country that feature some of the best cuisines, especially fresh and yummy kinds of seafood like Mahi Mahi, striped bass, and cod.
The Kilted Mermaid is a unique establishment focusing on fondue and beer, while the Riverside Cafe is the place to go for the best possible Sunday brunch. The Southern Social, on the other hand, is perfect if you're in the mood for a homey ambiance and carefully made cocktails.
If you're moving here and want to know where to eat, you shouldn't miss other places like Southern Social, Riverside Cafe, Kilted Mermaid, Ocean Grill, and The Tides Restaurant.
5. Many museums and historical sites
With a rich history, Vero Beach has many museums and historical sites that you'll enjoy visiting, especially if you're a history buff.
The Old Indian River County Courthouse, Driftwood Inn, Old Palmetto Hotel, Vero Theatre, Vero Beach Museum of Art, Smithsonian Marine Station, and the McLarty Treasure Museum are some interesting places you can visit.
The Vero Beach Museum of Art is, without a doubt, one of the most visited venues on this list. On the world-famous Florida Treasure Coast, you'll find the largest cultural arts venue in the region: a museum. Every year, a large number of locals and travelers flock there.
Museums like this are a big part of what makes this city famous, so don't miss out!
6. Retired people would love it here
Being a quiet city with lots of things to see and places to visit, you'll often find retired people in Vero Beach, as it's a good fit for them. The city has enough amenities for the elderly, such as recreational centers and parks, and the presence of other older people allows them to socialize in their old age. Some retirement communities include YourLife of Palm Beach Gardens, The Carlisle Palm Beach, Glenbrooke at Palm Bay, and Grand Villa of Delray West
About 28.9% of the city's population is above 65 years. So if you're retired, along with your partner, you'll make lots of great memories and have many fun-filled days here in Vero Beach.
7. Moderate traffic
Though there's an influx of tourists in the city, especially in winter, the traffic is still moderate. The city's average commute time is about 18 minutes, so it won't take you too long to get around the city.
You do not have to wait long hours at restaurants and bars, and there are free parking spaces at beaches. The traffic here isn't too bad, and this is one of the reasons why the city has a small-town feel.
8. A good place to start a small business
The city of Vero Beach promotes and supports local businesses. If you run a small business where you're moving from, then you do not need to worry much about that because small businesses thrive well here. The city's economic standing makes it easy for new businesses to pick up quickly. You just need to study the area, find out what businesses thrive the most and position your business in the right place.
9. A great place to raise a family
Vero Beach has a small-town feel with its peaceful and serene environment. The city is a great option if you're looking for a change of scenery from the concrete jungle of a big metropolis and prefer to spend your days surrounded by natural beauty.
With lots of things to do, places to go, and a peaceful environment, Vero Beach is a great place to live and raise a family. In addition, there are over 27 top-ranked schools in the city where you can enroll your kids.
10. A reasonable cost of living
The cost of living in Vero Beach is relatively affordable, with an index of 95. A loaf of bread costs $3.86, a gallon of milk cost $2.47, and a carton of eggs cost $1.75.
With an average median home price of $393,557, houses in Vero Beach are not as expensive as the national average. So you get to save more money in this city.
MAF Widget
Cons
1. High crime rate
Although in the past few years, the crime rates in Vero Beach have been reducing, it still remains on the high side. Vero Beach has higher crime rates than 64% of cities in the United States.
There are more reports of property crimes than violent crimes. The property crime rate is 15.29 per 1000 residents, and the violent crime rate is 2.08 per 1000 residents. It's important to remain security conscious in this city.
2. High risks of hurricane
Florida is vulnerable to hurricanes, but Vero Beach is at a higher risk.
The largest hurricane that hit Vero Beach was Hurricane Frances in 2004. Also, storms like Hurricane Ana in 2015 and Hurricane Irma in 2017 have hit Vero Beach.
Hurricanes are known to cause great damage, and recovery can be costly. Residents might even be forced to leave their homes if the damages are too bad.
3. Summer is really hot
Many people visit Florida every year because of its beaches and warm climate. While many people love Vero Beach, some people might not want to live in the city all year round because of its constant heat.
Expect high temperatures in the 80s during a Vero Beach summer. The heat index on some days may reach 100 degrees, which is unpleasant for some.
Due to the high temperatures, air conditioning is necessary, making the electrical bills skyrocket during the hot months.
4. No nightlife
Vero Beach is not the place to be if you like to party late at night into the early hours. You can find a drink at any of the numerous local bars or stylish cocktail lounges, but only a few are open at night. This might make the city look uninteresting to youngsters who like to party.
5. There are a lot of reptiles
Swampy places abound in Florida due to the state's hot, humid environment and proximity to water. These places are easy to avoid, but the alligators that hide within them are not.
There have been reports of these reptiles hanging out on golf courses, which can make playing your favorite sport a bit nerve-wracking. The presence of displaced alligators on roadways, in pools, and in yards is a sure sign that the weather has been particularly nasty and wet.
In Conclusion
There's no denying that Vero Beach has a lot to offer, such as the beaches, golf courses, and shopping and food scenes. Despite this, there are equally certain disadvantages to residing here, like the high crime rate and cost of living.