10 Things to Know About Moving to Delray Beach, FL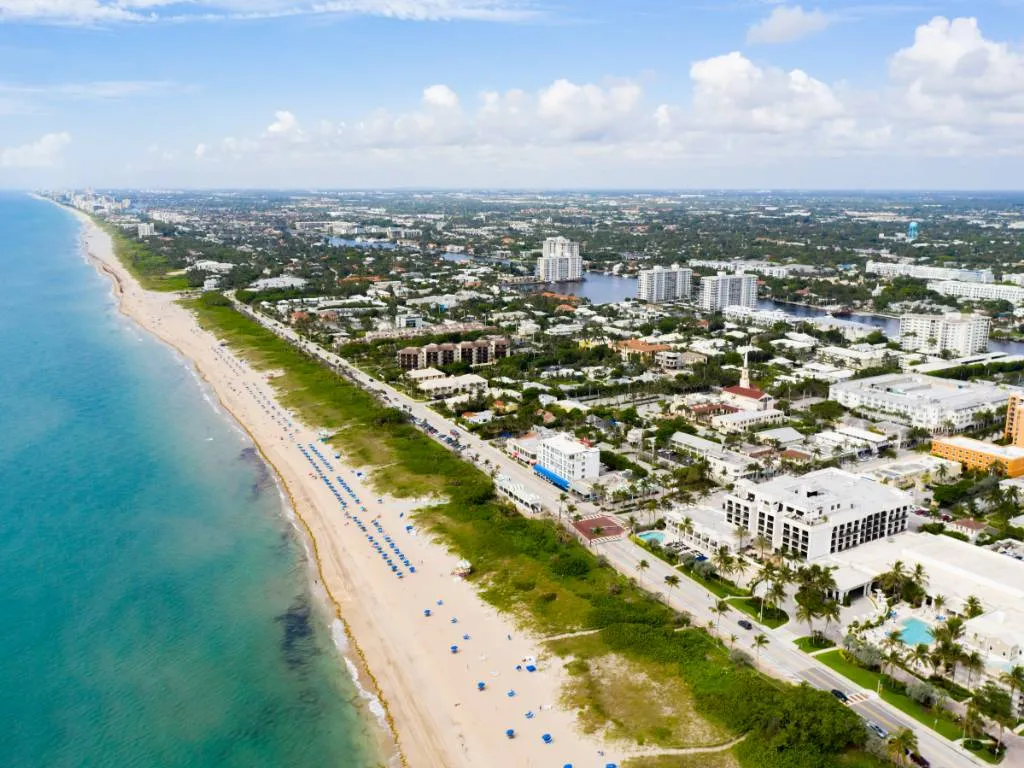 ---
Delray Beach is a gem nestled along the stunning coastline of the Sunshine State, Florida.
Located in Palm Beach County, this city has a population of 66,044. From its beautiful location to the tons of outdoor activities and job opportunities, Delray Beach has a lot to offer.
Let's consider ten things to know about moving to Delray Beach, FL!
1. Beautiful beach destination
Delray Beach is a beautiful beach destination and a haven for those seeking sun, surf, and relaxation. With its vast expanse of powdery white sand, Delray Beach offers a tranquil setting for beachgoers. The rhythmic sound of the waves lapping against the shore creates a soothing environment that's perfect for unwinding. The sunsets here are also nothing less than stunning.
One of the unique features of Delray Beach is its commitment to maintaining the natural beauty of its coastline. The sea oats and dunes that frame the beach not only add to its aesthetic appeal but also serve as an essential ecosystem, protecting the shoreline from erosion and providing a habitat for local wildlife.
Delray Beach is a place where the natural beauty of the ocean meets a vibrant beach culture, making it a perfect destination for you if you're in search of coastal tranquility and seaside charm.
2. The unemployment rate is lower than the national average
Delray Beach has an unemployment rate of 2.7%, which is less than the national average of 3.8%. The job growth in this city has been positive, and jobs have increased by 1.4% over the past year.
Additionally, Delray Beach has a robust job market with opportunities in various sectors such as healthcare, tourism and hospitality, retail, technology, and real estate. It's also conveniently located near major business hubs in South Florida.
AdultFriendFinder, Ocean Properties Ltd., InteleTravel.com, and OD International, Inc. are some of the best employers in this city. It is, however, advised that you do the necessary research and possibly secure a job before moving here.
3. The crime rate is higher than the national average
Delray Beach has a crime rate that is higher than the national average. The violent crime rate in this city is 27.4%, which is higher than the national average of 22.7%. Similarly, the property crime rate is 58.6% compared to the national average of 35.4%.
While the crimes in this city are on the high side, some neighborhoods may have higher crime rates than others. Hence, make sure to research the safe neighborhoods in this city before making a move. And ensure you take the necessary safety precautions while living here.
4. There are 24 schools in Delray Beach
Delray Beach offers a range of educational options, including highly-rated public and private schools. This city is home to 24 schools, including ten public schools and 14 private schools.
Parents, teachers, and students rate these schools highly for providing quality instruction and great resources. The school district here also provides a wide range of programs that let your kids pursue their passions and interests while still receiving a well-rounded education.
Some of the top-ranked schools in this city include Morikami Park Elementary School, Carver Middle School, and Atlantic High School.
5. Savor delicious meals at Dada
Delray Beach provides a diverse and vibrant culinary scene, offering a wide range of dining experiences. From fresh seafood by the beach to Italian classics and craft cocktails, there's something for everyone to savor in this charming coastal town.
One of the top-rated restaurants in this city is Dada. This restaurant stands out for its distinctive location within a historic house and its creative, eclectic menu. It offers a diverse range of dishes, including fresh seafood, inventive small plates, and vegetarian options, complemented by craft cocktails and an extensive wine selection.
Dada's cozy environment, featuring live music and local art displays, adds to the overall dining experience, making it a popular choice for those seeking a unique and memorable meal in Delray Beach.
6. Experience an exciting nightlife scene on Atlantic Avenue
Experiencing an electrifying nightlife scene on Delray Beach's Atlantic Avenue is a must if you're seeking vibrant entertainment. You can't afford to miss the fun here.
The street comes alive after sunset with an array of bars, clubs, and restaurants offering diverse experiences. Whether live music, dancing, or enjoying craft cocktails, Atlantic Avenue caters to all tastes, providing an unforgettable night out in Delray Beach.
7. Enjoy tons of outdoor activities
Delray Beach offers a wealth of outdoor activities, and you'll enjoy participating in outdoor recreation while living here. From its pristine beaches, you can soak up the sun, swim in the clear waters, or engage in watersports like paddleboarding and snorkeling. The city's lush parks and green spaces provide opportunities for picnics, hiking, and wildlife watching.
If you're a sports enthusiast, you'll be delighted to know that Delray Beach boasts excellent golf courses and tennis facilities. Additionally, the city's vibrant downtown area is perfect for strolling, shopping, and al fresco dining. Whether it's beachfront relaxation or active pursuits, Delray Beach provides an ideal setting for enjoying a wide range of outdoor activities.
Delray Beach (beachfront), Morikami Museum and Japanese Gardens, and Wakodahatchee Wetlands are wonderful places to enjoy outdoor activities.
8. Tourists sometimes get in the way
Delray Beach attracts tourists, especially during peak seasons. While tourism brings numerous benefits to a community, including economic growth and cultural exchange, it can also pose challenges. Tourists can sometimes create congestion both on the road and at commercial centers, and this can be quite frustrating for residents.
Planning your outings accordingly, especially during peak periods, becomes an important part of your daily activities while living here.
9. A place for history buffs
If you're a history buff, then Delray Beach is a good fit for you. This city has a rich history that spans from its early days as a farming community to its role in civil rights history. With a diverse cultural heritage and a commitment to preserving its historic districts, the city has evolved into a thriving destination known for its vibrant downtown, cultural attractions, and beautiful beaches.
Delray Beach's history adds depth and character to its modern appeal, making it an intriguing place to explore and appreciate both its past and present.
Sandoway Discovery Center, Spady Cultural Heritage Museum, Morikami Museum and Japanese Gardens, Pineapple Grove Arts District, and West Settlers Historic District are some interesting places to delve into Delray Beach's rich history.
10. High hurricane risks
Delray Beach, like many coastal areas in Florida, is susceptible to hurricane risks due to its location along the Atlantic coastline. These hurricanes can bring strong winds, heavy rainfall, and storm surges, leading to property damage and other hazards.
The city has put comprehensive preparedness plans, evacuation zones, and building codes in place to reduce these risks. However, you need to stay informed and have a personal hurricane plan to navigate hurricane threats safely.
Finally
Delray Beach, FL, offers a unique blend of natural beauty, economic opportunities, and cultural richness. While it may have its quirks, such as a high crime rate and high hurricane risks, the city's vibrant lifestyle, great food, and nightlife make it a fantastic place to live. So, if you're considering making Delray Beach, FL, your new home, you're in for a delightful experience!