10 Things to Know Before Moving to Sun City, AZ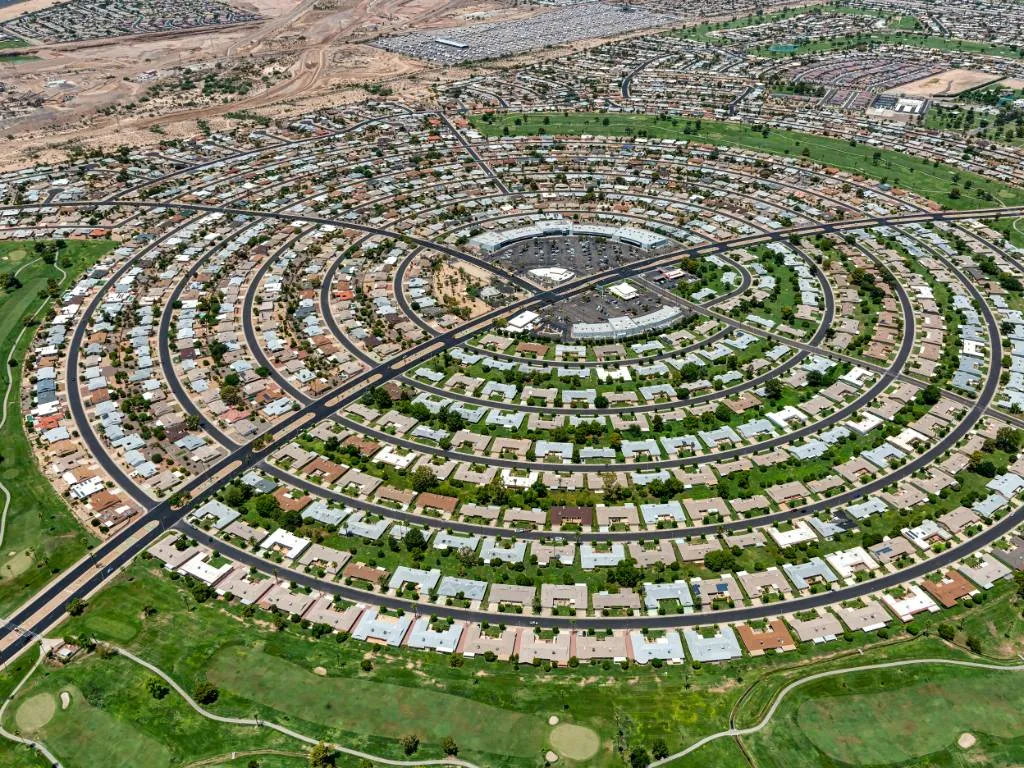 ---
Known as the Original Fun City, located in Maricopa County, Sun City, Arizona, is a unique and vibrant community with a population of 37,693 residents. This city offers plenty of opportunities for a comfortable and active retirement lifestyle, making it a great place for retirees to call home.
Let's explore ten things to know before moving to Sun City, AZ!
1. Sun City is an age-restricted Community
Sun City is an age-restricted community, typically catering to residents aged 55 and older. Established in 1960, it offers a wide range of amenities, affordable housing, and a vibrant social scene tailored to the needs and interests of active retirees. With its array of clubs, recreational facilities, and prime location in the Phoenix metropolitan area, Sun City remains a popular choice for seniors seeking an enriching and social retirement experience.
It's essential to meet this age requirement to live in this charming Arizona town. This demographic focus fosters a retirement-friendly environment.
2. Residents enjoy an active lifestyle
Sun City promotes an active and vibrant lifestyle for its residents. With numerous amenities like golf courses, recreation centers, swimming pools, and fitness facilities, it encourages physical activity and social engagement.
Residents can also participate in various clubs and activities, from sports and arts to social gatherings, fostering a sense of community and a fulfilling, active retirement experience in this age-restricted community.
3. The cost of living is 13% higher than the national average
Living in Sun City can be quite expensive, as the cost of living is higher than the national average by 13%. Transportation costs, taxes, healthcare expenses, and groceries are higher than the national average. A loaf of bread is sold for $3.86, and a bunch of bananas goes for $3.34.
However, Sun City offers relatively affordable housing options. The median home price here is $299,542, which is low compared to the national average of $430,000.
Ultimately, the cost of living in Sun City can be considered reasonable when compared to many other retirement destinations. This makes it an attractive choice for retirees looking to maximize their retirement savings.
4. Join the Sun City Country Club
The Sun City Country Club is a well-established golf course located in Sun City, Arizona. It features an 18-hole championship golf course that has been a favorite among golfers in the area for many years. The course is known for its scenic views and challenging layout, making it suitable for golfers of various skill levels.
In addition to golf, the club offers amenities such as a clubhouse, restaurant, and pro shop, creating a complete golfing experience for visitors and members alike. It's a hub for golf enthusiasts looking to enjoy a round of golf in the beautiful Arizona landscape, and you'll like it here.
5. Hot summers and pleasant winters
Sun City experiences hot summers and pleasant winters typical of the desert Southwest. During the summer months, which are the hottest, temperatures often soar above 100°F. June, July, and August are the hottest months, with July typically being the peak of summer heat.
In contrast, the winters in Sun City are pretty pleasant. Daytime temperatures from November to February usually range from the mid-60s to mid-70s °F. December and January tend to be the coolest months, with nighttime temperatures occasionally dropping into the 40s °F.
The significant temperature difference between summer and winter makes Sun City an attractive destination for those seeking warm winters and escaping the extreme heat of summer.
6. Access quality healthcare at Banner Boswell Medical Center
This town is home to excellent healthcare facilities, including Banner Boswell Medical Center.
Banner Boswell Medical Center offers accessible and high-quality healthcare services. They provide specialized care in areas such as cardiology, orthopedics, oncology, neurology, emergency care, surgery, maternity, and primary care. Whether you need treatment for heart conditions, joint problems, cancer, or routine check-ups, the medical center is well-equipped to meet your healthcare needs.
Other notable healthcare facilities in Sun City include Sun Valley Urology, PC, and Banner Del E. Webb Medical Center. Access to quality medical care is essential for retirees, and Sun City provides just that.
7. Enjoy delicious meals at Birt's Bistro
Birt's Bistro is a beloved dining destination in Sun City known for offering delicious meals in a relaxed atmosphere. This restaurant combines a welcoming ambiance with a diverse menu that includes American and Southwestern cuisine. Here, you can enjoy dishes like burgers, sandwiches, salads, and Mexican-inspired fare.
What sets Birt's Bistro apart is its commitment to fresh ingredients and friendly service. The restaurant often sources local produce and offers a range of gluten-free and vegetarian options, catering to various dietary preferences.
Whether you're looking for a leisurely lunch or a satisfying dinner, Birt's Bistro is a popular choice among locals and visitors alike, providing a flavorful dining experience in Sun City.
8. Active community involvement
Sun City residents are known for their active involvement in various clubs, groups, and volunteer activities. With numerous recreation centers, clubs for various interests, social events, and a strong commitment to safety and volunteerism, Sun City fosters a vibrant and connected community that thrives on togetherness and shared interests.
Sun City is an excellent place to meet like-minded individuals and engage in a wide range of hobbies and interests.
9. Prepare for Snowbird Season
Sun City, often referred to as "Snowbird City," is a popular winter destination for seasonal visitors, known as snowbirds. These individuals typically migrate to Sun City during the colder months, often from northern states, to escape harsh winter weather. Sun City's pleasant climate, recreational amenities, and active community make it an attractive choice for snowbirds seeking a warm and welcoming place to spend their winter months.
This can, however, lead to increased traffic and crowded amenities. Ensure you plan your trip accordingly.
10. Immerse yourself in Sun City's natural beauty
Beyond the well-manicured golf courses and amenities, Sun City is surrounded by stunning natural beauty. This includes well-maintained gardens, golf courses with desert vistas, parks like Boswell Park for relaxation, and the nearby Lake Pleasant Regional Park for outdoor activities.
There's also the nearby White Tank Mountains, which offer hiking and exploration opportunities. Additionally, the surrounding Sonoran Desert adds to the city's unique charm, offering stunning sunsets and a connection to the natural world that residents can appreciate.
To sum it All Up
Moving to Sun City, AZ can be a rewarding experience, especially for those seeking an active and affordable retirement lifestyle. However, it's crucial to be aware of the age restrictions, climate, and community's emphasis on an active lifestyle. With the right preparation, Sun City can offer a fulfilling chapter in your retirement journey!