10 Things to Know Before Moving to Salem, MA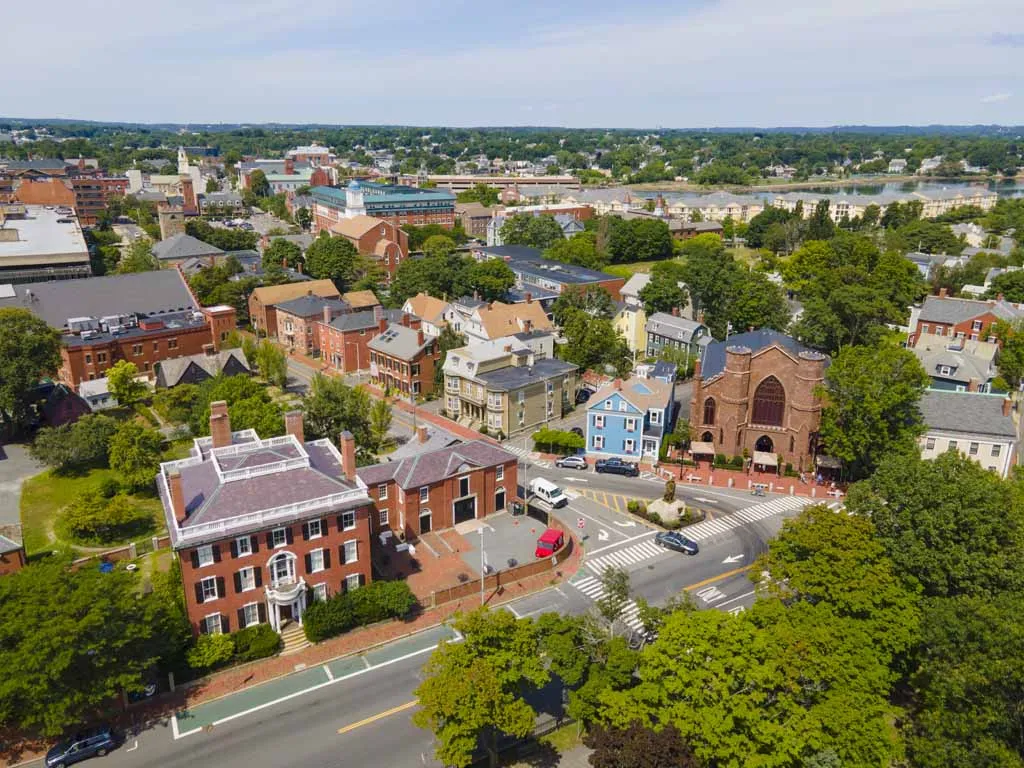 ---
Salem, a city roughly 45 minutes north of Boston, is one of the most popular cities in Massachusetts. The tragic events that took place in the area in February of 1692 are known as the "Salem Witch Trials," and they continue to have an impact on modern culture even now.
Even though the trials occurred over three centuries ago, the city of Salem continues to benefit from the enormous and prosperous tourism economy it generated. Everything scary – from pirates to ghosts to witches is the focus of year-round exhibits, sales, and special events at museums, shops, restaurants, hotels, and convention centers in the city. However, there is more to Salem than its spooky reputation. Here are 10 things to know before moving to Salem, MA!
1. The summers are warm and the winters are chilly
Summers in Salem are quite pleasant. June, July, and August are the most enjoyable because the temperature is normally between 70 and 85 degrees and the humidity is low.
Snow, however, quickly takes the place of the summer's warmth. It may get quite chilly in the city, and snow falls for around half the year. Winters are less pleasant than usual, and locals must brace themselves for bitterly low temperatures. And by low, we're talking less than 10°F.
2. A great food scene
If you're a sucker for good food, you're going to love this little town's food culture. The city is filled with several dining options and food outlets. Stop by All Soul's Lounge for some bacon and hot dogs. Bella Verona has the best Italian food. If burritos are your thing, check out Howling Wolf Taqueria. Mercy Tavern has the best fries. Salem has something to satisfy your cravings, no matter what your food choices are.
3. The public schools aren't all that great
Salem only has 12 schools and the local public school system is subpar. In terms of academic achievement, several of the city's schools fall short of the Massachusetts and U.S. state and national averages. Most parents thus opt for private schools like The Greenhouse School.
However, the schools are getting better over time, and there are a couple of schools in the city whose standards are improving. Salem State University, which is the largest public state university in Massachusetts, is also in this city, so the city is pretty solid in terms of college education.
4. Boston is just close by
Salem's proximity to Boston means that people can make Salem their home while working in the major city. During the workweek, there are about 30 daily commuter trains that run between Salem and Boston on the MBTA. Boston ferries provide access to the city from May through October.
In addition to those days, there are other days of the year when buses run between the two cities. It also takes less than 40 minutes to drive from Salem to Boston, so you can drop by the city for a nice evening and still make it back home on time.
5. A high cost of living
Salem is an expensive city to live in, with the average cost of living per person being $2639. The city's living expenses are 23% higher than the national average and housing is just as expensive, with a median home price of $563,028. And considering the fact that the city's job market isn't all that impressive, staying in the city might not be worth it for a lot of people.
Not surprisingly, the unemployment rate of 5.1 is higher than the national average of 3.7. That may be cause for concern, especially if you aren't able to get a job before making the move. When you're out of work and struggling to make ends meet, you sure still don't wanna have to deal with a high cost of living.
6. The city is quite walkable
Essex Street in Salem is a charming stretch of brick and cobblestone with a benefit for pedestrians—it is off-limits to vehicles. Therefore, if you've always wanted to be able to stroll through town, take in the city's beauty, stop in stores and eateries at will and never have to wait for a crosswalk, here is your chance.
7. Salem is a tourist town
Because of its rich history, Salem attracts many curious tourists who want to learn more about the infamous witch trials that took place there. About a million visitors visit Salem every year, with more than 250,000 arriving for the Halloween holidays. The month of October is packed with "Salem Haunted Happenings," a series of haunted attractions and events that serve as a prelude to Halloween.
The city's tourism and hospitality industry is flourishing as a result, with lodging facilities including historic hotels, unique B&Bs, inns, motels, and even Airbnbs.
8. The city is a shopper's paradise
The opportunity to shop is always a highlight of living in a tourist city like Salem, but this city has raised the bar even higher. The local stores are so interesting that you'll always feel compelled to buy something anytime you go there.
You don't have to resist the temptation though, but make sure you plan ahead by saving up and carrying plenty of money for unforeseen expenses because you'll find yourself buying lots of things you didn't plan for whenever you visit the stores in town, we guarantee.
Some of the best stores to check out include Emporium 32, Haus Witch, Modern Millie, and The Coven's Cottage.
9. Lots of fun places to go
Although many of the most popular "things to do" in Salem like going on historical tours such as the Black Cat Tours, and visiting the Old Burying Point Cemetery, are related to the witch trials, the town of Salem is more than just a museum dedicated to the infamous events of the 1600s. Pickering Wharf, Winter Island Park, Salem Maritime National Historic Site, and the Salem Ferry are all good options for anyone interested in seeing the water.
Other fun places to visit include the House of Seven Gables, Peabody Essex Museum, and Phillips House.
10. A stunning city with a diverse population
Salem is a sight to behold, that's a fact. Both the natural setting and the city's architecture make the city a stunning destination. There are many beautiful sights, parks, walking routes, and buildings in this city. For these reasons and the fact that the weather is pleasant year-round in summer, this area is ideal for outdoor activities.
The city also has quite a diverse, liberal and friendly population, and you're sure to meet and get along with people from all walks of life in Salem.
Conclusion
The Witch City is fascinating for many reasons, and if you don't mind rubbing shoulders with tourists all year long, this city would be perfect for you. The cost of living on the other hand might be a drawback, but if you manage to get a good job, it might not be much of a problem.
Learn More About Living in Salem, MA