Top 10 Pros and Cons of Living in Rochester, MN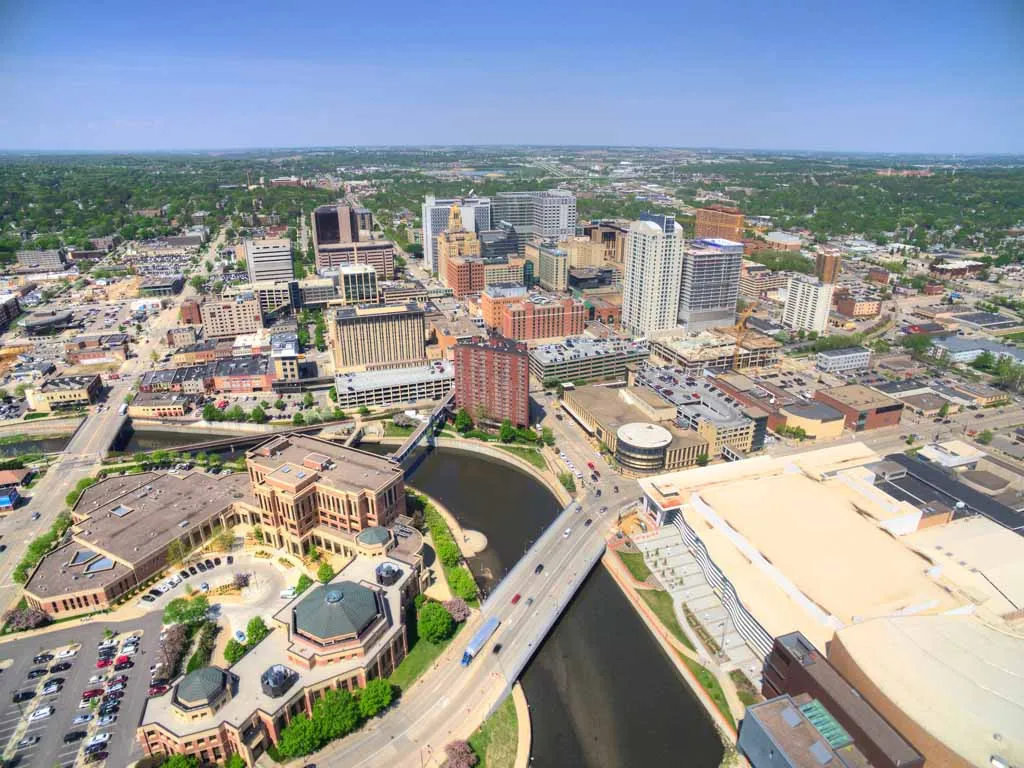 ---
Rochester, Minnesota, is a relatively small city. Still, it packs a powerful punch with its bustling downtown scene, abundant opportunities for professional networking, and a wide variety of kid-friendly and family-friendly activities. It is also home to the prestigious Mayo Clinic. In addition, the city's 120,000 citizens can experience all four seasons (and the activities that come along with them, such as hiking, biking, and cross-country skiing!)
Rochester draws people in with its beautiful surroundings, outstanding medical facilities, and top-notch schools. Let's discuss 10 pros and cons of living in Rochester, MN!
Pros of Living in Rochester
1. Lots of parks and recreation centers
There are 2,978 park acres, 1,550 acres of flood control land, and 600 acres of parkway land under the jurisdiction of the City of Rochester Parks and Recreation department. Rochester's parks have contributed to the city's attractiveness as a destination for nearly 150 years.
More than 142 distinct parks can be found across the area's 5,125 acres of public land. There are also more than 100 miles of paved trails to take advantage of. In addition, there are six beautiful state parks in the vicinity.
Some of the parks in this city include West Silver Lake Park, Essex Park, Bear Creek Park, Kutzky Park, Eastwood Park, and many others.
2. The city is home to the number 1 hospital in the U.S.
Those in need of medical attention typically look to Minnesota, which is r egarded as having excellent doctors and hospitals. People in most American cities take health and wellness seriously, and Rochester is no different. Olmsted Medical Center, Zumbro Valley Medical, and the famous Mayo Clinic are just a few of the top-notch medical facilities in the city.
The Mayo Clinic is considered the best medical hospital overall. More than two million people from all over the world visit the Mayo Clinic each year. Rochester is a city with many medical specialists, so it's a good bet that you'll meet people of different races there.
3. There are lots of top-rated restaurants
Several restaurants that have won national awards call Rochester home, and the city's thriving restaurant sector is getting ready to welcome even more new additions later this year.
Check out some famous restaurants like Five West Kitchen + Bar, Pho Chau, Flapdoodles Homemade Ice Cream, Bleu Duck Kitchen, Terza Ristorante, Chester's Kitchen and Bar, Twigs Tavern & Grille, and lots more.
4. There are many good schools
The people in Rochester are highly educated, thanks to the abundance of good schools in the city. The city is home to many well-rated public schools, like Friedell Middle School, Lincoln K-8 Choice Elementary School, and Washington Elementary School are the three best public schools.
Public Schools (RPS) had a graduation rate of 85.6% in 2021, compared to a statewide average of 83.8% in Minnesota.
Some higher institutions in the city include Nazareth College, University of Rochester, Mayo Clinic School of Medicine, Cardinal Stritch University, Minnesota School of Business, Roberts Wesleyan University, and Rochester Institute of Technology.
5. Lots of cultural activities to engage in
There is a wide variety of cultural activities available in Rochester, including concerts, plays, museums, and galleries. Rochester Art Center is a glass-enclosed art museum, classroom, banquet hall, and reception hall that features modern art. Rochester Civic Theatre Company puts on plays, musicals, and dance events, while Rochester Repertory Theatre Company showcases a wide range of original works.
Rochester residents now have a place to go on Fridays, Saturdays, and Sundays to watch indie and documentary films, as well as classic movies, thanks to the grand opening of the Gray Duck Theater and Coffeehouse in April 2019. When not showing films, this microcinema can be booked for private parties for a crowd of 60 or more.
With its many attractions, including live animals, educational activities, an adventure cave, hiking paths, and a wide selection of camp themes and programs, it's no surprise that the Quarry Hill Nature Center is a popular site. The Rochester location of the Minnesota Children's Museum hosts a variety of programs and activities aimed at kids of all ages.
6. A high quality of life
Rochester is an attractive city because of its average cost of living. The town offers high-quality amenities and has a low crime rate. Along with its charming downtown area, the area also boasts excellent educational and medical facilities.
People from all walks of life, including those in professional and academic pursuits, as well as students and families, flock to this beautiful city. Many choose to make it their permanent residence due to the welcoming atmosphere, intellectual opportunities, and convenient services available here.
7. A growing economy
Rochester is appealing because of the many career opportunities available there. Mayo Clinic provides employment opportunities for a wide range of medical professionals, making it the leading employer in Rochester and among the largest in the state.
IBM is another well-known Rochester-based company with a rich tradition of cutting-edge R&D and production. However, following a decline in revenue, IBM sold its large building, which is now named Rochester Technology Campus, and is currently leased by IBM as well as other technology and medical-related companies.
Dairy producers like Kemps and Kerry, an offshoot of the Irish-based Kerry Group, are another primary industry. Other important sectors include healthcare, education, professional and technological services, local government, manufacturing, hospitality, retail, and dairy.
8. A short commute time
You won't hit a traffic jam in Rochester as you would in a major city. Rochester's average travel time of 16 minutes is significantly shorter than the average US commute of at least 26 minutes. As a result, you could direct the extra time to anything you see fit.
Cons of Living in Rochester
1. Winters can be harsh
The summers are stunning, but the heat and humidity may be oppressive, and the winters are undoubtedly chilly. It begins in the fall, around November, and continues until the beginning of spring, around March, with temperatures sometimes dropping as low as 10°F.
During the colder months, many people in this city flee to warm places like Mexico for their holidays. Some drivers may have trouble maneuvering on snow and ice this winter due to the severe temperatures.
2. There are no beaches
Rochester is completely surrounded by land. As a result, it has no view of the ocean. Those who have always lived within a half-hour's drive of beaches will find this extremely annoying. So, if you want to have a good time in Rochester on a lovely evening, you'll have to look elsewhere. The city has some stunning lakes, though.
Final Thoughts
Rochester has an excellent healthcare system, an equally great school system, tons of parks, a vibrant economy, and countless entertainment options. All of these make living in this city an attractive option. However, if you'd rather live in a town close to a beach or you despise harsh winters, then this city is not for you.
Learn More About Living in Rochester, MN