Top 10 Reasons to Move to Tampa, FL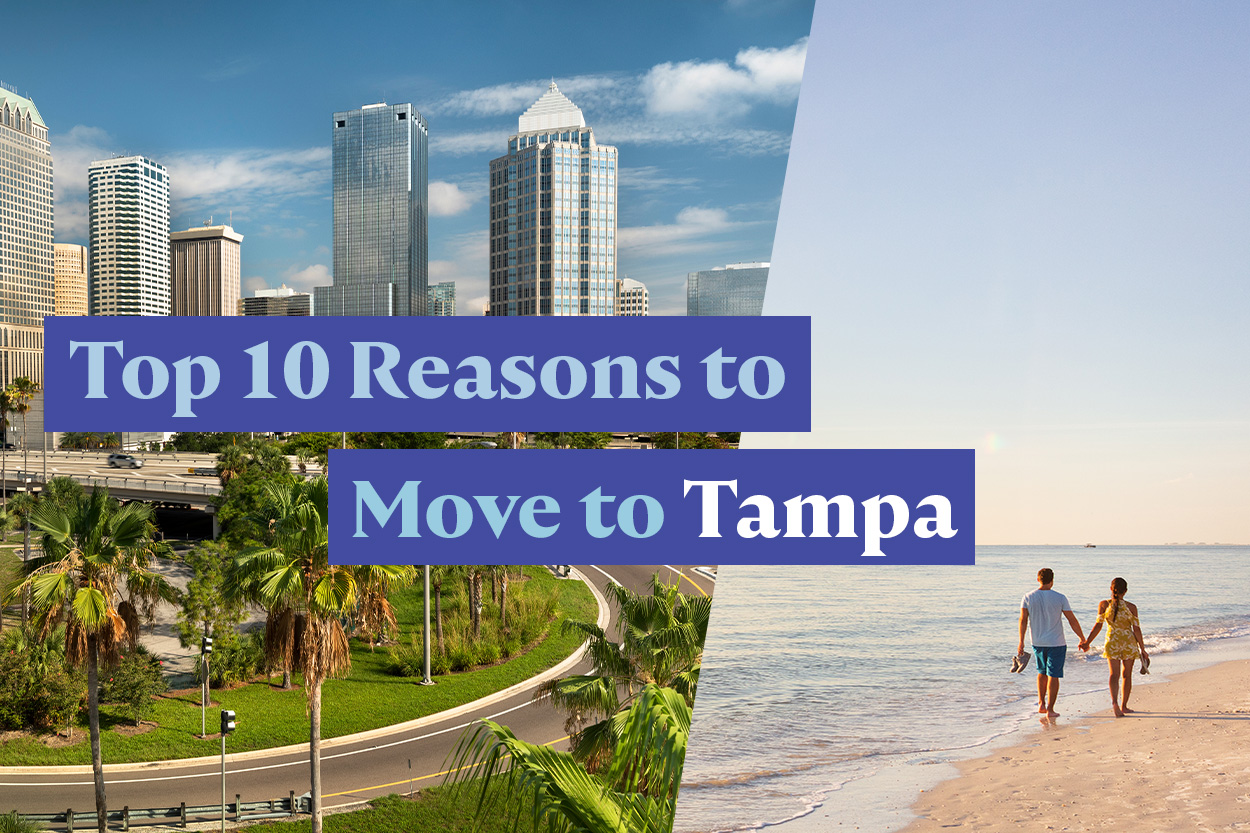 ---
Tampa Florida. A beach lovers paradise.
Listen, Tampa is one of those cities that you never want to leave when you visit. Which is probably why so many people are flocking to the city.
And yea, I know. Florida gets a bad rap. Almost every time you turn on the news you hear something different about the notorious Florida man–which I have a sneaky suspicion is my uncle John…but that's beside the point.
The truth is, not every place in Florida is home to the crazy's. In fact, cities like Tampa are filled with some friendly and scary active people.
So, if you've been thinking about moving to this sunny city, then you should stop what you're doing and check out the top 10 reasons why you should move to Tampa.
MAF Widget
#10 Beautiful Weather
If your favorite vitamin is vitamin d and you find cold weather to be despicable, then you my friend will love Tampa.
It stays 60-90 degrees year-round and is normally between 75 to 80 degrees on average.
With weather like this, it makes sense why Tampa residents love to find outside activities to engage in.
And it's also why finding a pale person in Tampa is like playing a game of where's waldo.
So, if warm weather isn't your thing, it's best to move elsewhere.
#9 Outdoor Activities
To piggyback off the last point. Tampa has tons of outdoor activities for people of all ages to enjoy.
On one end of the spectrum, you'll find plenty of wetlands and nature preservations… if you're into wildlife.
Anyone who yawns at that point has never been manatee watching–which believe it or not are a big attraction in the Tampa area. Just don't body-shame them–they're very sensitive.
But if wildlife doesn't get you going, that's ok. Because Tampa has a thriving boat community that can't wait to welcome you with open arms.
If water activities are your thing, then you'll be in paradise.
#8 Job Opportunities
There's a reason why young people from all over are moving to Tampa.
And no, it's not to experience an endless spring break–although, the jury is still out on that.
No, the place has attracted fresh faces because of the endless opportunities you can find there.
Tampa is undergoing a tech innovation right now. And the changes are attracting the attention of a lot of big companies.
And with these new technologies comes young people fresh out of college looking for a career.
This alone makes Tampa a perfect place to reinvent yourself, even if you're not in witness protection.
#7 Theme Parks
Get ready to release your inner child because Tampa has a few theme parks that will make you reflect fondly on your childhood.
In the Tampa area, you can find theme parks such as Adventure Island or Busch Gardens.
But if you're ready to get down with the big boys, Tampa is around an hour away from attractions such as Disney World and Universal Studios.
These attractions alone make Tampa the perfect place for big kids. Although, no matter how big of a kid you are, you will still be tried as an adult. So, don't break any laws.
#6 Tax Evasion
No, I'm not referring to the illegal activity of failing to pay your taxes…*ahem* just in case the IRS is listening.
But Florida as a whole has no state income tax.
This means that you'll save around 6% of your income if you decide to live in Tampa or any other city in Florida.
Those wanting to keep more of their money where it belongs–in your bank account–you might want to consider the move.
#5 Activity Levels
When moving to Tampa, there's something that you'll notice pretty quickly.
A lot of the people here are fit.
You might assume that the hot sun makes it impossible to retain water weight. And while that might be true, it's not the whole truth.
You see, Tampa is a place that attracts a lot of active people.
It's why you'll see many jogging trails filled with smiling salad loving individuals almost everywhere.
And if you're someone looking to get in shape, the Tampa area is perfect for you.
Not only will you be able to take advantage of the jogging trails I previously mentioned, but you'll also experience positive peer pressure to get in shape.
Unfortunately, this peer pressure has had little to no effect on the manatees.
#4 A Vibrant Art Scene
If you decide to move to Tampa, it won't be long before your eyes thank you.
Because the beauty in this city is quite the sight to behold.
Explorers of the city are surprised to find many murals adorning the walls, which serve to uplift their surroundings.
And if you pay close attention, you'll also find art installations around the city.
Many of these creations were given to the city by the Division of arts and cultural affairs with the intention to humanize the built environment and invigorate public spaces.
If you're the type to cry at the sight of beauty, you might want to have some tissue on hand.
#3 Housing Costs
Here's a little-known fact about me.
My philosophy of money matches the likes of Mr. Krabs–meaning I want to hold on to it.
And if you feel the same way, then you'll love this.
Because what I'm about to tell you is yet another reason why living in Tampa can actually help you save money.
And that is because housing expenses in this city are 22% lower than the national average.
Even if you compare house prices to Florida as a whole, you would still be getting a deal since Tampa homes are priced lower than the median home costs in the state.
Honestly, considering what it's like to live in Tampa, there really is no reason not to move here.
#2 Hangovers
What an odd thing to include on this list.
Certainly, hangovers aren't a compelling reason to move anywhere. Ah, my friends, when you consider what comes before the hangover, you might quickly change your tune.
Because Tampa is home to the 3rd largest parade and booze party in the nation.
For Tampa residents, January is a special month. Because there's one day where they party like it's no tomorrow during the Gasparilla Pirate Festival.
The parade is based on the mythical pirate Jose Gasper who is a major figure in Tampa folklore.
But although this pirate might be fake, the booze you'll drink during his celebration is very real.
Over 400,000 people are expected to attend this event every year and it's certainly one you'd want to attend if you decide to move to Tampa.
Ok, we're in the final stretch now.
But before I tell you the number 1 reason why you should move to Tampa, I'd like to give you a bit of information that can make that move as stress-free as possible.
Here at Home and Money dot com, we make the whole process of getting a home easier (even if you're a first-time home buyer).
We have a whole team that will connect you to the perfect agent so you can finally get that dream home. Plus, we'll equip you with your very own personal concierge if you're a first time home buyer–Which, if you've ever purchased a home, you know is a HUGE help considering how complicated the process can be
Best of all, this service is absolutely free!
Just check out the link in the description for more details.
Now, without further adieu.
#1 Beaches
Beach bums rejoice because Tampa is THE place to be if going to beaches is your favorite pastime.
Tampa is close to some of the best beach communities and is the #1 reason why people move to the area.
Here, you'll find dozens of beautiful beaches to choose from with some being more populated and others more secluded.
Living in Tampa is like having Tinder for the perfect beach because you're guaranteed to find the perfect match–just make sure not to ghost the beach after one meetup because that's just rude.
Ok folks, that wraps up the top 10 reasons why you should move to Tampa, FL.
It all came to an end far too soon. I was really enjoying your company.
Until next time!