15 Top Things you Need to Know Before Moving to Portland, OR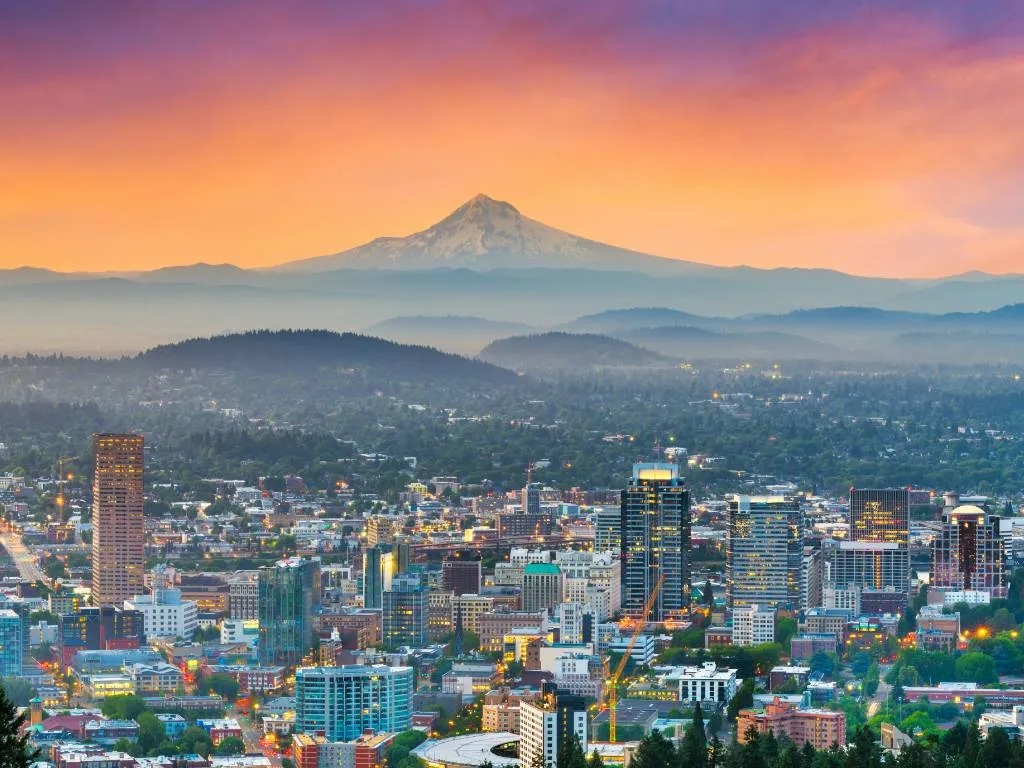 ---
Whether you're a nature enthusiast longing for endless hiking trails, or you're simply in pursuit of a place that embraces individuality, then Portland, OR is the place for you.
This beautiful city is located in Multnomah County, which is the most populous county in Oregon. It has a population of about 620,000 residents. From its climate, vibrant culture, outdoor opportunities, and good schools, Portland offers a diverse and distinctive experience.
Let's discuss the 15 top things you need to know before moving to Portland, OR!
MAF Widget
1. It rains a lot in this city
The weather in Portland is often mild in the winter and warm in the summer, however, it rains consistently throughout the year. Be sure to bring along your raincoat and umbrella.
The wet months typically occur between November and April, and it rains the most in November. The average annual rainfall in this city is 36 inches Embracing the climate here allows you to explore the stunning natural landscapes that thrive in this region.
2. Living costs are 24% higher than the national average
Portland's cost of living has been steadily rising over the years. The city's living cost is 24% higher than the national average, and this is quite expensive, although it is not as expensive as some other major cities. The housing cost is higher than the national average, with a median home price of $543,308.
Utilities and groceries are both 8% higher than the national average. A loaf of bread costs $4.19, a gallon of milk costs $2.62, and a carton of eggs costs $2.43. Transportation expenses are 22% higher than the national average, while healthcare expenses are 6% higher than the national average. You should plan your budget carefully before moving here.
3. An adventurer's paradise
Portland is close to diverse natural landscapes, which makes it an ideal destination for outdoor enthusiasts. The city offers abundant opportunities for hiking, biking, and exploring the great outdoors.
You can visit Forest Park, the largest urban forest in the United States, which features an extensive network of trails winding through lush greenery. The nearby Columbia River Gorge and Mount Hood are some other interesting places to visit. Whether you're into camping, kayaking, or simply immersing yourself in nature, Portland, OR has something for you.
4. Eat at Blossoming Lotus or Mucca Osteria,
Portland has earned its image as a paradise for foodies. Locally produced products, farm-to-table eating, and an exciting fusion of international flavors fuel the city's thriving culinary industry. The city has a wide variety of restaurants, bakeries, and farmers' markets that you'll love.
Some of these restaurants include Blossoming Lotus, Mucca Osteria, and Q Restaurant & Bar.
5. Get around the city on TriMet
The city's great public transportation system makes getting around Portland without a car easy. TriMet, the regional transportation agency, provides public transit throughout the region through a complex system of buses, light rail (MAX), and streetcars. Portland's investment in the public transport system reflects the city's dedication to sustainability and helps make it one of the most accessible cities in the United States.
6. A bike-friendly city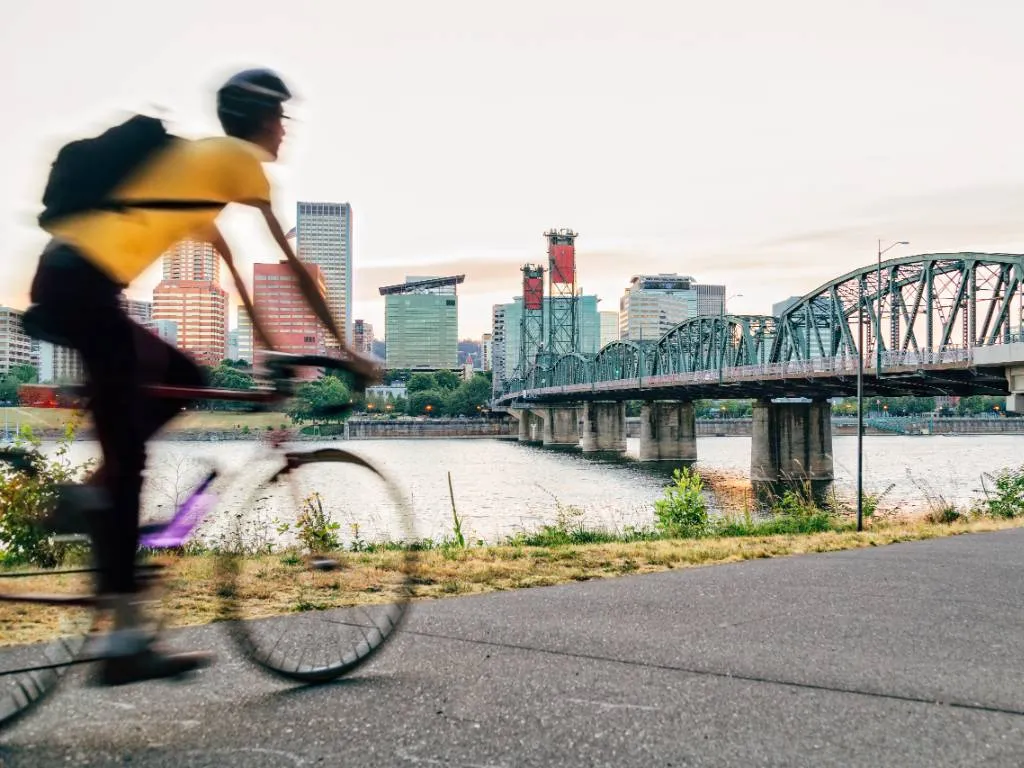 Portland is well-known as a great place to ride a bike. The city has invested a lot in infrastructure to make cycling safe and convenient, including a vast system of bike lanes, trails, and dedicated bridges. Bicycling is a healthy way to get around the city and may be used for both work and fun.
Also, Portland hosts a month-long bicycling festival called Pedalpalooza, where residents can go on themed rides and meet up with other cyclists. This also provides an avenue for residents to relate with themselves. You'll enjoy riding a bike in this city.
7. Traffic is a major issue here
Despite the city's outstanding public transport system, navigating the city, especially when you're in a hurry, may be a nightmare. When you move here, it is important that you understand the traffic patterns on important highways and bridges, especially on days that you're in a rush.
Also, you can avoid delays by carefully plotting out your day's commute, taking into account potential alternate routes, or making use of public transportation.
8. Live in Pearl District or Hawthorne District
There are several distinct communities in Portland, each with its own vibe and set of advantages. Here, you have a wide variety of neighborhoods to choose from, including the hip Pearl District and exciting Downtown, the quirky Hawthorne District, and the quiet, safe suburbs for families.
You should research and visit potential new neighborhoods to determine the best fit for your needs and interests.
9. Check out the Willamette Wine Valley
Fans of beer and wine will feel right at home in Portland. There are several small breweries in the city, so beer lovers have plenty of options. Here, you get to experience the city's diverse beer culture by sampling everything from hazy IPAs to rare seasonal concoctions.
The Willamette Valley, located just west of Portland, is well-known for its vineyards and wineries, especially its superb Pinot Noir and other varieties. Whether you are a beer specialist or a wine enthusiast, you'll love it here.
10. Attend Portland State University or Oregon Health & Science University
If you have kids or you are planning to pursue higher education, Portland offers a range of quality educational institutions. The city is home to esteemed 116 schools, including 9 preschools, 63 elementary schools, 33 middle schools, and 11 high schools.
Portland State University, Oregon Health & Science University, and Reed College are just a few of the reputable institutions in the area. You have a wide range of school options for your kids and yourself if you're looking to further your education.
11. Health and wellness are top priorities for Portland's residents
Portlanders place a high value on health and wellness, and the city's culture encourages healthy habits and regular exercise. The city has plenty of services for people who want to live a healthy, active lifestyle. This includes parks, restaurants that serve healthy meals, yoga studios, gyms, community green spaces, and organized sports leagues.
With all these facilities in place, you can be sure of living a healthy lifestyle in this city. The city's most prominent hospitals include OHSU Hospital and Providence St. Vincent Medical Center.
MAF Widget
12. There are ample opportunities in the tech and creative industries
The technology and creative industries both play a large role in Portland's economy. People seeking work in the IT, startup, or creative agency industries will find the city to be a desirable location. Based on the findings of a recent study conducted by Workamajig, Portland is the third most creative city in the United States, right after Atlanta and Miami.
However, competition is high, so it's best to have a job lined up before making the move to this city. If you put in the time and effort to network with people in the industry and learn about available jobs in advance, you will have a better chance of getting hired.
Some of the prominent tech companies in the city include Act-On Software, Airship, Bright.md, Instrument, and Metal Toad.
13. A high number of homeless people
Portland, like many other U.S. cities, has problems with homelessness. According to the study, Portland has the second-highest rate of unsheltered family homeless individuals among the nation's largest cities, at 68%. Several efforts, such as affordable housing programs, shelters, and support services, are being implemented to deal with homelessness in this city.
There are also many different organizations and volunteer groups working to help the homeless. You can volunteer with such groups, and this can be a rewarding way to help the community and make a difference in the lives of homeless people.
14. Attend Oregon Brewers Festival or The Rose Festival
Portland is widely renowned for its thriving cultural scene. The city has an eclectic and artistic culture, which is celebrated throughout the year with a plethora of festivals, art walks, and cultural events.
The Rose Festival with its parades and fireworks and the Oregon Brewers Festival, which honors the state's brewing tradition, are two well-attended events you shouldn't miss in this city. There's room for everyone to participate fully in these activities, and you can make new friends in the neighborhood while at it.
15. Portland is a green city
The eco-friendly and eco-aware community of Portland is something you want to associate with. Recycling, composting, and the use of non-automobile transportation are only a few of the eco-friendly activities that are actively promoted in this city.
Portland has made great strides in the fight against climate change, thanks in large part to its massive public transportation system, bike-friendly infrastructure, and other efforts aimed at decreasing carbon emissions and encouraging renewable energy sources. Get ready to dive headfirst into a green city that promotes and celebrates eco-friendliness.
In Conclusion
Moving to Portland offers a distinctive experience with its temperate climate, vibrant culture, outdoor recreation opportunities, and progressive values. Taking into consideration the downsides of living here, such as the high cost of living, traffic issues, and the homelessness problem, will help you make an informed decision about your relocation to Portland, OR.
Learn More About Living in Portland, OR