10 things you must know before moving to Chapel Hill, NC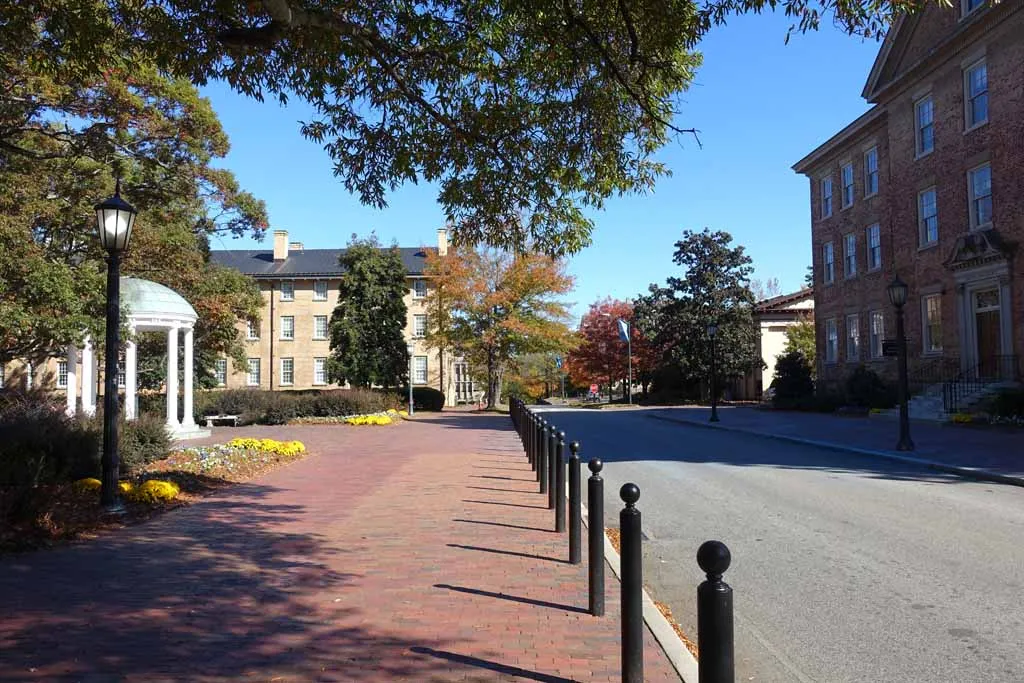 ---
Many people who have been to Chapel Hill would heartily agree with its nickname of "Southern part of Heaven." This city in North Carolina, since its inception, has developed into a place with a lot to offer potential residents, from a vibrant arts scene to a thriving economy.
With a population of over 62,000, Chapel Hill is a wonderful city to raise a family and a popular destination for young people. If you're thinking of moving to this city, then hang around, because we'll be talking about 10 things you must know before moving to Chapel Hill, NC!
1.A perfect location for job seekers
The Research Triangle Park area, the largest research park in the country, is made up of Chapel Hill, Raleigh, and Durham. More than 170 businesses, including industry big players with large staff bases like Fidelity Investments, Lenovo, and Cisco, have offices here.
Businesses, schools, financial institutions, material manufacturers, transport companies, healthcare institutions, social services, and scientific centers make up the bulk of the city's employers. So it doesn't matter what you're passionate about or what kind of education you have, you'll be able to get a job in Chapel Hill,
2.Great public schools
The quality educational system and proximity to prestigious universities have earned Chapel Hill an excellent reputation.
The University of North Carolina at Chapel Hill is one of the country's oldest public universities. Duke University in Durham is a 20-minute drive from Chapel Hill, and North Carolina State University is only 30 miles away in Raleigh. The city is also home to many standard elementary schools. For instance, Chapel Hill High School is ranked as the seventh best in all of North Carolina.
Since over 24,000 students make up Chapel Hill's population, it shouldn't come as much of a surprise that the city's eateries, pubs, and stores all have this college feel to them.
3.An amazing food scene
Chapel Hill provides easy access to many local farms like the Carrboro Farmers' Market, which is open every Saturday year-round. If you prefer fresh, local products, this is the place to go.
The city also has some terrific restaurants. For fine cuisine at its finest, look no further than One Restaurant. Indulge in some authentic BBQ at The Pig. Mama Dip's Kitchen has the best homemade-style food. Crook's Corner offers the best Southern dishes.
Little wonder Bon Appetit magazine rated Chapel Hill among the "foodiest" small towns in the United States.
4.You can have a swell time at night
Chapel Hill really knows how to party on the weekend, with plenty of options ranging from bustling nightclubs to packed bars. Have fun and unwind with your friends at one of the many microbreweries, theatres, cocktail clubs, bars, and live music venues in town.
Top of the Hill, a microbrewery, is a popular night spot. The Crunkleton, located on Franklin Street, and The Northside District, which offers late-night cuisine, are two of the city's best bars.
5.A vibrant arts scene
If you're into art, you'll love Chapel Hill. The Ackland Art Museum at UNC-Chapel Hill is a must-see for every art lover. The museum showcases both modern and classical works of art from all over the world, with its Asian collection being among the best in the southeast. The museum is also filled with Japanese artworks, which include a vase from the 1700s, a scroll painting from the 19th century, and decorative prints from the 1930s.
Frank Gallery hosts various art exhibitions. Bolin Creek Trail is filled with all kinds of art, including two large murals. Magnolia Exotica is a unique piece of art in the city. When it comes to art, Chapel Hill has a scene that's nothing short of paradise for art lovers.
6.There are many fun things to do
One of the things that make this city unique is the plethora of activities available for everyone, despite being a small city. No matter where your interests lie, there'll be something for you in Chapel Hill.
Visit Gimghoul Castle, a haunted castle in the city. North Carolina Botanical Garden, located in UNC, has over 1,000 acres of lovely flowers and plants. Take the kids to Kidzu Children's Museum, a museum that explores science, arts, and technology for kids.
Have fun playing some golf at UNC Finley Golf Course. Morehead Planetarium and Science teaches all about the solar system. Laze around in the sun on Wrightsville Beach, the closest beach to the city.
Whether you'd rather spend time outdoors, or engage in some fun activity indoors, Chapel Hill is sure to offer something you'll like.
7.Hot real estate market
Chapel Hill, like the rest of the Triangle area, is experiencing a real estate boom. The housing market appears to be expanding as more people are relocating to the area in pursuit of cheaper rates and better job prospects. The real estate market is quite competitive, with a score of 72 out of 100. The median home price is $623,892 , a 7.2% increase from the previous year.
If you're looking to buy a house in Chapel Hill, now's the best time to buy it, because the prices of homes are predicted to keep increasing.
8. A mostly pleasant weather
Chapel Hill often has lovely weather, no matter what time of the year it is. The city usually has a mild climate, with warm summers and short but chilly winters.
This city is especially beautiful in the fall because the leaves change colours and it gets cooler at night. And even though it has four seasons, the weather isn't too hot or too cold.
9.Not a good place for allergy sufferers
Although Chapel Hill usually has great weather, allergy sufferers might not find the city to be particularly pleasant. During springtime, the pollen levels are high, due to the large number of trees in the area. American beech, river birch, and hickory oak are the main culprits in this case. So if you're prone to allergies, be sure to keep your medications close.
10.You'll be spending a lot more here
At an index of 118.3, Chapel Hill's cost of living is 8% higher than the national average. So if you're looking to cut costs, this city might not be right for you.
The median rent is $1,482, electricity bills are $153.39 per month, gas is $4.23 per gallon, and a loaf of bread costs $3.56.
However, the median household income in Chapel Hill is $61,000, which is higher than in most other cities, so a lot of people are able to cope with the city's cost of living.
In Conclusion
Chapel Hill is a great city to live in, and the tons of opportunities it provides despite being a relatively small city make it all the better. The cost of living might be a drawback for some people, but it shouldn't be much of a problem once you get a job that caters to your needs, thanks to the vibrant job market.
Learn more about living in Chapel Hill, NC