10 Things to Know Before Moving to Fredericksburg, VA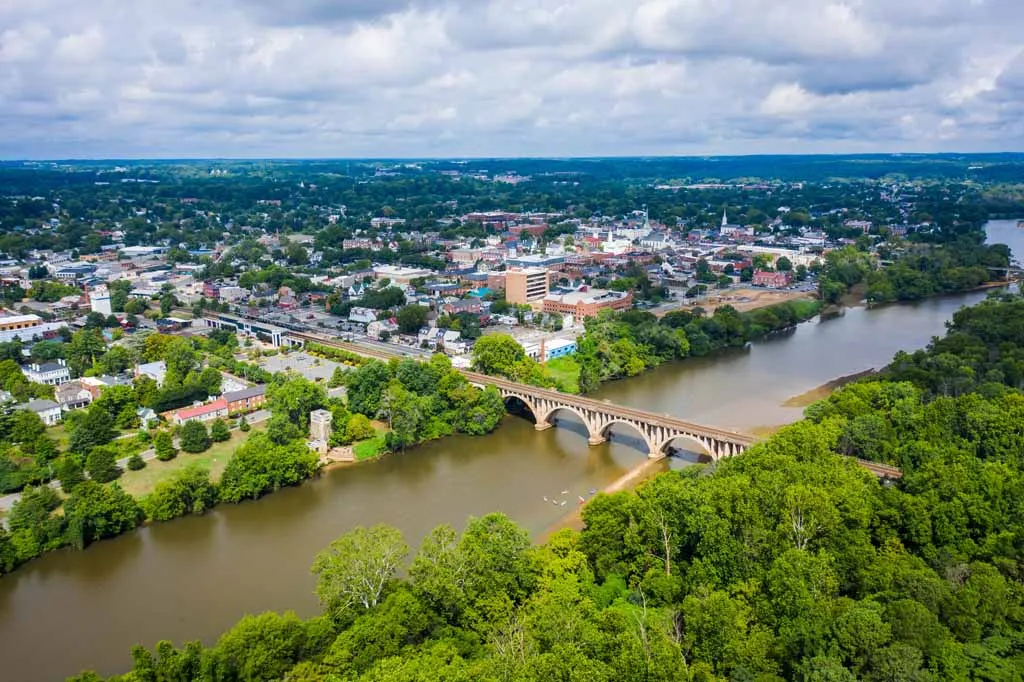 ---
Fredericksburg, Virginia, is home to around 28,000 people and is known for its historic heritage dating back to before the Revolutionary War. The city spans a total area of just 10.5 square miles.
There's enough to see and do in your spare time between the museums, galleries, and boutiques, not to mention the restaurants run by celebrity chefs. All the locals benefit from the constant influx of tourists drawn to the area's many appealing features. Let's talk about ten things to know before moving to Fredericksburg, VA!
MAF Widget
1. There are many museums that tell of Fredericksburg's past
Fredericksburg has a long and storied past, and you can explore it without having to travel far on foot or by car. The James Monroe Museum, the Fredericksburg Area Museum and the Washington History Museum are three attractive options to learn more about the city's history. And while you're there, stop by Kenmore, where George Washington's (that George Washington) sister Betty lived.
Moreover, smaller parks and monuments depicting Fredericksburg's significance in the Civil War are dispersed across the city and its environs. The information available would require a significant time commitment to absorb fully.
2. The hot lanes make traffic bearable
Unfortunately, Fredericksburg experiences quite some traffic. Although there are several transportation alternatives for getting north, south, or wherever else you need to travel, the traffic can be tricky to navigate. Preparation is the key, so figure out when you want to go, where you want to go, and how you want to get there.
However, the convenience of being able to use the high-traffic "hot lanes" is a great perk of living in Fredericksburg. That said, there are ways to avoid or mitigate the worst of the gridlock.
3. Downtown is filled with historic structures
If you're looking for a cozy historical city in Virginia, go no further than Fredericksburg. The town is a college town due to the presence of the University of Mary Washington, and its downtown is known for its many lovely historic homes.
Brick streets and predominantly brick structures give the city a unique and attractive look. If you can find a place to live in the Downtown district, you will have the opportunity to take part in the exciting culture of this one-of-a-kind metropolis.
4. It's close enough to Richmond and Washington
Ideally located between Richmond and Washington, DC, Fredericksburg strikes a balance between proximity and distance. If you're a city tourist, you're in luck: two of Virginia's most exciting metropolises are within an hour's drive. You can spend a day learning about the nation's history and museums in Washington, DC, then the next day eating and drinking your way through Richmond.
Shenandoah National Park, which stretches along the Blue Ridge Mountains and offers some of the state's best hiking, camping, and fishing, is only about an hour and a half away from here as well, making it a great option for outdoor enthusiasts.
5. Get a job in the medical sector
As a city with a thriving economy, Fredericksburg is a great spot to find a job. There are a lot of openings in the fields of medicine, teaching, and public service. The city is home to several large corporations, including GEICO, Mary Washington Hospital, and the University of Mary Washington.
The close proximity to the nation's capital also makes it an attractive choice for commuters. If you're concerned about finding a job in the city, know that economic growth is anticipated to continue, making it an even more attractive location.
6. It is home to the University of Mary Washington
A number of elementary, middle, and high schools in the Fredericksburg Region are consistently ranked among the best in the state of Virginia. The University of Mary Washington is also a highly regarded institution that has a major impact on the economy of the area. In addition, Fredericksburg is home to several prestigious private and parochial institutions of learning.
7. The tax rate is among the highest in the country
At 5.3%, Virginia's tax rate is among the highest in the US. The entire state is subject to this tax on all retail purchases. Of course, Fredericksburg is not left out.
The tax rate is not the highest in the country, but it should be taken into account if you plan on living within a strict budget in this city.
MAF Widget
8. Get some breakfast, appease your taste buds, or order some great food at Fredericksburg restaurants
In the morning, stop by Metts Coffee Roasters for a cup of coffee, and then head to Amy's Cafe or George's Pizza for a leisurely breakfast on the weekend. You can appease your sweet tooth at many different places in Fredericksburg, including Auntie Anne's, Eileen's Bakery and Cafe, and Fiesta Supermarket.
People in the area frequently get burgers from Shannon's Burgers, and Cancun Margarita Bar & Grill for tacos. Great restaurants that are both enjoyable and memorable include the JT Bourbon Street Grille, the Thai Cafe, and the Miso Grille
9. The cost of living is higher than the state average
At an index of 106, Fredericksburg's cost of living is higher than both the state and national average. Although it isn't a costly city to live in, it's still more expensive than most other cities in Virginia.
The cost of housing in Fredericksburg is also higher than the national and state average, at a median home price of $409,989, while the state's median home price is $351,000. Before moving to this city, it's important to be prepared for this.
10. Take in the natural scenery at The Rappahannock River and Trail, or Alum Spring Park
Fredericksburg is a great base for outdoor activities, as the Rappahannock River and Lake Anna State Park are both within easy driving distance. A popular activity for tourists during the warmer months is to rent a kayak and paddle down the river to take in the sights.
The Rappahannock River Heritage Trail is another option for those who would rather keep their feet firmly on solid land. Falmouth Beach, just across the river, is a popular spot for swimmers in the summer, and a stroll through adjacent Alum Spring Park is a great way to take in Virginia's vibrant fall foliage.
Final Thoughts
Is Fredericksburg the right city for you? This city has some great benefits, such as the parks and other natural spots, good food, rich history, a thriving economy, and lots more. However, there's also the cost of living and high tax rates to consider before making the move.