15 Things to Know Before Moving to Panama City, FL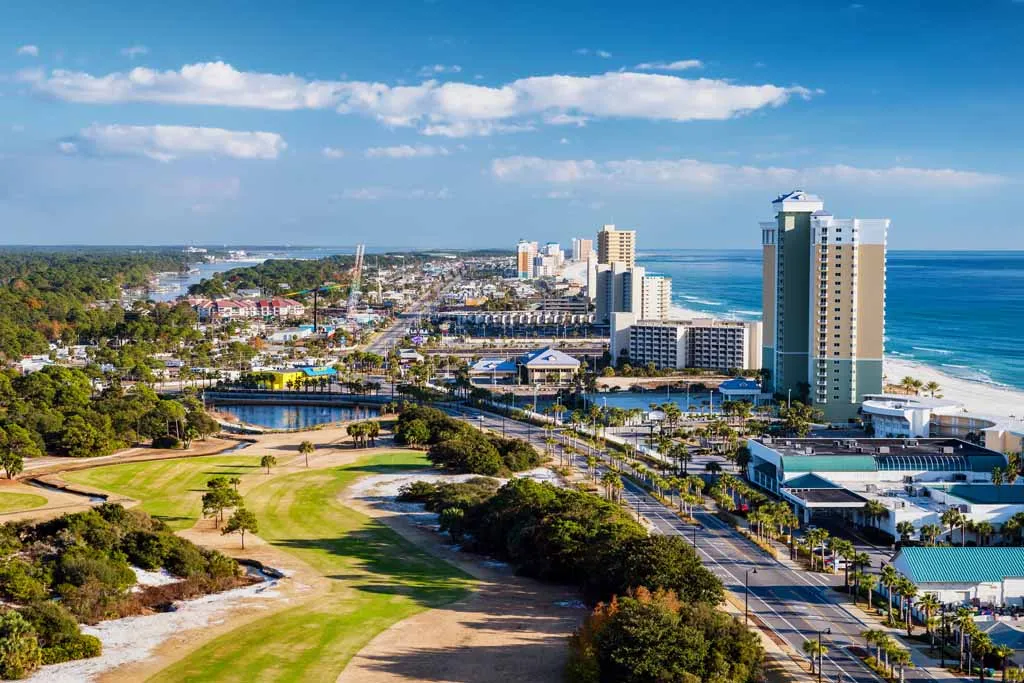 ---
Panama City, in Bay County, Florida, has long been a famous tourist destination, but in recent years it has also attracted many people looking to make it their permanent home. Young adults are drawn to this small town because of its pleasant climate, clear waters, magnificent shoreline, and plentiful wildlife. Here are 15 things you should know before moving to Panama City, FL!
1. An affordable cost of living
Panama City has a very low cost of living. According to BestPlaces.net, housing expenses are particularly low, contributing to an overall cost of living that is around 8% below the US average. The median home price in this city is $256,500.
Florida is unique because the state has no income tax. So, depending on your current state of residence and your income level, moving to Florida may result in significant tax savings.
2. There are two major seasons
There is perpetual summer in Panama City thanks to its tropical monsoon climate, which is followed by a brief dry season and then a wet one. With an average annual rainfall of 63.6 inches, Panama City tops the list as the wettest city in the USA. If you love the rain, you are in for a treat!
It's about 30°F there all year round, while the daytime high in Boquete and other cooler regions is closer to 25 degrees Celsius. There are essentially two distinct seasons in Panama City: the dry and the wet.
3. Opportunities for fun are endless
There are endless opportunities for fun in Panama City. You can participate in outdoor activities, visit tons of parks and beaches in and around the town, and go to pubs, restaurants, entertainment centers, and music events. The city is especially known for its abundance of lovely parks, all offering various exciting fun activities.
Some fun places to go in the city include St. Andrews State Park, ZooWorld Zoological Park, Gulf World Marine Park, Coconut Creek Family Fun Park, Science & Discovery Center of Northwest Florida, Panama City Beach Winery, and many more!
4. Nighttime is exciting
The nightlife in Panama City is vibrant and there is something for everyone, from the exciting nightlife and tourist attractions to the relaxed atmosphere of the eateries. If you're looking for a place to dine or kick back with a drink, there are plenty of bars, pubs, and grills to choose from.
There are a lot of bars and clubs that feature local musicians and singers or even have karaoke nights. Live music and dancing can be found all summer at the world-famous Club La Vela. In Panama City, you can go to a beach bar for a late-night snack, a few drinks, and some lively music.
You can always go shopping at night or even catch a movie at the theater; the choices are unlimited!
5. A decent educational system
There are over 70 schools in Panama City, ranging from elementary schools to middle and high schools. Most of these schools are rated above average in the nation.
The city also has unexpectedly convenient access to higher education opportunities, whether you're looking to keep the kids close by for college or you're an adult looking to improve your education. Gulf Coast State College and a Florida State University (FSU) branch campus are located nearby.
6. Lots of beautiful beaches
There are lots of beautiful sandy beaches where you can chill and have fun in Panama City.
Red Frog Beach, Isla Coiba Beach, WonderWorks Panama City Beach, Punta Chame, the Beaches of the San Blas Islands, and Panama City Beach are some of the top-rated beaches in the city.
7. There's a risk of natural disasters
Panama City is prone to storms and other natural disasters. Since 1871, the city has experienced 60 massive tropical storms, and even though, the risk of tornadoes occurring in the city is lower than the state's average, it is still higher than the national average.
The city is also at risk of other natural disasters like flood, wildfire, tropical cyclones, windstorms, and landslides.
8. There might be a language barrier
If you are not fluent in Spanish, it may be difficult to interact with the natives in Panama City. It depends on where you are, though.
There is a large Spanish-speaking population, and most of the people speak Castilian Spanish. When it comes to racial diversity, Panama City is ranked at #4,480. This means that the city is not very diverse.
Whites make up the bulk of the population, followed by African Americans, people of mixed racial backgrounds, Asians, Americans of Asian descent, and Native Hawaiians.
9. Limited employment opportunities
Panama City's labor market is fairly limited, so if you're relocating from a major city in the United States and are hoping to find a wide variety of professional career options, you might be disappointed. The hospitality industry, the military, and the real estate sector are the only significant roles in the local economy.
Overall, the unemployment rate is 8.4%, much higher than the national average. It is advisable to figure out if your field or kind of business thrives in such an area before you move there.
10. The population is decreasing
The city of Panama City has had a steady population drop during the past five years. Not a significant worry, but something to keep an eye on. Short-term events like pandemics, food shortages, and conflicts, and long-term demographic tendencies like resident migration and a low birth rate are all common causes of population loss.
A cascading impact of these factors might reduce population growth even more, which in turn hurts the economy.
11. There's a high rate of crime
Panama City is safer than only 3% of the United States, making it one of the most unsafe places to live in the country. When compared to other towns its size, Panama City has way too many crimes in the state and the nation.
Property crime is much higher in this area, with a rate of 44.32 per 1000 persons. The violent crime rate is 9.26 per 1000.
If you decide to move here, you'd have to tread carefully and ensure to keep your property and belongings safe.
12. The poverty rate is high
With a staggering poverty rate of 21.64%, Panama City is a poor town.
The high poverty rate in this area affects more than just the unemployed; The poverty rate is 28.66% among both part-time and full-time workers. Numerous homeless people and a drug-dependent culture also contribute to Panama City's plight.
13. There's a lot of seafood
Due to its location on the warm Gulf of Mexico seas in the Florida panhandle, Panama City is home to a wide variety of seafood that is both fresh and delicious.
The selection of seafood is just remarkable. Blackfin tuna, mackerel, red snappers, and mahi-mahi are only some examples.
Some seafood restaurants in town include Crafty Crab, Hunt's Oyster Bar & Seafood Restaurant, Captain's Table Fish House Restaurant, and The Shrimp Boat Restaurant.
14 There are too many tourists
Tourists flock to Panama City during the dry season to enjoy the city's many gorgeous beaches and particularly, the Gulf of Mexico, which is a popular tourist destination.
This in turn leads to heavy traffic in public places like malls, beaches, and event halls. As a result, people living here feel uncomfortable when tourists are in town.
15. The people are friendly
The residents of Panama City are close-knit, friendly, and welcoming. This city feels like a beachside town with its resort atmosphere, and people living there tend to be quite pleasant and easygoing.
You'll have fun with them, and if you love to learn new things, you'll pick up their language in no time.
In Summary
The affordable cost of living, decent educational system, and pleasant climate are just some of the reasons Panama City is a lovely city to live in. However, there are also some notable drawbacks, such as the risk of natural disasters, limited job opportunities, and a high crime rate.