Top 10 Reasons to Move to Colorado Springs, CO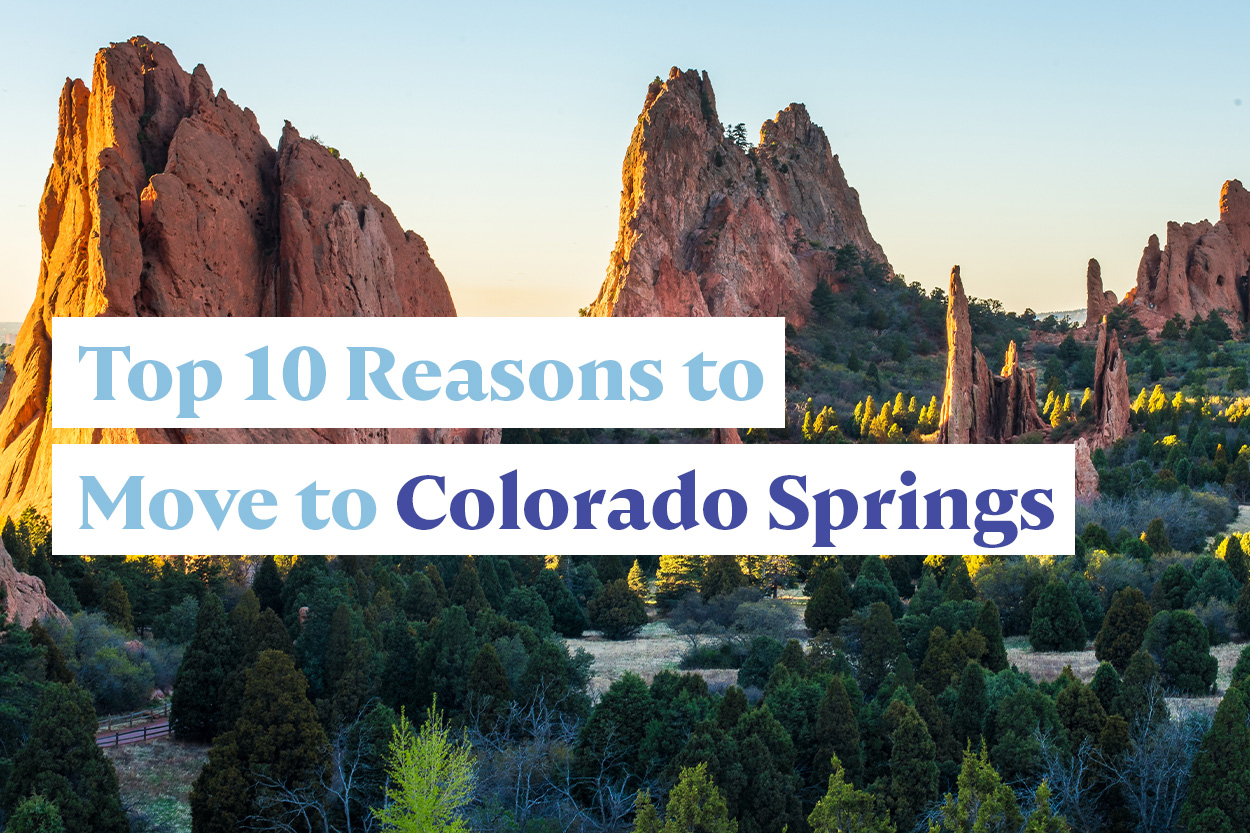 ---
Welcome to Colorado Springs, Colorado.
This lazily-named city is absolutely gorgeous and is a current hot spot for people looking to relocate.
If you happen to be one of those people who can't decide whether or not to move, then you should stick around.
Because in this article, I'll cover the top 10 reasons why you should move to this city.
So strap in and let's get started!
MAF Widget
Reason 10, Affordability
With inflation taking money out of our pockets like a rigged game of Monopoly, the one thing on the mind of many Americans is how to keep their bank accounts healthy.
To that I respond–just move to Colorado Springs.
Honestly, this part of the country isn't cheap. But Colorado Springs is the most affordable city located in the Front Range–which is what people call the collection of the largest cities in Colorado.
Colorado Springs put you just an hour away from larger cities like Denver. So living here really is the best of both worlds.
Reason 9, Pet friendly
Listen, I know you THINK you're a dog lover.
But I promise, when you move to an area like Colorado Springs, the residents will put you to shame.
Dogs are treated like royalty here. In fact, this city has been voted one of the top 10 cities with the highest pet spending.
And when residents aren't making it rain on their fur babies, you can find them taking advantage of the many dog parks and pet-friendly trails.
I've even heard that visitors who don't like dogs are quickly given shock therapy, so just keep that in mind.
Reason 8, Weather
The weather in Colorado Springs has been known to make other cities green with envy.
Located in what residents call "The Banana Belt", this city boasts having 300 days of sunshine per year.
But wait, doesn't it snow in Colorado?
Why yes it does, my inquisitive friend. But please, don't interrupt me again.
While you'll experience the occasional 8-12 inches of snow, you'll be happy to know that it'll be gone within 3 days.
If that's not an ideal living environment, I don't know what is.
Reason 7, Good schools
All my parents out there listen up.
Because Colorado Springs is one of those rare cities that takes education very seriously.
The school system here has been known to consistently have high test scores. And the high schools do a wonderful job of preparing students for college.
This means even if you have a slacker on your hands, it's entirely possible that they'll be peer pressured into good grades.
So if you want your child to go from vapid to valedictorian, make the move.
Reason 6, Health-conscious
If you decide to move to Colorado Springs, make sure to have your Gatorade handy. You'll definitely need it.
Because residents here love to get their sweat on.
This part of Colorado is known as "Olympic City" due to it being the home of the United States Olympic Committee Headquarters.
Let me be clear with that last point–actual Olympic athletes train in this city.
Just having that knowledge alone is enough to make you bypass Burger King.
And when you combine that with a large number of bike trails, walking trails, and challenging hikes, you'll be in the best shape of your life in no time.
Reason 5, Historic sights and landmarks
While there are many outdoor activities you can enjoy in Colorado Springs, there's also a ton to see.
Because this city is filled with landmarks and gorgeous views that continue to attract visitors from all over the country.
Sights like "The Garden of the gods" are sure to take your breath away.
And if you want to feel like you're on top of the world, make sure to hike up Pikes Peak, which is the highest peak in the Southern Front Range.
The beauty might even make you shed a tear or two.
Reason 4, Marijuana
If climbing Pikes Peak doesn't get you high enough, I have the perfect solution…
Weed.
Yep. The infamous mary jane is 100 percent legal in the state of Colorado. I don't think this point needs further elaboration so let's move on.
Reason 3, Local economy
One important thing to note about Colorado Springs is that residents love to shop local.
So much so that 92% of the local economy is made up of small businesses.
And the added benefit of this small business focus is that residents have a lot of interesting options for employment.
A quick word of caution–if you don't want an angry pitchfork-wielding mob outside your door, keep the Amazon deliveries to a minimum.
I'm dead serious.
Reason 2, Bad fashion
I know what you're thinking. Why would I put bad fashion on this list?
Here's the thing. Many people don't want the pressure of looking like an out-of-work fashion model when going to the grocery store.
They want to dress for comfort–without standing out in a negative way.
And in Colorado Springs, I'm happy to say that everyone is on the same page.
People here prefer to wear whatever makes them feel the best–whether that's a pair of crocks or flip flops. It doesn't matter.
So, yea. If you rather feel good in a hoodie instead of being uncomfortable in a suit, Colorado Springs is the place to be.
Ok, who's ready to hear the number 1 reason why ppl are moving to Colorado Springs?
Well, I'm about to share it with you.
But before we get to that, there's something I must share with you.
Here at Home and Money dot com, we make the whole process of getting a home easier (even if you're a first-time home buyer).
We have a whole team that will connect you to the perfect agent so you can finally get that dream home. Plus, we'll equip you with your very own personal concierge if you're a first time home buyer–Which, if you've ever purchased a home, you know is a HUGE help considering how complicated the process can be
Best of all, this service is absolutely free!
Just check out the link in the description for more details.
MAF Widget
Ok, now where were we.
Reason 1, Air quality
Surprised? I bet you are.
Because air quality isn't something normal people think about.
But I promise you. If you ever make it to Colorado Springs it will be one of the first things you notice.
This city is frequently voted one of the top 10 places with the best air quality in the country. And it's the reason why so many Olympic athletes train here.
It's a given fact that when your lungs aren't filled with marijuana smoke, they'll be filled with some of the finest air known to man.
Honestly, it's just one of those things you have to experience for yourself.
And that wraps up the list!
I hope you are now empowered to decide whether or not moving to Colorado Springs is worth it.
Because if you ask me, you should pack your bags immediately.
Until next time!