10 Things to Know Before Moving to Goodyear, AZ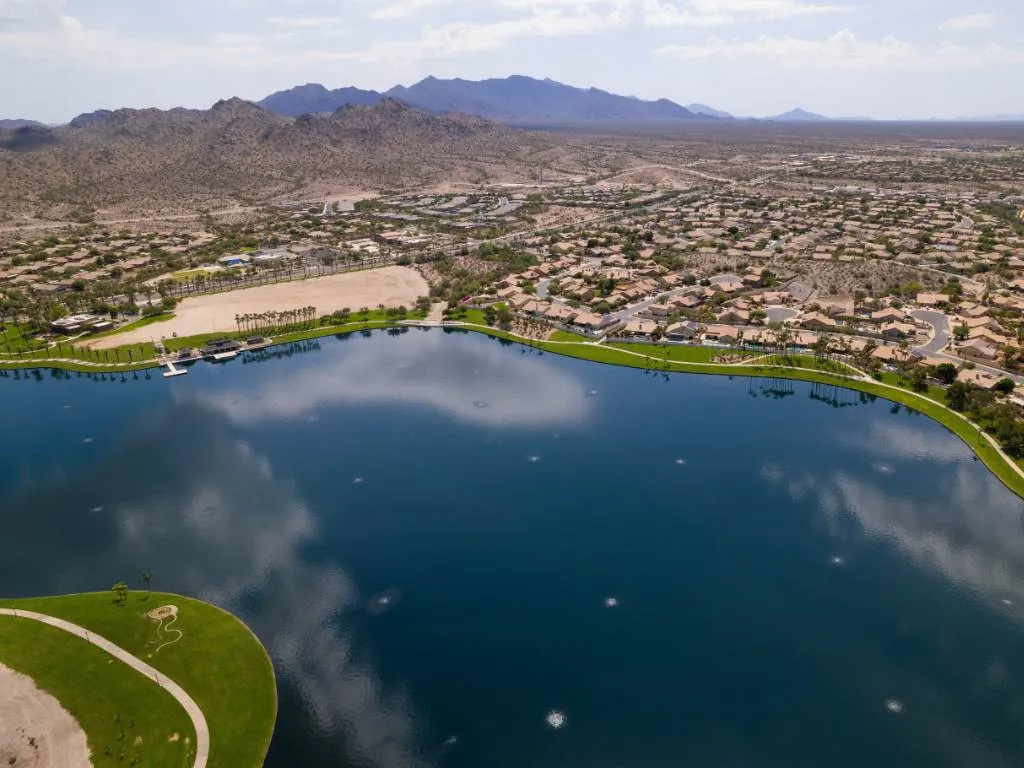 ---
Located in Maricopa County, Goodyear, Arizona, is a suburb of Phoenix and is home to a population of 112,986 residents. From its climate to job opportunities and a plethora of recreational activities, Goodyear has a lot to offer.
Let's discuss ten things to know before moving to Goodyear, AZ!
1. Goodyear has a desert climate
Goodyear experiences a desert climate characterized by hot summers and mild winters. Summer temperatures in Goodyear often surpass 100 °F, with occasional spikes above 110°F. Winters, on the other hand, are relatively mild, with daytime temperatures typically ranging from the 60s to the 70s°F.
This climate features extreme temperature variations between summer and winter, creating scorching summers and pleasantly mild winters in Goodyear. This city won't be a good fit for you if you prefer some cold breeze in the winter. On the other hand, if you like a sunny day every day, then you'd enjoy living in Goodyear.
2. Living expenses are 13% higher than the national average
The cost of living in Goodyear is higher than the national average by 13%. Housing costs, utilities, and transportation expenses are 57%, 3%, and 7% higher than the national average, respectively. The median home price in this city is $478,304, which is high compared to the national average of $416,000.
Groceries are about the same price as the national average. A gallon of milk costs $2.42, a carton of eggs costs $2.24, and a loaf of bread costs $3.86. And, you probably will need to budget for the higher-than-average energy costs in this city due to the hot summers.
3. Abrazo Healthcare West's Valley Hospital is a top employer in Goodyear
Abarazo Healthcare West's Valley Hospital is widely recognized as a top employer in the region. This organization has 1,010 employees, and it stands out by offering diverse job opportunities such as medical and clinical roles, administrative and support staff, allied health professions, management, maintenance, patient services, nutrition and dietary services, information technology (IT), healthcare informatics, and research.
The hospital also provides a strong commitment to employee development, competitive compensation packages, active community engagement, state-of-the-art facilities, and a collaborative work culture. Working at this hospital provides not only fulfilling careers but also an opportunity to make a positive impact on patients and the local community.
4. There are 30 schools in Goodyear
If you're moving to Goodyear with your family, then rest assured. Living in Goodyear gives your kids access to quality educational institutions. The city has 30 schools, including 20 public schools and 10 private schools. Schools in Goodyear are characterized by dedicated teachers and a commitment to academic excellence.
Wester Elementary School, Wildflower Accelerated Academy, and Millennium High School are some of the schools in this city. There are also higher education options available nearby in Phoenix.
5. Engage in recreational activities at Estrella Mountain Regional Park
If you enjoy outdoor activities, you're in luck. Goodyear offers numerous parks, hiking trails, and golf courses. Estrella Mountain Regional Park is a favorite among residents.
Estrella Mountain Regional Park is a vast natural playground spanning 20,000 acres. It offers diverse recreational activities, including hiking, mountain biking, horseback riding, picnicking, camping, bird watching, stargazing, and water-based activities at its lake. The park's serene desert setting, ranger-led programs, and abundant wildlife make it a must-visit destination for outdoor enthusiasts of all kinds.
Whether you're seeking an adrenaline rush on the trails, a serene escape into nature, or educational experiences, this park delivers on all fronts, and you'll enjoy hanging out here.
6. Attend the Goodyear Lakeside Music Festival
One of the well-attended cultural events in Goodyear is the Goodyear Lakeside Music Festival.
This is an annual cultural event that celebrates music, food, the arts, and community. Set against the backdrop of a picturesque lake, the festival features live music from various genres, a diverse array of food vendors and artisan crafts, family-friendly activities, and a strong sense of community spirit. It's a cherished event that brings residents and visitors together to enjoy the vibrant cultural scene of Goodyear. You shouldn't miss this one while living in Goodyear.
7. Get access to great healthcare facilities at Banner Health Center or Abrazo Healthcare West's Valley Hospital
Access to quality healthcare is crucial, and Goodyear provides that with multiple medical centers and hospitals in the vicinity. Banner Health Center and Abrazo Healthcare West's Valley Hospital are significant healthcare providers in the region.
Banner Health Center offers a wide range of specialized services, including advanced diagnostics, cardiology, orthopedics, and women's health. Abrazo Healthcare West's Valley Hospital, on the other hand, specializes in cutting-edge procedures such as minimally invasive surgeries, robotic-assisted surgery, and comprehensive cancer care.
Both facilities prioritize patient well-being and are staffed with highly skilled medical professionals, making them valuable assets to the Goodyear healthcare landscape.
8. Most residents own a car
In Goodyear, most residents own a car, so private vehicles are the dominant mode of transportation. This is due to the limited public transportation options, the suburban layout, and the convenience they offer for navigating the city's vast road network.
Factors such as spread-out development, a hot desert climate, and personal freedom contribute to the prevalence of car ownership and use. However, owning and maintaining a car can be quite expensive.
9. The crime rate is less than the national average
Goodyear is generally considered a safe city, with a lower crime rate than the national average. The violent crime rate in Goodyear is 15.9%, which is lower than the US average of 22.7%. Although the rate of property crime is 37.4%, which is higher than the US average of 35.4%, Goodyear has a crime rate that is generally lower than the national average.
Ensure you research specific and safe neighborhoods before settling in this city.
10. Fast-growing population rate
Goodyear has witnessed a noteworthy surge in its population, making it one of the fastest-growing communities in the state. Goodyear's population has grown by 17.04% since the most recent census, which showed a population of 96,534 in 2020 and is now rising at a pace of 5.39% annually.
This growth has had positive impacts, including economic development, improved infrastructure, increased housing demand, and cultural diversity. There are also downsides to this growth, and they include increased traffic congestion, strain on infrastructure, rising housing costs, environmental impact, pressure on resources, loss of open space, and increased competition for jobs.
To Sum it All Up
Moving to Goodyear, AZ can offer you a fantastic quality of life with its job opportunities, recreational activity offerings, good schools, and welcoming community.
However, ensure you contemplate the high costs of living, hot summers, and downsides of population growth before relocating to this city.
Learn More About Living in Goodyear, AZ