10 Top Pros and Cons of Living in Bremerton, WA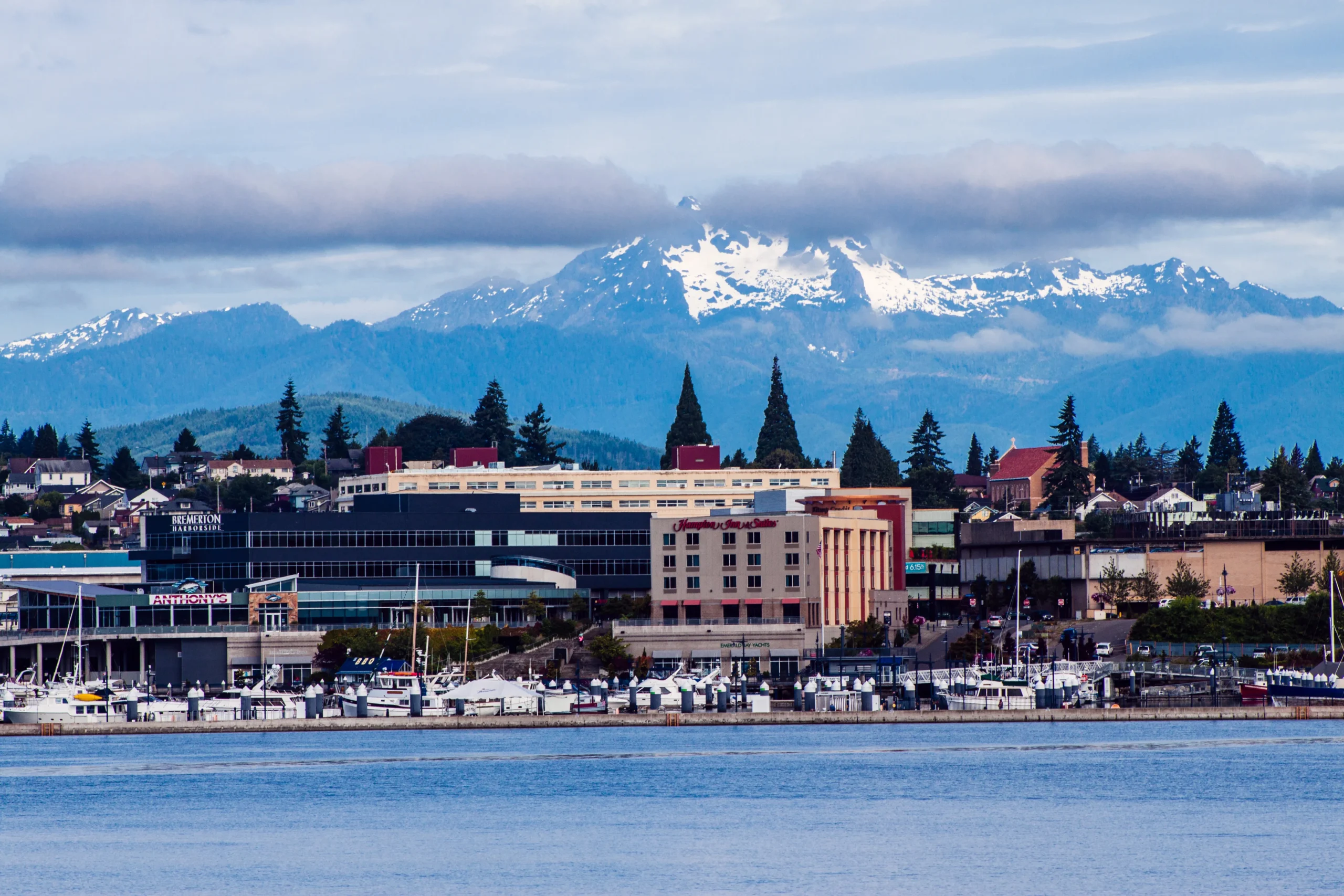 ---
Some people considering relocating to the northwest immediately think of larger cities like Seattle and Portland. However, expanding your search area may reveal more suitable options.
Bremerton, Washington, is one example of a place like this. Bremerton has cheaper housing and easy ferry access to Seattle proper. The new Fast Ferry is a major factor in the city's success in attracting Seattle residents.
Let's talk about ten pros and cons of living in Bremerton, WA.
Pros of Living in Bremerton
1. Enjoy the small-town feel
Popular places tend to attract more people, leading to increased foot traffic and spread-out parking lots. Nonetheless, many people dream of escaping to the peace and quiet of a rural little town in the Pacific Northwest. A lot of once-peaceful neighborhoods are now more crowded than ever.
Despite its proximity to Seattle, Bremerton manages to retain a small-town atmosphere. You'll have plenty of opportunities to meet your neighbors and show your support for the local economy at everything from corner stores and farmers' markets to indie theaters and community-run celebrations. The natural world around you is quite remote, adding to the sense that you have been transported to another planet.
2. The city is conveniently near Seattle
Bremerton may seem far off from the action of Seattle, but the distance is actually rather short. Taking the ferry will get you to Seattle's downtown in around 30 minutes. You can leave your peaceful house anytime you like and take advantage of the city's vibrant nightlife, museums, markets, and shopping without ever having to worry about driving.
Would you rather be the one behind the wheel? If you go the long way around the peninsula, you will arrive in just over an hour. Even cyclists often make trips to the city.
3. Bremerton is a naval city
Bremerton's naval facility is a major part of the town's identity. Of course, this implies that military families can take advantage of a wonderful setting for the whole family while still remaining physically close.
Even civilian families can profit from living in such a naval hub since it brings interesting newcomers and ideas to an otherwise sleepy part of the country. Bremerton's naval heritage is an admirable pillar of the city's character.
4. It's close to Olympic National Park
Bremerton is a fantastic city for nature lovers of all stripes. The Pacific Northwest is known for its gorgeous scenery and easy access to the sea, Puget Sound, inland lakes, and hiking trails.
Water sports of various kinds, as well as leisurely strolls through forests and along rivers on bicycles, whale and bird watching, beachcombing for seashells, and other similar pursuits, are all popular pastimes. Olympic National Park and the San Juan Islands are both within easy driving distance, making this a fantastic starting point for any outdoor adventure.
5. Check out the Puget Sound Navy Museum
At an easy walking distance from Bremerton's ferry dock, you'll find the free Puget Sound Navy Museum. Excellent museum housing fascinating displays.
Bremerton played a crucial part in the shipbuilding industry during WWII, and it is intriguing to read how thousands of people were transported daily from Seattle to work on these battleships. By 1945, 32,500 people were employed at all times at the Puget Sound Naval Shipyard.
A large portion of the museum describes what it was like to live on an aircraft carrier. How hard do you think it is to feed 5,000 sailors onboard an aircraft carrier each day? How about fresh water supply? And why do you need 5000 sailors for this floating fort to start with? You will learn all about that here.
6. Visit the Harborside Fountain Park
Bremerton's Harborside Fountain Park is a prime example of Northwest public space architecture. It's just next to the Naval Museum, and it's a blast for people of all ages. You're in for a treat, as the company responsible for the fountains in front of the Bellagio Hotel in Las Vegas also constructed the fountains and wading pools at this park.
The five enormous fountains all face the water, creating an effect similar to that of a fleet of warships leaving Bremerton, and the spouting fountains are reminiscent of the nearby active volcanoes. Cool down on a hot summer day by wading through the shallow pools that can be found beneath each fountain.
7. Attend the Olympic College
Located in Bremerton, Olympic College serves as a public community college. On September 5, 1946, it first opened to the public as Olympic Junior College.
Olympic College in Bremerton serves the town in many ways, including through its Business Relations Center.
Bremerton High School's top-notch performing arts center regularly hosts the Bremerton Symphony as well as opera, dance, and theatrical acts.
8. The median salary is higher than the national average
Thanks to the economic activity brought in by the naval base, in comparison to a national median income of $53,000, the median income of Bremerton is $63,000. The expense of living reflects this, albeit it's not horrendous in comparison to places like Seattle or even much of West Coast.
Only housing costs are greater than the national average. The costs of other necessities, such as food, transportation, and utilities, are about the national average.
Cons of Living in Bremerton
9. The tourists cause a lot of traffic
Be ready for traffic congestion when the weather cooperates, and not just on the highways. Bremerton is a nice place to live because of its proximity to the Washington State Ferries.
However, during the summertime, the boats can get crowded with tourists, leading drivers to be delayed for up to two hours. Those who stroll or ride their bikes on board can avoid this problem.
10. The cost of living is 10% higher than the national average
With an index of 110.6, living costs in this city are 10% higher than the national average. The average price of a home is $438161, and buyers are competing over nearly every listing.
There are a lot of people who would like to leave the hectic big cities and go to the quieter suburbs now that they can work from home permanently. Bremerton fits right into the criteria, so the demand for housing is quite high and expect that to last for some time as the working from trend either continues or sudsides.
To Sum it All Up
Is Bremerton the right city for you? The city's pros include the high median income, its small-town feel, and convenient location. However, the slightly high cost of living should be considered before moving, and if you'd rather not live in a city where you have to deal with traffic, then Bremerton might not be for you.
Learn More About Living in Bremerton, WA