15 Things to Know Before Moving to Lexington, MA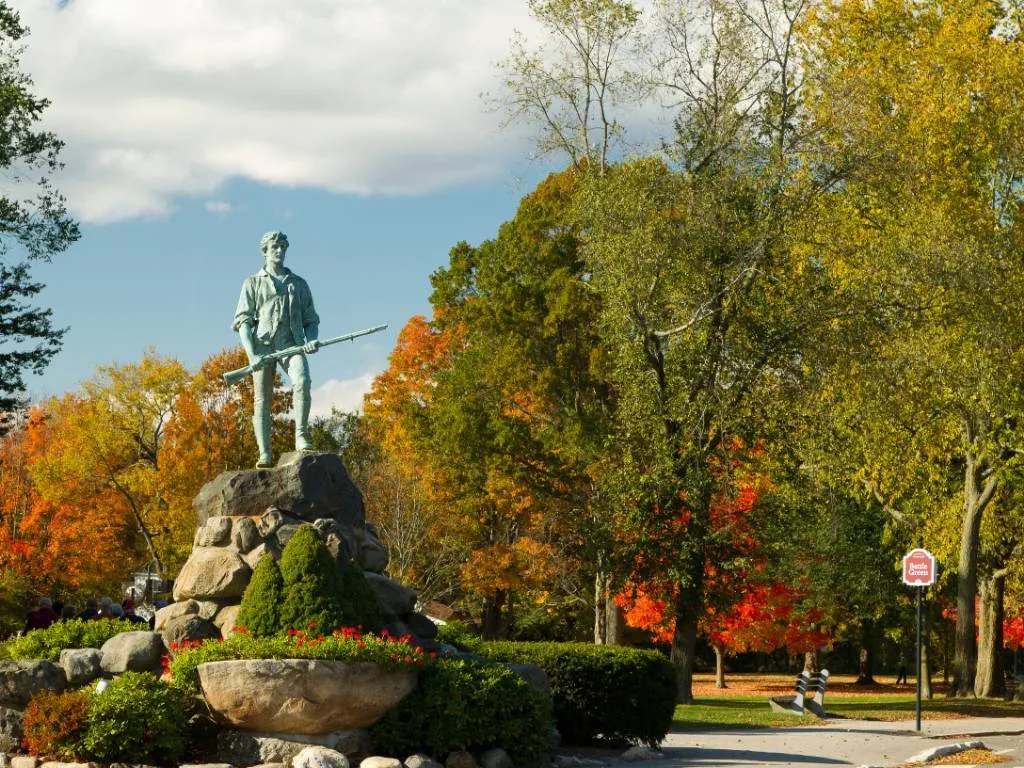 ---
Lexington, Massachusetts, is a small suburb of Boston, situated in Middlesex County, only 10 miles from the city center. This city is a significant historical location because it was the scene of several pivotal events during the American Revolution.
Lexington is often regarded as one of the state's best places to live due to its welcoming atmosphere, top-notch educational opportunities, rich cultural diversity, and stunning examples of historical architecture.
If you're looking to relocate to Massachusetts and find a great spot to live just outside the hustle and bustle of Boston, Lexington may be a good option. Here are fifteen things to know before moving to this city!
1. A cost of living index of 176
The cost of living in Lexington is 76% greater than the U.S. average. The city has consistently been rated as the third wealthiest town in Massachusetts, placing it among the state's most prestigious communities.
Due to the large concentration of wealthy individuals, families, and couples, the cost of living in Lexington is generally greater than the national average. The median household income in Lexington is $186,201, which means an average wage of $33 per hour is required to cover basic expenses.
2. Learn about the city's history at Minute Man National Historical Park or Buckman Tavern
In the early 17th century, settlers arrived in what would become Lexington, Massachusetts, a major farming settlement that would later be incorporated into its own town in the Commonwealth of Massachusetts in 1713.
The little city is well-known as the location of the opening shot of the American Revolutionary War at the Battle of Lexington in 1775 and currently features numerous historical attractions and museums.
The first fight of the American Revolution is commemorated at Minute Man National Historical Park. At what is now known as Lexington Common National Historic Site, the first bullets of the Battles of Lexington and Concord were fired.
You can also learn a lot about the history of the American Revolution and the battles of Lexington and Concord by visiting Buckman Tavern.
3. Real estate is expensive and competitive
Lexington real estate is among the nation's most costly. The city's median listing price for a home is $1.4 million, so it may take some legwork to find an affordable place to live there.
In fact, owning a home in Lexington may be out of reach for all but the wealthiest Americans, as the local property market is estimated to be five times more expensive than the national average. The median listing price for a home in Lexington is $491 per square foot, down 17.6% annually but still higher than the national average.
There are currently more people looking to purchase a house in Lexington than homes on the market, making the Lexington real estate market extremely competitive.
4. High amounts of snowfall
Lexington, like the rest of New England, has a humid continental climate and experiences dramatic weather shifts on short notice.
Living in Lexington is like enduring a roller coaster ride through the four seasons, from the sweltering and humid summers to the frigid and icy winters.
In July, temperatures often peak at a scorching 83 degrees Fahrenheit, making it the warmest month of the year. January is the coldest month, with an average low of 17 degrees Fahrenheit.
Make sure you're prepared for the severe winters before making the move to Lexington. Between November and April, snow and ice accumulations could amount to up to 55 inches.
Avoid driving, if possible, on ice roads, and keep an eye on the forecast in case circumstances change. Before making Lexington your permanent residence, you should stock up on snow shovels and a heavy winter coat.
5. Work in the healthcare, manufacturing, or financial services industry
The city's robust economy is supported by the education, healthcare, manufacturing, financial services, insurance, and professional, scientific, and technical services sectors, which together employ over 16,000.
Lexington is home to a number of prestigious corporations, including Cubist Pharmaceuticals, Imprivata, Agenus, iBASIS, Oracle, and IBM, to name a few.
Your employment hunt in the city will take no time at all if you are relocating there specifically to do so. Many of the nation's largest and most successful corporations are relocating to the Lexington area to take advantage of the highly educated labor pool.
6. Lexington Public School District serves the city
You're one lucky family if you're relocating to Lexington along with your young children. Lexington Public School District ranks highly nationwide on measures of student success, like proficiency on mandatory state exams and the percentage of students who graduate.
Lexington High School is consistently regarded as one of the best in the country and now sits at number two on lists of the best high schools in the greater Boston area.
Currently, there are 12 teachers for every 7,190 pupils in grades K-12. The reading and writing proficiency rates in the Lexington Public School District are both 80%.
The same can be said for people who want to continue their studies. Students will be close to some of the most prominent educational institutions in the country, including the Massachusetts Institute of Technology Boston College, Wellesley College, and Middlesex Community College.
7. Spend time outdoors at Willard's Woods, Hastings Park, or Sutherland Woods
Lexington has plenty of clean public parks and open green areas that encourage people to spend more time outdoors, thanks to the city's proximity to beautiful natural landscapes and amazing views. You can go on many adventures and have a lot of fun with your loved ones at the many parks and recreational areas, from walking trails to dog parks.
Walking paths, ponds, baseball fields, a playground, and a forest preserve all make Sutherland Woods a popular destination for locals and visitors alike. Bringing kids and dogs here is a fantastic idea. Lincoln Park is a great place to take the dog for a walk or enjoy a picnic with the family near Boston.
Willard's Woods is a favorite place for locals to take their dogs for a morning jog or stroll and was originally established as an orchard in the 1870s. Hastings Park is a great place for gatherings and activities despite its proximity to the main road and the resulting congestion.
8. Visit The Telephone Museum or Hancock-Clarke House
There's always something to do in Lexington, from visiting museums and galleries to enjoying the city's parks and other outdoor attractions. It's impossible to get bored in Lexington, whether you're searching for a fun activity for the whole family or a romantic place to take your significant other out.
The Telephone Museum is a STEM museum that opened in 2012 and is devoted to the history of the phone's creation.
The Hancock-Clarke House, established in 1738, was a pivotal structure in both the Battle of Lexington and the subsequent Battle of Concord. Entry is at no cost. The 10-mile-long Minuteman Commuter Bikeway links Lexington to the rest of the Greater Boston Area through a paved route and walkway.
9. Attend Lexington Fine Arts and Crafts Festival or Lexington Harvest Fest
Throughout the year, Lexington plays host to various celebrations, festivals, and activities. Concerts, art shows, and sporting events are just a few examples of annual celebrations that bring people together and help newcomers feel at home.
The annual Lexington Patriots Day Parade honors the April 19, 1775, Battle of Lexington and is held on the third Monday of April.
This Revolutionary War recreation is a must-see for history buffs, as it recreates the famous battles of Lexington and Concord. This memorial service, held annually in April, remembers the men who died in the bloodiest engagement of the American Revolution.
Children can decorate pumpkins and go trick-or-treating at the Lexington Community Center during the Lexington Harvest Fest, an autumn celebration held in October.
Many people travel to Lexington every year to attend the Lexington Fine Arts and Crafts Festival, where local artists and craftspeople display their wares.
10. Try out the food at Love at First Bite Thai Kitchen and Bar or Il Casale Lexington
Lexington boasts various restaurants, from small, locally owned cafes to large, internationally acclaimed establishments, so there's something here for even the pickiest eater.
In Lexington, you can always expect a new dining experience, thanks to the city's fusion of global flavors and regional favorites. It is a great place to start your culinary trip, with delicious options ranging from brunch to dinner, from freshly caught seafood to Boston Creme Pie.
Il Casale Lexington is a family-run Italian restaurant serving some of the city's finest Italian cuisine, offering a soothing ambiance and a pleasant bar stocked with fine spirits and wine.
Eat at Town Meeting Bistro for homey New England cuisine and a friendly setting. This is a must-have for both breakfast and dinner.
Located in the heart of downtown, Love at First Bite Thai Kitchen and Bar is a modern Thai restaurant serving delicious dishes using only the highest quality ingredients.
The Beijing Chinese Restaurant is a modern Chinese eatery known for its delicious classics like General Tso's chicken and beef with broccoli. Dates and romantic evenings will enjoy the relaxed and airy ambiance.
11. Live in Lexington Center or Peacock Farm
When looking for a place to call home in Lexington, Massachusetts, you can choose from several different local communities.
Lexington Center (sometimes called Lexington Centre) is the city's primary business district. It is home to the Lexington Battle Green and other local businesses and government offices. Even though there aren't as many houses here as there are in other parts of Lexington, MA, this is the best shopping neighborhood by far.
You'll find Peacock Farm in southeast Lexington, not far from the Concord Turnpike. There are parks and walking routes nearby, thanks to Bowman Park and a section of Sutherland Woods. The area is well-known for its attractive, affordable, and functional mid-century modern houses, which typically have low roofs and raised basements.
12. A rich artistic culture
The city's rich heritage has resulted in a thriving cultural scene that visitors can enjoy.
Those interested in the visual arts should check out Munroe Center for the Arts on Massachusetts Avenue, where both well-known and emerging artists from the area display their wares.
The Lexington Arts and Crafts Society, which helps fund local art projects, is conveniently located nearby.
ArtsWalk, held annually in October, is one of Lexington's most well-attended celebrations of the visual arts. The Munroe Center is hosting an event where locals can check out the public art around Downtown Lexington and maybe even try their hand at making something beautiful.
However, you can study and practice art at any time, not just during the festival. LexArt on Waltham Street is a year-round art space where students can take workshops and exhibit their work.
13. Shop at Massachusetts Avenue or Lakeview
Some people find that enjoying art is a great way to unwind, while others prefer to indulge in a little retail therapy. Fortunately, Lexington offers options for everyone.
The best restaurants and unique boutiques are along Massachusetts Avenue, the primary shopping district. Among the many restaurants, you'll find a plethora of boutiques selling anything from shoes and bicycles to flowers. Just up the road on Bedford Street, you'll find a Stop & Shop and a Starbucks.
If you head south on Lexington Street into Lakeview, you'll discover the Wal-Lex Shopping Center, which is home to a TJ Maxx and a Staples, among other big-box businesses. On the other hand, the wildly popular Burlington Mall is just north of Interstate 95. Movie theaters, jewelry stores, clothes stores, and more are all available in this enormous shopping center.
14. Boston is 30-45 minutes away
Although it may seem like a long way from Boston, Lexington really connects very well to the rest of the Commonwealth.
Depending on the volume of traffic on I-95 and I-93, the drive time to Downtown Boston might range from 30 to 45 minutes. Taking I-95 to I-90 will get you to Logan International Airport in around 30 minutes to an hour.
People who wish to take a trip to the Cape can get to the water in approximately an hour and a half by traveling I-95 south to I-495. If you're looking for a short trip to the beach, Glouchester is only around an hour's drive away via I-95.
15. A safe city to live in
It's common knowledge that crime is minimal in Lexington. When compared to the national average of 22.7, Lexington's rate of violent crime (7.3) is substantially lower. Likewise, compared to the national average of 35.4, Lexington's property crime rate of 14.5 is also low.
Since Lexington has one of the lowest crime rates in the United States, it is safe to say that it is a wonderful area to live and visit.
Final Thoughts
If you're looking for a great spot to call home, look no further than Lexington, Massachusetts. It's no wonder that Lexington is among the top cities in the state, given its closeness to Boston, historical significance, good public schools, and desirable amenities.
Learn More About Living in Lexington, MA