10 Things to Know Before Moving to Lake Havasu, AZ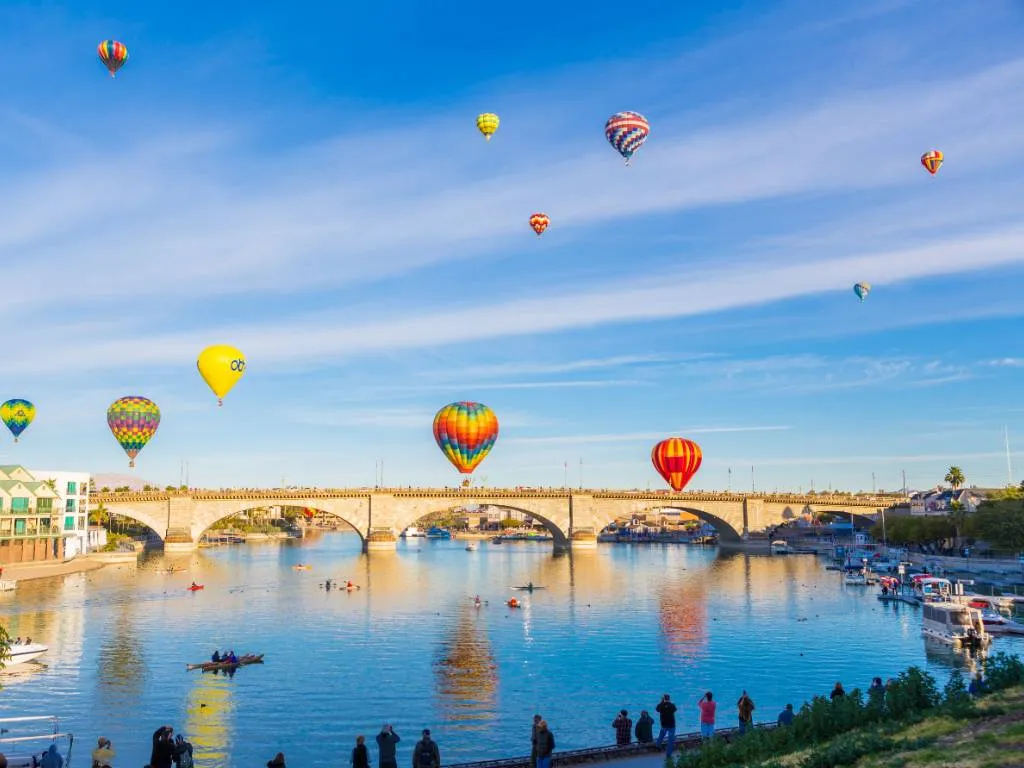 ---
Lake Havasu, Arizona, is a charming desert oasis located in Mohave County. The city is home to 60,062 people and is known for its stunning lake, outdoor recreational opportunities, and a unique blend of southwestern culture.
Let's discuss ten things to know before moving to Havasu, AZ!
1. The city has a desert climate
Lake Havasu experiences a desert climate. This region is characterized by hot summers with temperatures often exceeding 100°F and mild winters, typically ranging from 40°F to 60°F.
Rainfall is scarce here, averaging around 3 inches per year. Winds are common, particularly during the spring and fall. The arid conditions contribute to the distinctive desert landscape, featuring sparse vegetation and rocky terrain.
Be prepared for the high temperatures in this city, especially in the summer months. Ensure you stay hydrated and invest in good sun protection!
2. Enjoy water recreation at the Bridgewater Channel
The Bridgewater Channel in Lake Havasu City is a renowned hub for water recreation. This part of Lake Havasu offers a sheltered area with relatively calm waters, making it ideal for various water activities. Boating enthusiasts often frequent this channel due to its navigable waters, which are perfect for leisurely cruises or faster-paced adventures like jet skiing.
Additionally, the Bridgewater Channel boasts great swimming areas, providing a safe environment for visitors to cool off and enjoy the refreshing waters of Lake Havasu. The channel also features access points for rental equipment, enabling visitors to engage in activities such as paddleboarding, kayaking, and canoeing.
With its scenic views and numerous water-related opportunities, the Bridgewater Channel is a popular spot for families, individuals, and groups seeking relaxation, water sports, or picnics along the shores.
3. London Bridge is located in Lake Havasu
Yes, you read that right! The London Bridge is located right in this city. This famous bridge was originally located in London, England, but was dismantled, transported, and reassembled in Lake Havasu City in 1971.
This bridge serves as a popular tourist attraction and a piece of history transplanted from the UK to the United States. Its construction in Lake Havasu was spearheaded by Robert P. McCulloch, who bought it from the City of London.
The bridge now stands as a symbol of the unique history and transatlantic connection between the two locations.
4. There are 16 schools in this city
Lake Havasu City has 16 schools that provide quality education from kindergarten to high school. These 16 schools include 11 public schools and 5 private schools.
The Lake Havasu Unified School District oversees public education in the area, offering a range of academic and extracurricular programs. The district focuses on personalized learning, technological integration, and diverse educational opportunities. Education is a top priority in this city, and efforts are made to maintain high standards and offer a well-rounded educational experience in Lake Havasu.
Starline Elementary School, Telesis Preparatory Academy, Thunderbolt Middle School, and Lake Havasu High School are some of the top-rated schools in this city.
5. The cost of living is 1% higher than the national average
The cost of living in Lake Havasu is only higher than the national average by 1%. Groceries are higher than the national average. A loaf of bread costs $4.70, and a gallon of milk is sold for $2.94.
Housing costs are also higher than the national average. The median home price is $465,188, which is higher than the national average of $430,000. However, utilities, transportation, and healthcare costs are less than the national average.
Compared to some of Arizona's larger cities, Lake Havasu has a lower cost of living and is an affordable place to live.
6. Tourism is a thriving industry in this city
Tourism in Lake Havasu serves as a significant driver for job opportunities. The hospitality industry, including hotels, restaurants, and tour operators, creates a substantial number of jobs, from hotel staff to tour guides.
Retail businesses around the iconic London Bridge and the waterfront also benefit, offering employment in shops and service-related positions. Moreover, the demand for recreational activities, maintenance, and development of tourist sites further contributes to job creation, making tourism a key source of employment and economic growth in Lake Havasu.
If you're interested in working in the tourism sector while living here, rest assured that Lake Havasu has a lot of opportunities for you.
7. Lake Havasu has a unique blend of southwestern culture
Lake Havasu City in Arizona offers a distinctive blend of southwestern culture, boasting a mix of recreational activities, desert landscapes, and a vibrant community.
The city is renowned for the presence of London Bridge, which has become a symbol of the area's unique fusion of history and modernity. The region's outdoor lifestyle includes water sports on the lake, hiking on nearby desert trails, and various events that celebrate local art, music, and food, all impacted by the rich Southwest American customs.
This blend creates a dynamic and diverse atmosphere, attracting visitors seeking both relaxation and adventure in a setting that merges the essence of the desert with a touch of transplanted European history.
8. Immerse yourself in Lake Havasu's natural beauty
Nestled in the western United States, Lake Havasu is a breathtaking city. Encircled by the picturesque desert landscape of Arizona and California, its crystal-clear waters reflect the blue sky. This man-made reservoir, formed by Parker Dam on the Colorado River, boasts stunning vistas embraced by rugged mountains and diverse flora.
The region's warm climate adds allure to the lake's beauty, inviting visitors to revel in its recreational offerings—boating, fishing, and water sports. The iconic London Bridge spanning the lake enhances its charm and makes Lake Havasu a haven for nature enthusiasts and seekers of tranquil, breathtaking scenery.
9. Access quality healthcare at Havasu Regional Medical Center
Lake Havasu boasts excellent healthcare facilities. A prominent medical facility in this region is the Havasu Regional Medical Center.
This healthcare institution offers a wide range of services, including emergency care, specialized treatments, surgeries, diagnostic procedures, and comprehensive wellness programs. Patients benefit from state-of-the-art medical equipment, skilled healthcare professionals, and a commitment to delivering quality care.
The facility also prioritizes patient needs, ensuring timely access to medical attention, personalized treatment plans, and a supportive environment conducive to fostering optimal health and well-being for the community they serve.
10. Lake Havasu boasts a friendly community
Lake Havasu City thrives on a vibrant and welcoming community spirit. Residents and visitors alike experience the warmth of this community, known for its friendliness and inclusivity.
The city's charm extends through various local events, recreational activities, and community gatherings that foster a sense of togetherness. From neighborhood festivals to outdoor adventures, there's a shared camaraderie among the people. Residents take pride in their city and often extend a helping hand, creating a tight-knit and friendly atmosphere.
This strong sense of community amplifies the appeal of Lake Havasu, making it not just a beautiful place to visit but also a wonderful place to call home.
In Conclusion
With its plentiful recreational opportunities, good schools, access to great healthcare, and friendly community, Lake Havasu is a great place to call home.
Ensure you carefully consider the points discussed to make an informed decision about making Lake Havasu, AZ, your new home!