8 Things to Know Before Moving to Middlebury, VT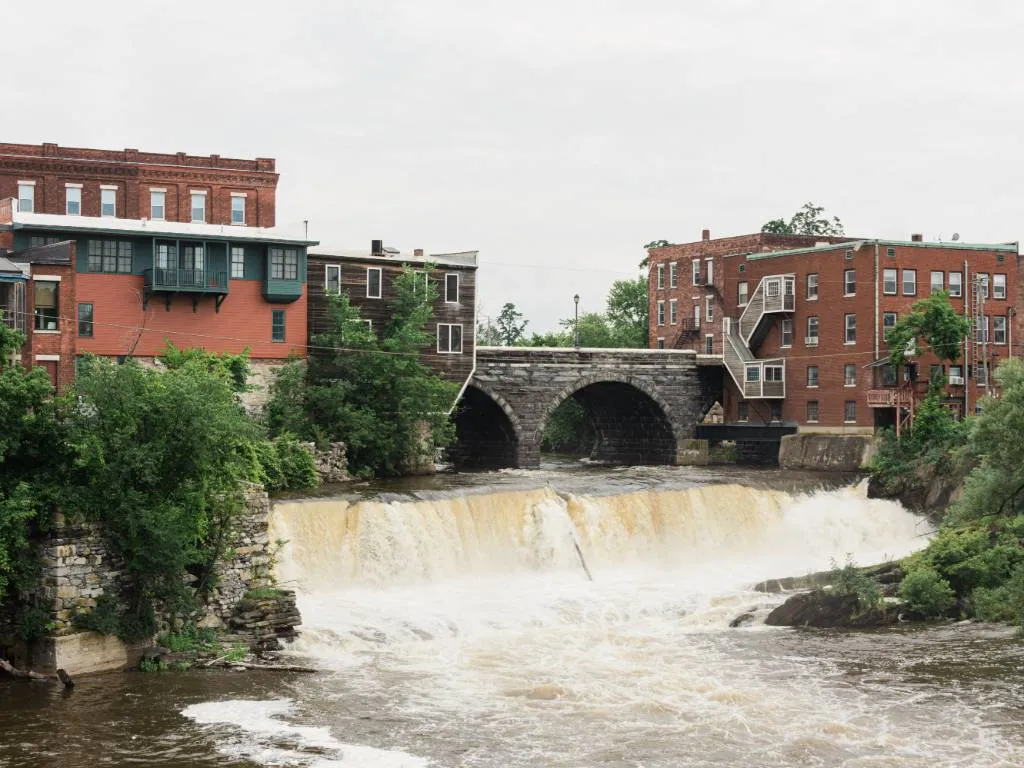 ---
Located in Vermont's far northwest, Middlebury is a small, charming town. The town is thought to have been named this because of its central location between the larger cities of New Haven and Salisbury.
Middlebury has all the makings of a picture-perfect New England town: a church with white spires, the scenic Otter Creek, and a Main Street lined with quaint stores and art galleries.
Let's talk about eight things to know before moving to Middlebury, Vermont.
1. A lower-than-average cost of living
With a cost of living index of 97.2, Middlebury's living expenses are slightly lower than the national average. The city's median income is $67,178.
The median home price is $412,658, slightly less than the national average of $428,000. The median home rent in the city is $1,159.
2. Take in the arts and culture at Mahaney Center for the Arts or Walter Cerf Gallery
The Henry Sheldon Museum of Vermont History, open to the public since 1884, is the nation's oldest community-based museum and a great place to satisfy your need for Vermont lore. Visit the Walter Cerf Gallery, which features changing exhibits, the Stewart-Swift Research Center, which preserves a snapshot of 19th-century small-town life, and the Judd-Harris House, built in 1829.
Art enthusiasts should visit the Mahaney Center for the Arts at Middlebury College to see works by regional, national, and worldwide creators. Throughout the year, the MCA plays host to a wide variety of events and performances in its studio theater, dance theater, and recital hall. Also, stop by the Town Hall Theater for the Jackson Art Gallery or any musical performances, lectures, and other events.
3. Visit the Lincoln Peak Vineyard or Woodchuck Cidery
Middlebury is a great place to stay if you like wine and beer, as there is a "trail" of wineries, breweries, and distilleries that spans five miles. Lincoln Peak Vineyard is a family farm open to the public since 1981. They have wine tastings with local cheese, vineyard tours, and special events. The second destination is the well-known Woodchuck Cidery, which features 20 different ciders on tap in addition to tours and tastings. Stonecutter Spirits, Appalachian Gap Distillery, Otter Creek Brewing Co., WhistlePig Whiskey, and Drop-In Brewing Co. are a few more locations you can visit.
4. Eat at Fire & Ice Restaurant or American Flatbread
Located in the basement of the historic Frog Hollow Mill building from the 19th century, the Storm Café is known for its seasonal menus and extensive drink list. Enjoy your dinner al fresco this summer on the deck overlooking Otter Creek.
Fire & Ice Restaurant takes its name from a poem by Robert Frost, so you can rest assured that you'll be eating some of the finest Vermont food there. Check out the original 1921 Hackcraft motorboat, wooden airplane propellers from World War I, historical photographs, and antiques as you dine.
If you're looking for a cozy lunch in Middlebury's historic Marble Works District, go no farther than American Flatbread. The pizzas here are made with all-natural ingredients and baked in an ancient clay oven heated by wood. Both the indoor gallery and the outside patio can comfortably accommodate 50 diners.
5. Explore the UVM Morgan Horse Farm or nearby Green Mountain National Forest
There are a ton of chances to explore the outdoors in Middlebury. Forty or more horses, all descendants of the Colonel Joseph Battell horse registration from 1878, when he saved the breed from extinction, can be seen at the UVM Morgan Horse Farm, which also offers public educational programs and activities. Middlebury's 16-mile 'Trail Around Middlebury' provides walkers and hikers with a great way to see the town, and it also connects to the Long Trail and other trails in the nearby Green Mountain National Forest.
In the summer, you could ride any of the five Lake Champlain Bikeways that run directly through town. In the winter, you can go cross-country skiing at the Rikert Nordic Center or alpine skiing at the Middlebury Snow Bowl.
6. A safe city to call home
Middlebury has a far lower crime rate than the rest of the country. The national average for violent crime is 22.7, while in Middlebury, it's only 8.8. The property crime rate in Middlebury is also lower than the national average, coming in at 22.4 compared to 35.4.
This indicates that crimes against persons and property are far less common in Middlebury compared to the rest of the United States. Due to its low crime rate, Middlebury is a great spot to call home or take a vacation.
7. It snows a lot in Middlebury
Middlebury has a temperate climate with all four seasons. Extremely low temperatures are common throughout the snowy winter season. It snows heavily in this city, and typically, the first snowfall occurs in late November and lasts into May. Temperatures in July and August typically reach the upper 80s and low 90s Fahrenheit, making for a warm and enjoyable summer. The weather in the spring is typically mild and wet, and the leaves change to brilliant hues in the fall before the winter chill sets in.
The city gets 40 inches of rain and 69 inches of snow in a year.
8. The many businesses contribute to the low unemployment rate
Jobseekers will find Middlebury to be a great community. A healthy job market is on the horizon, with projections showing an annual job growth rate of 18.10% over the next few years. Additionally, Middlebury's unemployment rate of 2.9% is lower than the national average.
The community is home to a diverse range of businesses, including eateries like Hen of the Wood and 3 Squares Café, shops like Middlebury Consignment Clothing Company, tourist attractions like Rikert Nordic Center and Snow Bowl Resort, and entertainment venues like Otter Creek Brewing Co.
To Sum it All Up
Middlebury, Vermont, offers a tranquil rural setting with lower living costs, cultural attractions, wineries and breweries, diverse dining options, outdoor activities, low crime rates, and a thriving job market.