10 Things to Know Before Moving to Exeter, NH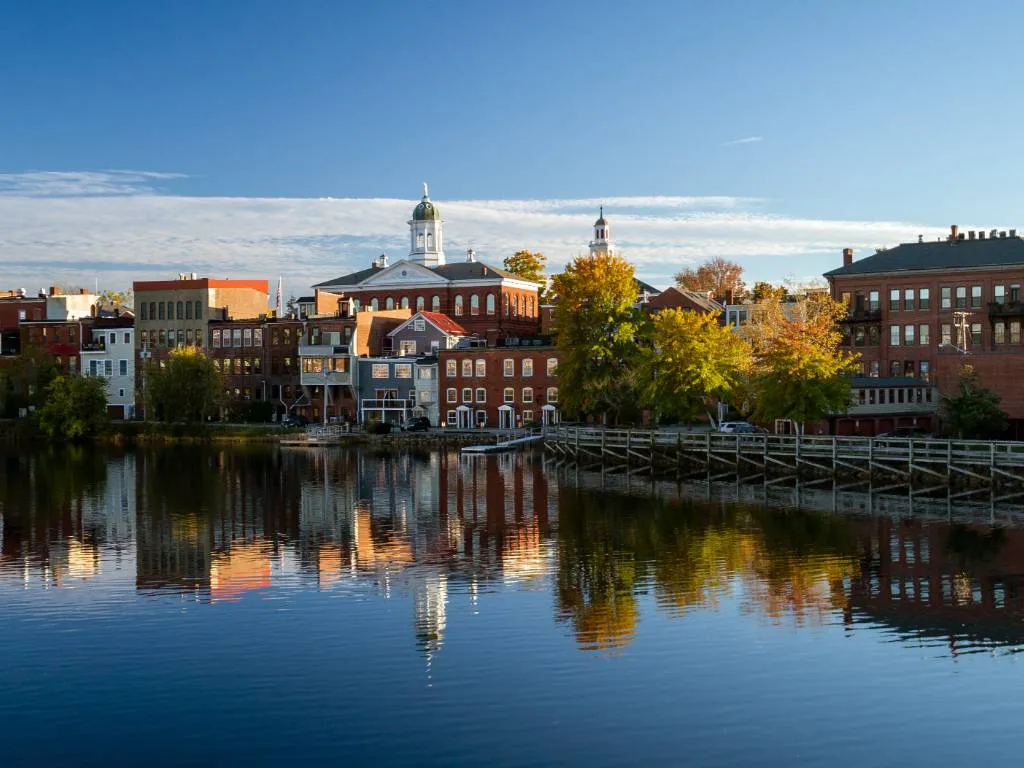 ---
Exeter, New Hampshire, is a charming and historic town in Rockingham County. This city is home to 9,908 people and offers a wonderful quality of life.
Exeter is known for its picturesque Main Street, rich history, and the prestigious Phillips Exeter Academy, which offers a charming blend of New England traditions and modern amenities.
Let's talk about ten things to know before moving to Exeter, NH!
1. Exeter has a rich history
Exeter, NH, boasts a rich history dating back to its founding in 1638. This city played a significant role in the American Revolutionary War, as the town was home to the Phillips Exeter Academy, a renowned educational institution. Notably, the town hosted the Exeter Congress in 1774, a precursor to the Continental Congress, making it a hub of revolutionary activity.
Exeter is also known for its historic downtown, which features beautifully preserved colonial architecture, museums, and landmarks like the American Independence Museum. Other notable museums in this city include the Ladd-Gilman House and Powder House.
If you're a history enthusiast, you'll love living in a town that's so deeply connected to the nation's past.
2. Home to Philip Exeter Academy
Exeter is home to Phillips Exeter Academy (PEA), one of the United States' most prestigious private schools. Founded in 1781, PEA has a storied history of academic excellence and counts numerous notable alumni among its ranks. The academy's beautiful campus is a significant part of Exeter's identity and attracts students from around the world.
Exeter benefits from the academy's cultural contributions and impact on the local community, making it a unique and intellectually vibrant town. Additionally, Exeter has other private school options, and the Exeter public school system is highly rated; hence, Exeter is an excellent place to raise a family.
3. Beautiful natural scenery
In Exeter, you can immerse yourself in natural beauty at every turn. The town is nestled in the picturesque New England landscape, surrounded by lush forests, winding rivers, and tranquil parks. You can take a stroll along the banks of the Exeter River, where you get to enjoy the serene ambiance and spot wildlife.
You can also explore hiking trails like the Exeter River Trail or Swasey Parkway, where you'll be captivated by the vibrant colors of the changing seasons. For a peaceful retreat, visit Gilman Park or Exeter's beautiful Town Common.
Whether you're a nature enthusiast or simply seeking tranquility, Exeter offers a myriad of opportunities to connect with the natural world.
4. Exeter is close to big cities
Exeter is situated within easy reach of major cities like Boston, Portsmouth, and Portland. This strategic location brings several benefits to its residents. This includes access to urban amenities, entertainment options, and cultural attractions while maintaining its small-town charm.
Exeter's proximity to these big cities also ensures more job opportunities for its residents. Overall, living in Exeter allows you to enjoy the peace and charm of a small town while giving you access to the big city's lifestyle.
5. Attend the Exeter Arts and Music Fest
Exeter boasts a thriving cultural scene, and one of the most popular cultural events in this city is the Exeter Arts & Music Fest.
This annual festival celebrates local creativity, featuring live music, art exhibitions, and interactive performances. It not only showcases the town's artistic talent but also attracts visitors, fostering a sense of community and economic growth. This event exemplifies Exeter's vibrant cultural spirit, enriching the lives of its residents and contributing to its cultural diversity.
6. Strong community spirit
Exeter is characterized by a vibrant and close-knit community spirit. This is evident through its numerous community events, such as the Independence Day Parade, Exeter Farmer's Market, and Exeter Art and Music Fest. Residents' strong community spirit is also seen in their involvement in active local organizations and strong support networks.
Exeter's residents take pride in their town's history, education, and local businesses, actively engaging in civic matters and supporting one another. This city's commitment to preserving its heritage and fostering a sense of togetherness makes it a welcoming and great place to call home.
7. Experience the New England weather
Living in Exeter allows you to experience the distinct four seasons characteristic of New England weather. While springs offer milder temperatures ranging from 40°F to 60°F with vibrant landscapes, summers provide warmth with temperatures between 70°F and 80°F, ideal for outdoor activities.
Falls feature stunning foliage with cooler temperatures ranging from 50°F to 70°F. Winters also bring cold temperatures, often ranging from 20°F to 35°F, accompanied by snowfall. This creates a diverse range of weather experiences and opportunities for different outdoor activities throughout the year.
8. Enjoy delicious meats at Otis Restaurant
If you're a foodie, you'll be delighted by Exeter's dining scene. The town offers a diverse range of restaurants, from cozy cafes to upscale eateries, serving both local and international cuisine. Otis Restaurant is a notable place to savor great meals in Exeter.
Dining at Otis Restaurant in Exeter is a memorable experience characterized by exceptional cuisine, a cozy and inviting environment, and a commitment to using fresh, locally sourced ingredients. Known for its attention to detail and impressive wine and cocktail selection, Otis is an ideal choice for special occasions or anyone seeking a culinary journey in the heart of Exeter.
Seared scallops, grilled salmon, mushroom risotto, and vegetarian pasta are some of the delicious meals served in this restaurant. Be sure to make reservations in advance to savor Otis' culinary creations and enjoy a delightful dining experience.
9. Access to good healthcare facilities
Living in Exeter gives you access to quality healthcare through the presence of hospitals, a network of primary care physicians, specialized medical services, and community health centers.
Health insurance coverage, telehealth services, and healthy lifestyle initiatives also contribute to the well-being of the community. The town's commitment to healthcare is evident in its efforts to promote accessible and comprehensive medical care for its residents.
Exeter Hospital and the Core Physician Exeter Office are two great healthcare facilities in the area.
10. The cost of living is 16.3% higher than the national average.
The cost of living in Exeter, according to salary.com, is 16.3% higher than the national average. Transportation costs and groceries are 20.8% and 18.4% higher than the national average, respectively. A gallon of milk costs $2.62, and pizza is sold for $11.46. The median home price is $538,231; this is also higher than the national average of $416,000.
However, healthcare costs are 11.5% lower than the national average. Make sure you take the cost of living here into consideration before moving to Exeter.
To Sum it All Up
Moving to Exeter, New Hampshire, offers a unique blend of history, culture, and natural beauty. Whether you're relocating for work, education, or simply seeking a change of scenery, Exeter has a lot to offer. You should, however, be prepared for the high cost of living here before making the move to Exeter, NH!