8 Things to Know Before Moving to Dripping Springs, TX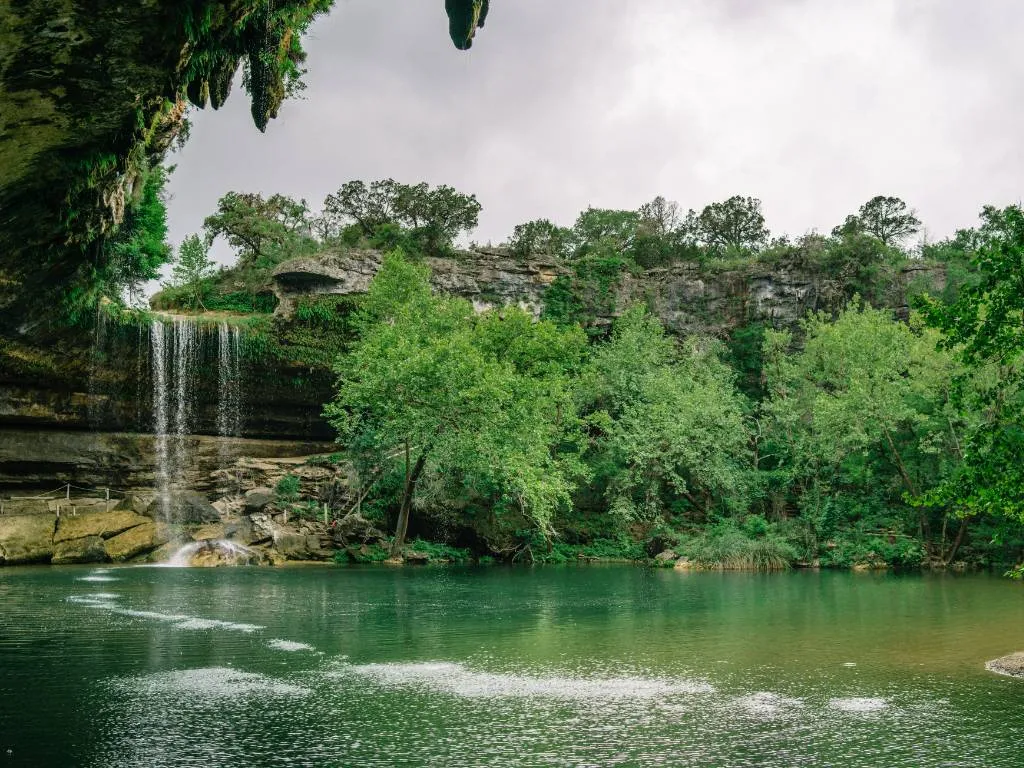 ---
Once a little-known treasure in the Texas Hill Country, Dripping Springs has experienced rapid growth over the past few years, making its county one of the most populous in the country. Dripping Springs, Texas was a popular topic of discussion in migration forums during the pandemic.
Many people wanted to move to Dripping Springs, Texas because of its attractive small-town atmosphere, its close proximity to Austin, and its excellent school system. Keep reading, as we find out eight things to know before moving to Dripping Springs, TX!
MAF Widget
1. The people are warm and welcoming
The people of Dripping Springs are known far and wide for their warmth and southern hospitality. It's the norm around here. Want to borrow an egg or some milk? Try asking a neighbor.
It may sound like something out of the '50s, but in this city, it's not uncommon to be invited to dinner, offered help when you need it, and treated like family.
2. Enjoy the outdoors at Pedernales Falls State Park or Westcave Preserve
There are several opportunities for outdoor recreation in Dripping, including trips to parks like Pedernales Falls State Park, Hamilton Pool, Westcave Preserve, and Milton Reimers Ranch. It has also recently been named a "Bird City," which will bring in more people interested in bird watching.
Bring your binoculars and find a quiet spot to watch birds at either Ranch Park or Charro Ranch Park. Aside from its natural charm, this town is especially lovely in the spring and fall, when wildflowers bloom.
3. Its schools are one of the best in the Austin area
Dripping Springs is home to the third-best schools in the Austin area, according to Niche.com. There are already 8 elementary schools and a high school, and construction for a second high school is underway. Dripping Springs uses the Leader in Me program in its primary schools to assist kids develop the character traits necessary to become effective leaders.
As enrollment at the middle and elementary levels continues to rise rapidly, preparations are being made to construct a second high school. If the bond package is approved and a new high school is constructed within the next four years, then high school students will have more room to grow and more options to choose from.
4. Living costs are 21% higher than the national average
The cost of living in Dripping Springs is a little on the high side. A year's worth of expenses for a single person in Dripping Springs includes a home, food, child care, transportation, healthcare, taxes, and other miscellaneous costs of living of $38,370.
Additionally, the city's median home price is $771,213, much higher than the national average. It is important to be aware of this before making the move.
5. Attend festivals like Founder's Day or Christmas on Mercer
Festivals like Founder's Day, the Dripping Springs Songwriters Festival, the Dripping Springs Pumpkin Festival, Christmas on Mercer, the Dripping Springs Brewer's Festival, charity skeet shoot-outs at Hog Heaven, and many more are held in Dripping Springs every year, providing opportunities for visitors and residents alike to celebrate and create lasting memories together.
An excellent opportunity to get to know the locals and watch the city come to life!
6. Traffic problems and a long commute time
Dripping Springs lacks amenities such as bus stations and bike lanes for safety reasons. Your time on the road will increase due to the congestion on the smaller two-lane routes, such as RR 12 and RM 150.
Construction on the Oak hill Parkway flyover, expected to cost $674 million, has finally begun, and once finished, it is expected to drastically reduce congestion on HWY 290 and shorten commute times through the "Y" route in Oak Hill, which has historically added 15-20 minutes to everyone's travel to Austin during rush hour.
MAF Widget
7. It could get very hot in Dripping Springs
The summers can get hot and sticky. In 2022, the city experienced 44 days of triple-digit heat, and several wildfires, fueled by the combination of high temperatures and a lack of rain, destroyed several homes and hundreds of acres of land.
People in Austin avoid the heat by spending their days at indoor pools like Founders Park Pool or at the YMCA, or by swimming in the area's many rivers and lakes. If you can handle the heat and humidity, the mornings and evenings are beautiful.
8. Go planet gazing at night
Nighttime driving around Dripping reveals just how dark the city truly is. In accordance with local law, this city has fewer streetlights than other cities.
Several years ago, Dripping was designated as the first International Dark Sky Community in the state of Texas. Having less light on the ground helps native (and migrating) birds, bats, and insects find their way across the night sky, and it also allows you to appreciate the Milky Way's grandeur more fully.
In the summer and winter, you can visit Reimer's Observatory to gaze upon the planets.
Summary
In Dripping Springs, you are sure to be welcomed by friendly people, enjoy the outdoors, have access to excellent schools, and there are tons of festivals to attend. However, the city has a high cost of living. It could get very hot, and there are traffic problems.
Learn More About Living in Dripping Springs, TX