Top 10 Cheapest Cities in California (many don't know they exist)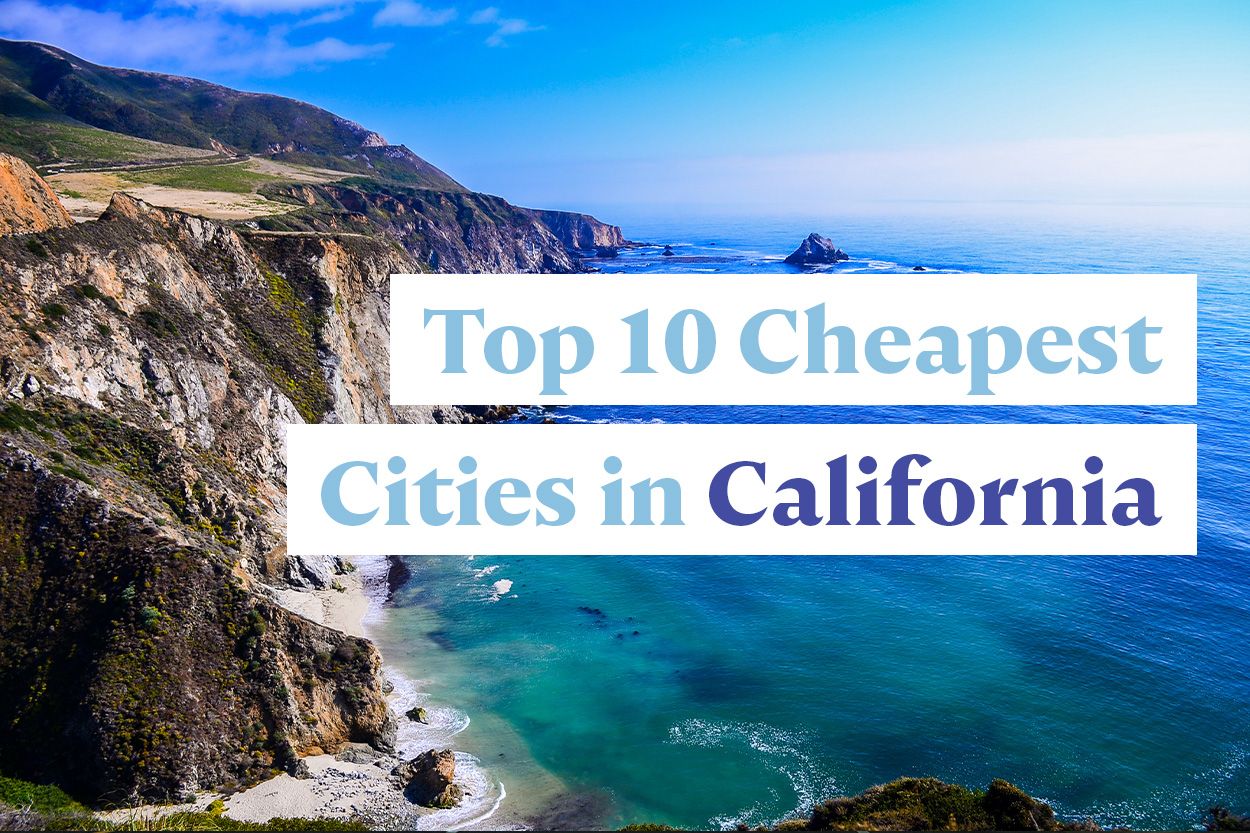 ---
"California is too expensive to live in".
I used to think this way too. Until I found out that there are "hidden" cities in this state that are actually pretty affordable.
And in this article, I finally reveal these secret cities to the rest of the population.
Ready? Let's dive in.
First up is Vacaville.
I love the name of this city because I imagine it to be a place that feels like an endless vacation (it's not).
And if you happen to want some of the pros of living in California without dealing with the big city hassle, then Vacaville is worth considering.
Vacaville has been known as an agricultural heartland and tends to draw a lot of attention with its historic downtown, a large number of shops, diverse restaurants, and u-pick farms.
It's also less than an hour away from San Francisco, so you'll be close to the golden gate bridge without paying golden gate prices.
I know what you're thinking. "All of that sounds fine and good, but how much will it cost me".
The average home price in this city is $462,600 and the median household income is $74,210.
I admit that's pretty steep so if it's a bit out of your price range, you'll be happier with the next city on the list.
MAF Widget
Hidden City #9: Fontana
Let's take a trip down to southern California where the city of Fontana is located.
This rural town offers residents a ton of outdoor activities to enjoy. You'll be able to access waterfall hikes, explore many parks and even go go-kart racing and ruin your kid's self-esteem by winning race after race.
Fontana is less than an hour away from the city where botox was born–Los Angeles. Making it a great spot for weekend getaways.
And while the median price of a home here isn't cheap, you won't experience as much sticker shock as you would in Vacaville. That's because the median home price is $400,100 here while the median household income is $65,000.
Don't worry, those prices are gonna keep getting better and better.
(btw if you want to watch the video version of this article, I have that below)
Hidden City #8: Chico
I almost didn't include this city on the list for personal reasons.
I had a childhood friend named Chico who stole my 8th grad girlfriend…Brittany if you're listening, I miss you.
Anyway, Chico happens to be one of the fastest-growing cities in California. It's located further north than cities like Sacramento, so it's perfect for people looking for cooler weather.
This city has to be one of California's best-kept secrets. Residents often enjoy going on waterfall hikes, visiting the mountains, and even checking out a few foodie hotspots.
The only downside is that it's a little far away from some of the bigger cities, with the closes being San Francisco, which is about 3 hours away.
Median house prices in Chico are around $365,800 while the median household income is $42,330. I honestly think this city could be perfect as long as no one named Chico has ruined your life.
Hidden City #7: Clovis
Ok, this next city is specifically for outdoor enthusiasts.
I want you to close your eyes and imagine what it would be like to live close to Yosemite National Park where you and your family can enjoy cycling, hiking, and jogging.
Or maybe you're into growing your own food and allowing your kids to frequent the nearby waterpark?
Ok, don't open your eyes yet. I started changing clothes during this exercise and I'm still not decent.
Alright, now you can open your eyes.
The city of Clovis can offer all that and more. And with a median home price of $344,700, I'd say it's a pretty good deal. But not as good of a deal as the next city on this list.
Not-so Hidden City #6: Sacramento
I have to be honest, I was surprised to find out that the capital of California made it onto this list.
But the city of Sacramento is more affordable than you might think.
Located just 1.5 hours away from San Francisco, this city is ideal for people wanting to live in a place that has a ton of activities.
You can grab yourself a farm-to-table meal while you prepare to take a trip to the river, go hiking or biking, or maybe even some of the ski resorts nearby.
Sacramento really has something for everyone.
And with the median home price being $327,300 you'll be able to put more money in your pocket while also enjoying many hot spots of California.
(btw, you we can connect you with the best real estate agents in Sacramento in no time)
Hidden City #5: Stockton
Located 70 miles from the coastline you'll find the city of Stockton.
And while this city isn't as lively as other cities in California, you certainly won't be idle. You'll be able to enjoy the Haggin Museum, the historic Bob Hope Theater, and all the cultural festivals and celebrations that happen regularly in the city.
The median home price is just under $300,000 while the median household income clocks in at $45,350.
And if you do happen to get bored, keep in mind that you'll only be 1.5 hours away from San Francisco.
If you ask me, I'd say that's a good deal. So if you have the chance, you should get connected with some of the best real estate agents in Stockton.
Hidden City #4: Eureka
Obviously, this city is named "Eureka" because it's a good idea to move there.
Eureka is a city known for its small-town charm and its eye-grabbing Queen Anne Homes.
If you're a fan of boat tours, then Eureka will be a match made in heaven. That's because the ppl here love their boats. Maybe a little too much if you ask me.
But boats are just the beginning, you'll also be spoiled with a number of hiking trails, famous film locations, and artisanal California chocolate (and if you decide to go, please grab me a few pieces).
The median home price here is $261,900 and the median household income is $38,010.
I don't know about you, but I'd say that's a steal.
Hidden City #3: Fresno
Welcome to the booming city of Fresno that just oozes Spanish charm.
Here you'll find happiness in its many eateries and parks, the eclectic art scene, and the Forestiere underground garden–which you can't find anywhere else.
Best of all, you'll be close to three national parks–Yosemite, Kings Canyon, and Sequoia.
The median home price here is $247,600 and the median household income is $41,460.
Hidden City #2: Bakersfield
This rapidly growing city is known as a hub of arts and culture.
Residents tend to frequent the gallery and museum-filled art district and the Wind Wolves Preserve.
I've made a more extensive video on Bakersfield so make sure to check that out on our page. Like right after this video or I'll be extremely upset.
The median home price here is $242,800 and the median household income is $56,840.
Ok, we're approaching the number 1 most affordable city in California. But before I reveal that secret, I have an announcement to make.
Here at Home and Money, we make the whole process of getting a home easier (even if you're a first-time home buyer).
We have a whole team that will connect you to the perfect agent so you can finally get that dream home. Plus, we'll equip you with your very own personal concierge if you're a first time home buyer–Which, if you've ever purchased a home, you know is a HUGE help considering how complicated the process can be
Best of all, this service is absolutely free!
Just click the link below to fill out a 2-minute questionnaire.
MAF Widget
Hidden City #1: Clearlake
If you like nature and DUIs, then you'll love Clearlake.
Because it's located next to the shores of Clear Lake–the largest natural freshwater lake in California and is known for its fantastic wine scene.
Living here likely means you'll spend your time like Aquaman. Meaning you'll be in the water a lot.
You can go fishing, kayaking, swimming, or drinking like a fish on the many wine options.
And this my friends, to my knowledge, is the cheapest city to live in California.
Median home prices are $151,300 while the median household income is $25,530.
This makes it perfect for people looking to live in California for the cheap.
And that my friend wraps up the top 10 cheapest places to live in California.
Now that you've learned about these cities, you can put the myth to bed that California isn't affordable. You'll just have to make a few sacrifices if you want to live there.
No, not like Illuminati sacrifices. I mean like sacrificing luxury.
However, if you want to make less of a sacrifice, make sure to check out the best first-time homebuyer programs in California.
Until next time.