Pros and Cons of Living in Charlottesville, VA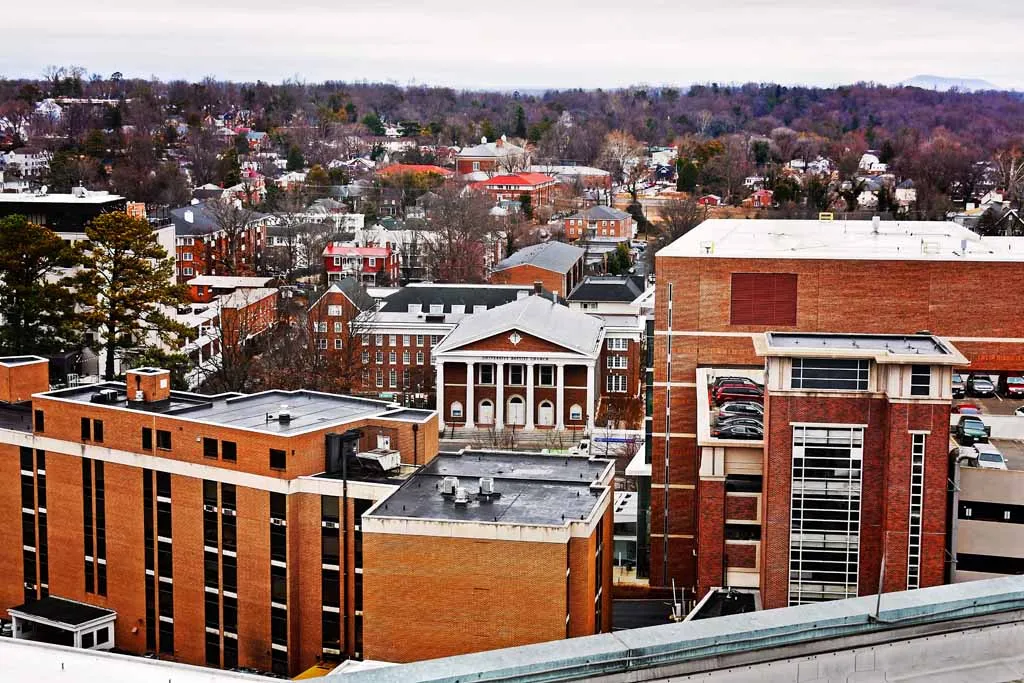 ---
Charlottesville, Virginia (also known as Cville) is a small city located in the foothills of the Blue Ridge Mountains in the Central Virginia region. It is known for its tourism centers, arts and culture, historic sites, and fun-filled guided tours.
Even though this city is a small town, it has all the amenities present in a big city.
Over the years, it has been a site of attraction to young professionals, families, and retired people due to the peaceful and friendly lifestyle of the citizens of the city. This is the reason why it is referred to as one of the happiest cities in America.
However, like every other city, Charlottesville has its pros and cons. Let's take a look at the pros and cons of living in Charlottesville, VA!
Pros of Living in Charlottesville
1. Peaceful and friendly atmosphere
If you are looking forward to living in a city with friendly inhabitants, Charlottesville is one of the best options. The people are welcoming and accepting, so moving there introduces you to a diverse and accommodating community.
MAF Widget
Living in Charlottesville brings freedom and an amazing lifestyle because the citizens of the city have a friendly way of interacting with strangers.
This makes it easy for strangers and tourists to make new friends.
2. If you are a lover of beers and wines, Charlottesville is just the place for you
Virginia is one of the top wine-producing states in the United States of America. And Charlottesville as a city is not just full of houses and companies, it has more than 40 wineries and breweries.
Some of the favorite wineries and breweries are Reason Beer, Three Notch'd, South Street, Champion, and Hardywood Pilot.
You can also take time to explore some establishments like Starr Hill, Blue Mountain Brewery and Barrel House, Wild Wolf, and other amazing wineries.
3. Tons of amenities
There are a lot of opportunities to have fun and enjoy living in this city, from its free downtown trolley service to well-maintained streets and highways to a robust bus system to hiking trails.
The city has a lot of historic sites and tourism centers that have gained a lot of attention from the public.
Charlottesville's Historic Downtown Mall is one of the most popular gathering spots. The mall has more than 120 retail stores, theaters, concerts, and eateries.
Aside from this, the city has one of the most sought-after universities in the world, the University of Virginia.
4. Low rate of unemployment
Charlottesville is one of the cities with the lowest unemployment rates in the United States, with a 2.4% unemployment rate. This is because the city has a small population of about 47,000 residents.
It also has a college-city balance because the university is the most dominant part of the city, so many of the citizens of the city are the university's staff, students, and their families.
Since the city is a hotspot for tourists, big businesses, companies, and investors are attracted to this city, causing its rapid development.
5. You get to experience all seasons
Unlike some cities, Charlottesville experiences all seasons in a year. Summers are bright and sunny, spring and fall are beautiful, and winters are mild.
During winter, the temperature is about 58°F, and during summer, it rises to about 65°F and reduces to about 87°F in the spring. The temperatures are moderate, which makes the seasons pleasant and suitable for all kinds of activities.
6. Education is a big deal
The government of Charlottesville places a high value on education, and it is not only because of the presence of the prestigious University of Virginia in the city.
With a student-teacher ratio of 12 to 1, Charlottesville has such a unique public school system that non-residents are willing to send their kids to school there. 72% of students in Charlottesville city schools are proficient in math, and 71% are proficient in reading.
In 2016, the city invested $4 million in the future of STEM (science, technology, engineering, and math) education. There are many great high schools in the area, some of which include St. Anne's-Belfield School, Renaissance School, and Charlottesville High School.
7. There's a favorable and conducive environment for remote workers
The city makes it easy for its residents to have access to comfortable third spaces and outdoor activities which will help improve their mental and physical health.
Charlottesville also makes it easy for people to work remotely. Most residents have access to high-speed internet, and there are co-working spaces for remote workers to join, such as Common House; a dining spot, Studio IX; a workspace, and Vault Virginia; a social club.
All of these have a way of helping remote workers to remain bonded with their neighbors and friends, while also leading an active and healthy life.
8. The city is home to world-renowned historic sites
Charlottesville has a lot of world-renowned historic sites and tourism centers that attract visitors from all over the world.
Some of the most popular spots include James Monroe's Highland, Historic Court Square, Thomas Jefferson's Monticello, the Grounds of the University of Virginia, James Monroe's Highland, and Michie Tavern.
These places have all played a role in the history of the nation. This attracts thousands of visitors from all over the world every year to the city. The tourists enjoy fun-filled guided tours, special events, educational programs, and complete history of the area.
Cons of living in Charlottesville
1. High cost of living
Despite the fact that Charlottesville is one of the happiest cities in the United States of America, the cost of living in the city is extremely high. It is 2% higher than the state average and the city's housing market is 8% more expensive than the U.S average.
The median home rent is $1,762 while the median housing price is $514,950.
If you don't have a sustainable job to afford the city's high cost of living, you might find it a little hard to cope in this city.
2. Traffic could be very bad
Charlottesville is a small city with a population of about 47,000 residents, however, the traffic is always terrible despite the good condition of the roads.
MAF Widget
This is because the city is dominated by university staff and students, so the early morning rush causes huge traffic.
If you hate getting stuck in traffic, Charlottesville might not be the right place for you.
3. The crime rate is a source of concern
Although Charlottesville is known to be a safe and friendly place to live, the rate of violent and property crime here is significantly greater than in other cities in Virginia.
Compared to the national average of 22.7, the violent crime rate in the city is higher at 26.68.
You will need to take some safety precautions if you are planning to move here with your family.
Final Thoughts
Charlottesville is a city with amazing opportunities and various amenities that make life easy. The presence of tourism centers and historic sites, as well as its quality educational system are some of the many pros that this city has to offer.
However, some of the downsides of the city should not be overlooked. If you're planning to move to Charlottesville, you'll have to endure a lot of traffic. You'll also have to work hard to afford the high cost of living.