8 Things to Know Before Moving to Blacksburg, VA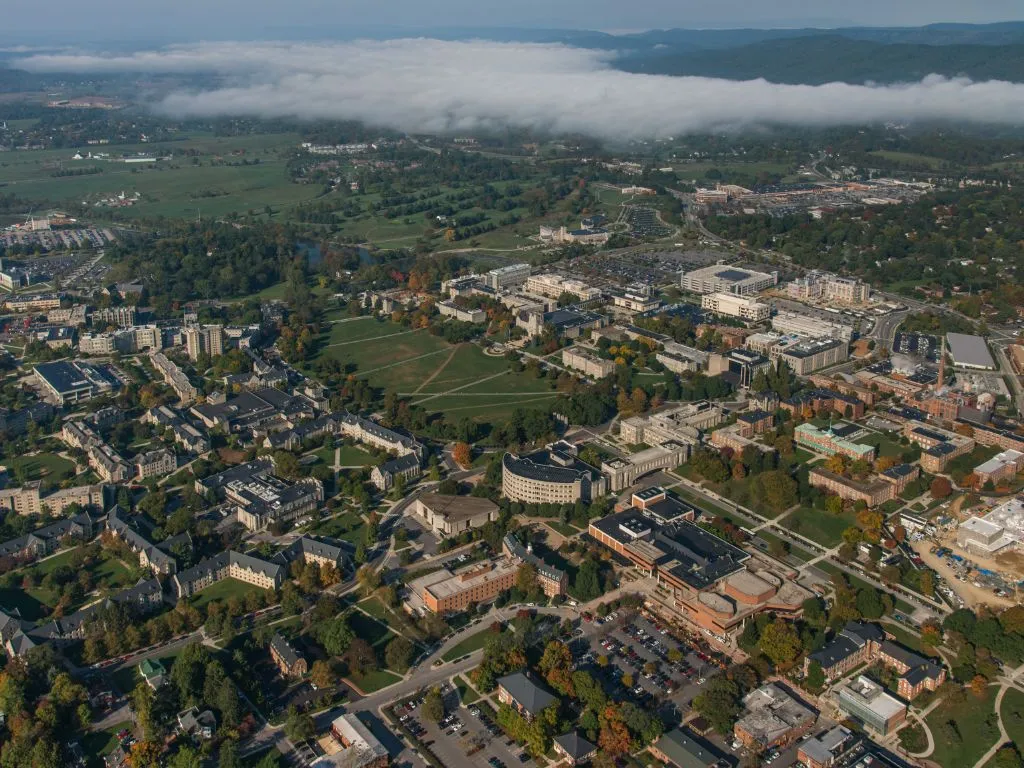 ---
Located between the Blue Ridge and the Allegheny Mountains, Blacksburg, Virginia, is a medium-sized city. Virginia Tech and the National Weather Service's Eastern Region office are both located here. Blacksburg is home to a flourishing arts and entertainment scene, two farmers' markets, and numerous outdoor recreation options for its citizens.
Blacksburg has earned its moniker as a "Creative Village" thanks to its dedication to the arts and its standing as a leading technology hub. Here are eight things to know before moving to Blacksburg, VA!
MAF Widget
1. Virginia Tech is located here
Blacksburg is home to the prestigious Virginia Polytechnic Institute and State University, more commonly known as "Virginia Tech." There are about 34,400 students enrolled at this highly regarded institution, which offers 280 different majors at both the undergraduate and graduate levels. The site is home to some stunning buildings as well.
The college has, in fact, been ranked highly multiple times by The Princeton Review.
2. Enjoy all four seasons
The opportunity to experience all four seasons is a perk of life in Blacksburg. July highs average approximately 83 degrees, while January lows average around 23.
The average annual snowfall is roughly 24 inches, with about 40 inches of rain and 215 days of sunshine. If you enjoy any season, you will find Blacksburg to be a pleasant place to call home.
3. Get around using the Smart Way Bus or Blacksburg Transit buses
The majority of workers in Blacksburg commute by car, and many choose to carpool. The Smart Way Bus is available for those who would prefer to use public transit. The Roanoke-Blacksburg Regional Airport and the cities of Christiansburg and Roanoke can all be reached using this commuter service.
Blacksburg Transit (BT) buses are another common mode of public transportation. The bus operates primarily as a shuttle service for students and faculty at Virginia Tech. The bus is free for students and teachers, but the general public has to pay a fare.
4. Don't miss the Farmer's Market
Blacksburg's downtown Farmers Market is open every Saturday morning of the year to give visitors an idea of local life. Its merchants sell anything from farm-fresh food to homemade pasta, and if you're lucky, you could even see the Poplar Hill alpacas making an appearance.
Give their farm stand a visit, and you can get socks, scarves, gloves, and soaps, all fashioned from cloud-like alpaca fleece their farm is famous for.
5. Take a tour of Beliveau Farm
Yvan and Joyce Beliveau renovated a century-old farmhouse into a picturesque modern wedding location with a century-old barn, a field of scented lavender, and trails through the woods.
There is something for everyone at Beliveau Farm since it is home to a quaint inn, a vineyard that has won multiple awards, and a brewery that is breaking new ground in its industry. Take a tour of the farm's recently installed solar panel field and try some of the farm's gluten-free and gluten-rich brews.
6. Visit the Moss Arts Center or the Historic Smithfield Plantation Home
The Moss Arts Center at Virginia Tech is the campus's central location for artistic activities, including visual and performing arts. Visit the ever-changing art exhibits, and don't miss the chance to see a student-organized dance or choir performance.
The Historic Smithfield Plantation Home is a unique 18th-century property and the birthplace of two Virginia governors; if you're looking for some extra culture, it's worth venturing off campus to check it out. In the evening, relax with a movie at the Lyric Theater, affectionately referred to as "the heart of Blacksburg."
MAF Widget
7. Go on a hike up Catawba Mountain or McAfee Knob
Blacksburg is conveniently located just 10 minutes from various sections of the Appalachian Trail, making it a hiker's paradise in the Virginia Blue Ridge Mountains.
McAfee Knob is a favorite destination for hikers in the region. The 8.8-mile round-trip walk up Catawba Mountain is no easy feat, but the breathtaking view from the summit makes it worth the effort.
8. A lower-than-average cost of living
With a cost of living index of 95.1, living expenses in Blacksburg are 5% less than the national average. A year's worth of living expenses for a single person in Blacksburg comes to $37,709. This figure includes rent or mortgage payments, groceries, child care, gas for the car, medical care, insurance, and taxes.
The city's median home price is $368,237, less than the national average.
To Sum it All Up
Moving to Blacksburg provides a lot of benefits for the residents, such as the affordable cost of living, the presence of top-rated schools, and great weather, among others. The city's flourishing culture makes it an enjoyable spot for all who live there.