8 Things to Know Before Moving to Davidson, NC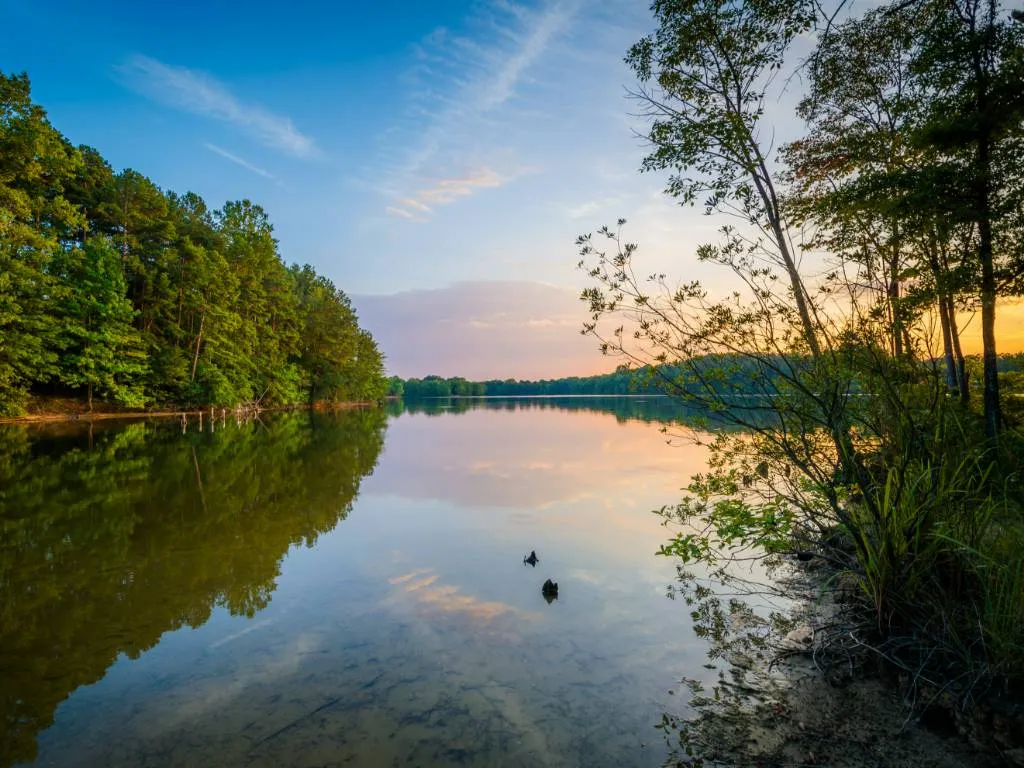 ---
Davidson, like many other Charlotte suburbs, is a tiny college town that is seeing rapid expansion. Some of the finest houses in the Charlotte area can be found there. Over the past two decades, the population has increased from 5,000 to around 13,000.
The quaint North Carolina town of Davidson, home to Davidson College, is one of the nicest places to call home near Charlotte. There is a high standard of living, top-notch educational opportunities, and convenient beachfront living in this wealthy and pedestrian-friendly town on Lake Norman.
Davidson is well-known for Davidson College, its lively downtown featuring Restaurant Row and boutiques, and Lake Norman's recreational opportunities.
Let's check out eight things to know before moving to Davidson, NC!
MAF Widget
1. Davidson is a college town
Davidson is a town on Lake Norman that was established in 1837 when the Presbyterian Davidson College was founded. The college was named after William Lee Davidson, a local hero from the Revolutionary War. The majority of the land used by Davidson University was given to the school by Davidson's son.
Beautiful in appearance and dedicated to providing its students with a top-notch education, Davidson College has caught the attention of prospective students from all across the country. NBA star Stephen Curry attended Davidson College and was instrumental in the Wildcats' run to the NCAA tournament's Sweet 16 in 2014. Some of the biggest names in college basketball, including Gonzaga, Georgetown, and Wisconsin, fell to this charming little school.
2. Visit Lake Norman or Roosevelt Wilson Park
Lake Norman is a major tourist draw in Davidson, North Carolina. North Carolina's largest artificial lake, with more than 520 miles of shoreline. Lake Norman has a wide variety of attractions and activities available to its visitors, including beaches, lakefront residences, boating, camping, hiking, fishing, and picnics.
There are playgrounds, paved walking routes, picnic areas, and even a memorial tree garden at Roosevelt Wilson Park, which is located right on the sea. Whether you're bringing the kids to the playground or taking your dogs for a walk around the pond, you'll find something fun to do. In addition to walking and biking, other popular activities in Roosevelt Wilson Park include fishing and watching birds.
Visit the Lake Davidson Nature Preserve and hike along the Sterling Martin Trail, ideal for those seeking tranquil walking trails, wilderness kayaking, and other outdoor activities.
3. Eat at Davidson Ice House or Carrburitos in Davidson
The Davidson Ice House is considered the best eatery in Davidson. It is a modern kitchen where traditional French cooking methods are combined with a dash of southern style to create something very delicious. This menu has something for everyone, from traditional American fare like burgers and wings to more nutritious options like salads.
The best Mexican food in Davidson can be found at Carrburritos, located in Davidson. Carrburritos is a must-try for any Mexicaphile. You can order the usual: chips and salsa, quesadillas, burritos, and tacos. This place is ideal for a romantic evening or a first date. Don't leave without sampling one of their signature margaritas!
If you're looking for a great meal in Davidson, you should try The Pickled Peach. This eatery is distinguished from its competitors by its dedication to using only the freshest ingredients in its sandwiches and salads and by its high standard of customer service. The Pickled Peach is a must-see for locals and visitors alike in Davidson due to its unique blend of healthy fare and delicious combinations.
4. Charlotte is only 25 minutes away
Only 22 miles away, residents in Davidson can reach Charlotte in about half an hour via Interstate 77. Davidson is home to a large number of people that either work in the immediate area or can easily commute to Charlotte.
Living in Davidson is ideal for anyone who commutes to Charlotte since it provides an opportunity to leave the bustle of the Queen City for a quieter, more distinctive community.
Davidson locals have easy access to numerous neighboring communities, including Huntersville, Cornelius, Mooresville, and many more!
5. The crime rate is lower than the national average
The crime rate in Davidson is 65.5% lower than the U.S. average. There are only 38 violent crimes per 100,000 persons in Davidson, which is 90% lower than the national average.
The Davidson Police Department provides services through patrol shifts that include a sergeant, a corporal, and three patrol officers.
6. The cost of living is 18% higher than the national average
Davidson has a cost of living index of 118, which is significantly higher than the state average (which is 91). The cost of living in this city is greater than the national average due to the higher cost of real estate, but utilities, groceries, and healthcare are all quite affordable.
Home prices in Davidson have increased by over 7% annually, averaging $475,000. RentCafe reports an average monthly rent of $1,625 in this city.
MAF Widget
7. It rains a lot in this city
Be ready for a lot of rain and hot summers if you're thinking about relocating to Davidson. With an average yearly snowfall of 3 inches and an average annual rainfall of 43 inches, the town has chilly, rainy winters and hot, muggy summers.
July's typical high is 89 degrees. There will be roughly 40 days a year when the temperature will be above 90 degrees. The annual average low temperature drops below freezing on 77 days, with January seeing the lowest temperature of the year at 28 degrees.
8. Get a job in the manufacturing or educational sector
In Davidson, the median income is $71,000. The city is well-known for its many opportunities in the fields of manufacturing, industry, and education.
Ingersoll Rand (US headquarters and home to the Trane division) and MSC Industrial Direct are the two major employers in Davidson. Over 1,600 people are employed by Ingersoll Rand, making it one of major employers in North Carolina and the 41st best employer in the United States.
Over 500 locals are employed by Davidson College, making it one of the town's largest employers. Many people in Mecklenburg County live close to Uptown Charlotte because of the abundance of employment opportunities there.
To Sum it All Up
Davidson offers a ton of outdoor attractions, great restaurants, proximity to Charlotte, a thriving economy, and a low crime rate. The city, however has a high cost of living, and if you're not a fan of rainy cities, you might not enjoy it here.
Learn More About Living in Davidson, NC