15 Things You MUST Know Before Moving to Atlanta, GA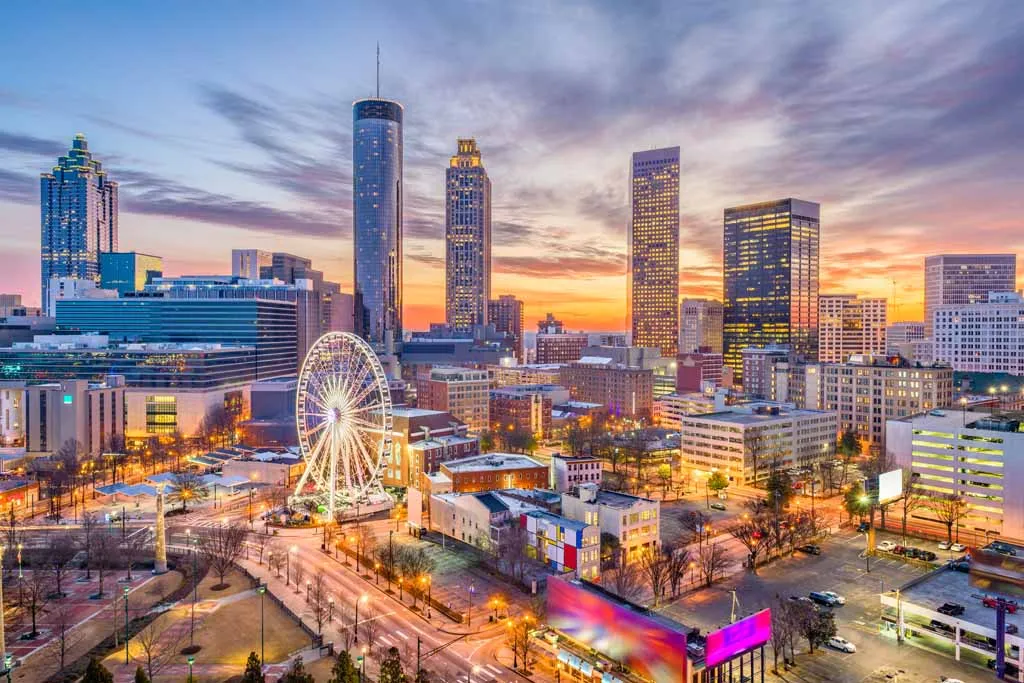 ---
Atlanta, Georgia, is frequently referred to as "ATL" or "The Big Peach," among other nicknames. The city is home to more than 5.6 million people, making it the seventh most populous metro region in the United States.
Atlanta, one of the fastest-growing cities in the United States, features a robust job market, a culturally diverse population, and housing options for people of all incomes and preferences. The urban center has everything a city dweller might want, from excellent dining options and cultural attractions to high-rise apartment buildings.
Let's check out fifteen things you must know before moving to Atlanta, GA!
1. The busiest airport in the world is located here
Hartsfield-Jackson Atlanta International Airport, a major international airport, is located in Atlanta. With the world's busiest airport, this city continues to hold a place of importance globally.
Each day, this airport handles about 2,500 flights to and from more than 50 different countries. Since Atlanta is usually the first stop for international visitors to Georgia, it's no surprise that the city attracts much attention.
2. The people are laid-back and friendly
The warm welcome of the south is in the very air of Atlanta. While many ATL locals may have roots elsewhere, the city's reputation for friendliness precedes them. If you're strolling down the street, you'll likely get waves from strangers, so don't be startled if someone approaches you. The residents of this city are known for their lack of prejudice. It's a big part of what makes Atlanta a desirable place to live.
If you're new to the neighborhood, you should know that the locals will make you feel right at home. This may come as a surprise to you if you're visiting Atlanta from a less hospitable place, but rest assured that most of the people you meet here only want to help you out. What makes living here so wonderful is the friendly, laid-back vibe.
3. Atlanta rose from the ashes, literally.
Since no other city in North America has ever been destroyed by battle, Atlanta has earned the nickname "the city that rose from the ashes" (hence the city's symbol, the phoenix). General Sherman (bad boy, that one) ordered the city to be burned to the ground in 1864. and barely 400 structures were saved from the blaze.
Atlanta is not a city to lie down in defeat. Therefore it quickly rebuilt itself and continues to do so in many ways to this day.
4. The city spans over 14 counties
One thing can be said with absolute certainty: Atlanta is huge. Atlanta covers a vast region, extending over 50 miles in every direction and covering over 14 counties. The city has both urban and suburban neighborhoods, giving residents a wide range of housing alternatives.
Atlanta is the third largest metropolis in the southeast, but it is just one-third the size of New York City. Moving to Atlanta will open your eyes to the city's sheer size.
5. The most popular soft drink in the city is Coca-Cola.
In Atlanta, the local soft drink of choice is Coca-Cola. Atlanta is the birthplace of the world-famous Coca-Cola soft drink. In 1866, Dr. John Stith Pemberton created Coca-Cola as a health remedy; today, it is a globally recognized and appreciated soft drink. Coca-Cola, which first hit the market in Atlanta in 1886 for five cents a glass, has since spread to over 200 nations and produced more than 400 products.
No other beverage or rival product is available in Atlanta. People here prefer Coke to any other soft drink, and it is a cultural icon. Visit the World of Coca-Cola while in town for a fun and educational experience that includes product tastings and information about the history of this iconic American brand.
6. It's more affordable than other cities its size
The cost of living in Atlanta is slightly higher than the national average but is still manageable for most people. Atlanta has a monthly cost of living average of $2,035. The city's cost of living index is 109.
It has been estimated that those who choose to make their home in the city's core will need an annual income of $80,000 to $100,000 to cover their basic expenses. You might be surprised to learn that even though it seems like a lot, the average wage in this metro area is higher than in many others.
7. Attend Dragon Con or the Music Midtown Atlanta festivals
In Atlanta, celebrations are a great way to bring people together. The city's culture includes listening to live music in public spaces, devouring delicious cuisine, imbibing craft beers, and appreciating works of art
Downtown Atlanta is home to Dragon Con, the world's largest science fiction and gaming conference. Take part in a costume party as your favored manga or anime character. The Atlanta Jazz Festival is widely recognized as one of the best places to listen to, celebrate, and acknowledge jazz for free.
Every year, more than 300,000 people attend the Music Midtown Atlanta festival at Piedmont Park, with more than 30 performers across four stages.
8. The city is called the 'Hollywood of the South.'
Atlanta has become known as the "Hollywood of the South" due to the number of movies and television shows that have been shot there. Tax breaks are a major draw for film productions looking to set up shop in the area. Several popular TV shows and movies have used the Atlanta area as a filming location, including The Walking Dead, Stranger Things, Ozark, and The Avengers. Furthermore, Atlanta is home to the CNN headquarters. Anyone interested in hip-hop and R&B will find that the city's music scene is extremely active. To make it big, many southern singers and artists travel to Atlanta. A number of famous people, like Ludacris, Cardi B, Gucci Mane, and Cee Lo Green, have studios and homes in Atlanta.
9. 51% of the population is black
Atlanta is home to a wide variety of people and cultures. Atlanta is the second largest, mainly black metro region in the United States, with about 51% of the population identifying as black.
Also, 4.2% of Atlanta's population identifies as gay, lesbian, or bisexual, making it one of the 19 largest LGBTQ+ communities per capita in the US. In fact, after San Francisco, Atlanta is the most gay-friendly city in America.
10. Public transportation in the city is unreliable
If you're thinking about relocating to Atlanta, you should know that having a car is a necessity for getting around town. It's amazing how little public transportation there is, considering the city's size. Even though MARTA exists, nobody wants to ride it because of how inefficient and unsafe it is.
Having a car is a must in Atlanta, so plan accordingly, keeping in mind that the cost of ownership is high due to factors such as gas, insurance, and maintenance.
11. It's the 4th most bug-infested city in the country
Atlanta, surprisingly, ranks as the fourth most bug-ridden city in the United States. To name a few: ticks, mosquitoes, cockroaches, fleas, etc.
A big negative of living in Atlanta is the overwhelming number of bugs. During the summer, you can't spend much time outside without being mercilessly attacked. So you have to be ready for this.
12. The city is home to lots of Fortune 500 companies
Many large corporations, including those in the Fortune 500, 100, and 1000, have their headquarters in Atlanta. Among the numerous well-known corporations with offices in ATL are Delta Airlines, UPS, and Home Depot.
Although the Coca-Cola corporation has expanded internationally, it continues to employ over 9,000 employees in Georgia, most of them in the Atlanta metropolitan area. The CNN studios are conveniently located near the heart of the city.
13. The 1996 Olympics were held in Centennial Olympic Park
Centennial Olympic Park is a downtown park dedicated to remembering the 1996 Summer Olympics that were held in Atlanta.
The park's 21 acres of greenery are perfect for outdoor activities like ultimate Frisbee and picnicking. The Olympic fountains are a fun way for kids to cool off, and they are shaped like the five Olympic rings.
14. You'll have access to all the major sports
Do all sports exist in Atlanta? No, and we won't pretend they do. The major ones are there, or at least the most popular ones in the United States. Sports fans in Atlanta can choose from a wide variety of professional teams, including baseball (Braves) and football (Falcons), basketball (Hawks) and soccer (Atlanta United), and tennis (Atlanta hosts the BB&T Atlanta Open every summer).
Professional sports are quite popular in Atlanta, and it is a great place to relocate to if you're looking for a city where you can follow and support professional sports teams.
15. Summer temperatures go as high as 90°F
A more accurate name for Atlanta would be Hotlanta, as it is popularly known. During the summer months, the city can reach intolerable temperatures due to its climate (which is actually a humid subtropical climate).
The average high temperature throughout the summer is around 90 degrees, while the humidity level usually stays around 70%. On the other hand, the winters are moderate.
Finally
There are a lot of great things about living in Atlanta. You get to enjoy relatively affordable living, a great job market, many fun things to do, and a diverse population. However, there's also the hot summers, poor public transportation, and the presence of bugs.
Learn More About Living in Atlanta, GA