10 Things to Know Before Moving to Boone, NC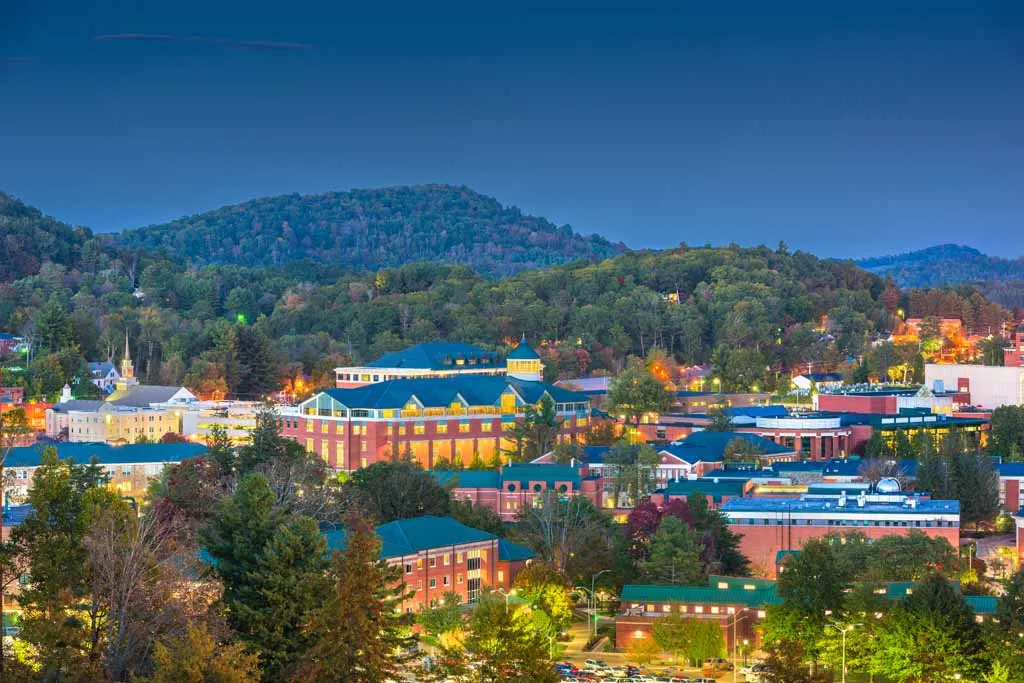 ---
Boone is a quaint little town, located in the Blue Ridge Mountains of North Carolina. Named after world-famous explorer, Daniel Boone, this small city has a population of about 20,000 people.
And although it might seem as though there's nothing particularly spectacular about this town, there's certainly more to Boone than you would expect. Let's talk about 10 things you should know before moving to Boone, NC!
1. Tons of places to shop
Boone is an excellent place to go shopping since there are dozens of independently run stores, each one more interesting than the last. Everyone can find what they're looking for here, from clothing to antiques to home utensils to pet supplies to food items.
Additionally, the Mast General Store has everything you might possibly need. This store's history dates back to the early 1900s, and it now has two locations: one downtown Boone and another in adjacent Valle Crucis. There's also a farmer's market, where you can purchase locally grown food items if that's what you like.
Boone offers a wide variety of stores, so you can easily spend a day exploring the stores in the city. Shopping in Boone will always be an experience to remember, no matter what you're looking for.
2. A great educational system
For a small town, Boone has a pretty impressive educational system. About 18,000 students attend Appalachian State University (ASU) in Boone. The presence of this university gives the town a college feel, and three out of five people you come across would most likely be students of this city.
The Watauga County School District in Boone is home to some of the best public schools in all of North Carolina. It has a student-teacher ratio of 13 to 1 and can accommodate 4,708 students across Pre-K through 12th grade. Green Valley Elementary School, Two Rivers Community School, and Watauga County Public Schools are some of the schools in this district.
3. A reasonable cost of living
Boone's cost of living is 10% lower than the national average, at an index of 95.4. The average rent for a one-bedroom apartment is $692 and the median annual income is $25,535.
However, bear in mind that housing is a bit overpriced, with the city's median home price being $450,919.
4. Your dog would love it here
Boone is paradise for your canine friend. There are numerous dog-friendly parks and restaurants in the town, and there are tons of fun things to do with your dog. Some of the dog-friendly places where you can eat and drink in town are The Cardinal, Booneshine Brewing Co, Lost Province, Appalachian Mountain Brewery, and a couple of others.
There's even the Horton Hotel, where you can grab some dinner or lodge overnight with your dog.
5. A strong public transportation system
The city has a decent public transport system that can get you around town. Sunway Charters provide bus service from Greensboro and Charlotte to Boone. In addition, the Hickory Hop is a regular stop for shuttles traveling between Charlotte and Boone.
AppalCART (Appalachian Campus Area Rapid Transit) provides bus service for those who prefer it. Residents of Boone County can also reserve a ride on the BATS (Boone Area Transit System).
And if you're one who frequently travels by air, some nearby airports are Piedmont Triad International (GSO), Tri-Cities Regional (TRI), Charlotte-Douglas International (CLT), and Asheville Regional (AVL).
6. There's occasional traffic
Boone's traffic might not be as bad as in major cities, but they have their days in this town too. There is occasional congestion in the city due to red lights at peak times. However, traffic is often manageable and vehicles continue to move, albeit slowly.
Crowds sometimes gather around the city's prominent cafes and restaurants, increasing the already heavy foot and vehicle traffic. Blowing Rock Road grinds to a halt as customers approach and exit the drive-through lanes. The authorities often ask people to walk to these places instead, to avoid accidents and fights.
7. A decent job market
There are about 7,000 people in Boone's labor market, which is pretty decent. When it comes to employment opportunities, some of Boone's biggest draw cards are retail trading, accommodation & food services, education, and tourism.
On the other hand, some occupations pay significantly more than the average, such as commercial and residential real estate, banking & financing, insurance & risk management, manufacturing and construction, transportation, storage, and utilities.
8. You'll find things to do
Boone may be a small town, but it has all the cool spots and events any young adult would want.
The Horton Hotel Rooftop Lounge is a popular spot for people to unwind with a meal, a few drinks, and breathtaking views of Appalachian State University, Howard's Knob, and downtown Boone.
The Boone Greenway Trail is a place for locals to go for bike rides, walks, and other explorations of the outdoors. In addition to passing through the city and a few wooded regions, the flat, paved trail also crosses several creeks, providing access to numerous scenic spots ideal for picnicking, fishing, and other enjoyable activities.
Only a ten-minute drive will take you to the "Valle" (Valle Crucis), where you can spend the day reliving history. This settlement was established in the 19th century at the banks of the Watauga River and its surrounding fertile farmland. It has a church, a general store, a mountain residence, and a small schoolhouse all still standing from its early days.
Located at an impressive altitude of 4,420 feet, Howard's Knob provides spectacular views of Boone and the surrounding area. This park has restrooms, lots of vintage points, picnic tables, and shelters, and it's only a mile from the heart of Boone.
9. There are lots of sporting activities
If you're a sports fan, you'll love all the sporting activities that Boone has to offer.
Boone is conveniently located near many world-class ski resorts that provide a wide variety of winter sports for their guests, including snow tubing, snowboarding, and ice skating. Not knowing anything about sports won't stop you from having a great time throughout the winter months in this city.
If basketball is your thing, there's the Appalachian State Mountaineers, Appalachian State University's college basketball team. Watch one of their games at the George M. Holmes Convocation Center.
And if you're a football person, the High Country Grizzlies in Boone also play their games at the George M. Holmes Convocation Center inside the Appalachian State University campus.
There are also tons of golf courses to choose from. There's the Boone Golf Club in the city and many others nearby.
10. A thriving arts and cultural scene
Boone's downtown is where all the action is, and it's not just because of the great shopping. The Turchin Center for the Visual Arts at Appalachian State University is a great place to take in some culture and art. There are seven galleries in the university, all of which are constantly updating their collections.
Eleven of the winning works from the Rosen Outdoor Sculpture Competition and Exhibition are on display at the Rosen Outdoor Sculpture Exhibition, also located on the Appalachian State University campus. Each May, the campus welcomes a new set of sculptures to go with the 40 permanent pieces already there.
To Sum it All Up
Boone might be a small town, but it has a lot to offer if you know your way around. And if you're looking to live in a small city, yet have access to decent facilities and amenities, then Boone would be a perfect city for you.