Pros and Cons of Living in Athens, GA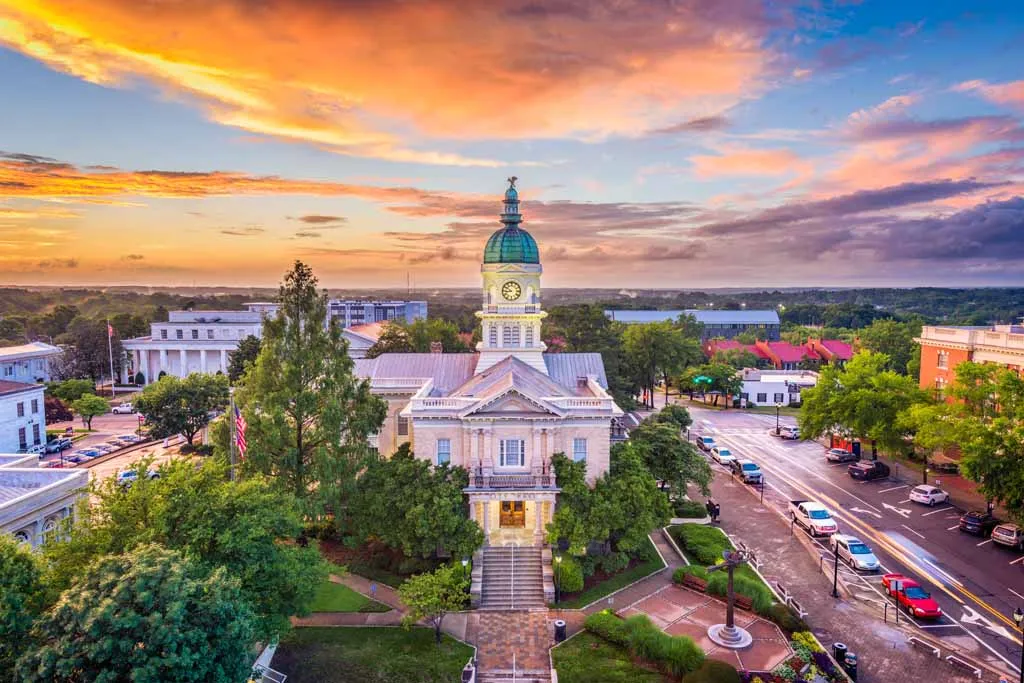 ---
Located in Northeast Georgia, Athens is a bustling metropolis of over 210,000 people. Located fewer than 100 miles from Atlanta, the state capital, it is a cultural center with many attractions.
This city has a long and illustrious past, and its famous antebellum buildings and other historic landmarks are still standing today. Walking through the streets of this city, you can feel the vibrant Southern spirit.
Athens is a fascinating city that you would love if you're hoping to move to an exciting city filled with opportunities. But like every other city, it has its drawbacks too. It's important to know what the whole package comes with; both the good and the bad. Let's check out 10 pros and cons of living in Athens, GA!
Pros
1. A reasonable cost of living
With an index of 97.5, the cost of living in Athens is 3% lower than the national average. The median home price in the city is $306,280
There is a reasonable amount of each type of property available in Athens right now. Although there is competition in other sectors of the economy, the housing supply remains steady and the pricing is reasonable.
2. A vibrant economy
Even if you're drawn to a city because of its vibrant nightlife or other attractions, you need also consider whether or not you'll be able to find gainful employment there.
Luckily, Athens has one of Georgia's healthiest economies. When compared to the national average, Athens's unemployment rate of 2.5% is much lower.
In addition to its excellent rankings in these areas, the city also made The Milken Institute's top 10 list of Best-Performing Small Cities, which measures a city's capacity to maintain and grow its employment base and its overall economic vitality.
3. The city is naturally beautiful
Athens is stunning, and the scenery in the city is a sight to behold. The City of Athens Parks and Recreation Department is dedicated to preserving the city's natural beauty by providing residents with a wide variety of parkland to enjoy.
On your days off, feel free to visit any of the area's stunning parks to relax with a good book or take your dog for a stroll. And because of their dedication to maintaining natural habitats, institutions like Georgia's State Botanical Garden receive tens of thousands of tourists each year.
4. Athens has a thriving food scene
Going out to restaurants and bars is a perk of city living, regardless of how much of a home cook you are. Fortunately, Athens shines in this respect as well, with a wide variety of top-notch dining options, nightlife options, and other places for adults to enjoy themselves.
In fact, the popular Southern Living magazine named Athens "South's Best Food City" for 2018. Not only can you get some excellent home cooking from the South, but you can also get Mexican, Thai, New American farm-to-table, and other international dishes.
Last Resort Grill, South Kitchen + Bar, The National, The Table Bistro, Cali N Tito's, Osteria Athena, and The Royal Peasant are just a few of the many amazing restaurants in town.
5. The city is known for good music
Athens, where R.E.M. and other bands like them emerged in the 1980s, is widely recognized for its vibrant music scene. Pop, alternative rock, and new wave are just a few of the musical movements that have deep roots there.
The scene has developed steadily since the '80s but no longer receives the same level of mainstream attention as it once did. All across downtown, you'll find excellent concert halls and clubs that play host to both touring bands and up-and-coming local musicians.
6. Athens is a college town
The University of Georgia and Athens Technical College both have their main campuses in the city of Athens. As a result, this place has all the energy of a bustling university community.
During the school year, you can expect to see an increase in both traffic and the local population. It's also worth noting that the months of August through May will have a greater number of open events than the winter and summer months.
There are numerous businesses and apartment complexes designed specifically for students, as well as lots of places open late to accommodate the student lifestyle.
7. Art buffs would love this place
Not only does Athens have a significant historical background, but it also has a flourishing artistic community. The city's access to the arts has been greatly improved by the presence of the University of Georgia. The Georgia Museum of Art, for instance, can be found on the main campus of the University of Georgia and features a constantly rotating array of exhibits.
Cons
1. It could get really hot
Given its southern location, summers in Athens tend to be hot and muggy. The rainy winters are brief and mild. You won't see much snow, but that's excellent news if you hate driving in the snow or can't stand the numerous school cancellations that occur in the Midwest and Central United States because of the weather.
However, the months of June, July, and August are often the hottest with highs in the 90s on most days. Come prepared to spend money on an air conditioner and maybe even an above-ground pool.
2. Traffic is sometimes bad
You won't have to contend with heavy traffic in Athens… except for when the University of Georgia is hosting a game. And it could get really bad during this period.
There is one choke point, and that is the Five Points area, which becomes completely jammed during rush hour. Until traffic starts to back up closer to town, the major roads leading into downtown and the Five Points district are like drag racing strips. You'll have to sit through a couple of rounds of traffic lights if you go through Five Points.
On a scale from 0 to 100, Athens has a walkability score of 26 and a bikeability score of 34. You'll need a car to get around and go to work, as the area lacks the facilities for walking and biking.
3. A high rate of poverty
In comparison to other U.S. cities, Athens has a much higher poverty rate, at 18.3%. The national average is 12.8%. This is surprising, considering the fact that Athens has a vibrant economy.
In fact, Athens-Clarke county is the poorest county in Georgia, having 39.3% of the population living below the poverty line.
To Sum it All Up
The reasonable cost of living, thriving economy, and amazing food scene are just a few of the reasons people would love to call Athens home. The summer humidity, however, and the occasional traffic, could serve as drawbacks. Your priorities and choices when it comes to choosing a city to live in would determine whether or not Athens is the right city for you.