Average Cost To Remodel A Kitchen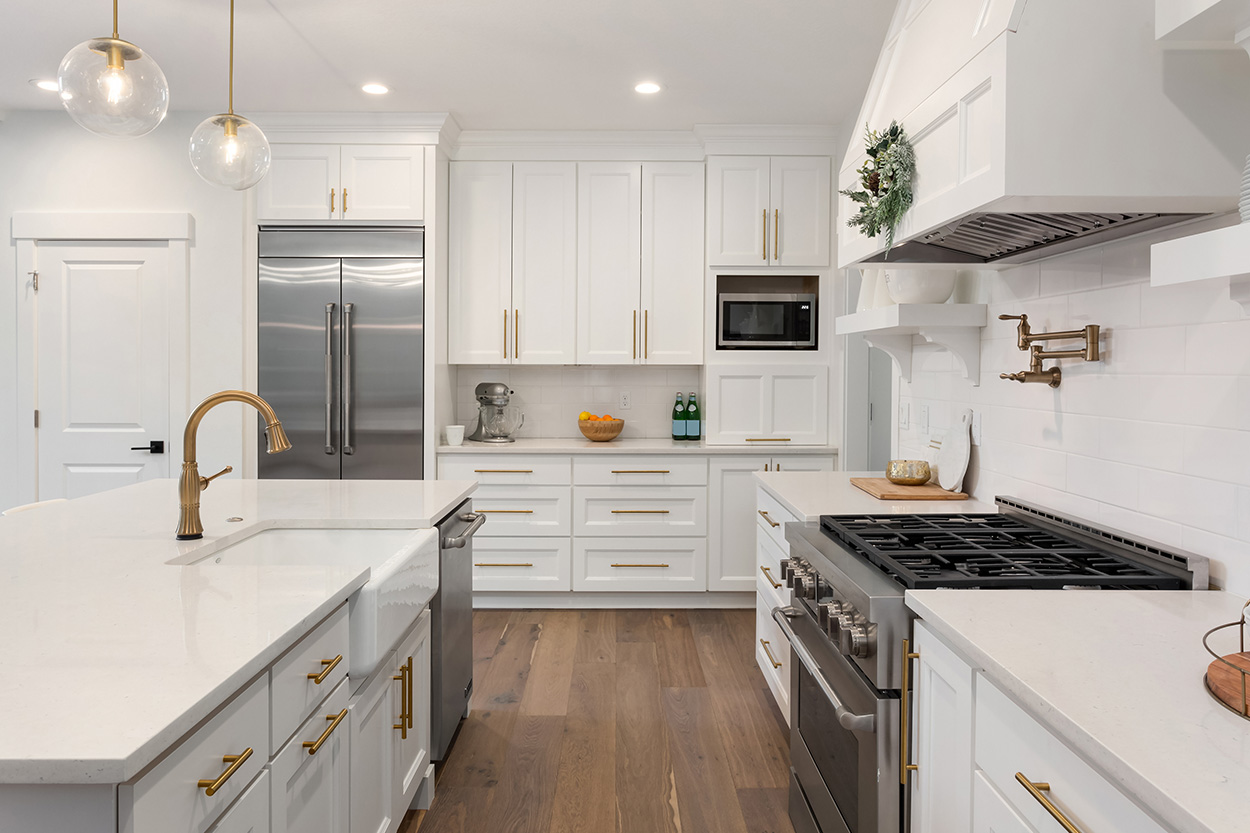 ---
Key Takeaways:
The cost of a kitchen remodel depends on its scale, the size of the kitchen, and the materials you select.
Focusing on cosmetics can be fairly affordable, while significantly changing the layout comes at a higher cost.
Expect to spend between $4,000 on the low end to over $60,000 for a full-scale remodel.
What's the Average Kitchen Remodel Cost?
Whether you've been dreaming of a pizza oven or you're simply aiming to increase the value of your house, a new upscale kitchen design can be a great way to make your home feel that much more comfortable.
The cost of a kitchen remodel can range anywhere from $4,000 to $80,000.
But in some cases, it could cost six figures or even more.
Kitchen renovations range in size and scale. While some homeowners simply want a new backsplash and appliances, others want to reimagine the whole space. In this short guide, we'll go over the average cost of kitchen remodel plans ranging from the minor to the extensive.
MAF Widget
Your Cost Depends on the Scale of the Project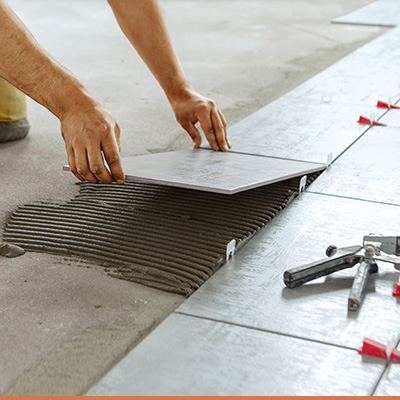 The first step in remodeling your kitchen is deciding how much you want to take on.
Make a list of the projects you'd like to complete. These could include:
Repainting walls
Replacing molding
Adding new flooring
Installing custom cabinetry and hardware
Upgrading appliances
Adding a tile backsplash
Replacing countertops
Updating the sink
Changing the layout
Adding a kitchen island
Replacing or expanding windows
Moving appliances (including plumbing and electric hookups)
Redesigning the floor plan
Making an addition to your house
Overall, the cost of how much to remodel a kitchen depends on the scale of your remodel, the size of your kitchen, and the quality of the materials you use in your upgrades and updates. If you take on just a few of the projects at the top of your list, the cost will be much less than making an addition to your house or relocating your kitchen to the new area.
Next, we'll go over some probable cost estimates depending on your ambitions.
The Cost of Minor Kitchen Updates
Minor kitchen updates are mostly cosmetic and do not significantly change the layout of the kitchen. As a rule of thumb, cosmetic changes don't require new plumbing hookups.
These minor updates can usually be done in a DIY fashion, if you're feeling creative. For this reason, minor kitchen updates are on the more affordable side.
You can repaint your kitchen and your cabinets for nothing more than the cost of the paint and supplies. Likewise, peel-and-stick tile makes it easy to change your floor on your own. These do-it-yourself remodels can lead to a total cost of under $4,000.
Once you've factored in new appliances, hardware, and other fixtures, a minor remodel usually ranges between $10,000 and $20,000.
Just because a remodel is small doesn't mean it's not visually effective. A small kitchen remodel can give it an updated look that makes it more appealing to look in. A minor kitchen remodel can be painting your cabinets or adding tile flooring to make it more enticing to potential buyers if you're planning to put your home on the market.
The Cost of Mid-Range Kitchen Updates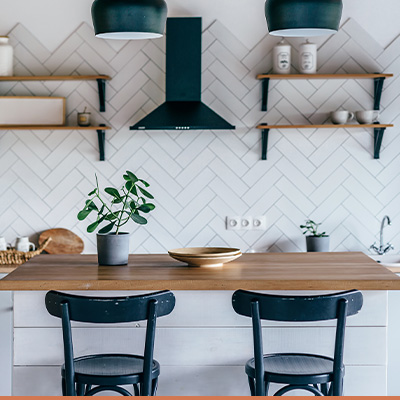 Mid-range kitchen updates are still cosmetic and do not require updates to the plumbing or electricity. However, they may include bigger projects like replacing:
Cabinetry
Molding
Countertops
Backsplash
Adding a kitchen island, for example, is considered a mid-range remodel.
The cost for these remodels is naturally higher. You'll often need to remove and dispose of existing countertops, which entails dump fees. Usually, cabinetry will be the biggest cost investment for a kitchen remodel. In addition, you'll buy extra materials (in addition to any paint or hardware).
Then, of course, there's the cost of the labor:
The cost of a mid-range model can be $200-$250 per square foot.
Therefore, average costs range from $20,000 to $40,000.
Keep in mind that there are plenty of ways to save on costs for a mid-range kitchen remodel. If you're able to find used or salvaged materials or do some of the installations yourself, your remodel may clock in at the lower end of the scale.
The Cost of Major Kitchen Renovation
In some cases, you have a major update in mind for your kitchen.
Maybe you're taking out an entire wall to open the kitchen up to the living room. Maybe you're moving the dishwasher, the fridge, and the oven—not to mention adding a kitchen island!
Or maybe you're actually increasing the square footage of your home.
A major kitchen remodel can change the entire feel of your living space. That said, the costs can add up quickly, considering it includes the cost of a mid-range remodels in addition to the following:
Design and feasibility assessment
Demolition and disposal costs
Additional contractors (electricians and plumbers, etc.)
A large-scale kitchen renovation is the most expensive, starting at $300-$350 per square foot of kitchen space. You can expect the costs to start around $60,000.
In some cases, a kitchen remodel could run even more. If you're building an addition onto the house and relocating your kitchen to the added space, it could run you six figures and up.
Predicting the Return on Your Investment
Is your kitchen remodel worth it?
According to Remodeling Magazine, kitchen remodeling has a great return on investment. If you're selling your home, the cost of your remodel could directly add to its value.
In some cases, you could make back 100% of the money. In others, you could make back even more.
Of course, an expensive kitchen remodeling doesn't necessarily mean your house will sell for more. Before making a major investment, check to see if your area is currently in a market that favors buyers or sellers.
For a Kitchen That's Anything But Average
A kitchen is a gathering place—a space for returning to old family recipes and creating new memories. Remodeling your kitchen can provide a more welcoming space or a blank slate.
When it comes to your remodel, the sky's the limit—and so is the cost. Before starting, make a list of your must-have repairs and renovations. Then, work with a trustworthy contractor to create the kitchen of your dreams while staying within your specific budget.
In no time, you'll have a kitchen that's anything but average.
Sources:
Direct Cabinets. What is the typical cost of a new kitchen, in 2021? https://directcabinets.com/blogs/news/what-is-the-typical-cost-of-a-new-kitchen-in-2021
The Spruce. How professionals estimate kitchen remodeling costs. https://www.thespruce.com/kitchen-remodeling-cost-1822176

HGTV. Which Home Improvements pay off? https://www.hgtv.com/lifestyle/clean-and-organize/which-home-improvements-pay-off