Top Tips for First-Time Home Buyers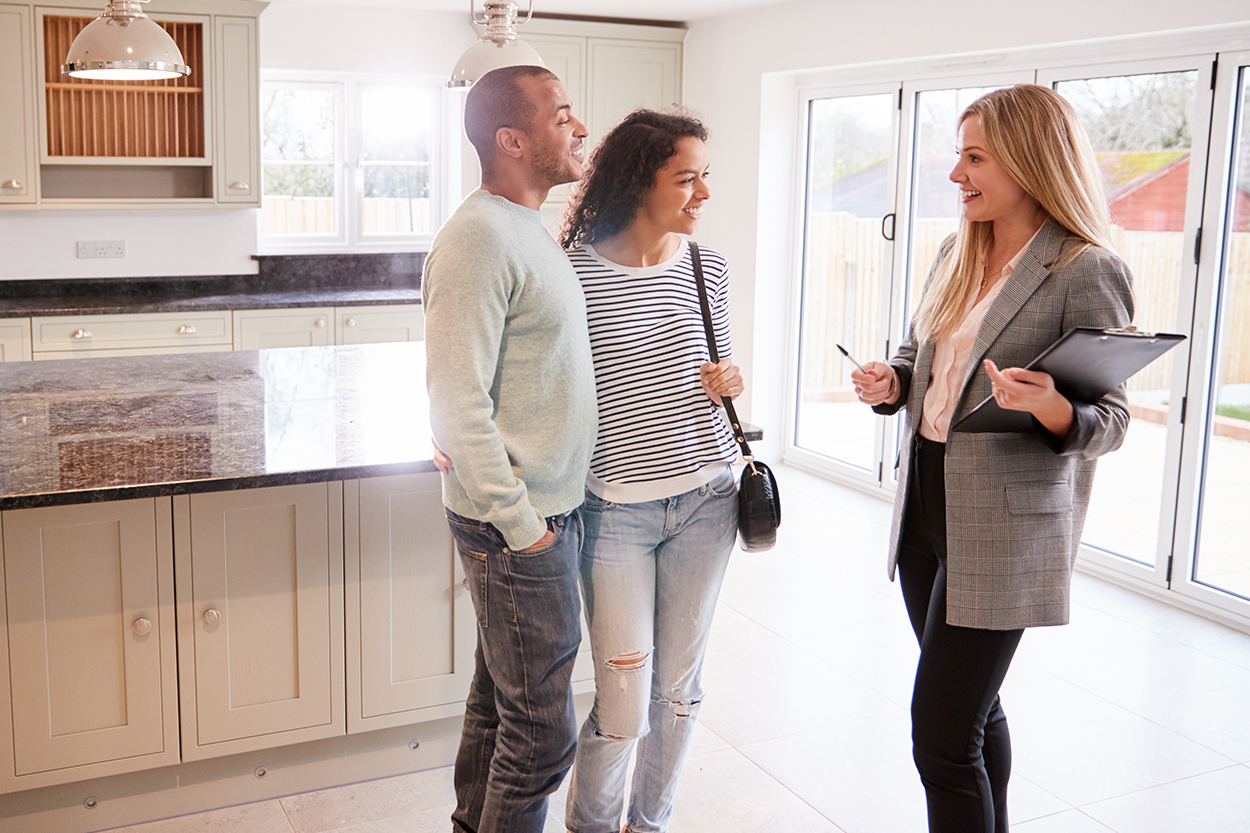 ---
Being a first-time home buyer is exciting – but it can also be extremely overwhelming! There are so many steps, tasks, and requirements you need to consider to ensure you don't make any expensive mistakes.
Even though home buying can come with trials and tribulations, the majority of homeowners say owning a home is well worth the challenge it took to get there.
This guide will help demystify the home buying process by giving advice for first-time home buyers so you get the most out of your purchase and reduce the stress and anxiety that comes with home buying.
We sorted our tips into four main categories:
Prepare your finances
Find the right loan for you
The buying process
The closing process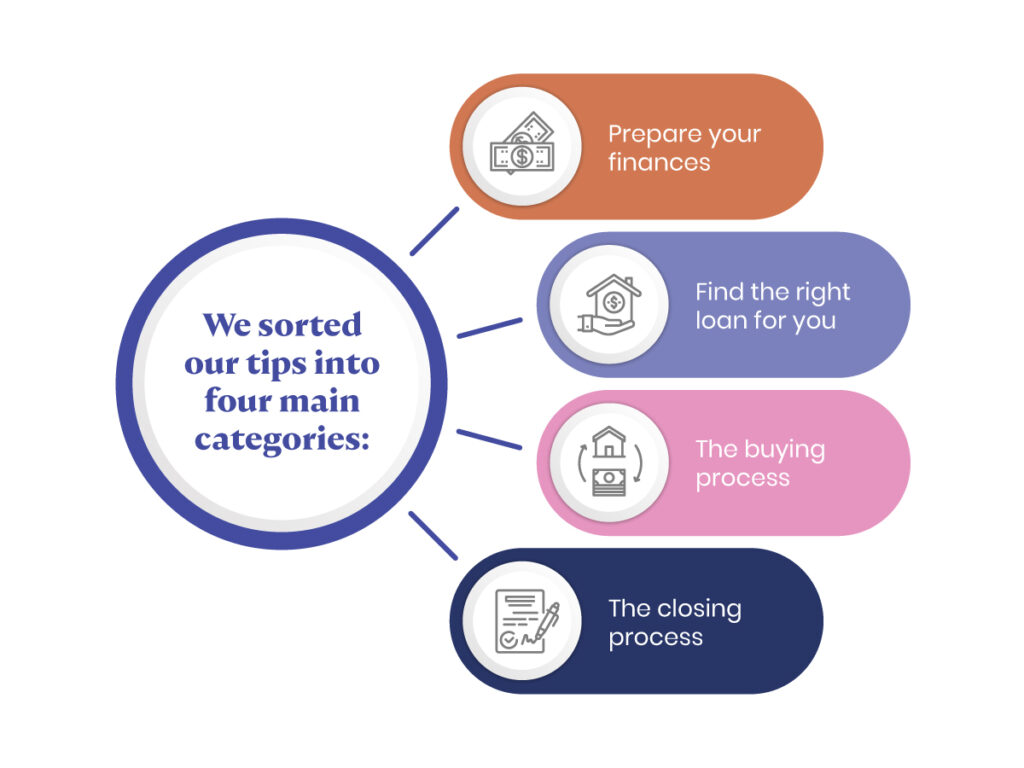 Prepare your finances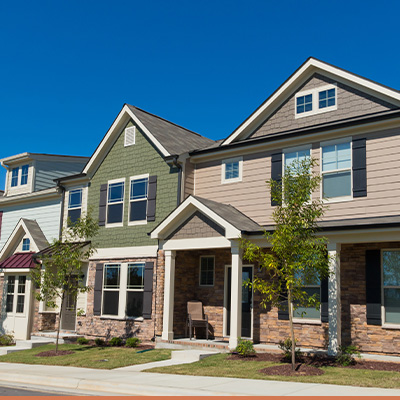 1. Determine what you can afford
Arguably, the most crucial step for a first-time home buyer is to make sure you have all your finances in order so you have a clear picture of what you can realistically afford. By using a mortgage affordability calculator you can gather a good estimate of your budget based on income, debt, student loans, savings, and other financial commitments. Don't forget, the cost of buying a home isn't just in the property price – you need to be wary of closing fees and other costs, such as closing costs, removal costs and property taxes.
Property taxes, which are collected twice a year, will vary depending on the state in which you live in. Make sure you do your research and factor these costs into your monthly affordability.
2. Think about your down payment
It's common to have a 20% down payment, but many lenders may take much less. However, putting down less than 20% could leave you with higher monthly payments and you will need to pay for private mortgage insurance (PMI). PMI usually costs 1% of the total loan value and is added to your monthly payments – meaning you will end up paying more in the long run for your property. If you are able to, try saving for a 20% down payment, as it will make your monthly payments lower because you won't have to pay for PMI.
3. Think about your mortgage options
If getting together a 20% down payment is unrealistic, then be careful about which mortgage options you choose. The following mortgage options may be available to you if you have a low down payment:
Adjustable-Rate Mortgage (ARM) can be a good option for some buyers, especially as they tend to offer a low initial interest rate. But the downside is that lenders can adjust the rate, and monthly payments, to transfer the risk of rising interest rates to you.
FHA loans are loans that are insured by the Federal Housing Administration and allow down payments as low as 3.5%.
A VA loan is a $0 down mortgage option that is issued by private lenders and partially backed, or guaranteed, by the Department of Veterans Affairs. It is available to active and veteran service personnel and their families.
Fixed-rate mortgages can offer buyers consistency and help make it easier to set and stick to a budget. Having a fixed rate means that your total monthly payments and interest rate will stay the same depending on how long you have the fixed-rate loan. The main advantage of a fixed-rate loan is that you are protected from sudden and potentially significant increases in monthly mortgage payments if interests rates were to rise.
The downside of a fixed-rate mortgage is that if you are buying a house during a time when interest rates are high, it may make it harder for you to qualify for a loan as the payments may be less affordable – plus, you are then committed to monthly repayments at a high interest rate for the term agreed. Traditionally, lenders offer fixed-rate mortgages for a variety of terms, but the most common are 15, 20, and 30 years.
4. Research state and local assistance programs
A crucial step in your journey to becoming a home owner is to explore local and national first-time buyer assistance programs.
Many state housing authorities combine down payment grants, or minimum down payment mortgages, with interest rates that are favorable and can sometimes even offer federal tax breaks. These programs are designed to help boost buyers' chances of owning homes in particular states or cities, or help buyers in certain professions, such as educators, or active-duty military and veterans.
MAF Widget
Find a loan that is right for you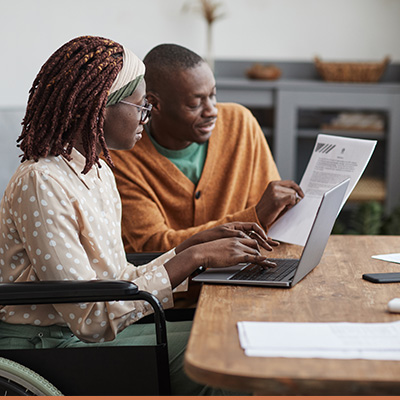 1. Find out how your credit history can affect mortgage interest rates
When you apply for a mortgage loan, your lender will look at your credit history. Your credit history is a record of how you have managed your credit in the past, including total debt, number of credit cards, and any late payments. Your credit history will give you a credit report with a credit score, and lenders will consider your score as an indicator of how likely you are to repay your mortgage. Those with good credit tend to get better mortgage rates and more loan options as they are seen as lower risk to lenders in comparison to buyers with bad credit.
2. Get pre-qualified and pre-approved
Before putting in an offer on a home, make sure you get pre-qualified for your loan first. Pre-qualification is a preliminary evaluation of a potential borrower by a lender to determine an estimate of what the lender would be willing to lend you. As you get closer to buying a home, it would be wise to get pre-approved. A pre-approval offer will state the specific loan amount that you are eligible for, rather than a pre-qualification offer, which states an estimate of what you can borrow.
Having a pre-qualification or pre-approval can make you more attractive to sellers and can give you the upper hand over other buyers who may not have taken this step.
3. Compare mortgage rates
The more mortgage lenders you explore when you are shopping around for mortgage rates, the more likely you are to find one with a lower interest rate. You could save yourself thousands of dollars over the life of your mortgage simply by finding a lower interest rate.
The buying process
1. Find the right real estate agent
Finding the right real estate agent to work with can make a world of difference. A good real estate agent by your side can help you get your dream home at the right price. Agents have knowledge and experience of the local market and can act as an advocate for you during the entire home-buying process. As a first-time buyer, they can offer invaluable knowledge, not just on the local housing marketing, but on the whole buying process.
If you are looking for an agent, make sure you choose one who is an Accredited Buyer Representative (ABR) – as they have met certain qualifications and criteria by the Real Estate Buyer's Agent Council in order to qualify. You can search for an accredited agent here.
2. Attend open houses
First-time homebuyers might be reluctant to attend an open house held by a realtor as it can be intimidating – and if you are new to the whole experience, rather daunting! However, open houses can be a great opportunity for you to get a good look around different types of properties and figure out exactly what you are looking for.
3. Finding the property that works for you
When looking for a property, you will find lots of different options out there, whether you want a condo, a townhouse, a single-family home, or a duplex apartment, just to name a few. Each comes with advantages and disadvantages, so ensure you spend the time to figure out what your goals are for your new home.
You can split your goals into two sections to help make it easier – negotiable and non-negotiable. For instance, having a backyard may be non-negotiable for you, meaning any property without one just won't work. Creating this list before you begin your search will help narrow down all the properties out there so you don't waste your time viewing homes that aren't right for you.
4. Don't break the bank
By now, you should have a figure in mind which is your absolute ceiling. When searching for properties it can be tempting to stray away from your budget, especially when you find a home that you love. But if the home is not within your budget, then you could end up with complications further down the line. Don't allow your emotions to take over – if you go above your budget, you will end up with higher monthly payments which you will be unable to afford.
5. Making an offer
If you have already been pre-approved for a loan then you will be in a strong position and will be able to put in an offer. Being a first-time buyer, it may be difficult to know how much you should offer for a property, so working with a real estate agent you trust is crucial. An agent can use their expertise to help suggest an amount that would be competitive but also within your budget and the home's value.
The closing process
1. Getting your home inspected
Hire a home inspector to ensure the property you are buying is sound. They will make sure the property doesn't have any hidden faults that could end up costing you money further down the line. Even if the home you are buying appears to be absolutely fine, having a trained professional come in and do an inspection of the property is integral to asses the quality, safety, and overall condition of the build.
In general, if the inspection report highlights some serious problems that the seller did not disclose, you can renegotiate your original offer or even pull out of the purchase altogether.
2. Appraisal
An appraisal is an evaluation of the value of the property. Your mortgage lender will require you to get an appraisal on your property – this is to cover themselves and make sure they are not loaning you more money than the house is worth.
The amount of money you can borrow from a lender, and under what terms, is dependent on the appraised value of your home.
The market value of a property can be different from an appraised value, so there is the possibility that a lender can reject the loan if they think the price you are paying for your home is higher than the value of the property. Alternatively, a home can always sell for above appraised value if there is a bidding war or a change in the market.
3. Insuring your home
This is extremely important as it will cover the cost to repair, rebuild, or replace your home should anything happen to it. Most lenders will require you to take out homeowners insurance. Make sure you find a good insurance agent who can give you the best possible coverage for a competitive rate.
4. Don't forget about closing costs
These are the fees that third parties charge when you finalize the purchase of your home. These typically include the home inspection bill, premium for homeowners insurance, credit report charges, appraisal fee, and attorney expenses.
On average, you can expect to pay anything between 3-4% of the purchase price of your property in closing fees – so be mindful of this when thinking about your budget.
Bottom line
The most important step to buying any home is to get your finances in order. If you spend time assessing your budget then you can give yourself a realistic picture of what home you can afford. Staying within your budget will ensure you can keep up with the monthly payments and you will have a higher success of having a mortgage approved.
Researching and educating yourself about the whole process of home buying will give you the upper hand to ensure you aren't met with any hidden surprises along the way. Make sure you research an array of properties, in different areas, so you can get a clear picture of what you want, and what you don't want. Research your mortgage lender, you real estate agent, and different home insurance options. Remember, knowledge is power!
Alongside doing your research, make sure you have certain things in place to help make the process smoother – such as a pre-qualification or a pre-approval offer.
Buying your first home is an extremely daunting experience, but when the papers are signed and the keys are handed over, you will no doubt realize it was completely worth it!