Pros and Cons of Moving to Greensboro, NC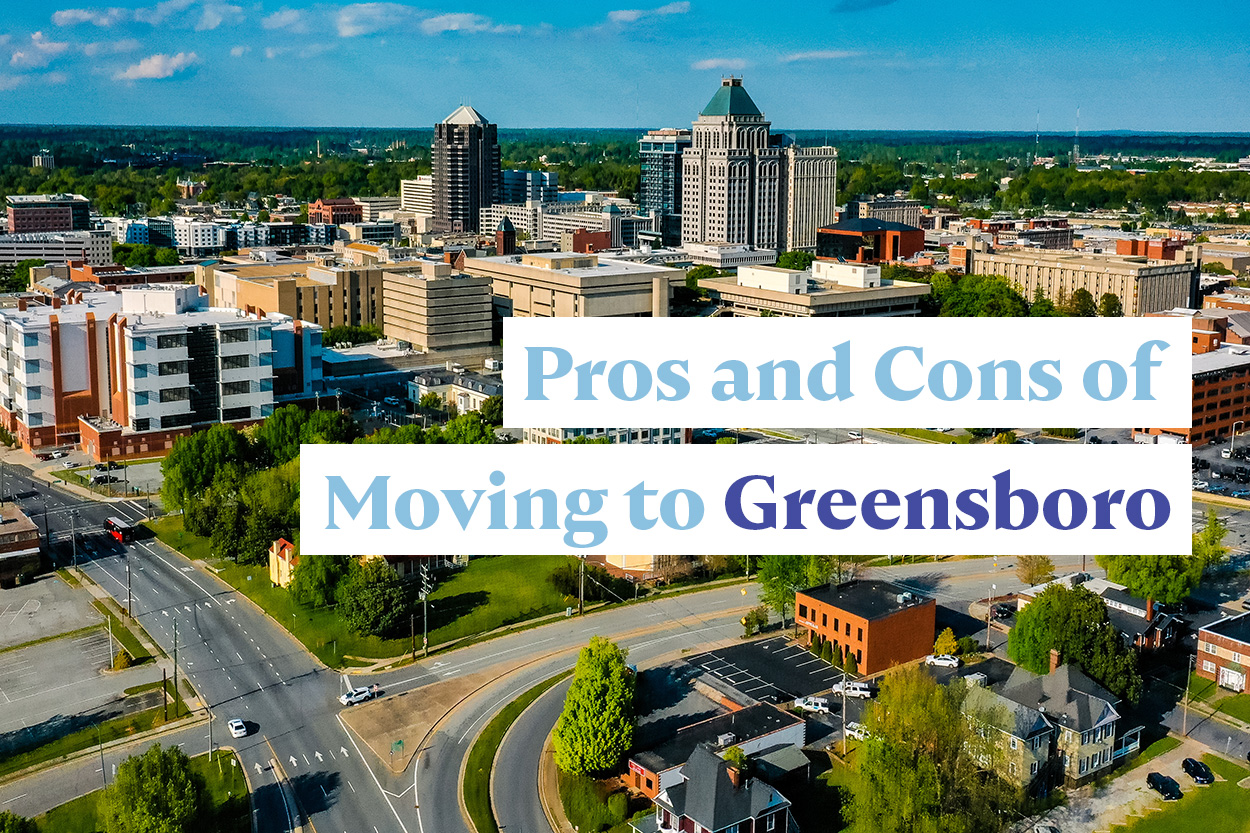 ---
Thinking of moving to Greensboro NC? Well, depending on your temperament (and general stomach for crime…more on that later), it could be either the best or worst decision of your life.
That's why I decided to not hold anything back and tell you the pros and cons of the city so you can decide, once and for all if you should move there.
Con #1, The Job Market is Horrendous
If you're looking for a job that will allow you to tap dance out of bed every morning due to the sheer amount of fulfillment that you experience every day…look elsewhere.
Because Greensboro is not a place known for its booming workforce.
The unemployment rate in this city is actually higher than the national average. This could be good news if you're a panhandler, but for the rest of us, it doesn't bode well.
However, this trend in the city has recently begun to show a bit of promise. But it's up to you to decide if it's worth it to wait around for this problem to be completely solved (it likely won't be).
MAF Widget
Con #2, Outrageous Property Taxes
Even though the homes in this city are affordable, they still will cost you a bit more money than expected when you consider property taxes.
Out of the 5 largest cities in North Carolina, Greensboro has the highest property taxes of all. Yep, even higher than Charlotte, NC–as surprising as that may be.
Just to put some numbers to that statement, for every $100 your house is worth, you'll have to pay $1.3630 in property tax. So if you have a home worth $150,000, you'll have to pay $2,045.
I don't know about you, but I'm starting to understand why Boston had that whole tea party fiasco.
That said, if you don't want Uncle Sam's hand so deep in your pocket, you might want to keep looking for your next dream home. 
Con #3, You'll have to live around literal Batman Villains
This is easily the worst part of living in Greensboro.
The crime can be completely out of control (I recommended that they just hire a vigilante, but my suggestion was met with tons of criticism smh).
If you happen to be a Batman villain listening to this, then Greensboro might be a match made in heaven. But for us, regular rule-following citizens it can be cause for alarm.
Greensboro's crime rate is higher than the national average and residents have a 1 in 27 chance of being a victim of a property crime–yea, a crime involving that thing that they tax you heavily for.
However, if you know what areas to avoid in this city, you can greatly reduce those odds. To quote the late great Mufasa, everywhere the light touches is the pride land. But you must never go to the shadowy spaces.
The shadowy spots in this scenario are the southern and eastern parts of the city.
You've been warned.
Pro #1, You Can Make Money Stretch (before you get robbed)
Even though the property taxes are higher in this area, Greensboro is still a very affordable place.
It ranked the 2nd most affordable city out of the 5 largest cities in North Carolina.
And with inflation steadily on the rise, it may be a wise decision to move to a place like this to offset gas prices being $22 a gallon.
I really should get a scooter.
(btw, if you want to save even more money, check out this exhaustive list of first-time home buyer programs in North Carolina)
Pro #2, Traffic isn't Bad at All
Here's a little-known fact about Greensboro.
The traffic here is non-existent, and that was before the $22 a gallon price hike on gas.
Greensboro is considered a mini-charlotte because you can do a lot of the same things in Greensboro as you can in the bigger city.
But the traffic is nowhere near as aggressive. Greensboro has actually been voted the #1 place for traffic and driver satisfaction by WAZE.
This means you'll easily be able to drive to this next pro I'm about to share.
But before I get to that, there's something you must know.
Here at Home and Money, we make the whole process of getting a home easier (even if you're a first-time home buyer).
We have a whole team that will connect you to the perfect agent so you can finally get that dream home. Plus, we'll equip you with your very own personal concierge if you're a first-time home buyer–Which, if you've ever purchased a home, you know is a HUGE help considering how complicated the process can be.
Best of all, this service is absolutely free!
Just fill out the quick form below to get started.
MAF Widget
Ok, now where were we.
Pro #3, You can Tap into your Inner Artist
Not many people associate Greensboro with the arts. In fact, when doing research on this city, I came across an old disgruntled artist who said to run the other way if you're an artist.
And what this pissed-off Picasso didn't understand is that Greensboro is a great place for artists.
Thespians are able to perform at the Carolina Theater of Greensboro and even attend Broadway and off-broadway performances at The Community theater of Greensboro.
And that's just the beginning.
Greensboro is a city covered in murals and has the Greensboro Mural Project which will allow you to help paint beautiful art projects that shed light on social issues.
And if music is more of your thing, Greensboro will give you access to the symphony, opera, and ballet performances.
Should you move to Greensboro, NC?
Well, that depends.
If you're someone who doesn't work remotely (and depends on being employed in or near the city you reside in), then Greensboro may not be the best option.
However, if you take the time to find the safest residential areas (and have employment opportunities beyond Greensboro), then it might be a good fit.
Greensboro clearly isn't for everyone, but if you're someone who prioritizes low cost of living and hates traffic, you might want to call it home for the next several years.
And if you do plan on making that move, I'd suggest checking out this list of the best real estate agents in Greensboro, NC.
Until next time!