Is Greensboro NC a Good Place to Live? (biggest pros & cons)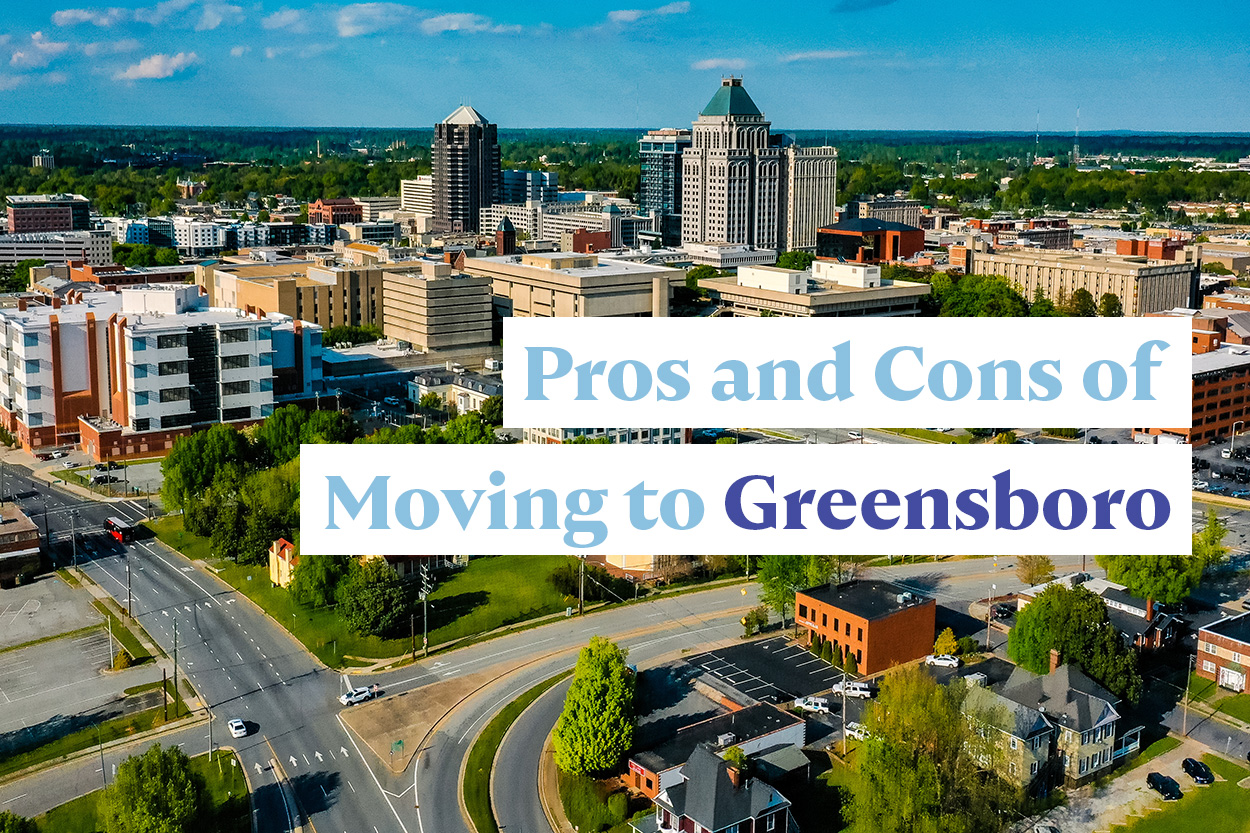 ---
A lot has been said about Greensboro NC over the years.
Some lament that it's a crime ridden city. While others claim it's a relatively safe place where you can enjoy watching intense basketball tournaments.
Which begs the question–-is Greensboro actually a good place to live? To determine that, I've covered some of the main aspects of living in the state in this article.
After you give it a quick read, you should be able to know once and for all if Tournament Town is the right place for you to call "home".
(and if you want to skip ahead, just click on one of the links below):
Pros and Cons of Living in Greensboro
Sometimes you just want some fast facts about a city so you can make a quick decision (however, i wouldn't suggest this approach)
So if you just want a quick birds-eye view of what it's like to live in Greensboro, I've included a quick list of pros and cons below.
(and if you want to watch the humorous video version of this list, I've included it as well).
Let's start with the cons:
The city doesn't have a ton of jobs (and a really high unemployment rate).
Highest property tax in NC.
The crime in the city is out of control.
And here are some pros:
2nd most affordable big city in NC.
Little to no traffic.
Great for art lovers (tons of murals and live performances).
(if you want to take a deeper look at the state of North Carolina, you can check that out here)
Now, for those of you who have a bit of patience, this next section is probably the most alarming part about living in Greensboro
Is Greensboro NC safe? (brace yourself)
This is easily the worst part of living in Greensboro.
The crime can be completely out of control.
Just take a look at this graph showing the crime in Greensboro compared to the national levels:
And if that visual doesn't do it for you, take a look at where Greensboro lies on the spectrum of safe city to very unsafe city:
If you happen to be a Batman villain reading this, then Greensboro might be a match made in heaven. But for us, regular rule-following citizens it can be cause for alarm.
Greensboro's crime rate is higher than the national average and residents have a 1 in 27 chance of being a victim of a property crime–yea, a crime involving that thing that they tax you heavily for.
However, if you know what areas to avoid in this city, you can greatly reduce those odds. To quote the late great Mufasa, everywhere the light touches is the pride land. But you must never go to the shadowy spaces.
The shadowy spots in this scenario are the southern and eastern parts of the city.
Speaking of areas where the light touches, let's take a look at the best neighborhoods in Greensboro. 
Best neighborhoods in Greensboro (where you can escape the Batman villains)
You can avoid a lot of Greensboro's crime rate issues by choosing one of its most in-demand neighborhoods.
Below, you'll find the top 5 neighborhoods in the city along with some quick facts that'll help you make a decision.
#1. Downtown
Very lively and vibrant community.
A lot of fantastic restaurants, parks, and boutique shops.
Not many traditional houses in the area (but a ton of renovated apartments and condos).
#2. Fisher Park
Has a more relaxed vibe in comparison to the downtown area.
Great for if you want to be close to downtown (but not live downtown).
Home to the Deep Roots Market (so you can shop without going downtown).
#3. Westerwood
Perfect for college students.
Close to downtown.
Always something to do (college students stay busy).
#4. Linley Park
Good number of farmers markets
Plenty of parks in the area.
Great for families.
#5. Summerfield
Full of forests and hills.
Not as many restaurants or shops as other neighborhoods.
Plenty of bike trails.
Knowing about the best neighborhoods is a great first step. But before you pack up that Uhaul, you need to know if you can afford to live in Greensboro.
Don't worry. You'll find out in this next section.
Greensboro's cost of living
Even though the property taxes are higher in this area, Greensboro is still a very affordable place.
It ranked the 2nd most affordable city out of the 5 largest cities in North Carolina.
And with inflation steadily on the rise, it may be a wise decision to move to a place like this to offset gas prices being $22 a gallon.
Let's take a look at what it would cost a single person every month to live in Greensboro.
It's safe to say that the cost of living in Greensboro is at a good level considering how expensive other big cities in North Carolina are. But how does it fare with employment?
Let's take a look.
Greensboro's job market
If you're looking for a job that will allow you to tap dance out of bed every morning due to the sheer amount of fulfillment that you experience every day…look elsewhere.
Because Greensboro is not a place known for its booming workforce.
The unemployment rate in this city is actually higher than the national average. This could be good news if you're a panhandler, but for the rest of us, it doesn't bode well.
However, this is a situation that is showing some improvement so don't count this city out just yet.
Because I've included some of the most in-demand jobs in the city below:
Delivery Driver.
General Manager.
Security Guard.
Customer Service Representative.
Physician.
Of course, after you get employed, get paid, and handle your responsibilities, you'll want to have a way to have a bit of fun.
So let's see how Greensboro fairs in that department.
Things to do in Greensboro
One thing you should know about Greensboro is that they are basketball obsessed (they don't call the city "Tournament Town" for no reason).
So when college basketball is in season, this is a great place to check out a mens or womens ACC tournament game.
And if you're not interested in basketball, there's still a good amount of activities in Greensboro to keep you busy.
Many locals prefer to spend time in the city's many parks or one of the various museums in the area.
And one of lesser-known things about Greensboro is that it has a vibrant art scene. That said, you can easily make a day out of checking out one of the many murals scattered around the city.
But don't just take my word for it. Let's see what actual residents have to say about living in Greensboro.
What real residents say about Greensboro
One of the best ways to find out information about a city is to talk to someone who lives there.
That doesn't mean you have to hop in your car and drive to Greensboro to get said intel. An easier way to get this information is to read online forms.
And just to save you from some of the filth that is sometimes found on these forms, I went ahead and did the heavy lifting for you.
So let's take a look at one some real Greensboro residents had to say.
Up first, let's see what a college student has to say about living in Greensboro:
Next up, you'll find a Redditor who boasts how conveniently Greensboro is located:
Listening to local residents is a great way to get an unbiased view of the city. But if you want to get the most accurate understanding possible, it's best to talk to a real estate agent.
They'll be able to answer all of the important questions (including the ones you didn't even think to ask).
So if you want to be connected with top Greensboro agents (for free), just fill out one of the quick forms that are embedded in this article.