The Pros and Cons of Moving to Philadelphia (alcoholics beware)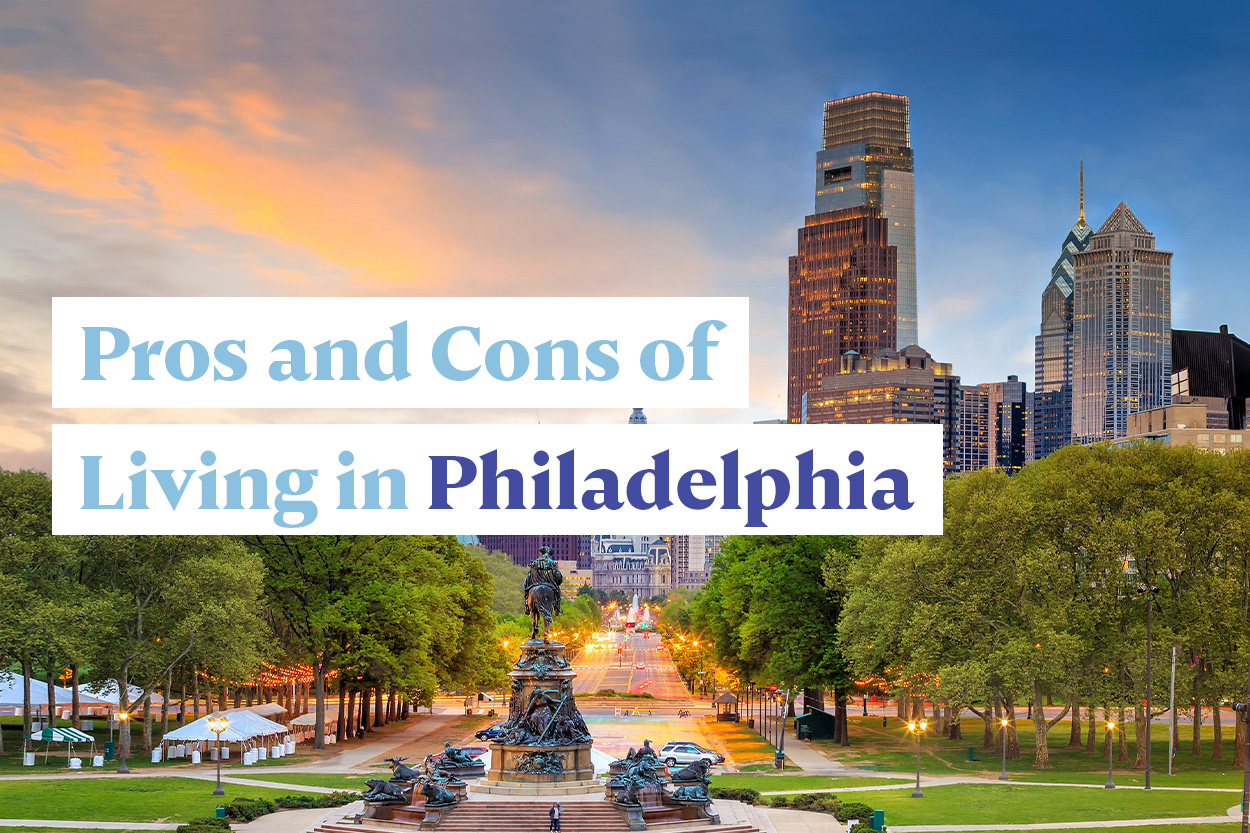 ---
Whether you're a fan of the show "It's Always Sunny in Philadelphia" or simply just want to embrace the city's history, many would agree that the city of brotherly love is a great place to live.
Or is it???
I plan on stress testing that label and seeing just how loving this city is. So if you're ready to learn about all the major pros and cons of living in Philly, go ahead and grab a seat and let's get started.
(btw, if when you're ready to move we have some of the best real estate agents in Philadelphia)
Con #5, You Will Accidentally Give Strangers Mouth to Mouth
Ok, maybe that was just my experience.
But the reason for this is that Philadelphia is extremely overcrowded. And this is a bigger problem than people realize.
The overcrowding in this city causes a major problem with traffic and air pollution. And before you scoff at that pollution claim, consider this.
The pollution in the city has actually made it hotter. Meaning the city of Philadelphia is warmer than neighboring cities because of the concentrated air pollution.
So even if you have doubts about global warming, city warming is absolutely a real thing.
(btw if you want to watch the video version of this article, I have that below)
Con #4, You'll Become an Expert on Bumpers
Because you'll spend so much time in bumper-to-bumper traffic, that you'll have no choice but to.
Philly has been voted the 9th most congested city in the US. If you want to know just how bad of a problem traffic is, consider this. Residents have been known to spend an average of 112 hours per year in their vehicles.
Listen, I don't care how fancy cars are these days. There isn't a vehicle on earth that I'd want to spend that much time in.
Worst of all, most of that commute time is due to people trying to get to work. And when you hear this next con, it'll make the idea of traffic even more infuriating.
Con #3, You'll Want to Re-ennact the Boston Tea Party
No one is a fan of taxes.
But want to know what's worst than taxes? High taxes.
And that's exactly what you'll experience if you choose to work in Philadelphia. A 4% wage tax is levied against the citizens who work in the city.
When you combine that with the state and federal taxes that they also have to pay, it's enough to make you stay away from Philly for good.
I mean, situations like this make you want to have a stiff drink after work. Yea, about that.
Con #2, Prohibittion-Like Restrictions
If you think you'll be able to grab a quick drink while out to eat, think again.
Because Philly has pretty intense liquor license laws. And they're so bad that many restaurants have a bring your own bottle policy.
Which might make it the perfect city for alcoholics trying to get clean. But if you're looking to have some libations with your steak, you might want to look into moving elsewhere.
Con #1, Struggling Job Market
And now for the biggest con of all.
The job market in this city isn't the best compared to other east coast cities. And that's not because there's a small number of jobs, but rather, a third of the city's jobs are focused on healthcare and education.
To be honest, I would only move to this city if you already have a job lined up.
Ok, that's enough of being negative nancies. Let's take a look at some of the good things about Philadelphia.
However, if you're looking for help buying a home, I know just the right people to get the job done!
Here at Home and Money, we make the whole process of getting a house easier (even if you're a first-time home buyer).
We have a whole team that will connect you to the perfect agent so you can finally get that dream home. Plus, we'll equip you with your very own personal concierge if you're a first time home buyer–Which, if you've ever purchased a home, you know is a HUGE help considering how complicated the process can be
Best of all, this service is absolutely free!
Just click the link below to fill out a quick 2-minute form.
MAF Widget
Ok, now let's take a look at some pros of moving to Philly.
Pro #5, A Great Place to Get your Steps in
If you're not a fan of being in your car for 112 hours per year then you'll appreciate the fact that you don't need one in Philly.
That's in part due to the cities walkability. You'll find tons of walkable neighborhoods and sidewalks when exploring the city.
But that's not all, because Philly is also very bike-friendly. In fact, it's been voted the 6th best city in the nation for bikers.
So whether you want to walk, bike, or use the endless public transportation in the city, you won't need to have a car to get around.
Pro #4, You Can Declare your Independence
Philadelphia is one of those cities that has a lot of history.
You'll be able to check out Independence Hall, which is where the declaration of independence was signed and even visit the cracked liberty bell.
This makes it the perfect place for history buffs who really appreciate that sort of thing.
Just try not to touch anything. I had to learn the hard way that the liberty bell is easy to crack.
Pro #3, It's Easy to Impress your Date
Philadelphia has plenty of museums that you can visit (so you can seem cultured on first dates).
The city is home to the Museum of Consitution, the Franklin Library, The National Museum of Jewish-American history, and plenty of art galleries.
And if you don't like museums, what else are you gonna do? Grab a drink at a restaurant? Haha because we both know that's impossible.
Pro #2, Location, Location, Location
Philly definitely has plenty of things to do, like most metropolitan areas.
But what makes this city really special is it's location.
You see, Philly is close to bigger cities such as New York and Washington DC. Making it the perfect spot for frequent weekend getaways.
And when you consider the last pro I'm about to share, it kind of makes this city a no-brainer.
MAF Widget
Pro #1, Cost of living
Even though you'll be close to cities like New York and Washington D.C. when living in Philly, the cost of living is nowhere near as expensive as those cities.
This means you'll get the benefits of living that metropolitan lifestyle without the price tag. Listen, more money in your pocket is always a good thing. Especially if you get the convenience of living in a major city.
And as long as you make sure to secure a job before making the move, there really is no reason to not move to Philly.
Sure there are some cons that go with it, but in my opinion, the pros greatly outweigh them.
(and if you want to save even more money when you move, check out these first-time homebuyer programs).