Pros and Cons of Moving to Tuscon AZ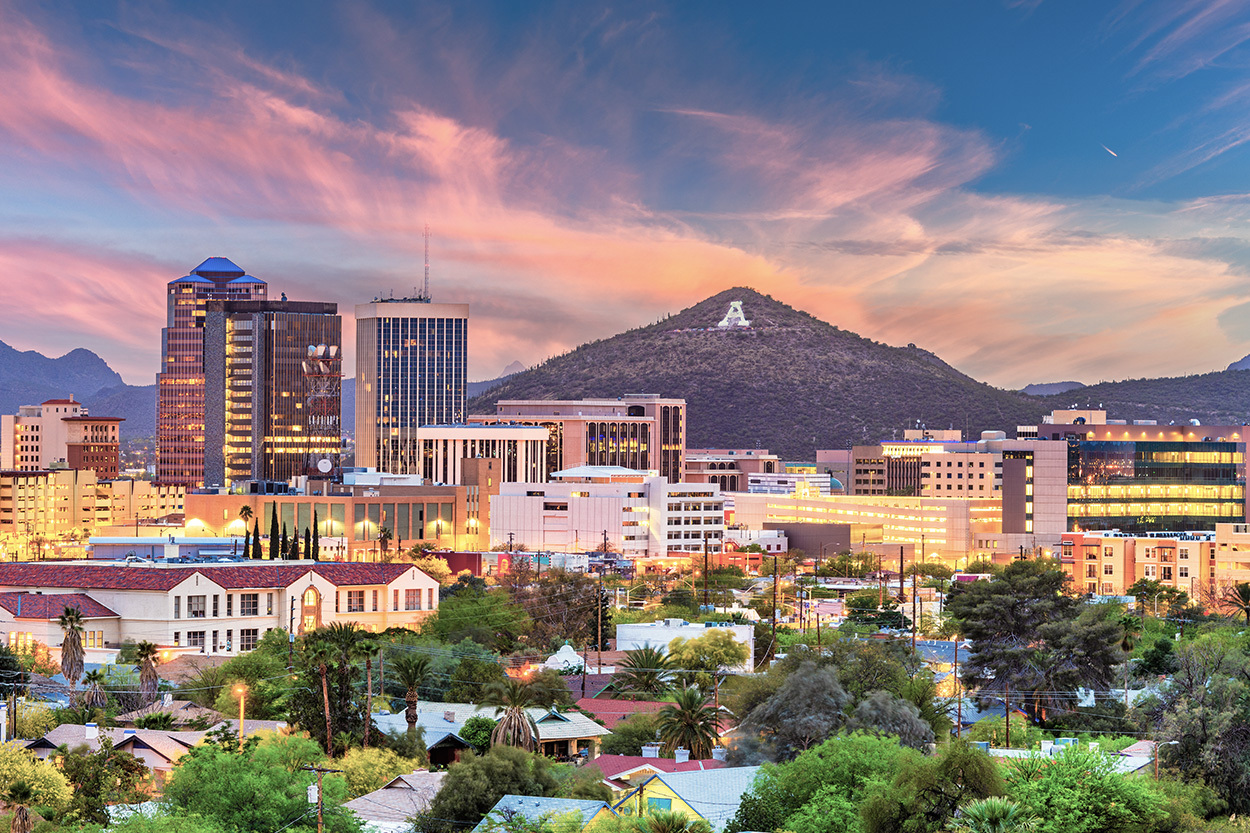 ---
Make sure to read this one closely because this article is FIRE!
I mean that figuratively and literally, considering how hot Tucson Arizona is. But I'm getting ahead of myself.
You may not know this, but Arizona has more cities than just Phoenix–which is the most amazing name for a city if you ask me.
But located roughly 3 hours away from that awesomely named city is the city of Tucson. Tucson is a special place that I feel appeals to a very particular person.
And if you think it might be the place for you, stick around while I go over the pros and cons of Tucson Arizona.
Con #3, Commuting
This isn't really that huge of a con. It's really just an annoying inconvenience if you ask me.
But commuting in Tucson is extremely inefficient. Let's just start with the fact that the city only has 1 and a half highways. Don't ask me how on earth a city can obtain half of a highway because I'm still trying to wrap my head around it.
But because of this, you essentially have to take the scenic route whenever you have to use the said highway.
However, this isn't a problem for all residents. You're covered if you're lucky enough to live downtown or close to the university.
And if not, this at least gives you a group of people to hate.
(btw if you want to see the video version of this article, I've included it below).
Con #2, Job market
I hate to hit you with a bad pun, but let's just say that the job market in this desert is all dried up.
Ok, I know that was rotten tomato-worthy. I accept my fate.
Although the job market here isn't as bad as many people claim, there really aren't a lot of options. That is unless you're looking for something in the healthcare and aerospace industries.
These two industries employ thousands of people in the area, so this is only really a con if you're someone looking for something different.
But while the job market isn't really heating up, I can tell you something that is.
Con #1, Heat
It should be no surprise that heat would be one of the cons of living in an actual desert.
But to describe the weather in Tucson as "hot" would be the understatement of the century. When temperatures regularly hit 3 digits, you need a different way to describe the experience.
I think the phrase "hell-like" is more fitting.
Listen, in the summertime, it can even be dangerous to step foot outside of your home in this city. Because the heat here can make it feel like the sun is trying to get revenge for something.
So if that sounds like a nightmare scenario for you, it's best to cross Tucson off the list.
However, if you can easily shake off these cons and still think that Tucson may be the city for you, allow me to make this suggestion.
There's no better way to purchase a new home than to use Home and Money's fantastic service.
We all know that buying a house can be a hassle. Especially if you're a clueless first-time homebuyer.
And that's why Homeandmoney.com is here to help. We'll connect you with your very own personal assistant who will help you find an agent, get funding, and basically do all the heavy lifting for you.
Best of all, the service is absolutely free!
Just fill out the form below to get started.
MAF Widget
Ok, now let's check out some pros of moving to Tucson.
Pro #3, Cost of living
Tucson makes up for the heat by being a wildly affordable place to live.
And this is a benefit that doesn't extend to the rest of the state of Arizona. In fact, over 20% of the state's home prices are more expensive than the national average.
However, a moderate home in this city will cost you just $216,000.
But if you want to know how cheap the cost of living really is in this city, consider this. A family of four can live a pretty comfortable lifestyle with just $3,000 per month.
I'm sure viewers from New York have fainted after hearing that figure. Just a quick disclaimer, we're not responsible for any medical bills you may incur from watching this video.
Anyway.
Tucson is definitely a city that'll make your money stretch. Which could do wonders for managing stress. But if you want to know the true stress reliever in this city, check out this next pro.
Pro #2, Weather
I know, I know. I just took a huge stinking dump on this point in the cons list.
However, there's a good reason why the weather is both a good and bad thing in this city.
In Tucson, you'll be able to enjoy over 286 days of sunshine per year. Best of all, not all of those days will make you choreograph a new rain dance.
Because even though summers are hot here, the weather doesn't always offer hell-like conditions. Plus, heat isn't always a bad thing.
Consider those poor devils up north who are constantly disrespected by Jack Frost every winter. When living in Tucson, this is a problem you'll easily avoid.
Even if you do like cold weather Tucson is still an ideal place to be. Sure, the winter in this city isn't cold, but you'll be roughly 1 and a half hours away from Mt. Lemmon where you can go skiing and enjoy other winter activities.
But the real reason why the weather is on the pros list is that it will allow you to enjoy this next pro. 
Pro #1, The amazing outdoors
If you're someone who enjoys nature aka the complete opposite of yours truly, then you'll get a lot of enjoyment out of Tucson.
Not only will you be able to enjoy a ton of outdoor activities, such as enjoying its 128 parks and 22 recreational centers. But you'll also be subjected to mountainous views that will simply take your breath away.
I would argue that the views are the best part of living in Tucson. But it's not the views during that day that will leave you in awe, but rather, the ones at night.
You see, Tucson is a city that has very low light pollution. And when you're in an area with low light pollution at night, seeing the night sky becomes a totally different experience.
I promise you'll never feel closer to the celestial bodies than you will when living in Tucson.
Seriously. Looking up at the night sky in Tucson can make even the most devout flat earther feel like Buzz Aldrin.
No wonder why Tucson is home to not one but two observatories.
All in all, this pro alone eliminates almost every con on this list.