Is Salt Lake City UT a Good Place to Live? (biggest pros and cons)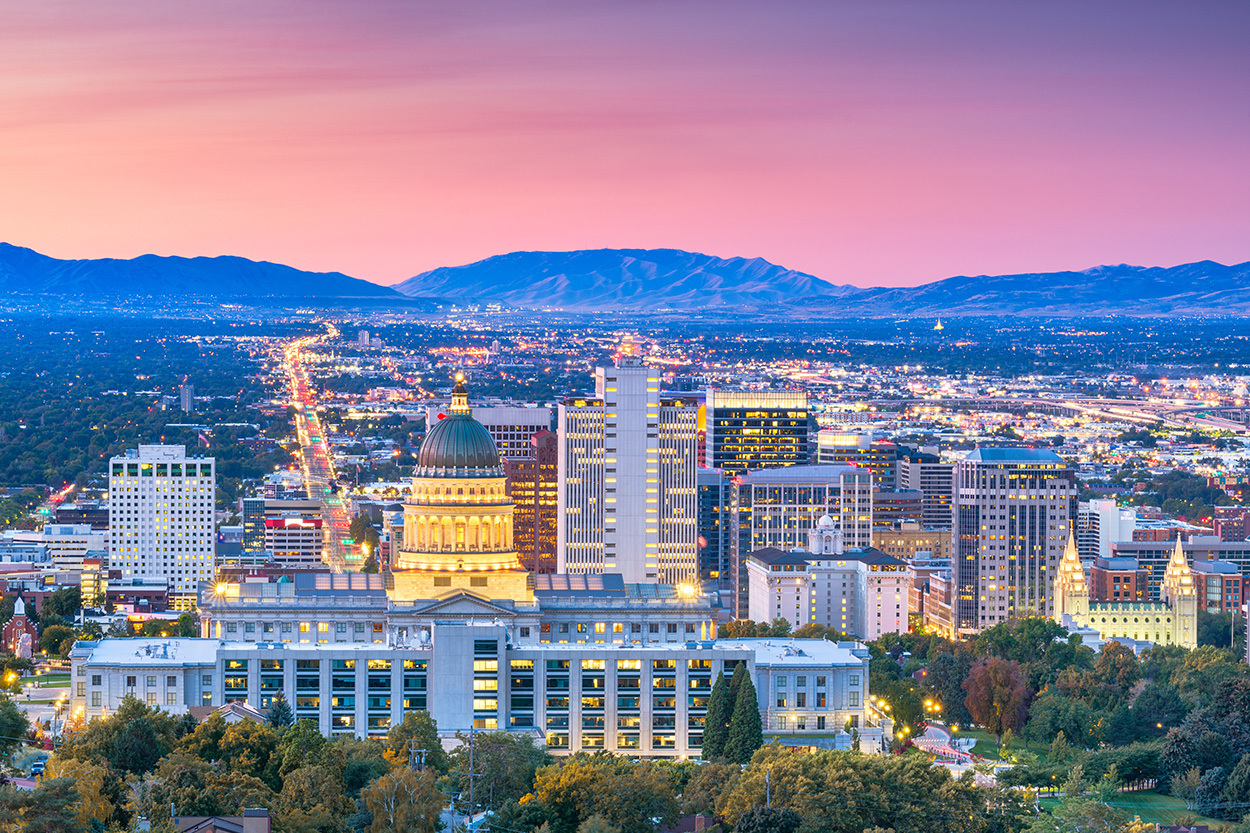 ---
Salt Lake City is one of the more popular cities in Utah and one that many people have considered moving to as of late.
And when you consider that the city has beautiful mountains, a growing economy and a fair amount of activities, it's clear to see why.
Which begs the question–-is Salt Lake City actually a good place to live? To determine that, I've covered some of the main aspects of living in the state in this article.
After you give it a quick read, you should be able to know once and for all if The Crossroads of the West is the right place for you to call "home".
(and if you want to skip ahead, just click on one of the links below):
MAF Widget
Pros and Cons of Living in Salt Lake City
Sometimes you just want some fast facts about a city so you can make a quick decision (however, i wouldn't suggest this approach)
So if you just want a quick birds-eye view of what it's like to live in Greensboro, I've included a quick list of pros and cons below.
(and if you want to watch the humorous video version of this list, I've included it as well).
Let's start with the cons:
Expensive homes (around $400,000 on average).
Very poor air quality (partially caused by California wildfires).
Pretty bad traffic.
Extremely cold winters (along with plenty of annoying snow).
And here are some pros:
Booming economy.
Eco-friendly public transportation.
222 days of sunshine per year.
A ton of natural beauty.
(if you want to take a deeper look at the state of Utah, you can check that out here)
Now, for those of you who have a bit of patience, this next section is probably the most alarming part about living in Salt Lake City
Is Salt Lake City, UT safe? (the unfortunate truth)
Salt Lake City is certainly not the safest city out there.
In fact, it's hopped on and off the "top 100 most dangerous cities in the US" list pretty frequently.
But there is a silver lining. Unlike other cities known for high crime, Salt Lake City doesn't have a ton of violent crime.
Meaning chances are you and your loved ones will be safe in the city (although, the same can't be said for your belongings).
And if you want to decrease the odds that you'll ever be subjected to any type of crime, you can just take a look at this crime map:
And if that visual doesn't do it for you, take a look at the most dangerous neighborhoods in Salt Lake City:
Downtown.
Glendale.
Poplar Grove.
Westpointe.
People's Freeway.
Obviously, my intention here is not to scare you off. All bigger cities have a fair amount of crime. And as long as you're a smart citizen, you should be able to stay out of harm's way.
The best way to stay away from the riff raff is to move to a nicer part of the city where crime is less present.
Speaking of which, let's take a look at the best neighborhoods in Salt Lake City.
Best neighborhoods in Salt Lake City
You can avoid a lot of Salt Lake City crime rate issues by choosing one of its most in-demand neighborhoods.
Below, you'll find the top 5 neighborhoods in the city along with some quick facts that'll help you make a decision.
#1. East Bench
Great for outdoor lovers.
Many activities for families (hiking, zoos, parks, etc).
Near top-rated schools.
#2. Greater Avenues
One of the safest neighborhoods in Salt Lake City.
Incredible views.
Home to the best elementary schools in the city.
#3. Liberty Wells
Perfect for college students.
Close to downtown.
Always something to do (college students stay busy).
#4. Sugar House
Great area for single people and young professionals.
Tons of large green spaces (great for recreational activities).
Top-rated schools in the area.
#5. Yalecrest
Variety of home types (ranging from cottages to colonial type homes).
10 minutes away from downtown.
More peaceful than other neighborhoods.
Knowing about the best neighborhoods is a great first step. But before you pack up that Uhaul, you need to know if you can afford to live in Salt Lake City.
Don't worry. You'll find out in this next section. 
MAF Widget
Salt Lake City's cost of living
Historically, Utah has been known as a more affordable place to live. But things have been changing over the last few years.
Prices have been rising in the state, and that is especially true for cities like Salt Lake City. At the time of the writing, the cost of living here is 5% higher than the national average.
And the biggest culprit causing this higher cost of living are the home prices.
The average home price in Salt Lake City is around $400,000. And even at that high price point, you can expect a modest home at best.
But that's not the only category where you'll spend more money. Take a look at what it would cost a single person every month to live in Salt Lake City:
That said, it can be rather expensive to live in Salt Lake City. But how does it fare with employment?
Let's take a look.
Salt Lake City's job market
Chances are you won't have a hard time finding a job in Salt Lake City.
For starters, the city has an unemployment rate of just 4.7% (which is lower than the national average).
And job growth is expected to grow by 39% over the next decade. So moving to this area now could be a wonderful decision for your career.
The most in-demand industries for employment are:
Transportation.
Technology.
Utilities.
Healthcare.
Finance.
Of course, after you get employed, get paid, and handle your responsibilities, you'll want to have a way to have a bit of fun.
So let's see how Salt Lake City fairs in that department.
Things to do in Salt Lake City
The best thing to do in Salt Lake City is to simply go outside. Because the natural beauty of this place is legendary.
One of the first things you'll notice is are the popular Wasatch mountains. Which serves as the backdrop of the city and is a popular hiking spot.
So if you like hiking, mountain biking, or winter activities like skiing and snowboarding, then you'll absolutely love living in Salt Lake City.
Other than outdoor activities, the city also has a fair amount of museums, gardens, and shopping centers that will be sure to keep you entertained.
What real residents say about Salt Lake City
One of the best ways to find out information about a city is to talk to someone who lives there.
That doesn't mean you have to hop in your car and drive to Salt Lake City to get said intel. An easier way to get this information is to read online forms.
And just to save you from some of the filth that is sometimes found on these forms, I went ahead and did the heavy lifting for you.
So let's take a look at one some real Salt Lake City residents had to say.
Up first, let's see what this person has to say about the charm of the city:
Next up, you'll find this Redditor giving advice to non-mormons moving to the city:
Listening to local residents is a great way to get an unbiased view of the city. But if you want to get the most accurate understanding possible, it's best to talk to a real estate agent.
They'll be able to answer all of the important questions (including the ones you didn't even think to ask).
So if you want to be connected with top Salt Lake City agents (for free), just fill out one of the quick forms that are embedded in this article.