Top 10 Reasons to Move to Charlotte, NC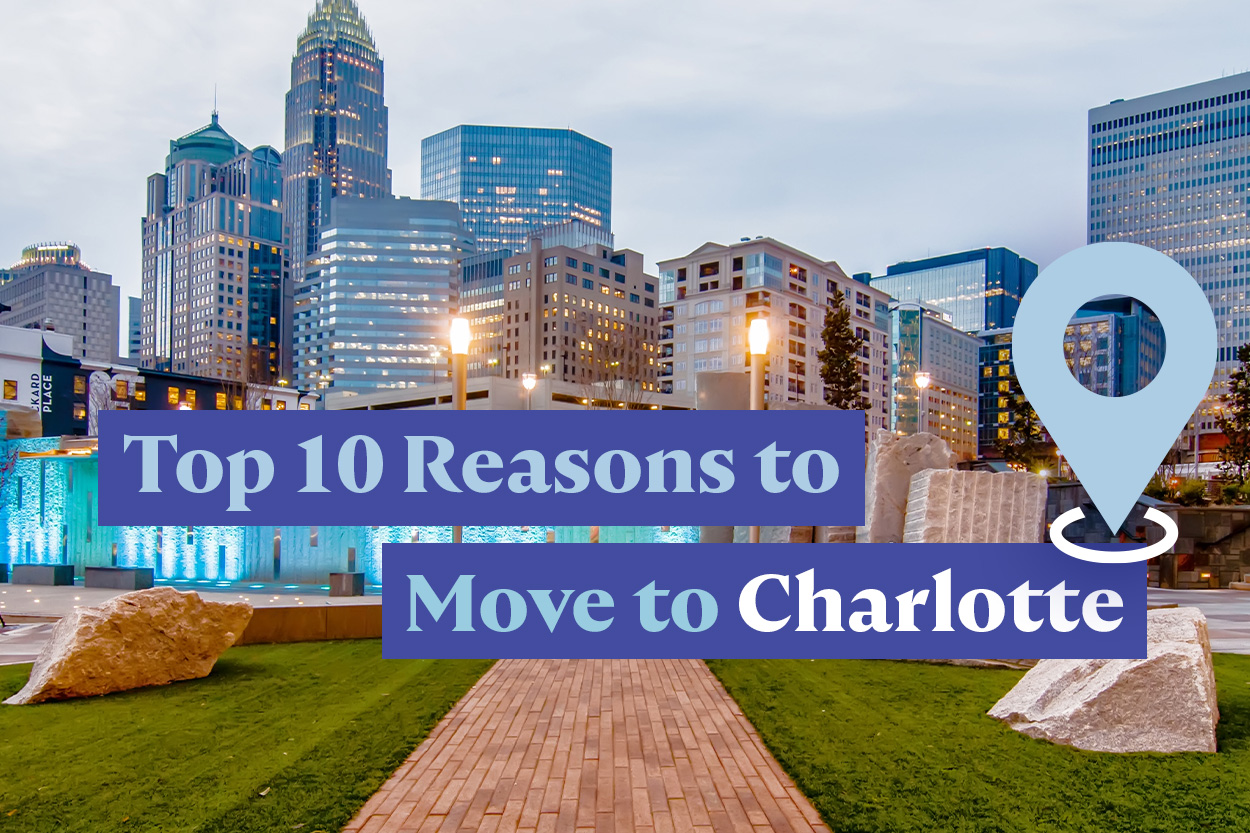 ---
Ah, Charlotte, North Carolina.
A city known for its liveliness, southern hospitality, and believe it or not pimento cheese sandwiches…trust me, even if you're lactose intolerant, these things are worth the gassiness.
The city of Charlotte North Carolina is a beautiful place that quite frankly is great for those looking for a fresh start.
So if you're considering the move, and want to know what makes the queen city such a royal experience, stick around and learn the top 10 reasons why you should move to Charlotte, North Carolina.
MAF Widget
#10 Affordability
If you're looking for a city that'll be kind to your bank account, Charlotte is the one.
Considering that the median home value is less than the national average, you'll be able to get more house for your money than you would in other cities.
The reason for this is simple.
Charlotte has a ton of land available. Cheap land at that. There's just so much space to build homes that you'll be able to secure a high quality house for a cheaper price.
This makes the city perfect for those wanting to live like a king on a pauper's budget.
#9 A Great Place for Kids
I'm sure every parent would agree that having kids is a wonderful part of life.
And having kids that actually have things to do other than worrying you every second of the day is even better.
That my friends are a major benefit that Charlotte offers–there's plenty of things to keep your kids busy so you can do more grown-up things…like take a nap.
You'll be able to fill up your kids' after-school schedule with things like coding camps, endless recreational sports, or even visit the top-ranked children's museum in America–Imaginon.
Whatever your kids are into, they're almost guaranteed to love this city.
Oh, and did I mention taking these activities away makes for an awesome form of punishment.
Just keep that in your back pocket.
#8 Job Opportunities
If you like money, listen up.
Because Charlotte is the place to be if you're looking to increase your salary.
The economy in Charlotte is booming and with that comes plenty of work opportunities.
Unemployment in this city is around 4.9% and the median salary is higher than the national average.
And you know what that means? If you move to Charlotte, chances are you could be living that Scrooge McDuck lifestyle.
Just make sure not to be stingy with your money. Wouldn't want ghosts visiting you this Christmas.
#7 Friendship
Making friends is hard as an adult.
It's not as easy as it was on the playground where just having the same favorite color of someone meant that they'd be the best man in your wedding.
No, once you hit 25, making friends becomes an Olympic sport.
That is unless you live in Charlotte.
You see, many of the people in Charlotte are transplanted residents, so you'll find people from all over who now call the city home.
And with these newcomers come many new ways of making connections. Such as the outlandish number of meetup groups that you'll find in the area where you can align your interests with others.
Combine that with the southern hospitality that you'll find in this city, and you'll have the perfect recipe for a growing network.
#6 Outside Activities
Sure, Netflix is cool, but have you ever tried whitewater rafting?
If not, you're in for a treat. Because in Charlotte, you'll never run out of things to do outdoors.
Charlotte is home to the National Whitewater Center. And don't let the name fool you, there's plenty more to do here than just whitewater rafting.
You can also go kayaking, zip-lining, biking, rock climbing, and the list goes on and on.
It's truly the adrenaline junkies paradise.
But what if you're more into spectating? Don't worry, because Charlotte has you covered there as well.
You'll have a blast checking out the Carolina Panthers play, or attending a popular Charlotte pastime, Nascar racing at the Charlotte motor speedway.
This just goes to show that no matter what you're into, Charlotte has the goods.
#5 Canine Companionship
If you consider yourself a dog person, then you'll love this.
Because Charlotte is so dog-friendly that visitors might think residents are doing Scooby-Doo cosplay.
Listen, people take their dogs everywhere here. And it's something that is encouraged by many businesses in the area.
There are about 150 restaurants that allow your lovable fur baby on their patio and many of the breweries do as well.
So feel free to bring sparky with you while you go out and explore the city.
Oh, and sorry cat lovers, no accommodations have been made for your pet. But I'm sure it's coming soon… ahem *whispers* It's not coming.
#4 Food, Food, and More Food
If you're on a diet, I need you to go ahead and cover your ears. Because I would hate for you to relapse.
But Charlotte is the place for you if you love to have plenty of food options.
And since more and more people are making the move to this area, new restaurants are added almost daily.
Putting you in a great position to gain a little happy weight. And who doesn't love that?
#3 Unique Neighborhoods
If you're like me, you don't want anyone to put you in a box.
You want to spread your wings and fly like the beautiful butterfly you are.
And if you're ready to let your freak flag fly, there's no better place than Charlotte.
Because in this city, you'll find the perfect living arrangement to match your particular style.
It doesn't matter if you're looking to settle down in high-rise apartments or have your own lot of land where you can more easily socially distance.
Charlotte has a place for you and you definitely won't regret the move.
#2 The Music Scene
If you're a lover of music and don't care about losing your hearing when you turn 60, then listen up.
Because Charlotte has an awesome music scene that caters to just about every genre.
You'll find all types of performances at Charlotte's multiple venues including the PNC Music Pavilion, The Filmoore, The Underground, and more.
The area has attracted all types of music artists over the years and some of the most recent performers have been Jason Aldean, Cage the Elephant, and Lizzo.
So if you consider yourself a music junkie, you'll probably never want to leave this place.
MAF Widget
Ok, we're almost done, people. Can you feel that tension?
The number 1 reason why you should move to Charlotte North Carolina is just seconds away.
If you happen to be in the market for a house, you'll definitely want to pay attention to this.
Because here at Home and Money, we make the whole process of getting a home easier (even if you're a first-time home buyer).
We have a whole team that will connect you to the perfect agent so you can finally get that dream home. Plus, we'll equip you with your very own personal concierge if you're a first time home buyer–Which, if you've ever purchased a home, you know is a HUGE help considering how complicated the process can be
Best of all, this service is absolutely free!
Ok, now for the moment you've been waiting for.
#1 Location, Location, Location
Listen, we've already discussed how there are a ton of things to do in Charlotte. It's one of those places where you can never get bored.
But when you consider just how close it is for just about any type of experience you can think of, it really makes no sense to leave the city.
Looking to have some warm sand between your toes? Charlotte is only 3 hours away from the beach. Myrtle Beach to be exact.
Or maybe you're looking for more scenic views. Well, Charlotte is only 2 hours away from the mountains.
To be honest, this city is as close to perfect that you'll probably find.
And there you have it. The top 10 reasons to move to Charlotte, North Carolina.
Seriously. I have children to feed. Anyone who doesn't comply will effectively take food out of my kid's mouths.
Until next time!