Is Pittsburgh a Good Place to Live? (biggest pros and cons)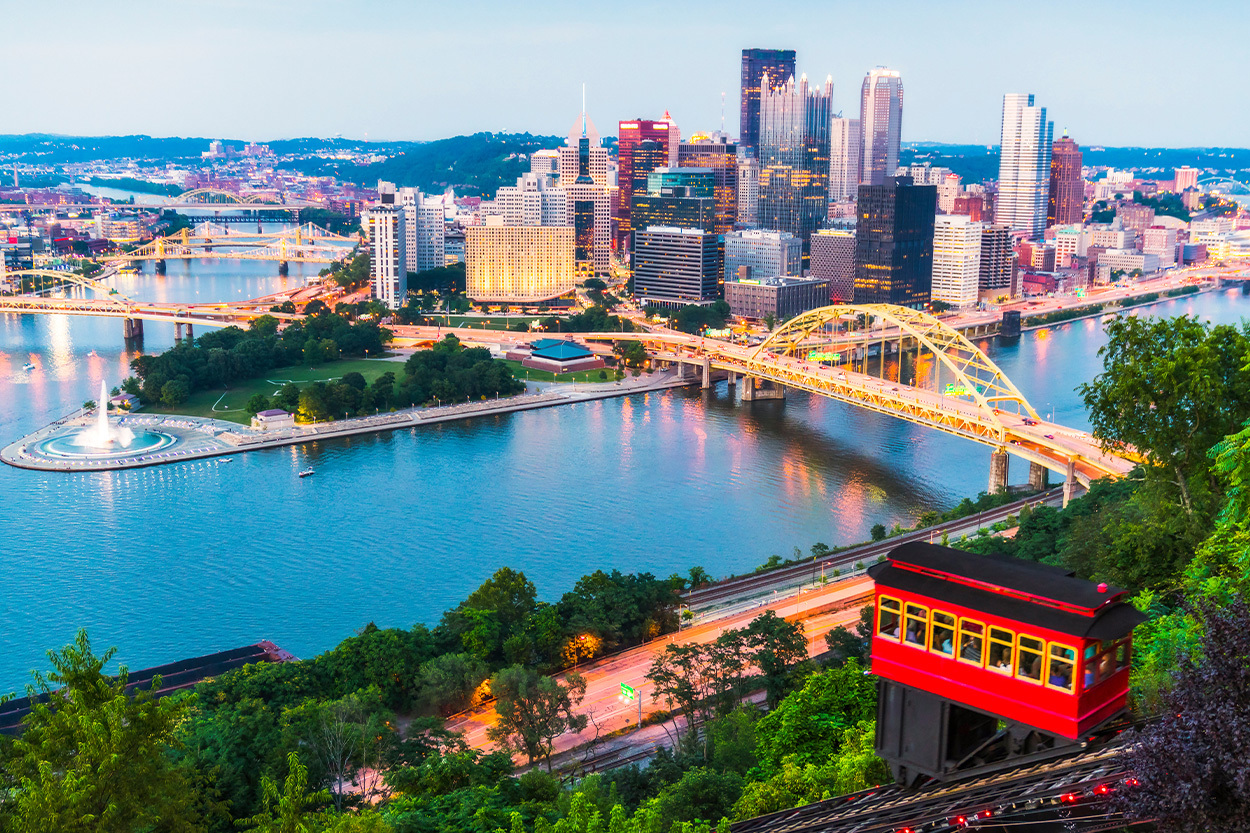 ---
Pittsburgh can be a pretty cool place to call home.
For starters, many residents find it hard to shut up about how affordable the city is. Especially when you pair that with the cool amenities you'll have access to when moving to "the city of bridges" (this name comes from Pittsburgh going a bit overboard with the number of bridges it has).
However, the city still has a couple of not-so-nice qualities. And if you're someone thinking about making the move, it's extremely important that you get an unbiased review. A review that not only contains need-to-know pros and cons. But also very important info about the crime rate, job opportunities, weather, etc.
So, if you want to learn all the important info about what it's like living in Pittsburgh PA, then keep reading.
(and if you want to jump ahead to a section that interests you, just click one of the links below).
Pros and Cons of Living in Pittsburgh
If you don't have time to read the whole article, I will never forgive you understand.
This pros and cons section will give you a quick overview of what you can expect while living in Pittsburgh.
(and if you want to watch the humorous version of this section, I've included the video below).
That said, let's start with a few cons:
High income tax.
God-awful traffic.
Barely any sunshine.
High unemployment rate (7.1%).
Ok, before I scare you away, let's check out some pros of living in Pittsburgh:
Pittsburgh has a rich culture (museums, performing arts, etc.)
Good schools (most have a B rating).
A good number of professional sports teams.
Great cost of living (we'll get to this one later).
Great. Now that all of the lazy people are gone. Let's take a deeper look at what it's like living in Pittsburgh. Starting with its most alarming aspect…
The crime rate.
Is Pittsburgh Safe?
Here's a surprising fact about Pittsburgh. It has one of the highest crime rates in the country–even when compared to the biggest cities.
Pittsburgh's crime rate is 53% higher than the national average. And its rate of violent crime is 49% higher than the national average.
If you're looking for a silver lining…there isn't one.
Just take a look at these numbers.
This is a dangerous city and your chances of being involved in a crime are 1 in 28. Worst of all, this trend doesn't look like it's going to improve any time soon.
If you're still dead set on moving to Pittsburgh, I have two suggestions:
Try to get bit by a radioactive spider so you can defend yourself.
Do whatever you can to move into one of the better (safe) neighborhoods.
And speaking of safe neighborhoods…
The Best Neighborhoods in Pittsburgh
While it's true the crime in Pittsburgh is out of control. You can still find pockets in the city where you can remain in your peaceful bubble.
I've included some of the best neighborhoods in Pittsburgh below. And I've included some quick facts about each to help you make a decision.
#1. The Northside
Great for families.
Technically it's 18 neighborhoods in total (which means you'll have a lot to do).
Tons of museums and parks.
#2. The Strip District
A food lover's paradise (tons of specialty food).
Overwhelming amounts of city pride.
In walking distance from downtown.
#3. Mount Washington
Amazing views of the city.
Not many things to do.
You can ride on one of the inclines (and enjoy even more views).
#4. Lawrenceville
Great for romantic strolls.
Very trendy area.
Tons of high-end restaurants and bars.
#5. Oakland
Large number of museums in the area.
Located in the University and Hospital district.
A good amount of students and medical professionals in the area.
Even if you pick one of the neighborhoods at random, there's a good chance you'll be happy with your choice.
But before you start furniture shopping, let's pause for a second to see if you can even afford the cost of living in this city.
Cost of Living in Pittsburgh
Considering that Pittsburgh is a larger city, the cost of living is pretty surprising.
The cost of living here is only 4% higher than the national average. Now, you may prefer living in a big city that has a cost of living lower than the national average.
And if you find the mystical land where that exists, be sure to let me know.
The truth is, bigger cities are more expensive. And Pittsburgh is one of the cheapest in the bunch.
Just take a look at this handy graphic that illustrates what it will cost of a single person to live in the city every month:
The image above assumes you're renting a home in Pittsburgh. However, if you're looking to buy a house instead, the average price of a home in Pittsburgh is $397,596.
Knowing the cost of living in Pittsburgh is great. But this information means nothing if you don't have employment. So, let's take a look at that next. 
How's the job market in Pittsburgh?
Before we get into the job market, I have a bit of bad news to share.
If you're looking to make the big bucks in this city, the odds are against you. That's because the average salary in Pittsburgh is only $54,300 (which is lower than the national average).
That's not to say you can't find a well-paying job here. But the city isn't known for high wages.
However, it should be relatively easy to find employment in Pittsburgh. In 2020, Wallethub ranked the city 13th in the country for employment.
And if you want to know what type of jobs are in big demand, I've included them below:
Administrative assistant.
Food service worker.
Customer service representative.
Registered nurse.
Software developer.
Truck driver.
That should give you a jump-start with your search. Now, let's take a look at what you can spend some of that extra cheddar on.
Things to do in Pittsburgh
Pittsburgh is certainly not a boring city.
You'll find a number of things to keep you entertained on a daily basis. And one of the best experiences you can have here is to attend a professional sports game.
They don't call Pittsburgh the "City of Champions" for nothing. The city has three professional sports teams–the Steelers, Penguins, and Pirates.
But let's say you're not too big of a sports fan. That's ok, because the city has a ton of activities for nerds as well.
You'll be happy to explore one of the many other activities which include:
Exploring one of the many museums.
Catching views on the Duquesne inclines.
Relaxing in the Phipps Conservatory.
Soaking up history in Point State Park.
Shopping until you drop at the Strip District.
All of these activities are truly just the tip of the iceberg.
But if you really want to know whether or not Pittsburgh is a good place to live, it's best to hear from actual residents.
Speaking of which…
What real people are saying about Pittsburgh
Online forms can be a blessing or a curse.
That's why I dived into the pit of despair myself to find some pretty accurate reviews of what it's like to live in Pittsburgh.
Let's take a look at what one young resident has to say about how Pittsburgh is for young people:
Want a more general review of the city? Take a look at this one:
I actually tried to find some negative reviews. But the only thing I could find were more and more reviews like this one:
Listening to local residents is great, but if you want to get the most accurate understanding possible, it's best to talk to a real estate agent.
They'll be able to answer all of the important questions (including the ones you didn't even think to ask).
So if you want to be connected with top Pittsburgh agents (for free), just fill out one of the quick forms that are embedded in this article.