Is Boise ID a Good Place to Live? (biggest pros and cons)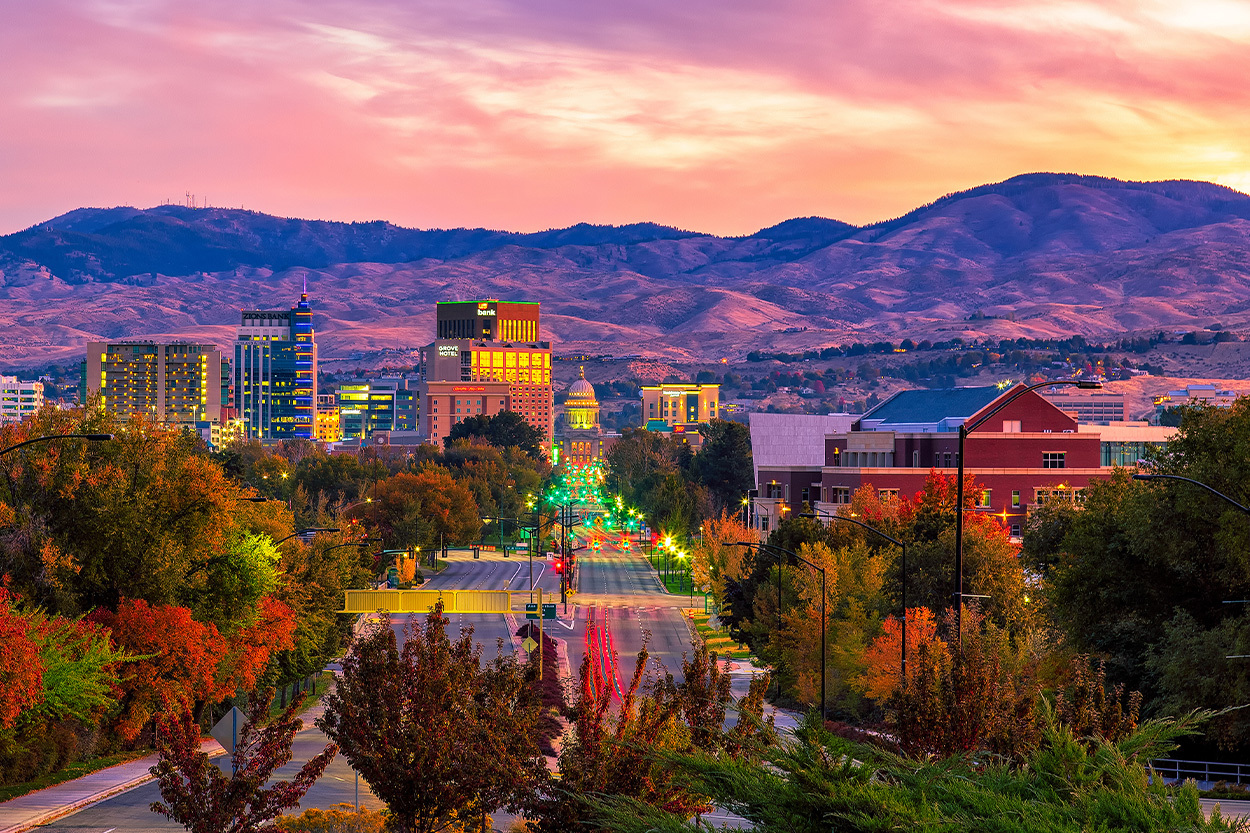 ---
Seems to me that someone is interested in moving to Boise Idaho.
You're probably wondering if it's an actual ok place to live or just a place to order non-stop baked potatoes.
Let me be the first to tell you that Boise has a lot more to it than meets the eye.
However, that applies both to the good and bad things.
So in today's video, I'll reveal the most important pros and cons that you should know before moving to Boise Idaho.
Let's get started!
(and if you want to skip ahead, just click on one of the links below):
MAF Widget
Pros and Cons of Living in Boise
Sometimes you just want some fast facts about a city so you can make a quick decision (however, i wouldn't suggest this approach)
So if you just want a quick birds-eye view of what it's like to live in Boise, I've included a quick list of pros and cons below.
(and if you want to watch the humorous video version of this list, I've included it as well).
Let's start with the cons:
Extreme lack of diversity (which shouldn't be surprising considering it's in Idaho).
Weather inversion creates a of smog (sorry asthma people).
Boise is isolated from other cities.
Workers on average receive low wages.
And here are some pros:
Great food (and wine).
It's an incredibly safe city.
Endless outdoor activities.
Tolerable cost of living.
(if you want to take a deeper look at the state of Idaho, you can check that out here)
Now, for those of you who have a bit of patience, this next section is probably the most alarming part about living in Boise.
Is Boise, ID safe? (the truth)
One major selling point for living in Boise is just how safe it is.
If you're like me, you've probably heard your parents and grandparents talk about how they used to be able to leave their doors unlocked and not worry about crazy people.
Well, Boise must be one of those mythical places that were trapped in time, because that's exactly how the citizens live today.
You can think of Boise as one big neighborhood watch community. Everyone kind of looks out for the well-being of everyone else.
So much so that Boise is considered the 8th safest city in the world to live.
Making it the best place to live if you ever find yourself needing to be placed in witness protection.
And to see just how low the crime is in this city, just take a look at the image below:
That said, every city has crime–no matter how safe certain parts of it is. But if you want to move to the best neighborhoods in Boise, just take a look at the next section.
Best neighborhoods in Boise
Boise certainly is a great place to call home. But certain neighborhoods are certainly better than others.
Below, you'll find the top 5 neighborhoods in the city along with some quick facts that'll help you make a decision.
#1. North End
Centrally located.
Breathtaking views (one of the most aesthetically pleasing parts of Boise).
Home to the city's oldest neighborhood association.
#2. East End
Home to Boise's most top-rated schools.
Great area for families.
Plenty of historic homes.
#3. Highlands
Very quiet part of the city.
Highly rated school system.
Home to Crane Creek Country Club (which is located in the middle of the neighborhood).
#4. Southeast Boise
Most diverse neighborhood in Boise.
Plenty of college students and young professionals.
Vast amount of local businesses.
#5. Barber Valley
Quiet and family-friendly.
Close to elementary schools.
Diverse activities for the whole family to enjoy.
Knowing about the best neighborhoods is a great first step. But before you pack up that Uhaul, you need to know if you can afford to live in Boise.
Don't worry. You'll find out in this next section. 
MAF Widget
Boise's cost of living
We've established that pay is considerably lower in Boise, but there is a silver lining.
In this city, the cost of living is a lot lower than in other parts of the nation.
And this is one of the main reasons why Boise has seen an influx in transplant residents as of late.
And when you consider the city's size, amount of activities, and natural beauty, it's easy to see why it's in such demand.
To get a good idea of how much it will cost a single person to live in Boise, just take a look at the image below: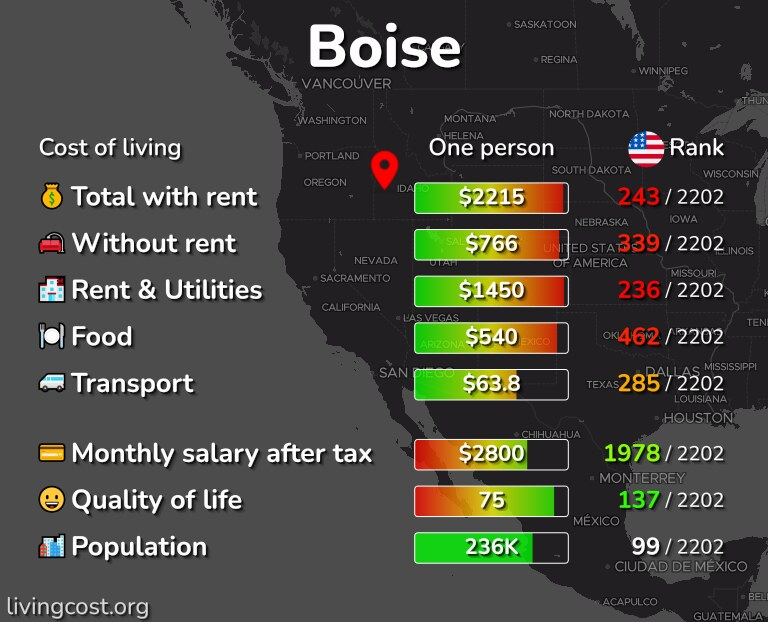 That said, living in Boise can be a great decision for your pockets. But how does it fare with employment?
Let's take a look.
Boise's job market
Working in Boise does give you access to a fair amount of jobs. But the pay is rather depressing.
On average, workers make $4,000 less per year here compared to the rest of the country. I mean, if making less money somehow excites you, then go for it. But for this reason alone, I wouldn't even think of moving to this city.
However, if that fact doesn't deter you, here's a list of the largest employers in Boise:
Albertsons, Inc.
Blue Cross of Idaho.
Fred Meyer.
Winco Foods.
Citi Corp.
Of course, after you get employed, get paid, and handle your responsibilities, you'll want to have a way to have a bit of fun.
So let's see how Boise fairs in that department.
Things to do in Boise
Outdoor enthusiasts will absolutely love Boise.
There are just so many things to do outdoors to keep you busy. For instance, you can go mountain biking, paragliding, rafting, camping, and the list just goes on and on.
Just learn from my mistake and don't mix the city's love for wine with an activity like mountain climbing. Unless you also want to struggle with short-term memory loss.
But taking in Boise's natural beauty isn't the only thing that can keep you busy in the city. Here's a list of other activities that you'll enjoy:
Albertsons Stadium.
Boise's Museum of Art.
Shakespeare Festival.
Payette Brewing Company.
Next, let's take a look at what actual residents have to say about Boise.
What real residents say about Boise
One of the best ways to find out information about a city is to talk to someone who lives there.
That doesn't mean you have to hop in your car and drive to Boise to get said intel. An easier way to get this information is to read online forms.
And just to save you from some of the filth that is sometimes found on these forms, I went ahead and did the heavy lifting for you.
So let's take a look at one some real Boise residents had to say.
Up first, let's see what this person has to say about the home prices and wages:

Ouch!
But the reviews aren't all bad. This next resident gives a more balanced review: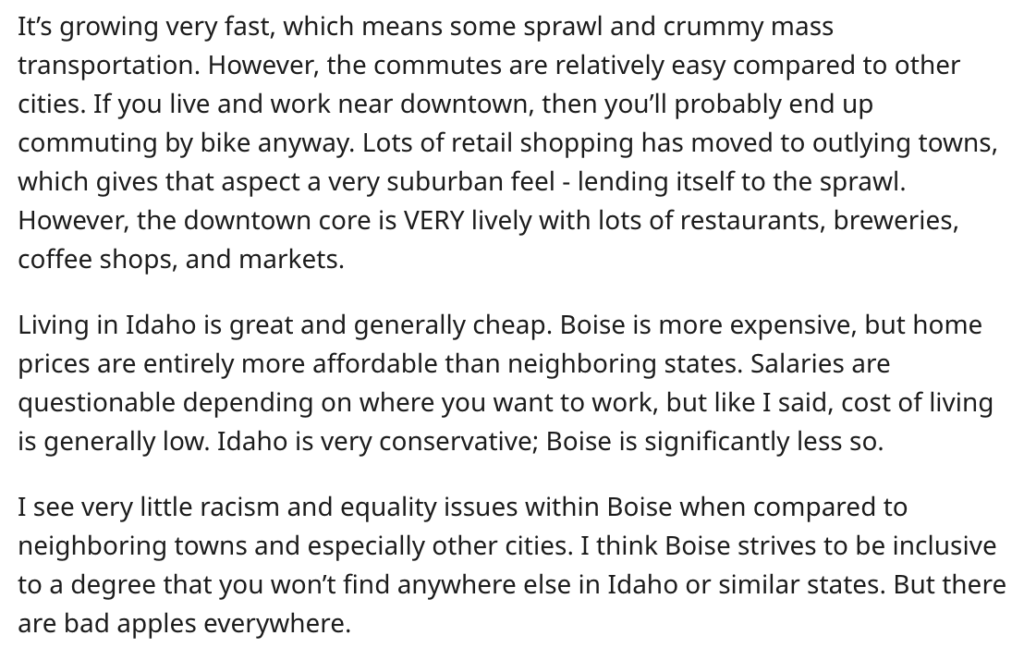 Lastly, here's a resident who gives a bit of insight on the weather and fun activities: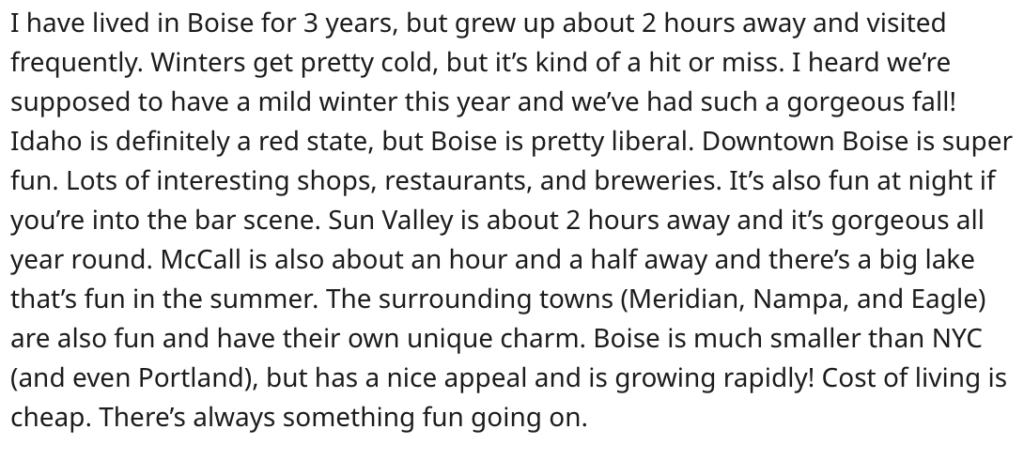 Listening to local residents is a great way to get an unbiased view of the city. But if you want to get the most accurate understanding possible, it's best to talk to a real estate agent.
They'll be able to answer all of the important questions (including the ones you didn't even think to ask).
So if you want to be connected with top Boise agents (for free), just fill out one of the quick forms that are embedded in this article.