10 Things to Know BEFORE Moving to Sparks, NV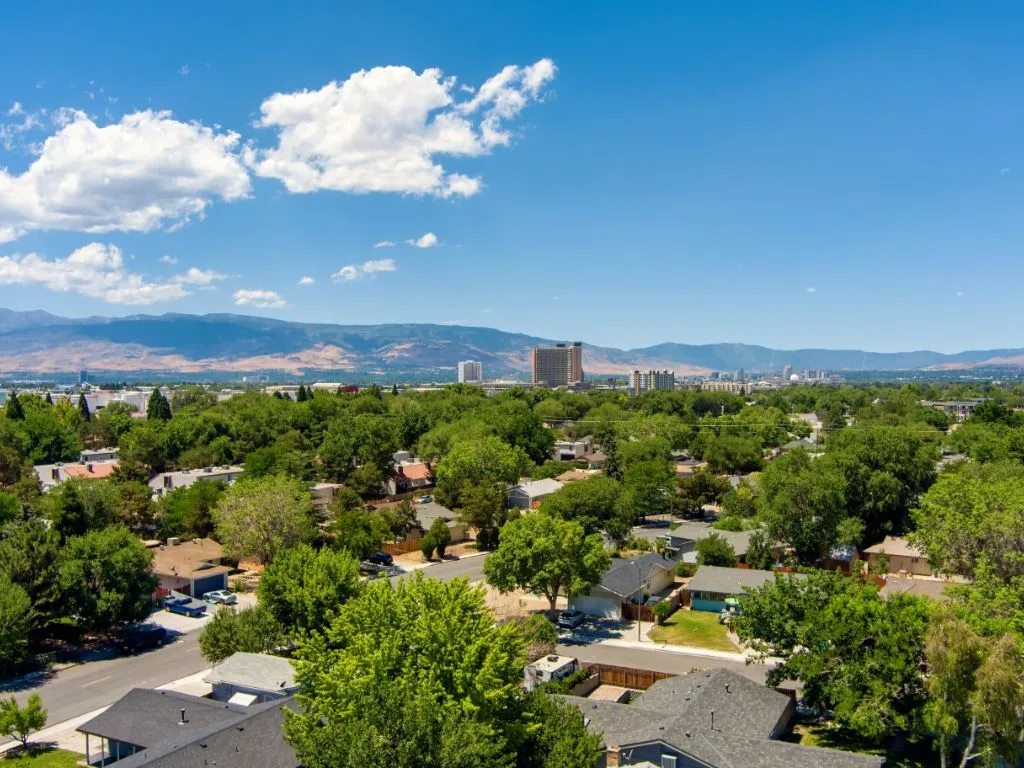 ---
Are you looking for a place that allows you to enjoy the conveniences of a big city and the friendliness of a small town? Then Sparks, Nevada, might be just the place for you.
Sparks, considered one of the top cities to live in in Nevada, is a beautiful city located in Washoe County. It is surrounded by stunning natural features and has a moderate population of approximately 107,000 people.
Let's consider ten things you must know before moving to Sparks, NV!
MAF Widget
1. Sparks is close to Reno, "The Biggest Little City in the World"
Since the borders separating the two cities are rather hazy, Sparks is sometimes associated with Reno. However, they are two different cities. The histories of the two towns are pretty interesting.
Sparks was a calm and quiet little railroad town for the first fifty years of its existence. But in the 1950s, during Reno's post-war building boom overflow, residents of Reno started to move to the neighboring town, Sparks.
Reno, known as "the biggest little city in the world," is a more bustling city than Sparks. So, if you miss the life of big cities and want to get away for a while, Reno is just about a 7-minute drive away.
2. There are 24 neighborhoods in the city
Sparks comprise 24 separate neighborhoods, making it the fifth-largest city in Nevada. These neighborhoods include people from all walks of life, as they aim to accommodate a wide range of preferences and routines.
Also, each neighborhood is distinct and best suited for a certain group of people. For instance, downtown Sparks and other highly crowded places are better suited for the younger generation that prefers action-packed city life. Meanwhile, to raise a family, an ideal neighborhood would be in the quiet suburbs. Retirees aren't exempted, as there are well-suited neighborhoods for them.
With a blend of diverse ethnicities, ages, and cultures, Sparks has a spot for everyone.
3. Visit Sparks Marina Park or Lazy 5 Regional Park
Among Sparks' many parks, Marina Park is a favorite among locals and visitors alike. Marina Park, which was built on top of an underground water source, is a popular destination for water sports enthusiasts. The park features a dog park, walking routes flowing through the woods and along the water, volleyball courts, playground equipment, picnic tables, and a snack bar.
Lazy 5 Regional Park is another exciting place you would love to visit. It is a wonderful family-friendly park, highly recommended for those seeking time in nature. The park has a huge playground, wide grassy areas perfect for picnics and barbecues, and plenty of picnic tables. In the hot summer months, the splash pad is a great way to keep kids cool, and the skate park and soccer fields encourage physical activity.
The area also features indoor and outdoor basketball and pickleball courts.
4. Don't miss out on the popular Cinco de Mayo Celebration in May
Cinco de Mayo is Sparks' largest celebration of its strong Latino heritage and vast Latino population. And it is the most well-attended celebration in this city.
Activities at this celebration include dancing horses, live music, amateur boxing, Mexican food, and vendors offering specialty items, clothes, art, and crafts. Cinco de Mayo is an exciting event you shouldn't miss.
5. There are 20 schools in the city
There are 20 schools total in Sparks, with 11 elementary schools, 5 middle schools, and 4 high schools.
Washoe County School District is the educational authority in Sparks, and it provides its students with modern and standard facilities and resources. This public school system consistently ranks above the national average. With a student-teacher ratio of 20 to 1, it serves 64,584 students in grades pre-K through 12.
Schools like Hunter Lake Elementary School, Caughlin Ranch Elementary School, Tmcc Magnet High School, and Academy Of Art Careers And Technology have been rated 9/10 by Great Schools.
So, if you care about giving your children a good education, you won't have to worry about that here.
6. Shopping enthusiasts would love it at "The Outlets at Legends"
The Outlet at Legends is a famous destination for Sparks' shoppers. There are about 45 stores and eateries in this posh outlet mall. Scheels All Sports, the largest all-sports store in the world, is a major store at Legends. Legends plan to upgrade the mall with the construction of a high-end casino resort that can host up to 6,500 people. The mall has plans for more restaurants and retail outlets as well.
If you love to shop, this would be one of your favorite spots in the city.
7. Enjoy outdoor concerts at the Nugget Event Center or Lazy 5 Regional Park
If you're a music lover, then you'll enjoy going to concerts at the Nugget Event Center.
This outdoor event center is located in the heart of Sparks Downtown, and it can accommodate up to 8,600 people. It is one of the best places to see a live show because it has hosted performances by numerous well-known artists and because concerts take place there regularly.
In addition, Lazy 5 Regional Park hosts a concert series featuring local performers every week from June to August called the Summer Music Series. If you like live events, then you shouldn't miss one too.
8. Sparks' cost of living is 5% higher than the national average
The cost of living in Sparks is 5% more than the U.S. average. While transport fares are 17% higher than the national average, grocery prices are also 5% higher than the national average. It costs $4.09 to get a loaf of bread, a gallon of Milk is $2.59, and a carton of eggs costs $2.37.
Also, the median home price is $483,309, which is higher than the national average of $428,000. Sparks is, however, considered to be one of the most affordable areas to live in Nevada State and might as well be considered a moderate city in terms of its cost of living. 
MAF Widget
9. There are limited job opportunities
While the city is home to many major companies, it does not offer a wide variety of jobs.
Job opportunities are limited to retail, hospitality management, and the mining industries. If you work in the scientific or technical fields or other industries, you might not enjoy living in this city. Finding a competitive job market can be challenging. Unless, of course, you're self-employed or otherwise won't need to look for work when you move to the city.
10. Sparks is a relatively cold place
Temperatures in Sparks rarely fall below 14°F or go beyond 98°F, with an average of 24°F to 92°F during the year.
The best months are May to September, while December and January are the worst because of the freezing temperatures. Since the average number of days with freezing temperatures is about 122 days, you should get a warm winter coat before relocating here.
In Conclusion
There are many fantastic reasons to call Sparks home; these include the city's closeness to a larger urban center, its numerous unique neighborhoods, its abundance of things to do, and its excellent educational opportunities. However, you may not like living in this city due to its high cost of living, restricted work options, and harsh winters. 
Learn More About Living in Sparks, NV