Top 10 Pros and Cons of Moving to Scottsdale, AZ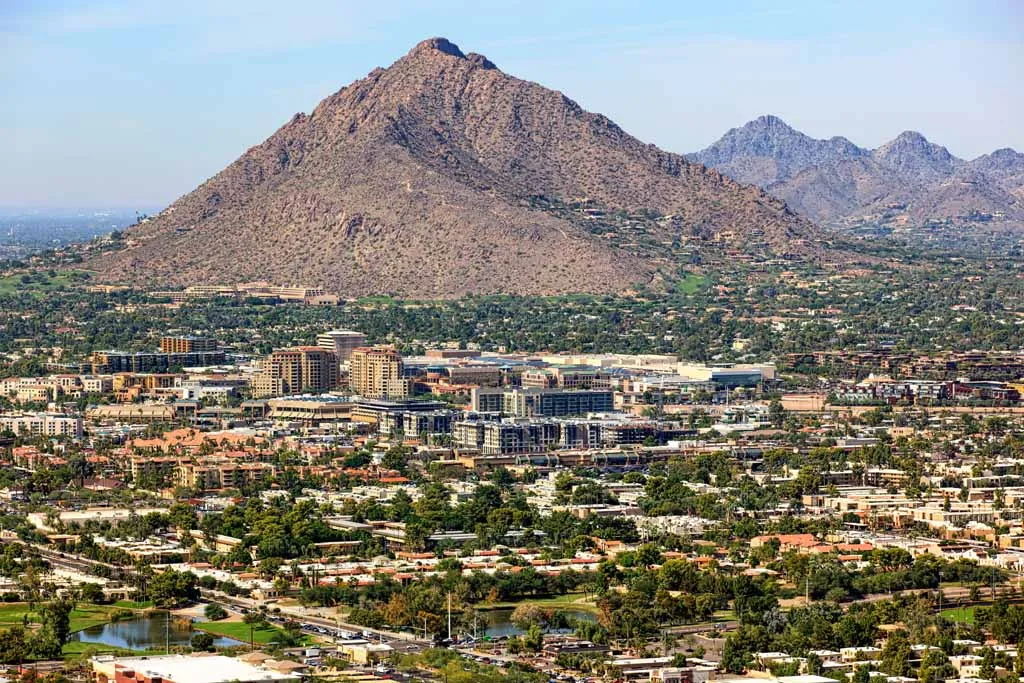 ---
Thinking of relocating to Scottsdale, Arizona? There are a couple of things you should know first.
Scottsdale is a great spot to settle down by yourself or with your family, for many reasons we'll be looking at. But every city has some not-so-great things about it, so we'll be talking about those stuff too. Here are top 10 pros and cons of moving to Scottsdale, AZ!
Pros of Moving to Scottsdale
1. The weather is great
From November to March, the average high in Scottsdale is a beautiful 72 degrees, making it one of the best places in America to enjoy the outdoors. Temperatures average around 85 degrees between April and October, which may be pleasant if you prefer warmer weather.
Even in the hottest part of the summer, the desert temperature means that evenings in Scottsdale are cool, so what started out as a miserable day of sweating may end up being a beautiful evening.
2. You'll always be entertained here
Scottsdale has a wide variety of entertainment venues that are sure to suit everyone's interests. Whether you're a casual observer or a die-hard fan, you can always see a sporting event at one of the city's many arenas. Numerous clubs and restaurants, as well as several art galleries specializing in Southwestern art, have made the downtown area a popular destination.
Take part in the Scottsdale Arts Festival in March. Enjoy a nice meal at restaurants such as Arcadia Farms Cafe and The Montauk. Visit McDowell Sonoran Preserve, a stunning desert habitat. See a show at Scottsdale Center for the Performing Arts. Old Town Scottsdale is filled with historic buildings.
Scottsdale residents have lots of opportunities to socialize, mingle with individuals from all walks of life, and develop connections and partnerships that could last a lifetime, thanks to the city's abundance of exciting activities.
3. Lots of great schools
There are 31 public schools in the city of Scottsdale, and almost all of them score highly on standardized tests. The public schools in this area consistently rank among the nation's best, and the reading and math skills of its students are far above average.
Basis Scottsdale Primary School, Sonoran Sky Elementary School, Basis High School, Great Hearts Academies, and Scottsdale Community College are just some of the great schools in the area.
97% of Scottsdale people have completed high school, and 83% have completed some college, according to a census.
4. An embodiment of luxury living
Scottsdale's high quality of life is one of the city's biggest draws. With one of the largest concentrations of AAA Five-Diamond hotels and resorts in the country, the city is a popular tourist destination. There is a AAA Four-Diamond restaurant in town as well.
When it comes to high-end real estate, Scottsdale consistently ranks among the top five in the U.S. You could get any of the over 700 mansions available in the market…for just a few million dollars.
You might think that in such an affluent neighborhood, most people would be snobs. This might be true to some extent, however, every city is guaranteed to have its fair share of both unpleasant and lovely citizens. And even though many famous people, including actresses and athletes, have made Scottsdale their home, it shouldn't stop you from moving there if you want to.
5. A vibrant job market
Scottsdale is one of the best areas to find a job in the United States, particularly if you're looking for work in the aviation, tourism, or healthcare sectors. For newcomers, starting salaries are much higher than in most other American cities.
Many of Scottsdale's jobs are oriented toward serving the wealthy tourists who flock to the city. Vanguard ( a financial firm), Honor Health, and Scottsdale Unified School District are some of the city's major employers.
Cons of Moving to Scottsdale
1. The city is on the verge of drought
Due to Scottsdale's location in a desert, the city gets very little rainfall. Rainfall in the city averages just 11 inches per year, well below the national average of 38 inches. That might sound fantastic if you're a hiker, but if you're big on survival, it should be a source of worry.
Throughout the last 1200 years, Arizona has reportedly been experiencing a record drought, according to scientists. The Colorado River is Scottsdale's major source of drinking water, but it also provides water to 40 million other people in seven western states, including big cities like San Diego and Las Vegas, as well as irrigation for 5 million acres of farmland.
There is 20% less water in the Colorado River now than there was a century ago because of climate change and growing human demand. The desert has very little water to provide for its own citizens, and anybody who is thinking of moving to Scottsdale should be aware of this.
2. It could get really hot
It can get really hot in Scottsdale. Temperatures regularly exceed 120°F during the summer, around May to September. Even though most homes have air conditioning, residents still need to go out of their homes for work, for errands such as grocery shopping, or at the very least, to avoid going crazy from all that heat.
3. An expensive cost of living
Of course, What were you expecting? We already spoke about the kind of luxury living in this city! And one thing's for sure, luxury isn't cheap.
With an index of 133.2, living costs are about 20% higher than the national average, and the median home price is $673,400. The high cost of living is largely attributed to the exorbitant prices of homes since the cost of utilities, healthcare and groceries aren't particularly sky high.
4. A poor public transportation system
Scottsdale's public bus system is underdeveloped because there aren't enough routes, and buses are spaced widely apart.
Light rail and additional bus services have been proposed, but they have been met with resistance from locals, especially in the northern part of town. And besides, why would anyone want to wait for a bus under 120 degrees of blazing heat?
Simply put, if you plan on making Scottsdale your permanent home, you'll need a car to get around, and one with good air conditioning, at that.
5. Desert animals are everywhere
You'll be up close and personal with lots of desert animals, there's no escaping that. It's their territory, after all! Animals such as coyotes, bobcats, hawks, rattlesnakes, spiders, and scorpions live in the area. But the good thing is, even the potentially dangerous ones won't hurt you unless you provoke them.
If you have a pet, however, ensure to always keep an eye on it and never let it stray too far. Coyotes, hawks, and bobcats can easily catch and kill backyard chickens, cats, and even dogs, and we don't want your companions becoming dinner for these desert creatures. As a tip, most of these animals are often seen at dusk or dawn, so be sure to keep your pets inside at those times.
To Sum it All Up
Is Scottsdale the right city for you? Only you can answer that. The pros that come with it, such as the entertainment and luxury living might excite you, but are the cons worth it? Either way, your priorities and non-negotiables when it comes to living in a city would determine what your decision would be.
Learn More About Living in Scottsdale, AZ