8 Things to Know Before Moving to Puyallup, WA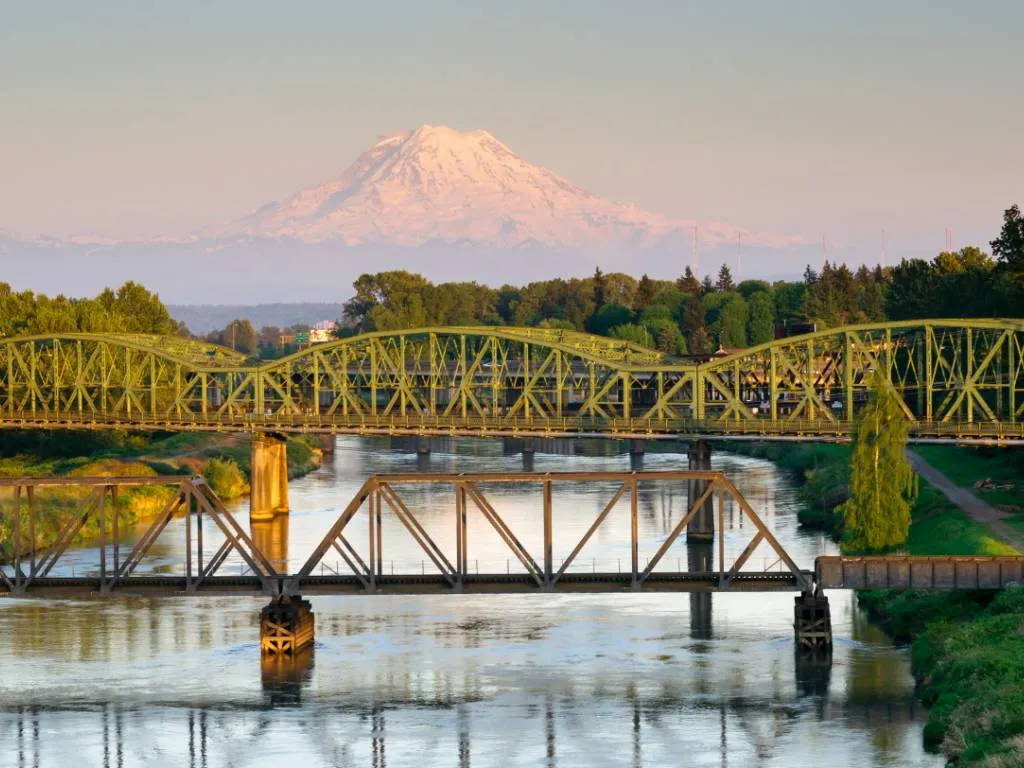 ---
Puyallup, Washington, is a medium-sized city between Seattle and Tacoma, and it is well-known for its scenic parks and glacier rivers. Puyallup residents have the best of both worlds, with easy access to both Seattle and Tacoma. Families and young professionals alike can be found in Puyallup.
The town is home to the annual Washington State Fair, the state's largest event. There is a good reason why it is hosted in Puyallup, and people travel from far and wide to attend it. You won't find a better city than Puyallup for that.
Let's talk about eight things to know before moving to Puyallup, WA!
MAF Widget
1. The weather is mild
Puyallup's pleasant climate is a major selling point. The summertime high temperature averages a comfortable 78 degrees Fahrenheit, making it ideal for spending time in the fresh air. There will be snowfall and highs of 46 degrees Fahrenheit throughout the winter. In Puyallup, you can expect mild weather pretty much all year.
Despite Washington's reputation as a wet state, rain is less of a concern in Puyallup. While it rains for almost 7 days in January, you'll only see rain for three days in August. The regular downpours maintain a healthy, clean environment.
2. Attend the Washington State Fair or visit Pioneer Park
You've found the ideal city if you're looking for family-friendly activities in Puyallup. The state fair, beautiful parks, and relaxing rivers ensure that there is never a dull moment.
Bradley State Park is a beautiful 59-acre park with a lake, and a visit there is an excellent option for a family looking for things to do in Puyallup. You can enjoy the gorgeous scenery while walking on the paths, fishing in the lake, or just lounging around.
Pioneer Park is close to the public library and some local stores. This lovely playground is a wonderful place for youngsters to play and an excellent way to get some fresh air.
The Washington State Fair is an amazing family-friendly activity in Puyallup. You can't miss this once-a-year opportunity, as there are hundreds of rides and things to do.
3. Eat at Crockett's Public House or Toscano's Italian Grill
After a day of exploring Puyallup, the next logical step is to refuel with a delicious meal.
Toscano's Italian Grill serves up mouthwatering renditions of Italian favorites that you and your loved ones are sure to enjoy. One of the best things to do in Puyallup, it has received rave reviews from visitors.
Fried chicken, burgers, and onion rings cooked using fresh, regional ingredients? One of the best restaurants in Puyallup is Crockett's Public House. Over two thousand customers have given it five stars, so you know it must be excellent.
4. Work in the sales industry or nearby Seattle
There are 19,502 people employed in the Puyallup region, so you should have no trouble finding a job within a reasonable 30-minute commute. In Puyallup, a lot of people work in occupations like management, administration, and sales. If you're looking for work, Puyallup is a great place to explore the many available opportunities.
Due to its proximity to Seattle and Tacoma, many residents commute there for work. There are many work prospects in these close-by cities, and between the three of them, you'll have a plethora of choices.
5. Attend Pierce College in Puyallup
Puyallup's excellent public school system is a major selling point for the city as a place to settle down. Its reputation for producing some of the world's most accomplished graduates extends across multiple countries. Many students and their families live or work in close proximity to Puyallup High School and Sparks Stadium because of the exceptional educational opportunities it provides.
Many Puyallup residents choose to further their education at Pierce College – Puyallup, where they can get a two- or four-year degree in liberal arts and sciences.
MAF Widget
6. A high property crime rate
When it comes to violent crimes, Puyallup is a place where you need not worry too much. Statistics show that Puyallup has a much lower rate of violent crime than the rest of the country, at 18.5, compared to the national average of 22.7.
The rate of property crime, however, is significantly greater than the national average of 35.4 percent, coming in at 93.6 percent. Residents are urged to remain vigilant and secure their homes.
7. Enjoy the best of country living
Just outside of Puyallup's downtown, you can see signs of rural life. Green hills stretch kilometers, dotted with farm animals, including horses, sheep, and llamas. The Puyallup region has the best of both worlds, as it is quiet and peaceful while still only a short drive from the commotion of South Hill.
New inhabitants of the area's homes will have easy access to the Pacific Northwest's many kid- and adult-friendly attractions.
8. Living costs are 25% higher than the national average
The cost of living in Puyallup is 125.6, which is considerably more than the U.S. average. This is to be expected, given that most communities in the Greater Washington area are on the pricier side.
In Puyallup, a single person will spend an average of $36,112 a year on basic needs like housing, food, child care, transportation, health care, taxes, and other miscellaneous expenses. The median price of a house in Puyallup is $548,165.
In Conclusion
Puyallup offers a thriving economy, the very best of country life, a serene natural environment, and mild weather. However, the city has a high cost of living, and the property crime rate is high.  
Learn More About Living in Puyallup, WA