Top 10 Pros and Cons of Living in Sarasota, FL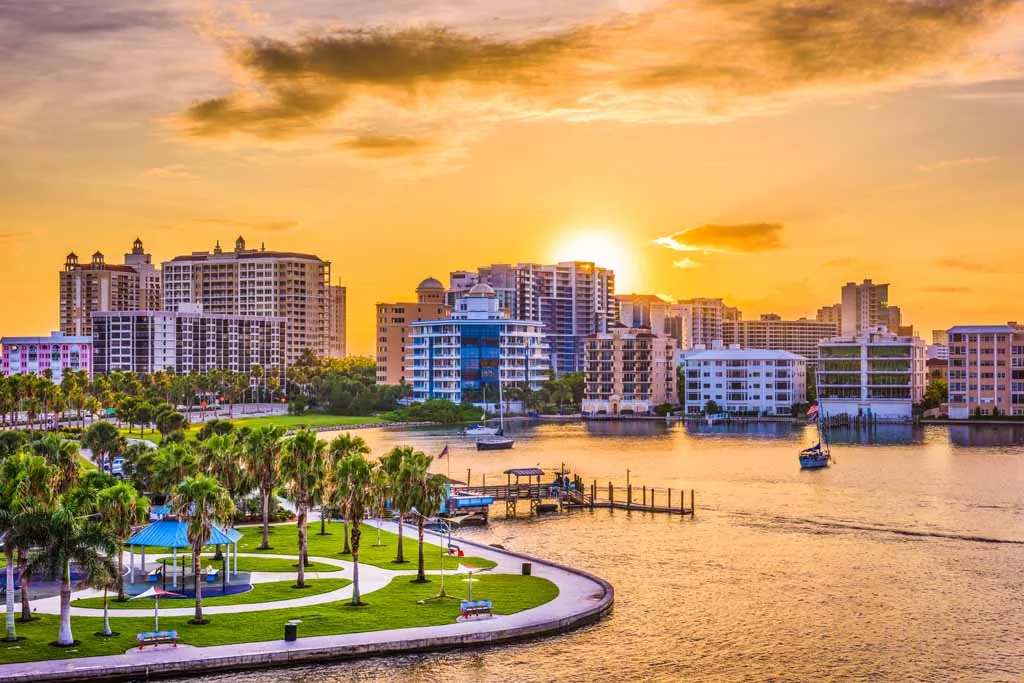 ---
Located on Florida's Gulf Coast, the city of Sarasota is home to a number of recreational, educational, and cultural opportunities for its citizens. More and more individuals are moving to this city every year, and if you're planning to join the growing number, you should be aware of both the benefits and drawbacks of living there. We don't want you to be caught unawares, so let's talk about 10 pros and cons of living in Sarasota!
Pros
1. A warm weather
Hello, Sunshine! One thing about Sarasota; the sun is always eager to make an appearance, so you're sure to get about 250 sunny days a year. Daytime highs from November through April are around 70 to 80 degrees. You don't have to worry about shopping for winter coats like your friends in the north because the sun does all the warming up for you. 
2. A thriving arts and cultural scene
In Sarasota, there are lots of festivals, celebrations, and other cultural events throughout the year. Take part in the many annual seaside celebrations, such as those held at fish markets, or in seashore eateries. Enjoy some classical music at the Sarasota Music Festival held in June.
Visit the Asolo Repertory Theater to see artworks that showcase the history of the country. Check out The Ringling Museum of Art, a world-class museum. Towles Court is a neighborhood that is home to numerous art studios. On the fourth Friday of every month, the Historic Downtown Village in Gillespie Park hosts an Art Walk. It's safe to say that Sarasota has an arts community that can hold its own against many major cities in the country.
3. A vibrant tourism sector
Tourism is a big deal in Sarasota, and the tourism sector is the city's major employer. There are tourists at every corner of the city looking to have fun and bask in the city's beauty and numerous attractions.
Sarasota is home to some of the most beautiful beaches in the country, such as Siesta Key Beach, Sarasota Gay Beach, Lido Beach Park, and Longboat Key Beach, all of which draw tourists from all over the world. In fact, it is widely regarded as one of the best cities to enjoy a beach vacation.
Other famous tourist sites in the city include The Ringling Museum, Sarasota Jungle Gardens, Big Cat Habitat, and Marie Selby Botanical Gardens. These tourist attractions play a major role in providing jobs for the residents and boosting the city's economy.
4. A standard healthcare system
Sarasota is home to four hospitals, all of which have received recognition for the excellent care they provide. When it comes to intensive care facilities, Sarasota Memorial Hospital is consistently ranked as one of the best in the country. Families of all socioeconomic backgrounds can benefit from the amazing healthcare system in this city, and no matter who you're moving with, you can rest assured that you and your loved ones will enjoy good healthcare.
5. Lots of high-quality schools
There are barely 57,000 residents in Sarasota, but the city is home to nearly 90 public and private schools. Many of them rate among the best in the state, and a select few even make it into the top 20 nationally. Pine View School, an elementary school, was rated as the best in the entire country.
Sarasota is also home to two different universities. One is New College, a liberal arts institution recently named the sixth best college in the United States by US News and Report. The other is Ringling School of Art and Design, a world-class institution which has produced winners of the Academy Award, the American Advertising Award, and the Emmy Award. Needless to say, the quality of the universities in this city is undeniable.
Cons
1. Summer heat can be brutal
Yeahhh…sometimes the sun tends to overdo things.
Sarasota may be a year-round outdoor enthusiast's paradise, but the summer humidity, especially in the months of July and August, can be oppressive. On some of the warmest days of the year, it's not unusual for the heat index to rise above 110 degrees Fahrenheit, even though the actual temperature may only be in the 90s. Most buildings now have air conditioning, which implies that your utility costs might spike up in summer. 
2. The city is at risk of natural disasters
For Floridians, hurricanes and other tropical storms are a part of life. There is a common misconception that because Sarasota is located on the western side of the Gulf Coast, it is safe from hurricanes and tropical storms.
The city is in fact, vulnerable to storms coming from both the Atlantic Ocean and the Gulf of Mexico, both of which can travel over the mainland. In most years, the hurricane season runs from August to October, but it might begin sooner. You'd better get used to watching weather forecasts so you can stay on top of the situation.
3. High housing costs
Sarasota is growing rapidly, so the demand for housing keeps increasing by the day. Unfortunately, the supply doesn't meet demand, which leads to a significant increase in the prices of houses. The median home price is a whopping $580,000, and the median rent is $2,159.
Condo prices in Sarasota start at a hefty $600,000 and go up from there. Home values might decrease further inland, along Gulf Stream Avenue. But if you'd rather live near the beaches, you'll need a substantial source of income to fulfill your desire.
4. The traffic could get really bad
A major drawback in Sarasota is the congestion on the roads. Traffic reaches crisis levels in the area after Thanksgiving and continues into Easter, with rush hour adding to the problem. Get ready for an additional 30 minutes on the road when the traffic gets really bad. And yes, brace up; you might run into some reckless drivers too.
5. The nightlife and social scene aren't particularly impressive
If nightlife fun is your thing, you might not enjoy living in this city. Despite the fact that more and more people are learning about Sarasota, it's still a relatively small town, and there are not many clubs and bars around.
The city's social life consists primarily of beachgoing, going to gardens, and partaking in cultural activities. More often than not, people in their twenties and thirties leave town in search of a more stimulating environment because there are so few opportunities for them to express their creativity there.
Final Thoughts
Like every other city, Sarasota has its great aspects and not-so-good ones. If living in a city with great health facilities and standard schools is a priority, Sarasota is a fantastic choice. On the other hand, if you'd rather not live in a place where natural disasters are all too common, you might want to look somewhere else.
Learn More About Living in Sarasota, FL