15 Things to Know Before Moving to Santa Fe, NM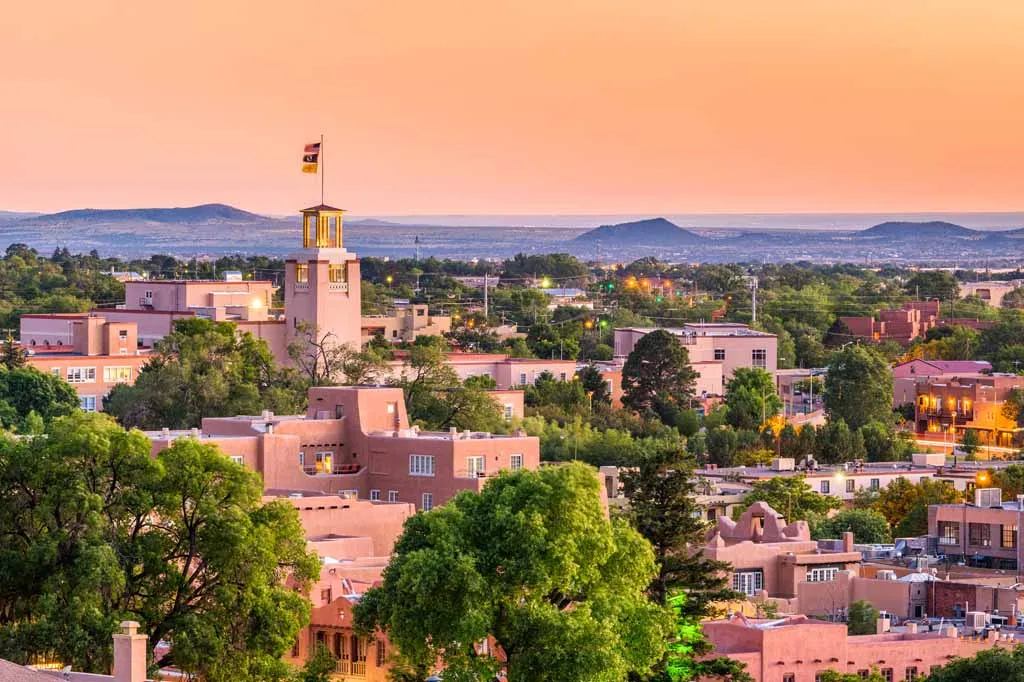 ---
Considering relocating to Santa Fe? The state capital of New Mexico boasts a laid-back atmosphere, abundant opportunities for outdoor fun, and a warm, arts-loving populace. The city is often referred to as the "Land of Enchantment" because of its stunning landscape. If you're thinking of moving to Santa Fe, here are 15 things you should know first!
1. It's one of the best places to live in the US
If you look through any list of the top places to visit in the United States, you will inevitably come across Santa Fe. Santa Fe is a popular vacation spot for families, groups of friends, and even canine companions. The tourist, hotel, food service, and retail industries in particular are thriving as a result of the increase in visitors to Santa Fe.
It is one of the best small cities in the United States because of the relaxed pace of life it provides, and thanks in large part to the city's stunning scenery and pleasant climate, which inspires citizens to take it easy and take pleasure in their surroundings.
2. The climate is sunny and dry
With an annual average of 283 sunny days, Santa Fe is an excellent place to live if you enjoy being outdoors. However, Santa Fe summers can be sweltering, with highs in the 90s throughout the hottest part of the year. However, temperatures drop at night, often by as much as 30 degrees.
The people also get to enjoy all four seasons thanks to the city's temperate climate, which can drop to 20 degrees in the winter months. The city is a renowned ski resort since it receives an average of 26 inches of snow per year.
3. The city is elevated
Santa Fe sits at an elevation of 7000 feet. Travelers from almost anywhere other than the Rockies can expect to feel the effects of the higher altitude for a while. Don't give up if you have trouble breathing on the stairwells the first several days.
A normal amount of time to "get your mountain legs" is roughly 30 days if you are adequately fit. The key is to drink plenty of water and do some light activities to help you adjust to the altitude.
4. There's a great art scene
More than 250 art galleries make Santa Fe the third-largest art market in the United States. The city has a thriving art culture, but what really sets it apart is not the sheer number of pieces on display but rather the depth to which they reflect the city's character and history.
Visit the Georgia O'Keeffe Museum to see how one of the 20th century's greatest artists was moved by the beauty of Santa Fe. On Museum Hill, you can visit the Wheelwright Museum of the American Indian, the Museum of Spanish Colonial Art, the Museum of International Folk Art, and the Museum of Indian Arts and Culture.
5. You'll find a ton of things to do outside
Santa Fe is a great place to enjoy the outdoors, with over 1.5 million acres of national forests and 170 miles of trails. The New Mexico city is so closely associated with outdoor activities that it was chosen as the home of Outside magazine.
In Santa Fe National Forest, visitors can go hiking, whitewater rafting, trout fishing, and turkey-watching, or they can drive along the Santa Fe National Forest Scenic Byway.
You can take the easy Santa Fe Rail Trail, or you can test your mettle on the difficult Rio En Medio Trail. Ski Santa Fe offers 86 distinct runs for you to try out your skiing talents on. Take a Santa Fe Mountain Adventures tour into Chaco Canyon to learn about the fascinating history of the Pueblo people.
6. The city is environmental-friendly
It's no secret that Santa Fe is one of the greenest communities in the United States thanks to its unwavering dedication to environmental protection. The city has accepted the Night Sky Protection Act to reduce energy consumption and protect the night sky, and the local administration has developed a 25-year plan to achieve carbon neutrality and create a sustainable future.
Santa Fe hosts the Recycle Santa Fe Art Festival, the largest and oldest recycled art market in the United States, to raise awareness about the importance of recycling. Upcycling shops like Native Son and Hyperclash, as well as waste management organizations like Upcycle Santa Fe, can all be found in this city.
The city is now virtually completely free of industrial pollutants thanks to these measures and others.
7. There's always one event or the other going on
There's a festival in Santa Fe for every interest imaginable. At Fiesta de Santa Fe, you can see and participate in parades, dances, art fairs, and the infamous torching of Zozobra (Old Man Gloom) at Fiesta de Santa Fe. Some other popular festivals or events include Canyon Road Spring Art Festival, Santa Fe Wine Festival, Souper Bowl, and Santa Fe Century bike ride.
8. The city has an interesting history
The numerous historical landmarks in Santa Fe serve to preserve the city's rich heritage. The New Mexico History Museum is a great place to learn about the region's early inhabitants, from the Spanish explorers and Spanish settlers to the cowboys and outlaws. To learn more about the city's history, check out places like Ghost Ranch, Puye Cliff Dwellings, Palace of the Governors, El Rancho de las Golondrinas, and Cathedral Basilica of Saint Francis of Assisi.
9. The food scene is amazing
The rest of the country is starting to realize that Santa Fe has a rather impressive dining scene. While sopaipillas, green chile peppers, and slow-cooked beans are the city's most well-known dishes, visitors will find cuisines sure to please any appetite. At the Green Chile Cheeseburger Smackdown, the best Santa Fe restaurants will be competing to provide you with the best version of New Mexico's signature dish.
Check out amazing restaurants like Jambo Cafe, The Shed, The Pantry, Paleteria Oasis, and many others in town.
10. There are always a lot of tourists
About 2 million people visit Santa Fe every year, and that number is steadily rising, thanks to the city's great temperature, plenty of outdoor activities, and interesting cultural events.
The upside is that there are many excellent restaurants and stores to choose from. The bad news is that the cost of living might be on the steep side, depending on where you choose to dine, drink, and shop.
The fact that you'll get to know so many fascinating people, each with their own fascinating tales to tell, more than makes up for the disadvantages.
11. A high cost of living
The cost of living in Santa Fe is 14% higher than the national average, and it is the second most expensive city to live in New Mexico. Getting housing in this city could also be a struggle, due to the influx of people to the area, which makes demand higher than supply. The median home price is a whopping $699,000.
12. There are lots of insects
It's no surprise that the beautiful landscapes around cities are also home to a plethora of insects. Some of them may be harmful and cause a severe fever.
As a result of their prevalence, these bugs make it unpleasant to spend time outdoors at night in certain places.
13. The crime rate is on the high side
The high crime rate and prevalence of drugs in Santa Fe's urban core are two of the city's less appealing features. According to crime statistics, Santa Fe is safer than only 9% of American cities.
The high rate of property crimes in Santa Fe, at 65, is alarming. Deaths from drug overdoses and excessive drinking are among the leading causes of death in Santa Fe and the rest of New Mexico, ranking second highest in the US.
14. The city has a thriving agricultural industry
Due to the dry climate, sheep farming and pepper cultivation played important roles in Santa Fe's past. Although the livestock industry has diversified to include pigs and dairy cattle, the staple foods of chiles, cotton, and hay are still readily available.
Also, the mining industry, oil and gas extraction, clay processing, and glass making are all thriving local businesses that provide stable employment opportunities. The textile and printing industries, as well as the hospitality industry, are all viable employment options for those who make this area their home.
15. You'll find world-class opera here
In Santa Fe, there is a thriving art scene that influences the entire city, and it's not just limited to visual art. The city also places a high value on music, especially opera, which is somewhat rare in today's globe. It may come as a pleasant surprise to hear that Santa Fe also plays host to another world-class event: the Santa Fe Opera. If you've never heard opera before, you'll be blown away by the performances you'll see in Santa Fe.
In Conclusion
Santa Fe is an amazing place to call home, boasting sunny weather, a great art scene, many opportunities for entertainment, and an overall good quality of life. However, the drawbacks such as the high cost of living and crime rate might not make this city your dream home, after all. Ultimately, the choice is yours to make.